TRUCKIN'
By Oz Online | Published on May 9, 2016
No feature film, television series, or commercial goes on location today without an infrastructure of production vehicles. From camera trucks and wardrobe trailers to hair and make-up trailers, talent trailers and the ever-essential honeywagons, a fleet of vehicles accompanies every location shoot. They safely store and prep equipment and comprise amenity-filled "base camp" villages. They're not only transportation: they're extensions of the studio on the road.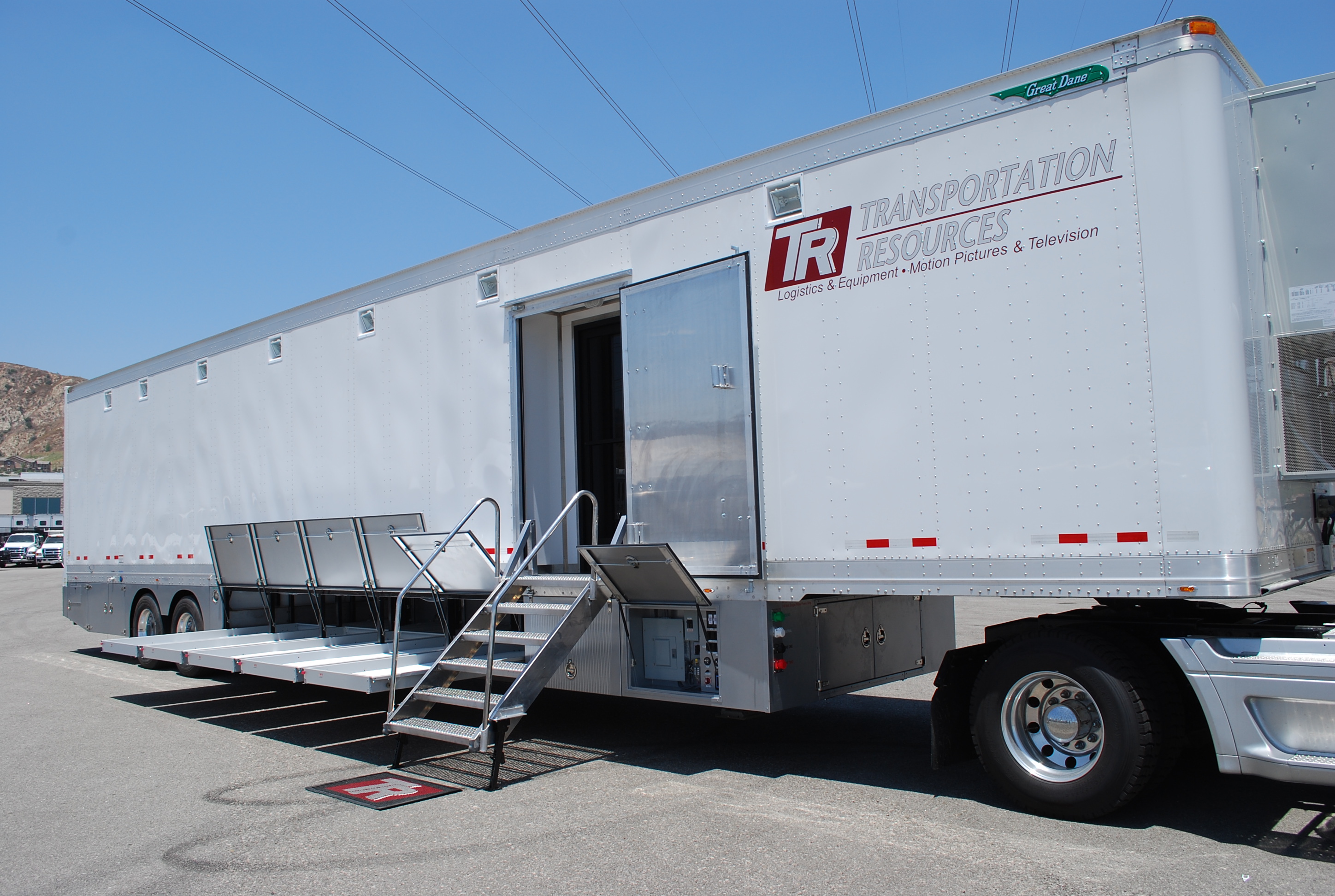 Transportation Resources Driven by Thoughtful Design
Eighteen-year-old Transportation Resources (TR), with offices in Los Angeles, Atlanta, and Baltimore, services features and television series nationwide and internationally; it's the exclusive truck provider to Netflix's House of Cards and has six trucks on Fast 8, the latest in the Fast and Furious franchise now shooting in Cuba.
TR's Georgia credits include supplying stakebeds, box trucks, fuel trucks, and a 6-station make-up trailer to season three of Fox's Sleepy Hollow; all the base camp trailers for the SundanceTV series Rectify; cast trailers for Alvin & The Chipmunks: The Road Chip; make-up and cast trailers for Guardians of the Galaxy Vol. 2; wardrobe and make-up trailers for NBC's new Game of Silence; and cast, wardrobe, and make-up trailers for an array of Marvel features.
"We never build our next truck without asking customers how we can improve it," says Aaron Skalka, who's partnered with Keith Fisher in the business. "We're concerned with making our fleet easy to maintain and user friendly to those who spend long days in them." Vehicles are fabricated in L.A. to TR's specifications and reflect the TR brand in their interior aesthetics.
TR is known for its 5- and 10-ton camera trucks and camera trailers. "We're really proud of them," says Skalka. "They are our most in-demand vehicles. Camera departments ask for our trucks by name; transportation coordinators insist on having them."
Their popularity stems from "thoughtful design," which accommodates film and digital camera inventories with custom shelving, well-planned workspaces and seating, and darkrooms that can be reconfigured for other tasks if not in use. Camera trucks are currently busy on pilot season in L.A. and on the reboot of Fox's 24, the ABC series American Crime Story, the new CBS series Criminal Minds: Beyond Borders, The CW's series The Originals, the STARZ series Blunt Talk with Patrick Stewart, and the features Fast 8, Stronger, Guardians of the Galaxy Vol. 2, Ben Affleck's Live by Night, and the latest in the Jason Bourne franchise.
Wardrobe trailers come in 48- and 53-foot versions, all custom-built with big open spaces and height-adjustable racks. They feature workspaces both front and back – one in the washer-dryer area and one in the fitting area.
Hair and make-up trailers are the "ultimate testament" to TR's attention to detail, says Skalka. A 10-station hair and make-up trailer is TR's newest addition. "It never stops working. The trailer was four years in development; we must have talked to three dozen hair and make-up people in the design phase."
The 10-station trailer features stylish, easy-to-maintain fluorescent lighting to reduce eye strain, flooring with enough cushioning to make it easy on the feet (but not so soft that the chairs move), and robust and beautiful countertops. The trailer's two rear-most stations are separated by a sliding door and have a separate star entrance.
All of TR's honeywagons feature restrooms and small dressing rooms for actors and stunt people. "They're pretty utilitarian," Skalka says. "One challenge for any truck with water is keeping them warm in winter. Ours are designed with thermal integrity so we can send them north in winter and know the tanks will never freeze."
Most of TR's trucks are certified clean idle and can run on B20 bio-diesel/diesel blends.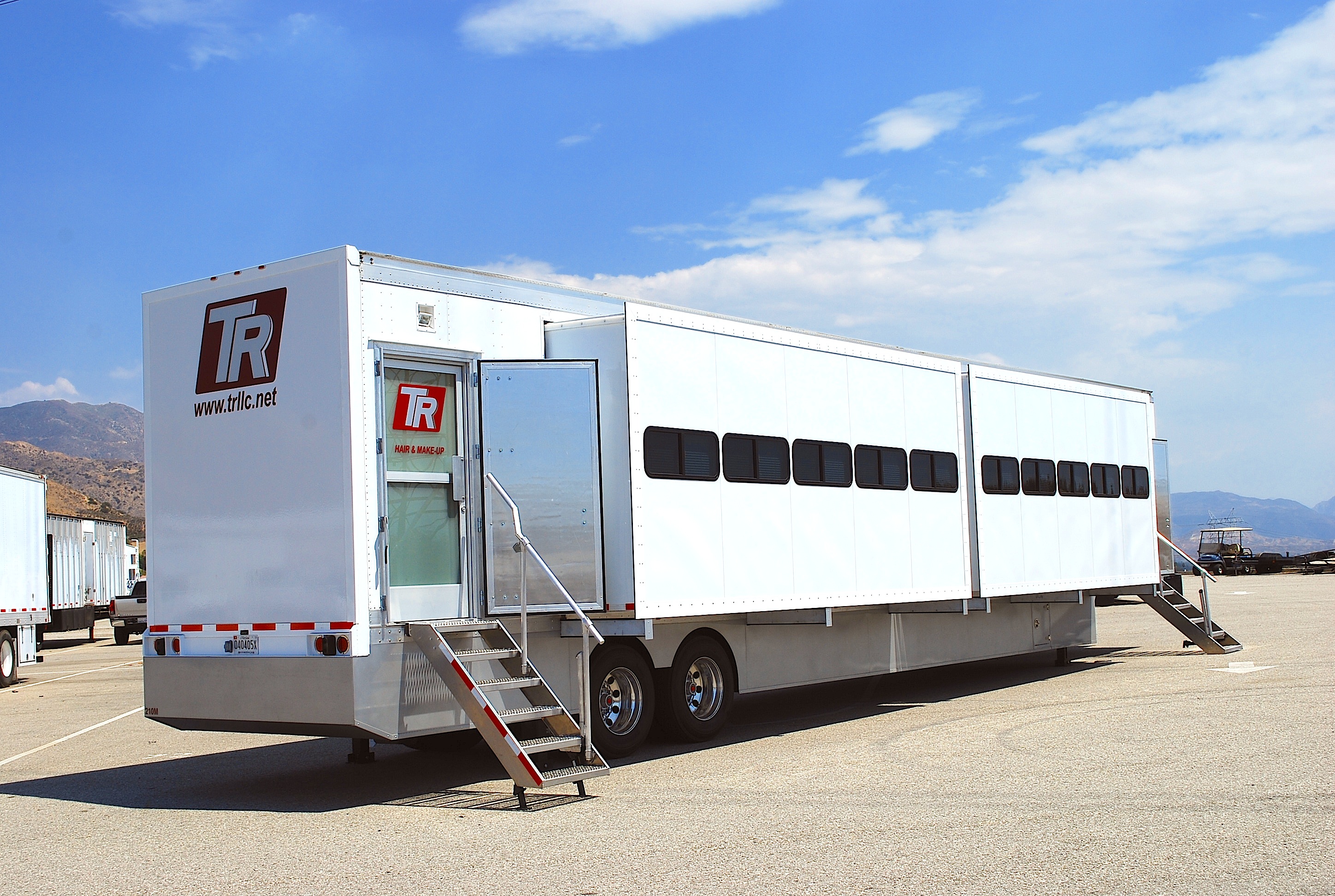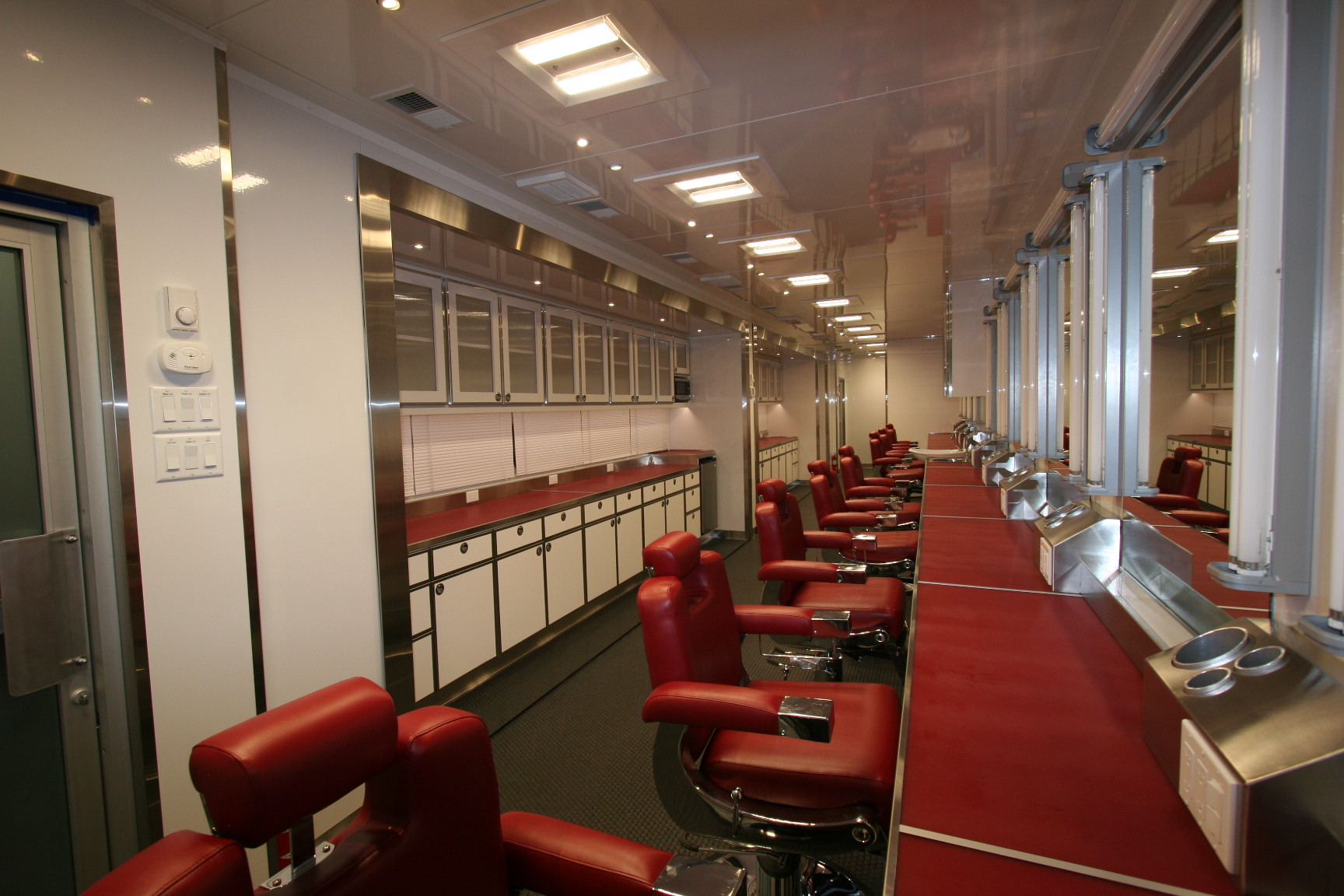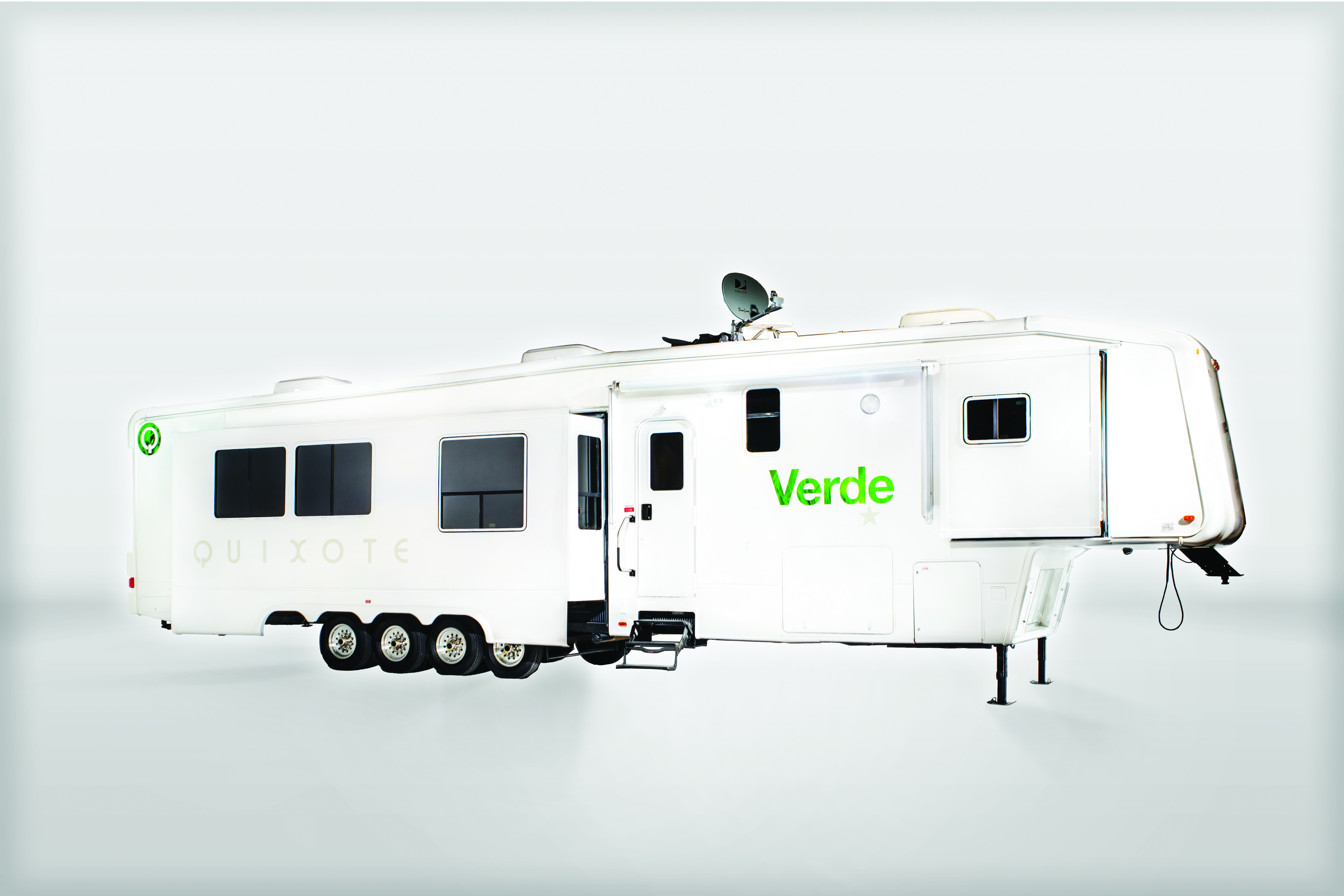 Quixote Studios Goes Verde
Headquartered in Hollywood, Quixote Studios occupies a unique position in the industry. "We're unlike other transportation companies in that we have studios, lighting, grip, expendables and production equipment support – essentially everything you need to create content, short of the cameras," says CEO and co-founder Mikel Elliott. "So we take our experience being studio operators and make our vehicles feel like extensions of the studio. We have over 20 years of heavy transportation experience as well, but overlay it with a high-end studio feel and you have a very unique location experience."
In addition to Los Angeles, Quixote has a studio and vehicles in New Orleans, as well as vehicles in New York and on six acres in Atlanta. The company initially offered short-term trailer rentals for commercials and photo shoots in L.A. before acquiring Movie Movers – and its extensive fleet – two years ago. That propelled Quixote into the feature and television markets and gave it a firm foothold in Georgia.
"We're very bullish on Georgia," says Elliott. "We have a fleet of about 125 units in Atlanta and a really great team anchored by Quixote veterans who value service as a key driver of success." Quixote has provided its Verde line of 2- and 3-room cast trailers to such Georgia productions as The CW's The Vampire Diaries and The Originals, LeBron James's STARZ series Survivor's Remorse, and the feature Guardians of the Galaxy Vol. 2.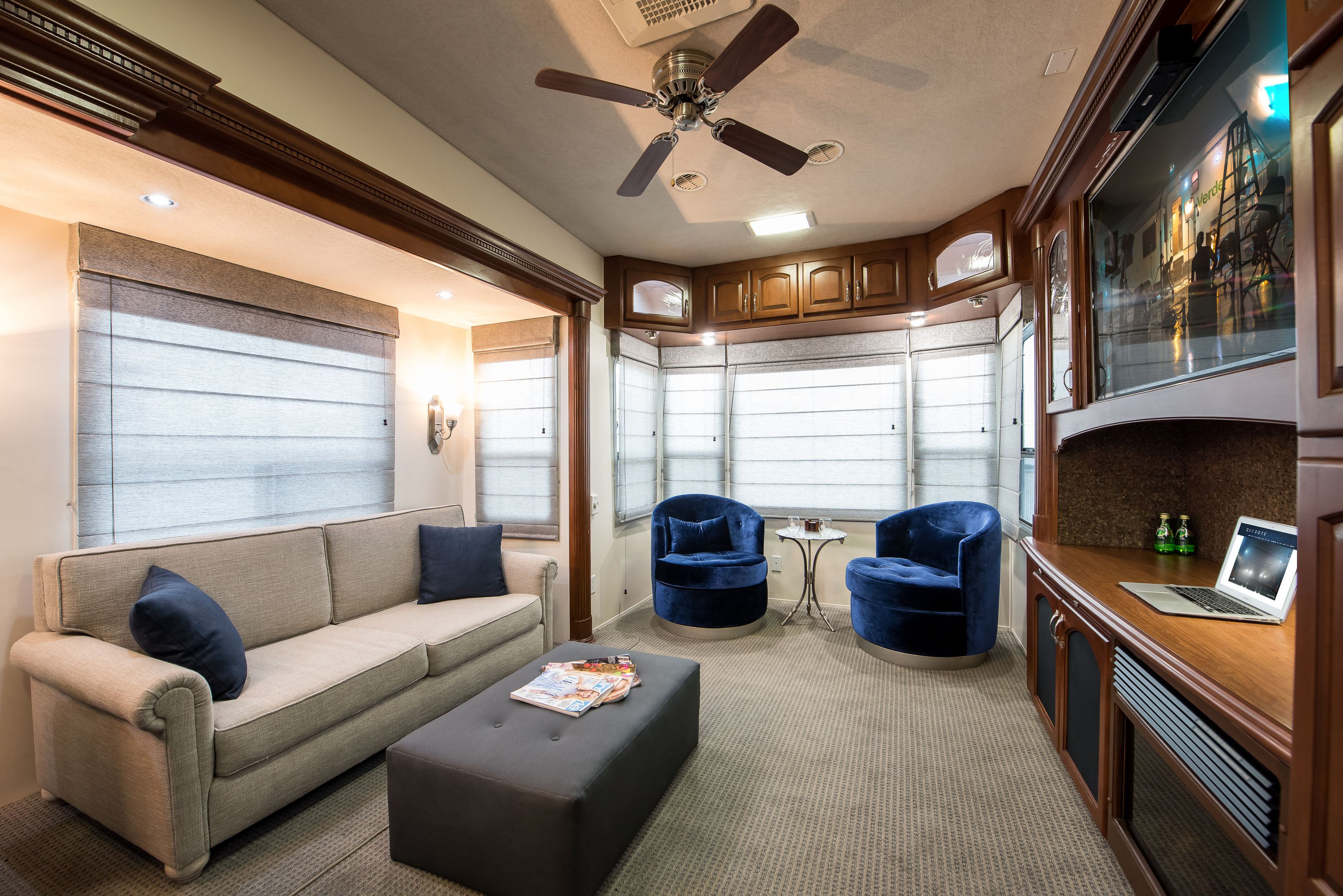 Elliott says the company is growing its camera truck fleet with 3-, 5- and 10-ton trucks in L.A. and Georgia. All feature modular shelving and storage that's easy for users to customize.
Hair and make-up trailers come in 6-, 8- and 9-station versions; a combined 37-foot make-up/wardrobe trailer makes the most of limited location space. "We survey top stylists and transportation coordinators for feedback, then implement their suggestions," Elliott says. "For every class of trailer we develop 80-90 percent of the prototype, then ask our key customers to define the rest."
Wardrobe trailers are designed to be "open and light," with adjustable racks and shelving and comfortable workspaces and changing spaces. Quixote's 53-foot iCoach wardrobe truck is fully wireless, broadband connected and Mac-centric; a 32-foot wardrobe/make-up combo unit is attached to the rear.
Quixote has a fleet of single-cast, multi-room, and celebrity fifth wheel trailers tailored in consultation with interior designers and with talent managers who know what stars look for in luxury and amenities.
The company has been in the forefront of sustainable transportation for the last dozen years, and its Verde line has become "the standard-bearer for eco-friendly trailers," says Elliott. "Sustainability is a mission statement for us. There's so much hardware and infrastructure at a shoot, so to the extent we can reduce our footprint we do."
Verde trailers feature repurposed stone, glass, metal and wood; recycled fabric, carpet and draperies; LED lighting; and low-lead paint. The 47-foot Star Verde is eco-friendly and "super-swanky" with four pop-outs, separate HD satellite system, 65-inch LED 4K TV, Apple TV, 12-foot sectional sofa, queen-size bed and a separate rear-entry that can be used as a make-up station or office. "We have five Star Verdes and are building more," Elliott reports.
Quixote is testing solar-panel roofs on three rigs in L.A., but Elliott notes that heavy and expensive battery technology "needs to catch up" before solar can power a base camp.