Mouths of the South
By Oz Online | Published on June 8, 2018
According to the cast of FX's Archer, voiceover work just might be the laziest, most lucrative dream job in all of entertainment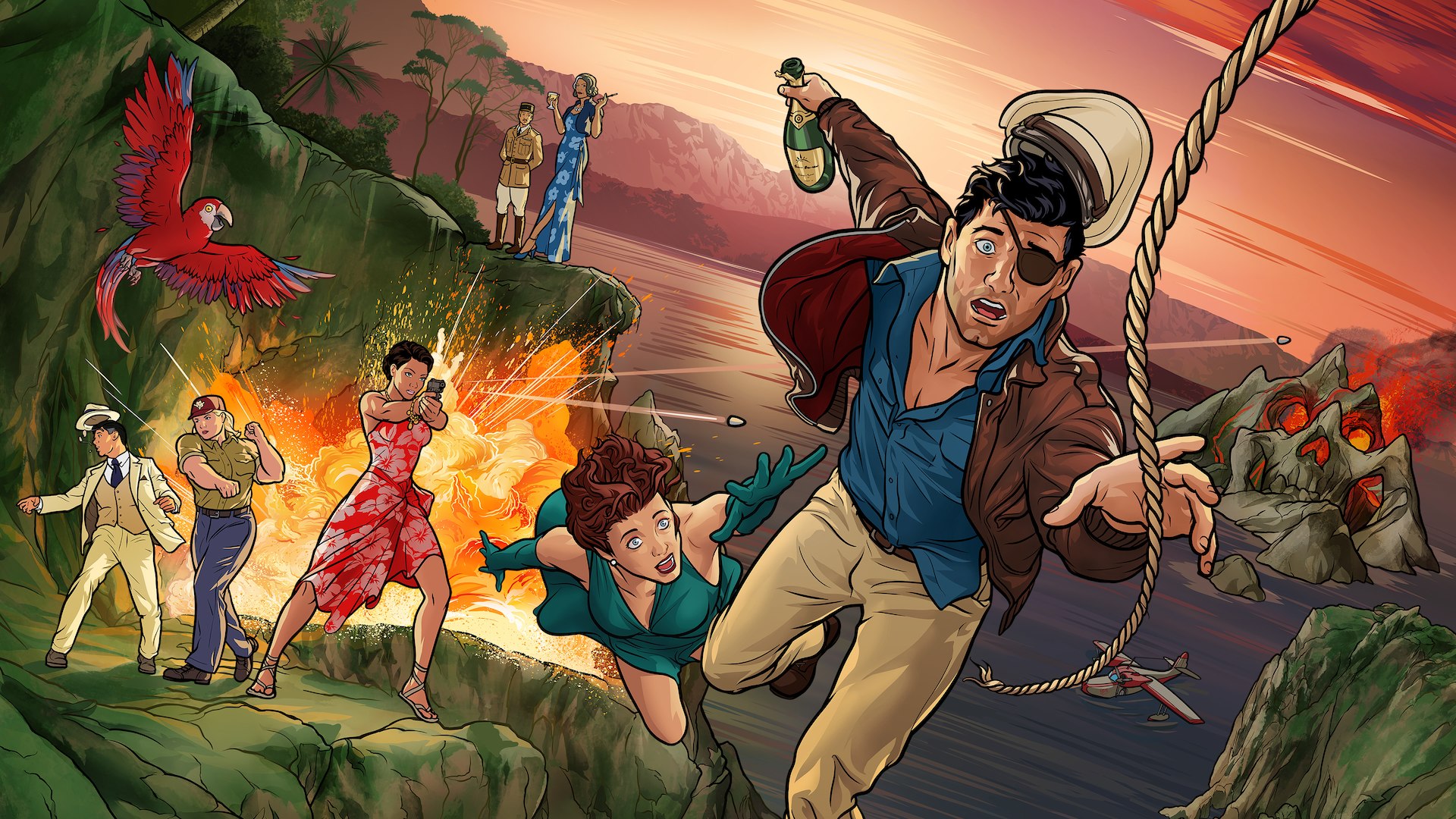 The world is seeing Atlanta more and more onscreen lately, and we're also hearing its voices. Georgia is home to an increasing number of voice talents, those who perform the characters we love in animation and video games, as well as the artists who speak to us through commercials and on mobile devices.
Despite Atlanta housing the headquarters for Turner's Cartoon Network and the Adult Swim brand, however, most of their major productions are based elsewhere. FX's Archer is perhaps the most watched animated series being made in the area, and it's a show that has been particularly good to two local voice actors. Amber Nash, who plays the part of Pam Poovey on the hit series, hails from Gwinnett County. She went to Georgia State University, majored in psychology, and initially became a social worker. But she was also doing improv theater at Dad's Garage and fell in love with acting. Fortunately, Dad's became the perfect launching ground for a new career.
"From [Dad's Garage], I met the guys from 70/30 Productions," Nash says of her introduction to the eventual creators of Archer, who were, at the time, already gaining notice for Adult Swim's Sealab 2021. "They were just five guys working out of a creepy house in East Atlanta. They knew us all at Dad's because we were just a scrappy little company, too."
Lucky Yates, who voices the Archer character Doctor Krieger, also got his start through Dad's. He moved to Atlanta in the early '90s after college, got into radio voiceover at the now-defunct station 96 Rock, and later found local fame hosting a live talk show. From that, he landed acting work on the Atlanta-produced Food Network show, Good Eats.
Yates met Archer creators Adam Reed and Matt Thompson while hosting a burlesque show at the Laughing Skull in 2006. "They came and saw me emcee and thought my voice was great," Yates says. Not that the meeting was random fortune, exactly, as Yates had friends working at 70/30. "People tell me I have a cool voice. I don't know. To me, I sound like me."
Both Nash and Yates first voiced characters for Reed and Thompson's Adult Swim superhero series, Frisky Dingo. "They had me audition for a teenage girl voice, which I was completely wrong for," Nash says of her first shot with the company. But the show changed course, and she was called back in to try out for Val, a part she landed as a regular for the show's two-season run. "Honestly, the reason I worked for them so often was because they could just call me and I'd be there in 10 minutes, and it was just easy and fun," Nash adds. "I played many characters because they just used whoever to play whatever. I played a prostitute who was just insane looking; she was such a mess. I definitely wouldn't have been able to do that in real life."
With young companies, as with young talent, starting out is about who you know, and Nash wasn't the only one who benefited from being so familiar and available. "They just had people come in who they were friends with," she remembers. "Mr. Ford, a character on Frisky Dingo, was literally the guy who lived across the street from them who would mow their grass."
After Frisky Dingo, Reed and Thompson went on to found Floyd County Productions, whereupon they decided to bring along Nash and Yates for their next project, Archer. "I didn't even have to audition for it," Nash admits. "I thought it was going to be another little thing. I didn't know it was going to blow up into what it has become. I got so lucky working with those guys."
Of his late casting, Yates notes that Krieger didn't talk for a few episodes. "The machine was already going when they contacted me," he says. While Archer took a few seasons to hit it big, Yates's character was also slow to gain popularity. "Krieger really started as this side character. Then, Adam just enjoyed writing him so much that he grew and grew over the years. I got into the opening credits in Season 5."
Even today, the part isn't so big that it requires a lot of time. "I recorded yesterday, and it took me, I don't know, 15 minutes," Yates says. "If I'm in the booth over half an hour, I'm there a long time. But that's me. Krieger isn't Archer."
"I'm working, over the course of the year, not even an eight-hour day."
Nash confesses, "I feel bad about how little work I have to do on the show, because the animators do so much work. It's very labor intensive. But the actors don't do a lot, and we get all the attention and glory. It takes about eight months of the year to make the whole season and, for us, we go in once a month for like 30-45 minutes. I'm working, over the course of the year, not even an eight-hour day."
For some local voice talent, "going in" doesn't even factor. September Day, who specializes in commercial voiceover and live announcing (she was the voice of MTV's Video Music Awards in 2007), records in a home studio that's, essentially, a walk-in closet. Not only is it conveniently located, but it allows for the utmost anonymity. "When I was pregnant, that was the best," says Day, "because I'd go into the booth and I'd have yoga pants on and a fleece and my nine-month belly, and I'm doing something for a lingerie shop. They'd say, 'Okay, pretend you're a leather-clad dominatrix.'"
A Georgia native as well, Day was a veterinary technician until a bite incident at work led her to make a change. She admits that she was naive about trying a profession she knew nothing about, but she'd been told that she had a good voice and decided to use it to her advantage. "There was no rulebook at the time," she says. "Nobody was really teaching classes on voiceover."
Day found her groove by learning on her own, and soon discovered she had a penchant for mimicry. "For three solid years, everyone wanted you to sound like Tina Fey," she says. "Then it was Kristen Wiig, then it was Jennifer Lawrence. Whatever hot new person has the cool movie out, that's who we're asked to parrot."
Day now shares her studio, dubbed The Neighborhood, with husband Bob Carter, a veteran voice actor with A-list credits in animation and video games. Most famously, he appears as Balrog and Baraka in the Street Fighter and Mortal Kombat franchises, respectively. Carter, who also grew up in metro Atlanta, got his start in broadcasting at Georgia State's Album 88, and then went to work professionally at the station 99x.
After leaving 99x for another radio gig in Texas, he found his way into Funimation Studios and began doing voices for anime series such as Dragon Ball Z. "Because I have a deep voice, I would always get typecast as a villain or a monster," Carter says. "When they needed an intimidating voice, they knew who to call."