Kenny Blank and the Atlanta Jewish Film Festival Celebrate 20 Years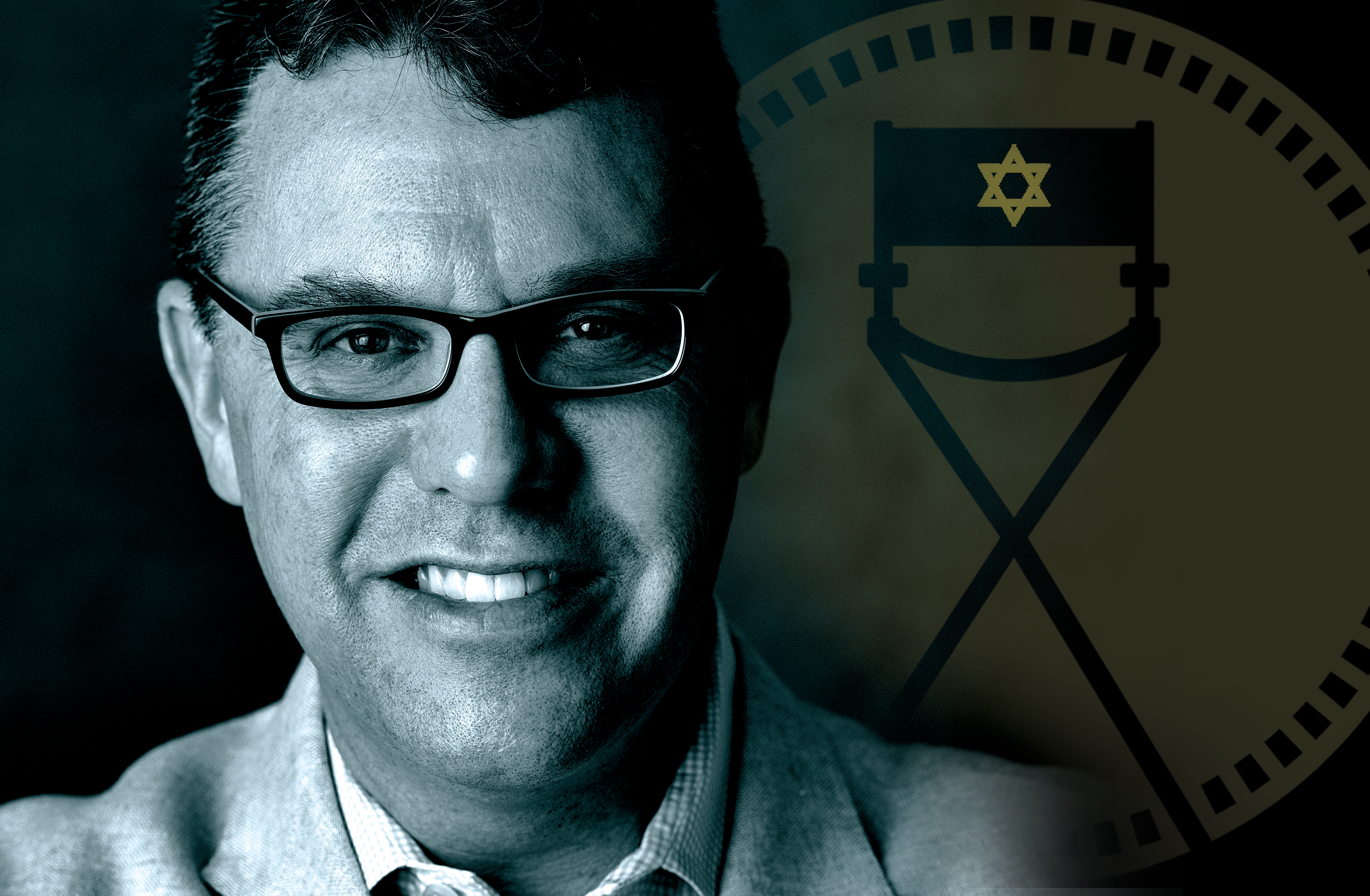 "The Jewish experience connects with everything in life."
In a time when people are often reticent to speak to one another, a period when everything is so polarized, the Atlanta Jewish Film Festival (AJFF) opens up their doors for conversation. Atlanta Jewish Committee (AJC) began the film festival in 2000 to advance its mission of building bridges within the community, combatting anti-Semitism, promoting religious tolerance and exploring Jewish issues through cinematic storytelling.
"AJC is not an arts organization and had no prior experience doing film festivals, so this was all new to them," explained Kenny Blank, the executive director of the film festival, who sat down with Oz Magazine to tell us about his journey as the festival comes into its 20th year anniversary. "Part of that learning process and part of the culture of AJC was to bring a lot of volunteers to inform everything they do. They started tapping people who had the industry expertise or a film perspective that AJC didn't have to help curate and figure out how to produce the festival."
In the formative years of the Atlanta Jewish Film Festival, Blank was working overnight hours in a newsroom for broadcast television. "I loved what I was doing and it was a time of a lot of major news events, but it was taxing, and exhausting, and not conducive to family life." Prior to his career in television, Blank completed his Bachelor's degree at New York University with a focus in film studies and journalism. Blank's passion for cinema and his career in programming news were foundational to his path at the film festival.
Blank's festival career is directly tethered to his wife, Nancy Blank. "[She] was first invited to volunteer on the film selection committee, and she's not even a film person," said Blank, who smiled at the irony of it all. "She said, 'You know you're really talking to the wrong person here. I mean my husband's the film guy, so why don't you get him involved?'" At that point, a few years had passed since AJC's first film festival, and the board members began exploring options for a full-time festival director. Without hesitation, Blank assured the AJC that he was available for and interested in the part. "I saw all kinds of possibilities to take it to new places," Blank told Oz. "They said yes and that's how I became the festival director."
Fast forward to 2014, after over a decade of explosive growth, increasing fundraising demands and programming opportunities, the AJC had come to the realization that the festival was outgrowing the committee. "What started as an advocacy project really was becoming a full-fledged film festival in its own right," said Blank. "[AJFF] needed its own staff, its own operating structure, its own governance, its own programming team and so forth." That year, the festival recognized that it was beneficial for both parties if AJFF stepped out on its own and became an independent 501(c)(3). It continued the incredible advocacy work that AJC does, but it was a chance for the festival to really focus on doing what both parties do best.
The mission of the festival has not changed; it goes beyond just showing great films. "The mission is probably two-fold," stated Blank. "One [side] is celebrating great international cinema; bringing films to Atlanta that you cannot see anywhere else. There aren't a lot of art house cinemas here in Atlanta, so there is a real opportunity with our festival to bring a lot of the top films from Toronto, Berlin, Telluride, Sundance and so forth. All these big international film festivals that have some connection to Jewish life, [we] bring them here for all audiences, not just Jewish audiences, to experience.
"Blank recognizes that the Jewish community is not a monolithic one, and he believes the second component of the mission is bringing the entire community together to celebrate Jewish culture collectively. "People engage with their faith and their ethnicity in all different ways. This is a way through film, a very safe space, and a secular movie theatre… [where you can] explore your culture and faith and heritage and history through film."
Since community inclusivity is at the heart of the festival, it should come as no surprise that the evaluation committee that selects the programmed films is comprised of a diverse group of volunteers. "I really want to make sure we have a diversity of films and subjects represented, and we want to have a diverse audience. I think the best way to do that is to invite people from all backgrounds to be part of the process.
"I really want to make sure we have a diversity of films and subjects represented,
and we want to have a diverse audience. I think the best way to do that is to invite

people from all backgrounds to be part of the process."
Programming a film festival of this size and duration takes six months, from May to November. The committee prescreens about 700-800 film entries. These are a combination of films that are submitted through an open call for entries and ones that Blank and the AJFF team seek out and invite: films that are mined from other international festivals. "We're looking for those films that have some connection to Jewish life and Israel. Sometimes it's going on a hunch, sometimes it's obvious. We try to really broaden the definition of what makes a film Jewish to allow us to bring a lot of different subjects and genres. The Jewish connection may be more indirect, it may be a certain Jewish point of view or a certain Jewish value. There's something inherent in there, but it may not be something front and center in the film." For Blank, along with the rest of the staff and volunteers at AJFF, one of the most important goals of the festival is to encourage an ongoing dialogue long after the film ends, the lights turn on and the theatre empties. "These films deal with very challenging issues, 'ripped from the headlines' kinds of topics: challenging, thought-provoking films, films that really warrant conversations, films that you're going to want to unpack.
Throughout his time at AJFF, Blank appreciates when these circumspectly curated films surprise the audiences. It's an aspect of the film festival that never gets old. "Movies are kind of like getting your broccoli wrapped in chocolate; you don't necessarily know the filmmaker's agenda or if the filmmaker even has an agenda. The messages of these films are wrapped in characters and stories."
Despite its size and growing success, the film festival shares similar challenges that other festivals are facing today. "In the past couple of years, you have seen people questioning the sustainability of traditional moviegoing," said Blank. "Movie theatres are downsizing. This has been a challenge for film festivals [since they] bring out huge crowds all at once." As a result, AJFF is forced to evolve by booking non-traditional venues where they can provide maximum seating for their members and guests.
In addition to the threat of today's decrease in movie theatres, film festivals all over the world are now having to compete with the uprise of streaming services. "[We] want to provide a really unique experience for the moviegoer, because so many of these films are immediately accessible at home." The question that arises when pondering this concern is one Blank and the AJFF team must frequently grapple with: "What's really going to compel someone to get off their couch, fight traffic, and come out to see these movies," Blank asked. While the experience of watching a movie on the silver screen remains superior for Blank and the loyal members of AJFF, this preference is dwindling amongst the newer generation of moviegoers who often prioritize watching a movie on their laptop or television over buying a ticket at a theatre. Nevertheless, Blank believes that the magic of cinema lies within the shared experience. "There's a different energy when seeing the films [in theatres]…it's a different relationship you're having with what's on-screen when you're having that as a shared experienced with others." Blank proceeded to list examples of genres worth seeing collectively, from comedies to horror films to dramas. "You're jumping out of your seat," exclaimed Blank. "You can feel the emotion in the room."
One of the ways AJFF keeps the magic of cinema alive is by inviting industry experts to screenings. Academics, film critics, filmmakers and more come out to AJFF to introduce films, speak on panels and participate in ancillary programming. For twenty years, AJFF has invited moviegoers to investigate the complex themes that surface in cinema, to question their viewing experience and to become a film student in their own right.
"The Jewish experience connects with everything in life," said Blank. While Atlanta is home to people of many different backgrounds, AJFF is and has always been an inclusive community. There's a seat in every theatre for anyone who wishes to tap into the wisdom of cinematic storytelling. Blank's words conjure up memories of a Hebrew saying: "Eizehu chacham? Ha'lomed mi'kol adam." Who is wise? He who learns from all people.