30 Years of 479
By Oz Online | Published on January 10, 2017
In late 2016, IATSE Local 479 celebrated its 30-year anniversary with a grand gala at the Crowne Plaza Hotel in Midtown.
The event was one for the record books, replete with plenty of delectable food, an open bar, a staggering number of tasty cupcakes, a DJ blasting tunes, and a packed dance floor. Hundreds of attendees bore witness to a 25-year pin ceremony for veterans of the organization, emotionally-stirring speeches, and even some very entertaining dance-offs, all to celebrate the longevity of the union.
As an outsider, being present at this sophisticated event was a tremendous honor. The crowd was an interesting mix, especially given that pretty much everyone there is truly a character in their own right. Spirits were high, and conversations with strangers came easily. A familial vibe and inclusive tone imbued the evening with a sort of magic. The members of this union are all incredibly hard workers and team players, and they truly appreciate the efforts of others, which makes them a chummy bunch who treat one another like family.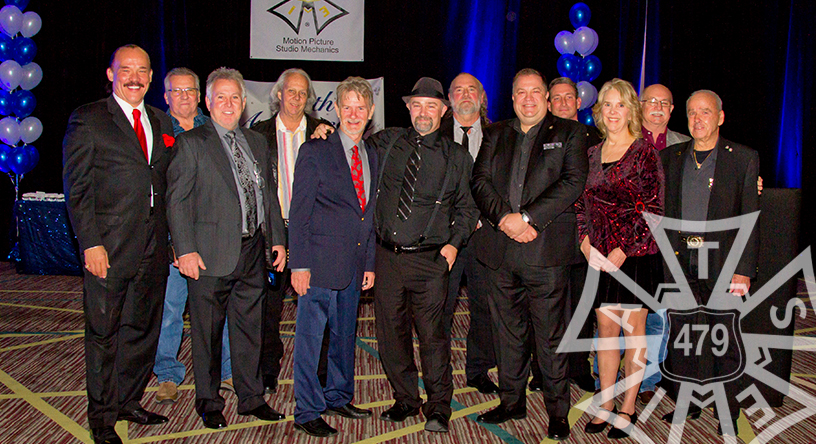 If you ask just about anyone, working full time in the film industry can be at once fulfilling and challenging. The work is positively dreamy for those who have a passion for film. The magic of production, of being part of a team that brings a story to life on screen, that's what drives many professionals into their chosen careers within the industry. But it's not always red carpets and Hollywood glitz…sometimes the real world catches up to you, and it becomes necessary to take care of details like health insurance and retirement.
So how do career professionals within the world of film and television manage it all? For many, it's through affiliations with unions and workers' associations that help to bridge the logistical gaps for industry folks. One such organization that is hard at work making careers in film more viable for Atlantans is Local 479.
The International Alliance of Theatrical Stage Employees (IATSE) is a labor union representing over 130,000 technicians, artisans and craftspeople in the entertainment industry. With 375 IATSE locals spread between 13 geographical districts in the United States and Canada, the union provides numerous benefits to its members.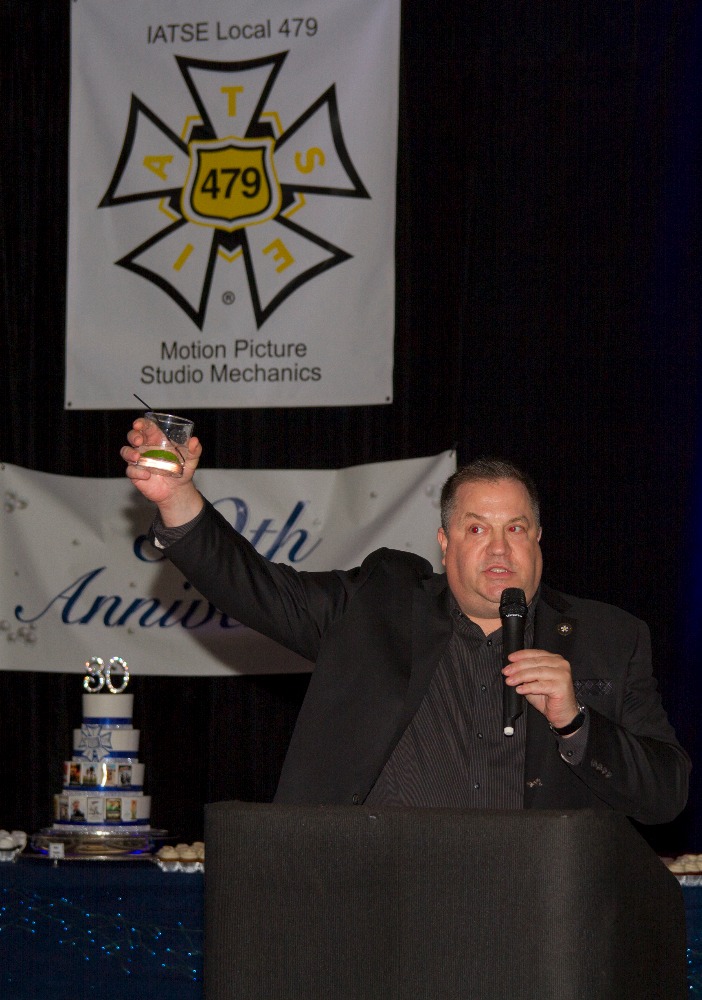 In the film world, where job security doesn't exist and nearly everyone could be considered a freelancer, IATSE has responded to the needs of its constituents by providing resources that would otherwise be out of reach for many industry professionals. Those resources include health insurance, retirement funding, worker's compensation, disability programs, and negotiated base pay for productions. Additionally, the networking gained through attending IATSE events and participating in sponsored workshops and classes help those who are just getting into the industry to learn to meet the work standards set by directors and producers. The union serves many different professions, and each individual craft falls into one of four categories: stagecraft, motion picture and TV, broadcast, and tradeshow.
The Georgia union falls into the 7th IATSE district in the United States, and represents those working within the categories of construction, paint & scenic, props, set dressing, greens, wardrobe, grips, electric, special effects, sound, video assist, craft service, first aid, script supervisor, hair and makeup, production office, art department coordinator, and projection. All of Georgia is represented by Local 479 with the exception of the city of Savannah. While being a member of the union is not a job-placement guarantee, and it is understood that members must rely upon their own connections within the industry to get new leads, they do put out casting and crew calls when they get wind of them which can be a much needed safety net for professionals who are seeking their next gig.
There From Day One
few of the members found some time between gigs to speak with Oz about their experiences with the Local 479; some who have been members for many years, and some who have just gotten started. One such member, Kathleen Tonkin, has been a member of the 479 for 30 years, and was bestowed with a pin awarded during the 30th anniversary party.
Tonkin is an explosives special effects specialist and the owner of East Coast Films, a full-service production resource facility. The company offers services that range from architectural fabrication to scenic artistry, and from custom props to mechanical special effects. In productions, when making an action film or anything that requires extensive special effects, there are a couple of ways to achieve it. There's mechanical, which is what Tonkin does—that's any mechanized prop that is physically made and able to move along with atmospheric effects like rain, sleet, snow, fog, etc., and then there is computer generated, which is CGI and other digitally added effects.
"I really love special effects, always have. It's fun!" said Tonkin. She has an impressively long resume that includes work on big name productions such as Me, Myself & Irene, A Walk To Remember, 21 Grams, Quantum Break, and most recently Daytime Divas. Tonkin's family history includes four generations of film industry professionals dating all the way back to 1924, and even her father was a grip. Clearly, a love for movie magic runs in Tonkin's blood.
The work itself is very rewarding, but is not without its challenges. There are some especially demanding aspects to working in mechanical special effects beyond the long hours and unpredictable schedules. "It's a very tiring field," she said, noting that she lives her life differently as a consequence of her line of work. "I don't have long nails, I have short hair," she continued with a laugh. For Tonkin, these style choices are more than just for looks; it makes the work easier. She also hinted at an on-set singed hair incident that played a part in that decision.
"We are like a family, our whole industry is."
Tonkin was born in Manhattan, raised in Queens, and eventually ended up across the river in New Jersey where she was living when she first saw the hiring call for a production in Georgia for the 1992 film, Freejack. Starring Mick Jagger, Emilio Esteves, Rene Russo and Anthony Hopkins, Freejack is a time travel saga into the futuristic world of…2009. It was on that set that Tonkin met the man who would become her husband, and later the president of the 479, Robert Vazquez.
Throughout the years, Tonkin has accomplished many things in addition to beefing up her resume with lots of cool productions. One such accomplishment is becoming the Sergeant at Arms for the 479, as well as serving on the executive board. For Tonkin, being a part of the union is not just good for her continued career prospects: it's also a crucial part of her daily life. "We are like a family, our whole industry is," she said, noting that she has been able to curate the team she has worked with for many years. That kind of familial support is key for not only finding and keeping good work, but also for surmounting the sadness of personal tragedy, as with the passing of her husband a few years ago.
Working in mechanical effects is often difficult and trying, and not everything "tests out" as Tonkin explains it. First, you must build the internal structure of a prop and ensure that it moves; then you add the aesthetic elements to the piece. Some of Tonkin's most memorable films have presented unique challenges. When asked her favorite production to work on, she will tell you that it was working on the set of Dreamer, a 2005 film starring Dakota Fanning and Kurt Russell about racehorses. For that production, Tonkin had to create a mechanical horse that would behave in a realistic manner.
​