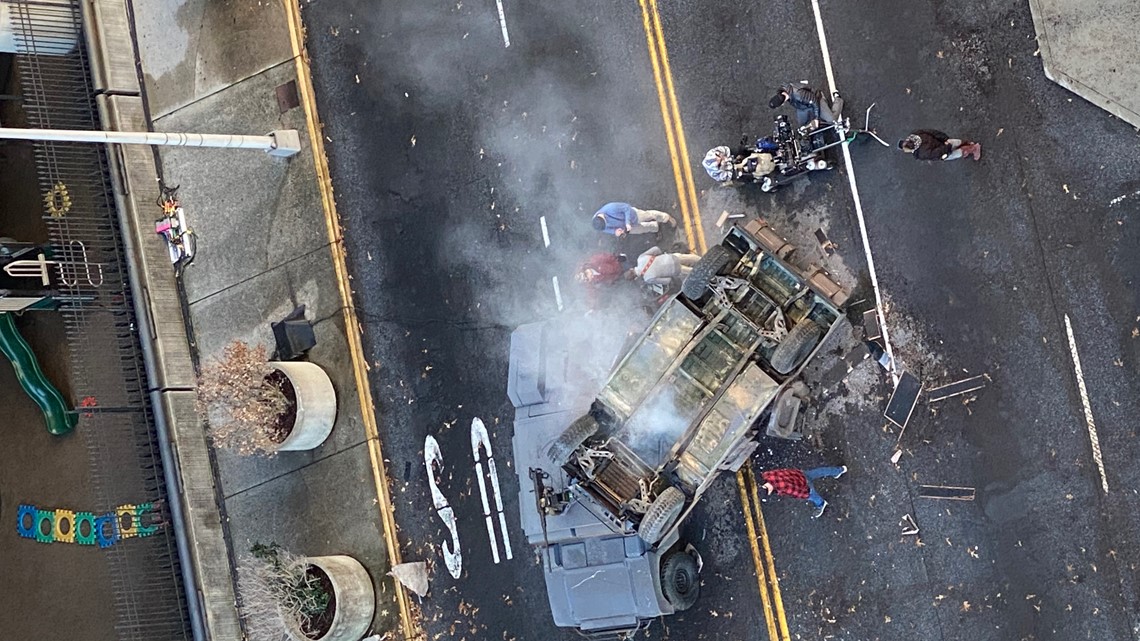 The Tomorrow War' films battle scene in downtown Atlanta
By Oz Online | Published on January 24, 2020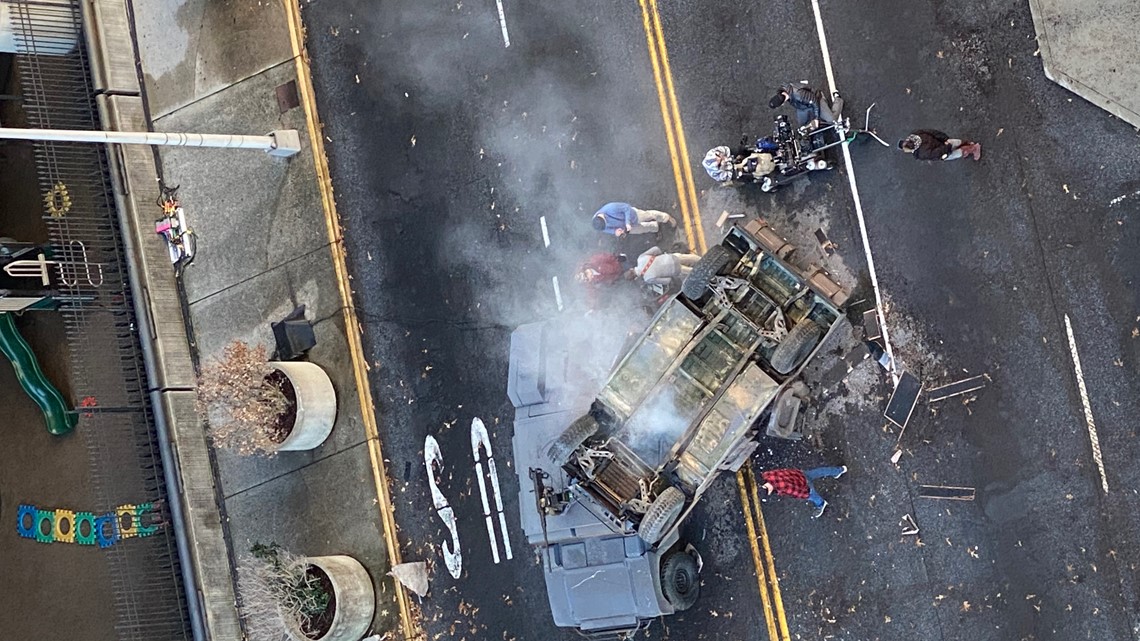 ATLANTA — Production on Chris Pratt's upcoming action-drama "The Tomorrow War" has virtually transformed parts of Atlanta.
The post-apocalyptic themed movie has required streets to be closed to build battlefield-inspired film sets.
From pink smoke to overturned vehicles, the props and environment has been quite the sight for anyone that encounters the production.
A family visiting Georgia for the first time stepped in the movie magic as scenes were in progress on January 12.
Leigha Adams tells the A-Scene that she and her three children were visiting her husband from Jacksonville, North Carolina.
Adams said she was staying on the 16th floor of the Twelve Collection Autograph Collection when she first heard the commotion.
"I was getting dressed and heard guns going off. It freaked my husband out because he's a vet and we saw guys dressed in military gear," Adams said. "There was a paper slipped under my door about "The Tomorrow War" and we were told to not be alarmed."
The Adams family who originally intended to have a fun weekend in Atlanta by visiting the tourist spots found themselves being entertainment by the sights and sounds of Hollywood magic outside their hotel. She was surprised to learn that Georgia is now considered a TV and film production capital.
"I didn't even know that Georgia was a hub. I was honestly shocked. I thought we were going to have a mild weekend at the aquarium," Adams said.
Adams reflected on her son not wanting to leave the hotel because the action and excitement of their anticipated vacation found them.
"My son is 11, and he was ecstatic. This is vacation for us," Adams said. "We live in a military town so our family is used to it."
Leigha, her husband, son, and two daughters – ages 5 and 1- mingled with some of the extras dressed in military gear for the movie in the hotel lobby.
Atlanta Police blocked off nearby 400 W Peachtree St NW the day prior so that crews could add elements of the post-apocalyptic scene.
Adams, who revealed that she isn't a fan of social media, was surprised when her video posted to Tik Tok started getting hundreds of views.
"I wasn't expecting that. My dad lives in New York and he saw the video,"Adams laughed.
The military mom also spotted a short-sleeved Chris Pratt filming scenes and admits she didn't know anything about the star before her time in Georgia.
With Adams' husband working at a power plant in the area, she is looking forward to making another trip to Atlanta.
She also revealed she will be watching "The Tomorrow War" when it comes out on Christmas Day 2020.
Read the original article, here.