The Light That Shines Farthest Shines Brightest at Home
By Oz Online | Published on July 17, 2020
"I'm a catalyzer. I'm a forward thinker. I'm looking at how to disrupt and create waves," Lecrae said.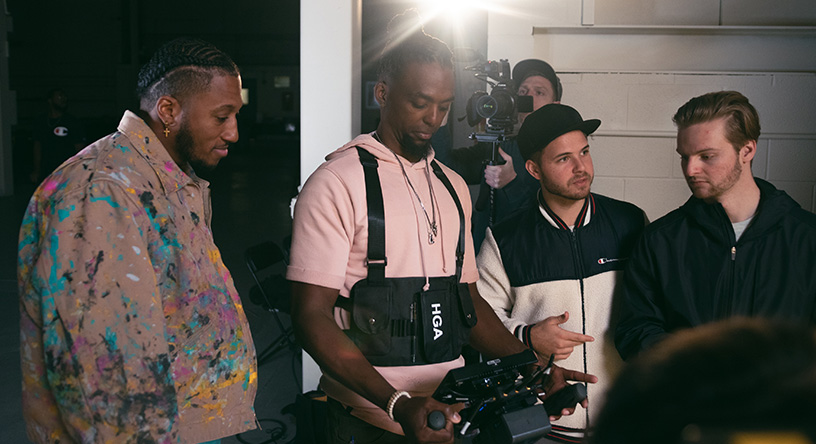 The whole world is experiencing serious disruption right now due to the COVID-19 pandemic. Here in Atlanta, right as people were forced indoors during a time of isolation and social distancing, the weather largely decided to buck the old "April showers" tradition and become almost devastatingly sunny. All this time indoors and not spent in traffic, at the gas station, in line at a restaurant or on our way to appointments might provide a respite from our until-recently busy lives, but are there different ways we are being productive?
How are the creatives of our industry responding to this disruption? As soon as we can start working again, will we see more finished screenplays? Richer stories with more polished writing? Will ultra-low-budget, home-grown indie film have a resurgence?
Two Atlantans who are using this disruption to make some moves are two-time Grammy Award-winner Lecrae Devaughn Moore (better known simply as Lecrae) and his business partner Adam Thomason (also known as A.T. "Lumkile"). Together, they have created 3 Strand Films, a new production company intent on driving the perspective of society.
You've no doubt heard of Lecrae. Since releasing his first album in 2004, the mononymous star has been pushing boundaries in the hip-hop, gospel, Christian and indie music scenes, blurring the genre lines to degrees previously unseen. He first conquered the Billboard Gospel Albums chart in 2008 with Rebel, conquered the Billboard Christian Albums and Independent Albums charts in 2010 with Rehab and earned his first Billboard Rap Albums #1 two years later with Gravity. Dubbed by some critics as the most important album in the history of Christian hip-hop, Gravity went on to win Lecrae his first Grammy Award. It was his follow-up, however, that earned the now-mainstream artist his first ever #1 on the Billboard 200 Albums Chart and a gold-certified record from the Recording Industry Association of America.
Lecrae did all of this through Reach Records, a label he co-founded in 2004 and where he still serves as the president. To date, Lecrae has released nine studio albums and three mixtapes, with his tenth album set for release this summer. He also produces much of his own music and many of the releases of other artists on the Reach roster. The new album will be released solely on his label, which also reissued the Set Me Free single independently this spring, following a break with Columbia Records.
In 2012, Lecrae made his film debut in A Cross to Bear, an Atlanta-lensed television production. Since then, he has appeared in Believe Me (2014), SuperFly (2018) and Breakthrough (2019), a film that grossed more than $50 million worldwide and garnered an Academy Award nomination for Best Original Song.
While music has been Lecrae's bread and butter for the better part of two decades, his foray into film shouldn't come as a surprise. He first attended the University of North Texas to study theatre. It wasn't long, however, before the musical culture ingrained at UNT began to lure him over. With famed alumni like Roy Orbison, Don Henley and Norah Jones, it's easy to see why Lecrae speaks so fondly of his time at his alma mater.
"I was there on a full theatre scholarship, and I had a spiritual transformation and got involved with a group of students who were very adamant about expressing their faith and culture simultaneously. It drew, probably because of the leadership, a lot of artistic expression," Lecrae said.
It was there that Lecrae met Thomason at one of the campus meetings of the UNT Plumbline Ministry in 2003. Thomason had recently moved to Texas after earning a degree in fashion/apparel design and marketing and a minor in architecture at Savannah College of Art and Design.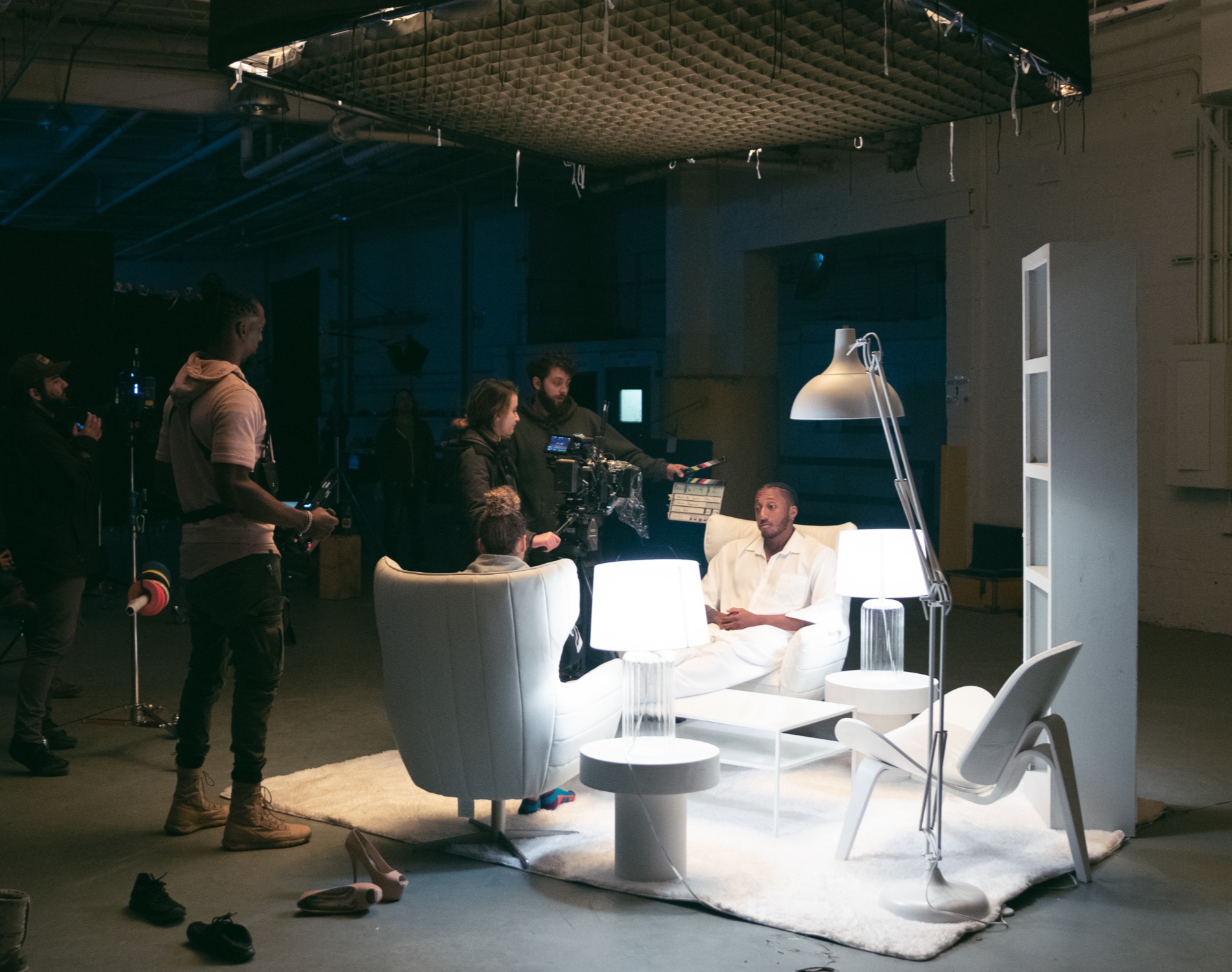 "Adam, being a SCAD graduate, found a place where he could kind of express his culture, his faith and his artistic leanings as well," Lecrae said. "We had stage performances. We had skits. We had music. So, if you were a young, Black person of faith, it was probably the place you wanted to be, especially if you were creative."
While their careers quickly went in different directions, the two friends stayed close over the years. Lecrae founded Reach Records and released his first album in 2004 and rather quickly became a hip-hop superstar. Thomason earned two Master's degrees, worked for Collision Records, preached and taught as a professor before making his way into film.
"As you get older and progress through certain subcultures and God gives you favor, you start to ask the question, 'Okay, what can we pivot into that can create a lasting change?'" said Thomason. As he began to contemplate steering towards a full-time career as a filmmaker, Thomason also took note of the rise in popularity of streaming content. When asked about why he started with documentaries, Thomason credited the advice of an expert.
"I'll tell you the reason why I started there," he said without any hesitation. "Ava Duvernay said if you want to learn film and know how to maximize budgets to where people can trust you, she said to start in documentary work. It's such an unknown and if you can get your hands around that, then when you get into scripted, you are in more sterile places where you can control the places that you're shooting, you can control the budgets and then people will tend to trust you because they'll see that you can control this volatile work."
In 2016 and 2017, Thomason was commissioned to make several documentaries, travelling to France, Ghana, Italy, Malta, Nepal, and along the Colombia and Venezuela border.
"Because of the success there, God opened up doors," he added. "Obviously we're friends, so I'm sharing those stories with Lecrae. You know, he's killing it in the music scene, and just as people are wanting him to be involved in film for his name and stature, not knowing he actually has a theatre background, and not wanting to be taken advantage of, we just started having conversations. And so it was like, why not make this pivot together?"
"Both of us have been storytellers," Thomason said. He lists a number of Lecrae's music videos as very cinematic stories, but he also laments that often many of the narratives that are distributed through entertainment aren't always truthful.
"Fashion was always about selling a story, telling a story, but most of the time the story wasn't honest," he added. "I think being in the music industry, fashion, and entertainment always preps you and gives you that poise to come into film."
For Lecrae, it was a relational move as well. "I just kind of got tired of walking the entertainment road alone and my friends not being able to kind of breathe some of that air. So, I just thought it would be great to get my friends involved," he explained. "You know, I did that in music and as I was trying to transition into film and television, it's just always better to have your friends involved. Partnering with Adam was relational and just a part of making sure that I stay authentic because I think when you do stuff with your friends, you can't fake it. You won't put out terrible work because the friends won't let you!"
As these two men found themselves looking in new directions career-wise and for opportunities to partner together, 3 Strand Films was born. "There is a need for honest narratives that deal with vices and virtues and don't over-glamorize or sanitize," Thomason said. "I feel like we've always been studiers of that. This is an unmet need in the film and television space. That's what 3 Strand is going to be. We never tire from seeing the great virtues and vices get recycled in stories, and that's something that speaks to the soul of who we are as humans."
Once Lecrae and Thomason decided to set up shop together, the next logical move was to get in the same place. For Lecrae, Atlanta has been home for over a decade, and it doesn't sound like he's got his sights on anywhere else. "My cousin went to school at Spelman in the '90s and she would come back and tell us stories of Atlanta and I just was itching to be here," Lecrae said. "I was like, 'I've got to get to this city. I got to live here,' and it ended up being able to be a reality ten years later."
After moving here in 2009, Lecrae quickly became a prominent fixture of the community and a frequent sight at Atlanta Hawks games. "Atlanta is like having the girlfriend you always wanted," he added. "It's the place I've always wanted to be. I'm an Atlanta Hawks fan. I'm an Atlanta Falcons fan. I love Atlanta, you know, and I'm not one of those kind of opportunistic people who just said let me get what I can get out of the city and get up out of here. I am an Atlantan."