The Gleaming New Cube
By Oz Online | Published on November 10, 2017
Georgia State University Launches the Creative Media Industries Institute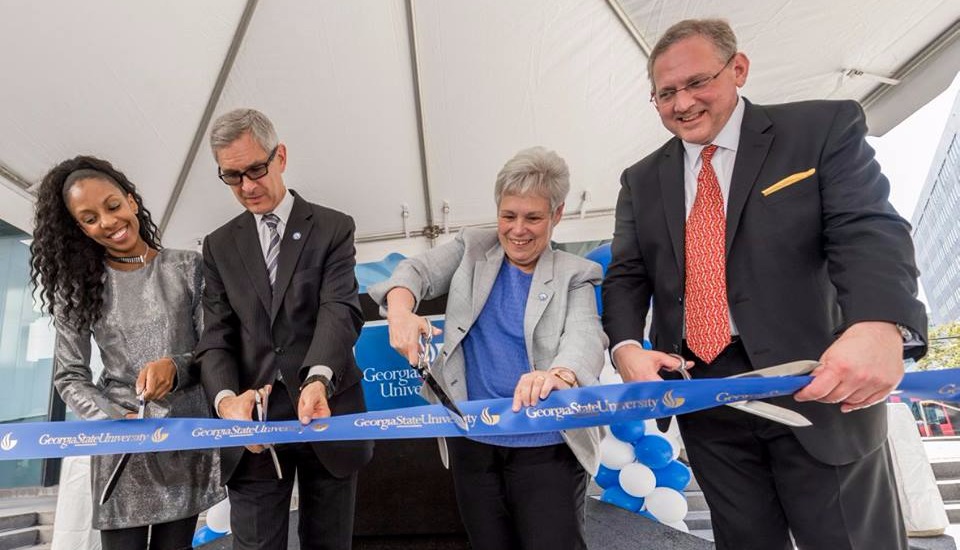 Georgia State University's new Creative Media Industries Institute opened with an Oct. 19 ribbon-cutting ceremony, marking a distinctive partnership between professional and academic interests in the creative media arts. Inside the "Cube," as the 23,000-squarefoot complex is nicknamed, industry leaders and students can now work side by side and in collaboration with one another towards individual and industry-wide goals. "Our aim," said CMII director David Cheshier, "is to bring the full interdisciplinary resources of this extraordinary university to bear, so that our graduates can build Georgia, and Atlanta, into a — or perhaps I should say the — global digital media arts capital."
Before inviting guests to tour the building, Cheshier explained how its three floors represent the three pillars of CMII's mission to form a more direct bridge between media companies and educational partners. The first level is devoted to training GSU students in advanced creative technologies, such as virtual reality, augmented reality and motion capture, through which they are provided production studio space and post production suites for hands-on experience.
Next is a level dedicated to media and arts entrepreneurship, with incubation space designed to support student startups. Finally, on the third floor, are labs for research collaboration. Together they form a pipeline that "connects creative, tech-savvy and liberal arts trained students with industry experienced professors of practice, and puts them to work addressing real-world industry needs," says Cheshier. "We believe these efforts will produce amazing results."
Joining Cheshier in the ribbon-cutting ceremony were GSU president Mark P. Becker, provost Risa Palm and film program senior Brianna Martin, who represented the student body's excitement for what CMII has to offer. "You can already get a sense of the creative atmosphere and vibe," she told the crowd outside the building. "Professionals and students will be able to create pretty much whatever they can imagine."
Martin is particularly looking forward to students being able to keep up with the media industry. "I'm excited to walk that bridge that hasn't been here before, to be able to speak with professionals," she later told Oz during the reception. "The students get to be more connected and use technology that is used within the industry."
Associate Professor Ying Zhu, who has moved from the Department of Computer Science to CMII, was also attracted to the opportunity for interdisciplinary collaboration. "This is a place where science, technology and arts are truly integrated," Zhu explained to Oz, adding that it fits his research agenda in the areas of computer graphics and data visualization, as well as his work with colleagues in the film and English programs and experts in VR.
Following the ribbon cutting, Zhu was on hand in one of the third floor's labs, demonstrating his sports-data visualization project to enthusiastic students. "We had been working really hard to prepare for the grand opening, and it felt great to see so many guests coming to the ceremony and showing interest in our facilities and projects."