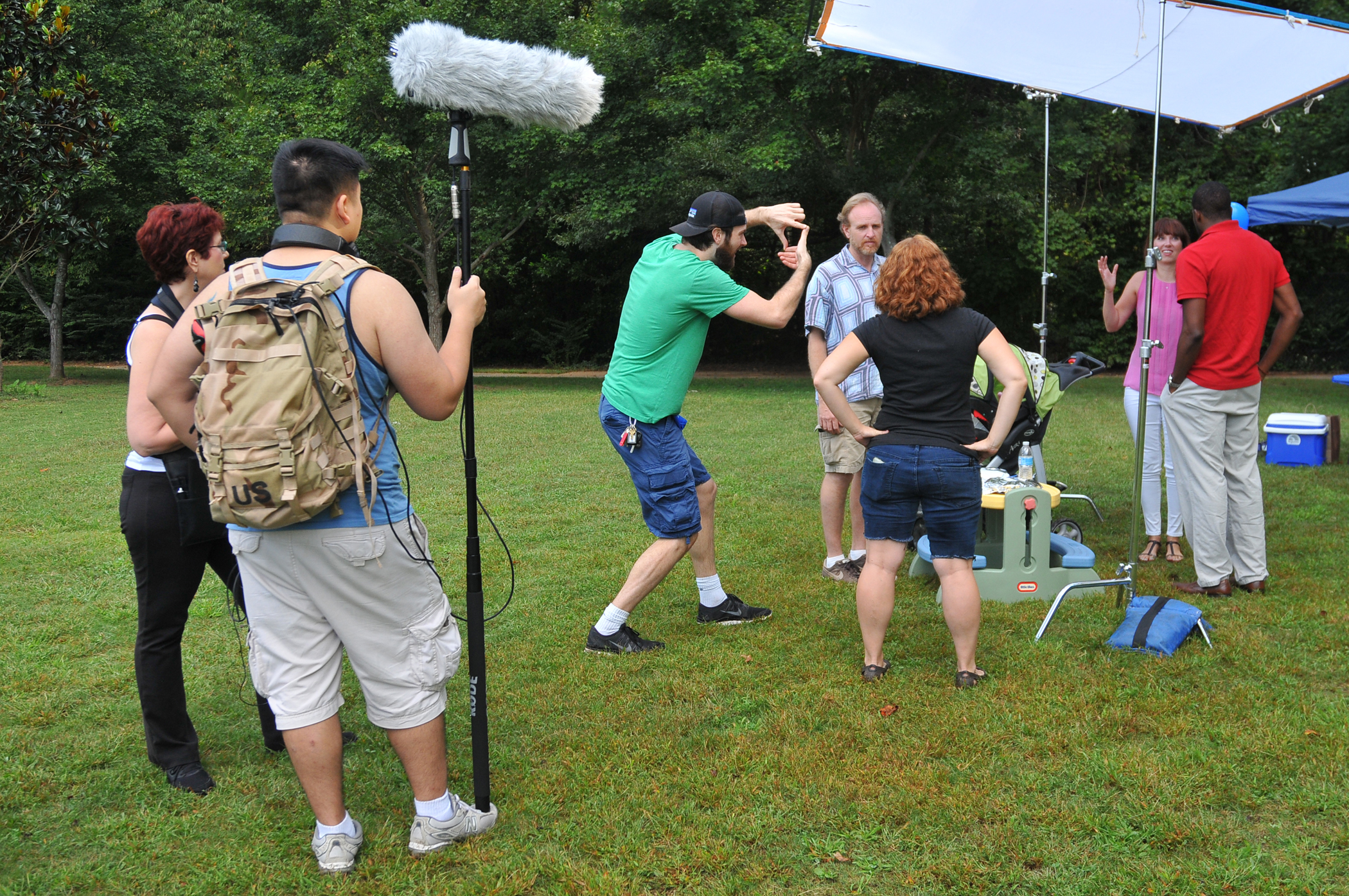 The Eye of the World Is on Me
By Oz Online | Published on November 1, 2015
An Oz interview series with content creators: how they execute their vision, how they attract eyeballs, and how they seek distribution.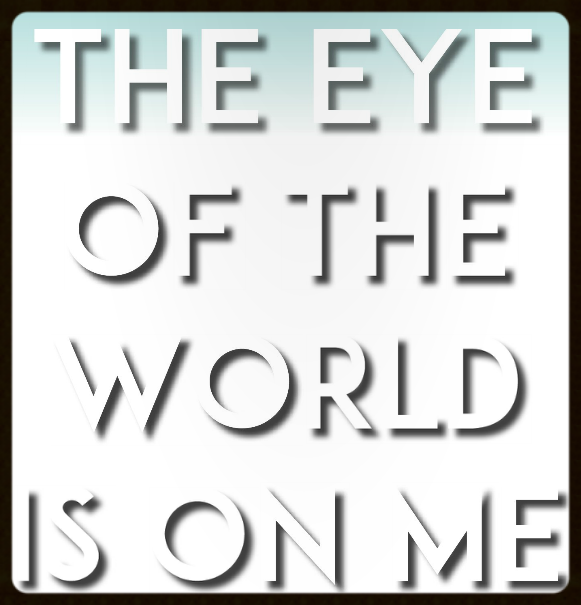 As Georgia firmly claims our spot in the top three U.S. centers of film and television production, we're also putting ourselves on the map as original content creators – from TV series, to indie films, to web series.
Created and written by Atlanta filmmaker Nicole Kemper, The Mother Load web series follows an odd-couple pair of friends: Carrie, a by-the-book first time parent, and Astrid, a parenting veteran who believes in embracing chaos, as they navigate the unpredictable waters of raising children.
The show's first episode begins with Astrid (played by Kemper) breast-feeding her baby while she gives a very distracted young bakery clerk her order – an eclectic list of specialty donuts that only a nursing mother would choose.
What inspired you to create The Mother Load web series?
When I had my first child – who's now five – a lot of unexpected things happened – like when I had an entire conversation with someone I hadn't met before while I was breast-feeding. We were both trying to pretend that it wasn't weird but it was and I thought that was quite funny.
I watch a lot of TV and I didn't see the stuff that was happening to me on television, so I thought here is an opportunity to tell some funny stories that weren't being told. I didn't know if it would become a short or a feature or what, after my son was born, I sat on the idea for a long time.
So how did you decide it was time to develop your "mom" experiences into The Mother Load?
I used to be an actor. I got a degree in Theatre Studies at Emory. After school I wasn't sure I wanted to act so I stopped acting for 10 years and went to film school and became an editor. About a year after my son was born, I felt like I wanted to try out acting again.
I started taking classes at the Alliance and I met this guy who said "I'm going to take this class at a Theatre called Pinch 'N Ouch. It's the Meisner technique …" They weren't offering the next class I wanted at the Alliance, so I signed up at Pinch 'N Ouch and took Meisner Level 1.
The first 4 weeks I kept thinking "I don't understand this. Why am I doing these repetition exercises? Is this even acting?" About 4 weeks in it really clicked for me. And Grant and Morgan McGowen who run the Theatre, and all the people I met there were really dedicated. I had such a good time working with them that I just never left.
As I went through all the Meisner class levels, we started amassing this group of actors who are also writers and who wanted to direct. So Grant developed a class called Advanced Meisner. For half the class we'd do repetitions and the other half we'd bring in stuff we'd written and read the scripts as a group. And the idea was to develop things that we would then shoot.
I started writing the script for The Mother Load and I'd bring it in and we'd read it out loud and I began to realize that my script would really work as a web series.
Now I can always talk myself out of doing something by saying "I don't know. It seems like it's pretty hard and I've got kids and it's been a while since I made a film …" But with them it's like "We're doing this. It's happening. When are we doing the auditions?"
And then you start setting dates, and people kept telling me it was worth doing and it gave me the courage to go for it. Everyone's enthusiasm was quite infectious.
Tell me about your writing process.
I like to write outlines and I had this idea that each episode should be about "something," so I wrote out events I wanted to have happen and then I started working with the characters – an overall problem each was tackling and the developing relationships between the characters.
Initially the four episodes were about 10 pages each but when we edited the projects, we decided that 10 minutes was too long for a comedy web show episode. So I found where the action breaks were, where I could stop the story and pick it up again the next week and these four longer episodes became seven shorter episodes.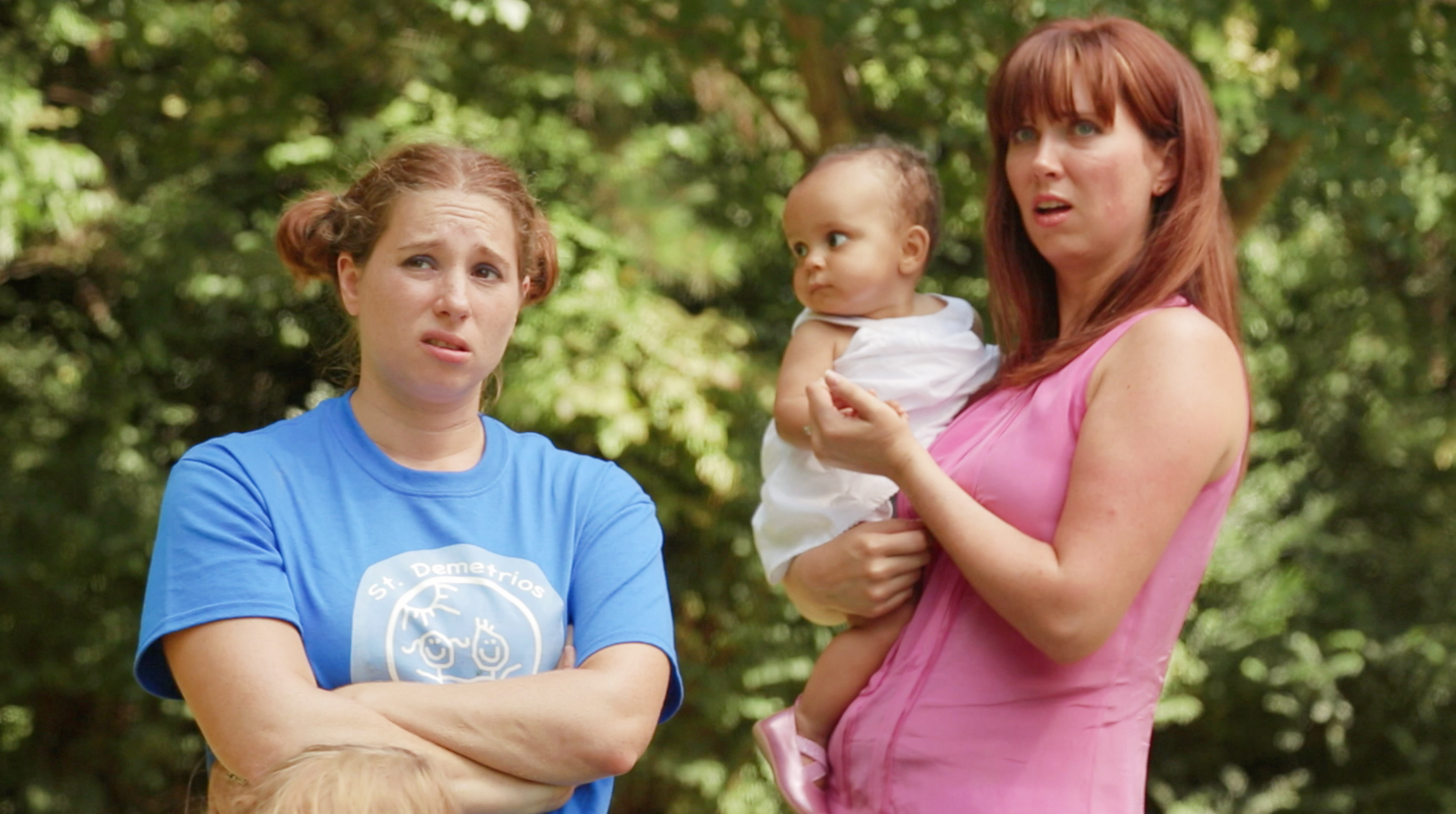 Nicole Kemper and Lauren Barash star in The Mother Load web series
Web series are still a new medium – so why were you willing to brave this?
I think web series – the whole concept of it – is a gift to writers. I love television and some stories are really built for the television format. I also think some of the most brave work being done right now – in terms of mainstream content – is in television. And I see a lot of women writers actually finding a voice in television, which is great.
When my husband and I started watching web series, somebody introduced us to the series High Maintenance. It's about this bike messenger who delivers weed but it's really more about the people he encounters. Each episode is 10-15 minutes long and I was like "wow" this is really great – the production value is great, the acting is fantastic, it's so funny and touching and they did it all themselves.
They didn't need to shop their idea around to a network and get permission to tell the story. They just went out there and did it and they released it on Vimeo and slowly, over time people found it. First they got a deal with Vimeo on demand and now HBO picked them up so their series will be on HBO.
And I heard about the women from Broad City – Abbi Jacobson and Ilana Glazer – who started out as a web series. After getting noticed by Amy Poehler, they were able to find their way to networks and pitch their show, and now they're showrunners for their own TV show on Comedy Central.
I feel like web series give people an amazing opportunity to write television, without having to have the networks tell you if your content is good enough to be on TV.
You put your own money into making this series. What made you decide to do that?
It's kind of funny the way this came about – I didn't have time to consider if it was a bad idea because Grant was like "All right, we're shooting this. When are we doing auditions?" And I was like "Well, I need to get some money together or something. " And he's like "Oh, yeah, yeah, we'll do that. But when are we doing auditions?" So once it started happening, it was already in motion and at that point it was like I can't stop it and I don't want to, so let's just keep going.
My husband read the script and he's incredibly honest. He's read my work before and he's been like "Oh, this is really not your best" but he read this and he said, this is good – you need to do this. So he was on board.
The entire budget was about $5000 and half of that, about $2500, came from me and $2500 came from our IndieGoGo campaign.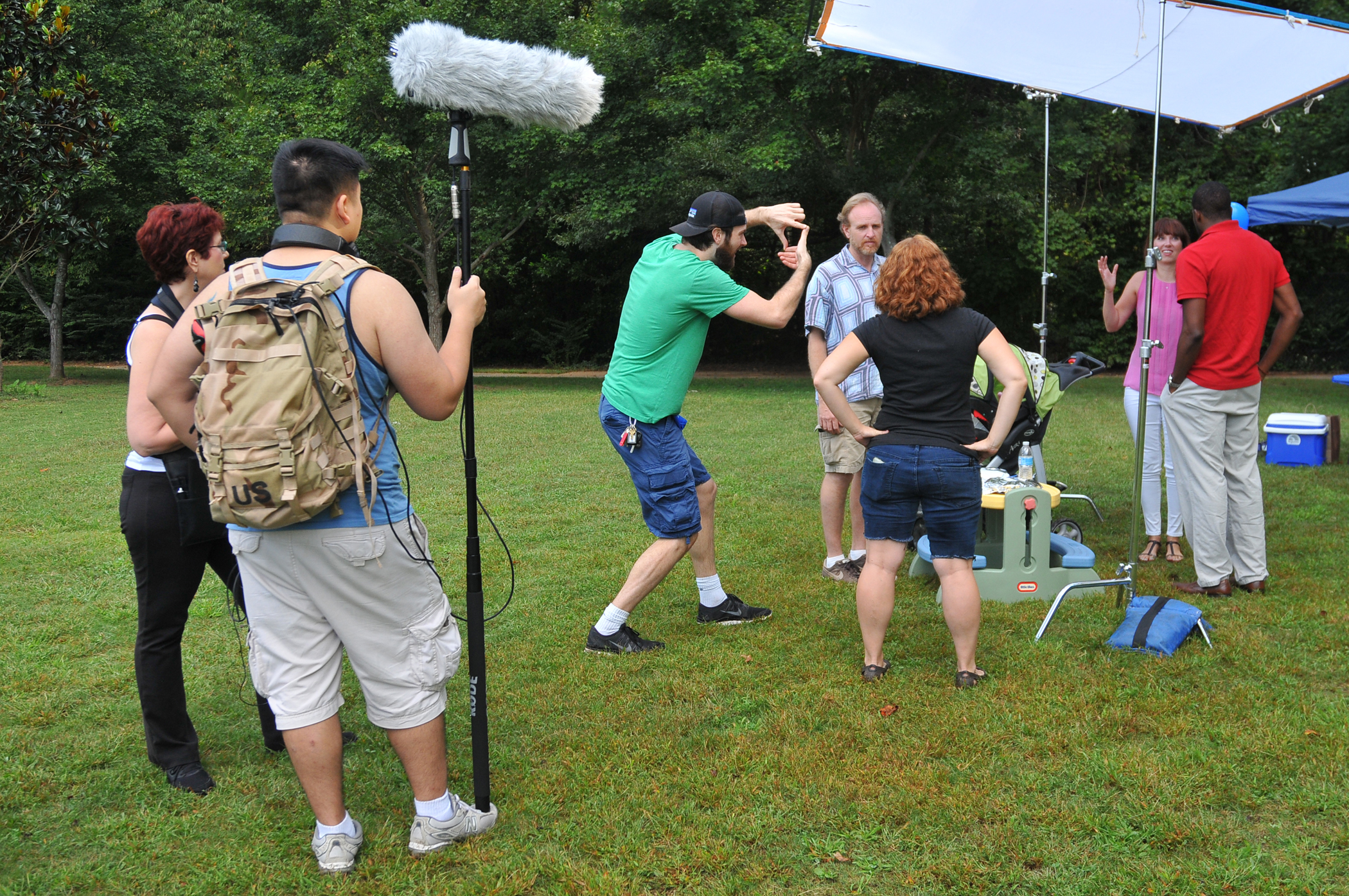 So if you're writing and acting and producing and sometimes directing and editing too, what do you need to do to so everything comes out right?
You really need to have people you can trust behind the camera – and of course
you've got to watch playback.
I really trusted Grant – and I knew he knew what the story was about — and also Hillary, the assistant director, and Sarah and Max, my production managers. They'd been in on rehearsals and they knew what I was trying to accomplish and they cared about the material.
Our production designer was wonderful and was with me from the beginning. Her child and my child went to preschool together. We started talking and I found out she works on films and as a parent of small children, she knew exactly what I was talking about in the scripts.