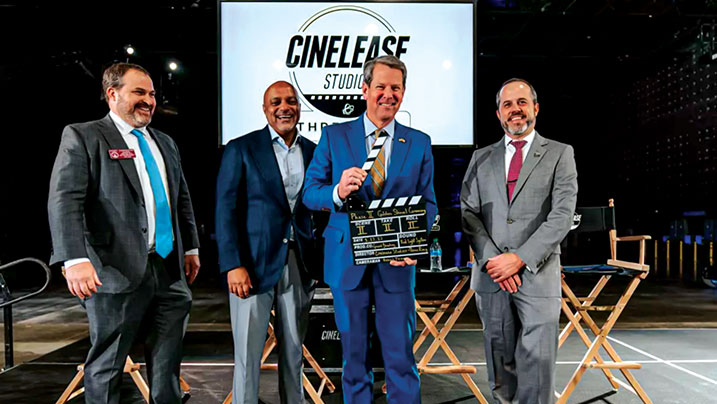 This March, Cinelease Studios-Three Ring held a "Golden Shovel event" to break ground on a $144 million expansion of their film and TV production studio in Covington, Georgia. At the event, legislators, members of the Georgia Film Office, and film industry leaders expressed their excitement for the expansion which is guaranteed to bring new productions and jobs to the state.
"The impact of the productions that come here go far beyond the film industry. These investments bring more money, more jobs, and more opportunities to communities like Covington," said Governor Brian Kemp. "This expansion is a great example of how rural areas can produce big gains both for their region and all of Georgia."
Cinelease first came to Atlanta in 2007 after the purchase of a warehouse in Eastpoint. Shortly thereafter, they began a studio management division and, in 2020, formed a partnership with Three Ring Studios to open a purpose-built media campus for television and film production. Located in Covington and complete with six sound stages, a large backlot, and twelve office buildings, the studio has operated at 100% capacity since its opening.
"We're always evaluating incentives and where productions want to be, and that combination is why we built Cinelease Studios-Three Ring here in Georgia in 2020," said Gannon Murphy, Cinelease Studios General Manager. "Georgia has, for the last decade-plus, embraced the film and television industry by consistently providing a business-friendly and cost-effective work environment."
The expansion includes eight new stages which raises the campus total to 14 sound stages, spanning 276,000 square feet of space. Along with that, 100,000 square feet of office space and two new mill spaces will become available as well as new office amenities, eight acres devoted to outdoor filmmaking, and additional parking lots.
"Production crews range from a handful to several hundred, but regardless of size, the local spend fuels Georgia's economy," said Cinelease's Director of Studio Client Relations, Jessa Grazioplene. "From creating more jobs to renewing long-term leases on land, our vertical growth expansion of our 572,000 square foot purpose-built studio reinforces our local economic commitment."
The expansion of Cinelease Studios-Three Ring is expected to be finished by late 2023!