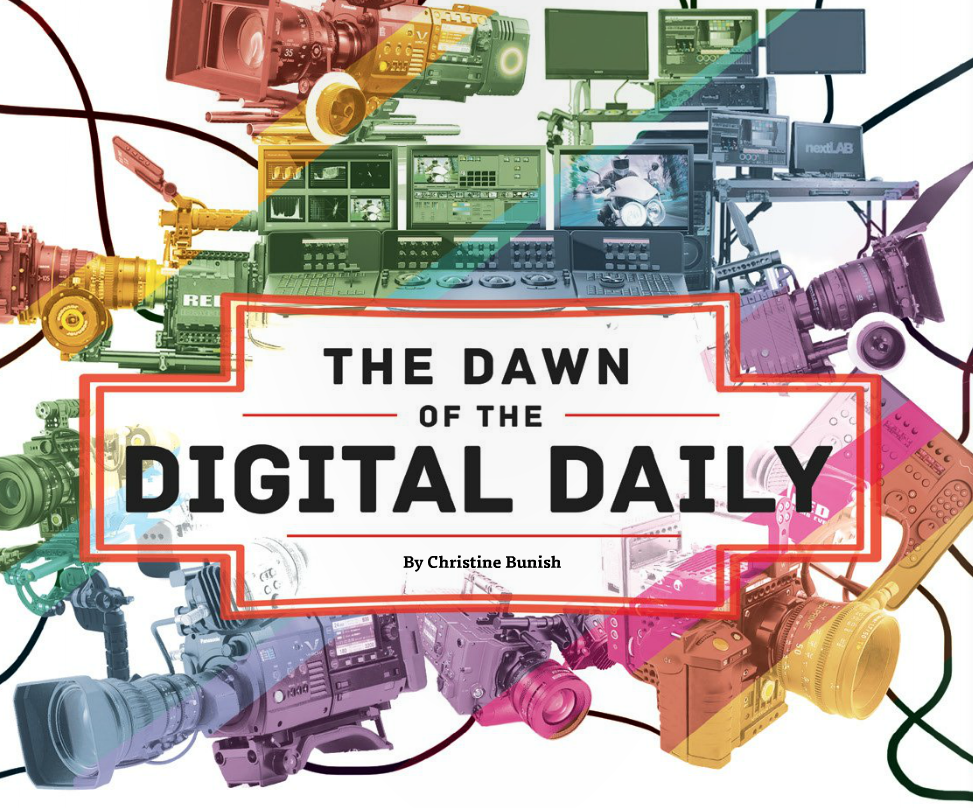 With digital dailies now a staple for productions shooting digitally . . . and those still originating on film . . . Atlanta has a growing roster of companies offering dailies solutions for features and television.
"Just about every studio chooses Atlanta as a location so there's a demand for dailies on set or in a facility," says Suzanne Morris, president of Morris Media Consulting in Atlanta and a former HBO and Deluxe Entertainment executive.
"We have seen an increase in demand for both near-set and in-facility dailies. The current trend seems to favor in-facility dailies, and there are a growing number of companies that offer closed loop systems that mirror color-corrected dailies on an on-set monitor, iPad or projected to a large screen. Digital dailies are more than copying files and sending them off. There's some level of color correction involved and customization of the process to meet camera and deliverable requirements. This is still a very talent-driven business."
Company 3 Crafts Custom Solutions
The digital dailies team at Company 3 including dailies producer, Scott Salamon (top left) and managing director of Deluxe Atlanta, Billy Gabor (bottom left).
"There's no one-size-fits-all solution for digital dailies. It's all very customizable," says Billy Gabor, a colorist by trade and managing director of Deluxe Atlanta, which includes Beast for creative editorial, Method Studios for VFX and finishing, and Company 3 for color.
Because projects have very different digital dailies needs, Company 3 can provide productions with simple cart-based, near-set solutions or a completely outfitted mobile grading theater in a trailer. Dailies also can be done in the Atlanta facility, which boasts "a full digital intermediate theater, the same as we have in L.A., New York and London," says Gabor.
Deluxe Global Network (DGN), the company's high-bandwidth private fiber network, enables collaboration across great distances. "We often do dailies and final color and get involved early on for LUT selection and look development," Gabor explains. "Filmmakers collaborate with our colorists here or remotely with any Deluxe colorist worldwide; we'll color manage the project all the way through. DGN also permits filmmakers who are finishing projects at our other facilities to connect to those sessions and make color-critical decisions remotely."
Recent dailies clients include the just-released feature Goosebumps, which shot in and around Atlanta and in Conyers, Georgia, the upcoming crime drama Triple 9 and the Adam Sandler comedy The Do-Over, which shot in Savannah and opted for a near-set cart solution.
Blackmagic Design DaVinci Resolve and Colorfront On-Set Dailies (OSD) are the primary tools used by Company 3's dailies colorists. Deluxe also has proprietary products. Colorstream is an on-set system used to build, preview and store looks live; a free iPad version is available on the Apple App Store. eVue is a color-critical review tool that allows filmmakers to view very high-quality dailies in their residence, production office or trailer. Metatrack Portal automates the process of VFX pulls and helps color decisions track to final color sessions. "These tools help filmmakers get the look they want early on and carry that look from dailies all the way to the finish," says Gabor. Final color at Company 3 is typically done on Resolve.
Gabor can't emphasize enough the importance of maintaining the database for each project. "Because of the volume of data we work with, the database is absolutely critical," he says. "Keeping the integrity of the data is everything for a project."
"Liaising with the studio, editorial and production to hammer out the details is our specialty," adds dailies producer Scott Salamon. "We act as the hub and dial in all the variables like workflow, calibrations and color science. Our local dailies team of more than ten people provides 24/7 support."
Company 3 is currently supplying digital dailies for a major feature shooting in Atlanta on the new ALEXA 65, ARRI's large-format camera system. "ALEXA 65 is giant; we're getting 8-14 TB of data every day," says Gabor. "To do those dailies we beefed up our storage and the amount of spindles, dispersing data across enough discs to get the throughput to deal with the massive amount of data in the time frame our client expects. So the filmmakers can really see the details, we also provide an eVue review station in a custom trailer to live on the lot."
Putting the Bling in Digital Dailies
Alex Brownley, workflow producer, Bling Digital.
For the last three years Bling Dailies' service has been available through SIM Digital in Atlanta. The process is most often performed near-set at the SIM Digital facility, which workflow producer Alex Brownley describes as "within walking distance of several soundstages, camera rental houses and production offices." Bling also provides a near-set location service, too.
"I always tell our technicians-in-training that we're the first line of defense: The level of detail we provide in our dailies service affects the entire post production process," says Brownley. "Dailies are more than synching sound to picture and moving on. Wrangling all the metadata, especially the color information, is the number-one priority. We do checksums from beginning to end."
Bling's near-set location dailies are done with a workstation pod, usually located in the production offices. Each pod comes equipped with an Apple Mac Tower, Colorfront software and a Tangent Wave panel control surface for color correction. Flanders OLED monitors are color calibrated to match those used on set by the DITs and cinematographers. Pods are initially manned by Brownley or a Bling supervisor then, when they are assured of "smooth sailing," a dailies tech takes over and remains for the duration of production. Codecs are customized for the camera deployed. Pods include storage and archiving on LTO 5 or 6; data storage can also be customized to meet increased requirements.
Pods were deployed on NBC's Revolution series during its two seasons shooting in Wilmington, North Carolina; a pilot in Richmond; and WE tv's new South of Hell supernatural series shooting in Charleston.
The bulk of Bling's dailies, however, are facility-based. Current clients include The CW's new thriller Containment, season three of The CW's The Originals, season two of MTV's Finding Carter, the HBO Original feature Confirmation, Dolly Parton's NBC movie Coat of Many Colors, BET's new Zoe Ever After sitcom, and the indie biopic Megan Leavey. Bling also acts as "the middle man" providing data archiving and data pushing for NBC's new crime series Game of Silence whose dailies are done by Sony Pictures Television's i24P Dailies.
Workflows vary project to project. Containment shoots on Panasonic's VariCam 35, a new model that Brownley says, "offers a lot more in-camera capabilities" and requires a workflow to keep the color pipeline consistent. Finding Carter is done with the Academy's ACES color space workflow.
Confirmation, about the Clarence Thomas-Anita Hill battle during his Supreme Court confirmation hearings, used a 1990s-era broadcast camera to capture footage that would be intercut with archival material. "Getting that to HD specs for processing, while maintaining an SD look, was a challenge," Brownley notes. "The show bounced between ARRI ALEXA RAW and ProRes formats, too." Confirmation set up editorial in Bling's facility. "We rent space for offline editing," says Brownley. "When a dailies client is editing here it makes for a wonderful working environment."
Bling tends to be involved in the dailies color correction process. The "most popular" scenario, according to Brownley, has the company's in-house colorist, James Koon, setting looks with a DP and translating them into LUTs to be loaded on set. A tight workflow between Colorfront software and Blackmagic Design DaVinci Resolve ensures that CDLs can be easily passed along to final color.
Light Iron Boosts Atlanta Profile
Los Angeles-based Light Iron has provided digital dailies services to productions in Atlanta for several years. Now, as part of Panavision, Light Iron is raising its profile in a town where Panavision Atlanta is already a fixture.
Currently, about 25 percent of Light Iron's Atlanta business features its LILY PAD on-set creative color suite. "We can supply a LILY PAD system for DITs who don't have their own equipment," explains Paul Geffre, Light Iron's head of business development and workflow strategy, "but most often we work with DITs who have their own systems and just augment their gear to optimize workflow."
The bulk of the company's business in Atlanta centers around its OUTPOST mobile dailies lab, which resides at a near-set location – often production or editorial offices – providing the most efficiency for the client. OUTPOST is capable of handling any format and creating multiple deliverables in faster than real-time.
Light Iron has provided digital dailies for Atlanta-area features Ride Along, Ride Along 2, Sleepless Night, The DUFF and is currently supporting OWN TV's Greenleaf.
Universal Pictures' Ride Along 2, which is slated for release early next year, spent approximately six weeks shooting in Atlanta. DP Mitchell Amundsen worked with longtime DIT, Kai Borson Paine, shooting RED Epic Dragon 6K with Panavision Primo 70 lenses.
"We provided Kai with high-speed SAS RAIDs to move media from the set to OUTPOST," says Geffre. "He did color on the set and sent the SAS RAIDs, containing all the camera media, sound and CDLs, twice a day to Marc Goldbaum, our OUTPOST operator in the production office. Marc did the synch, applied the color from Kai, and processed Avid DNxHD and Pix files, which were sent via Aspera to editorial in L.A. "At the end of a shoot day all that morning's media was ready to be streamed via Pix. By the next morning everything was ready for editorial, and by lunch the footage was archived on LTO. The RED format was a manageable size: about half a terabyte of data for an hour of shooting. OUTPOST workflows are designed to handle much more than that, so dailies don't get behind."
Geffre notes that, "nine times out of ten we can do a show with a single person in processing working with a DIT on set. On Ride Along 2 Marc was also able to handle 2nd unit. It took a little overtime on his part, but it was far less than using a second person." The original Ride Along was shot ARRIRAW with a different camera team, but "from a creative and technical standpoint the dailies process for the sequel was not massively different," Geffre points out. "Over the last few years things have settled down camera-wise. Everyone has become more comfortable with the workflows for digital cinema. Even when there's a new toy, there aren't massive sea changes in the way people shoot. We don't care what format people use: high-speed Phantom, ARRI, RED or combinations of cameras. It doesn't dramatically change how we do things."
Light Iron and Panavision have plans for expansion in Atlanta. "In 2016, we will be opening an Atlanta facility with a theater and edit rooms for our clients," says Geffre. "We are evaluating several potential locations and are very excited about joining the community here in Atlanta." Currently, Light Iron is establishing a physical presence within Panavision in New Orleans, another major production hub where it offers mobile dailies.
Crawford Builds on Dailies Heritage