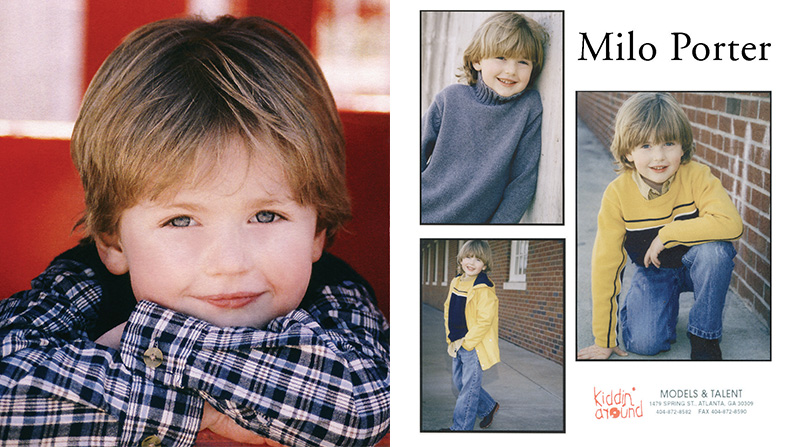 The Child Actor
By Oz Online | Published on October 4, 2015
Does your kid have what it takes to be a child actor? Casting directors are usually looking for kids with a confident personality and a unique look. Freckles, glasses, braces or anything about them that stands out may actually help your child get jobs.
---
Milo Porter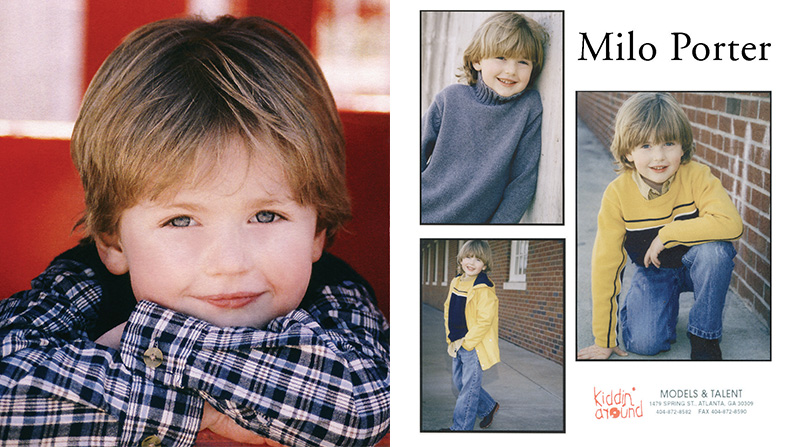 There are a few things you can look for when deciding if your child has any acting talent. For example, how well does your child fake crying? Is she an extrovert? How well does he take directions? Fake crying shows that your child is able to express emotion fairly easily, and it shows the ability to be convincing. Being an extrovert shows that a child is comfortable with attention, and that will help because the less pressure they feel, the better they can act in an audition and on set. Finally, direction taking is important … if chosen for a production, the child will be taking directions constantly. No one wants to see a kid with a sour attitude; it can slow down production and disrupt the flow.
Another thing to consider is if you and your child really want to live the life that may come with struggling to be a child actor. It doesn't happen overnight. Modeling jobs could be the first jobs they get, which may help them get noticed in the industry. If your child becomes successful, they will miss out on things like birthday parties, sporting events, school, or many other things kids do. Make sure your child understands this and is willing to sacrifice some things to pursue their dream . . . emphasis on their dream. Remember: this is about them, not you. Make sure you have their best interests in mind whenever you and the child are making a decision.
With all that said, if acting is your child's true passion, all of this "work" will seem fun. Have a conversation with your child, and see if he or she is ready.
---
Interview with Barbara Garvey
Owner/Agent at East Coast Talent
What type of qualities make a good child actor?
Children who can read and who read a lot make the best actors, in my opinion. It makes everything a lot easier if the child can read and understand his script without a lot of help from an adult having to feed lines. It also gives them a larger worldview when they explore other worlds through books, and helps to develop their imaginations. Other key elements are children who can listen and follow directions– and who have parents who stay in the background, ready to support their child, but who don't get in the way!
How do you choose if you'll represent a child or not?
There are numerous things that I look for– mainly I am looking for children who really enjoy being on camera, who aren't being pushed and prompted to talk to the camera (or to me) by their parents. I like to see children with a lot of energy, but who also know how to be still and listen. Formal training is not something I'm looking for in the children under about seven-eight years old. I'm looking for that spark and the enthusiasm to try new things. Another really big plus for actors of all ages is what skills they can master. There are always calls for kids who can ride bikes, skateboard, are comfortable on horses, etc.
Do younger children get more jobs than older children?
I don't know about that. It depends on the child, I guess I would say that the sweet spot seems to be around 8-10 years old. Of course, one of the best ages to be is 18 TPY which stands for to play younger. As a minor, you cost production more money because you can work less hours, have to provide for a parent or guardian, etc. If you can play younger and are over 18, you're a better bargain in many ways!
"I represent professional actors who work on professional projects.
It's all about the work, not the fame."
Have your represented anyone famous?
I have represented several very successful kids and adults. Currently, my most famous kid is probably Chandler Riggs, who plays Carl on the hit AMC show, The Walking Dead. He's been with the agency since it started and has grown into quite a well known actor. He's not only talented and downright adorable, but he's got great parents who know how to keep it real with their children! I've got several clients who are starring in studio films, though I don't think they are famous at this point. That's really not a term that I use a lot. We're really not an agency that encourages fame (like with some reality shows). I represent professional actors who work on professional projects. It's all about the work, not the fame.
How often does a child get offered a role in a movie or TV series?
There is no right answer. We have kids and adults booking roles every week. There are a few who are booking regularly, but the reality is that, like all actors, the majority are not booking all the time. Whether you are a kid or an adult, the competition is fierce for each and every role– even for oneliners. And, no matter how busy an actor is, he's always worried about his next role. You can work three months on a major feature film, in a major role with major names, and then not book anything for six months.
Is it easier being a boy or being a girl trying to get work as a child?
It's no secret that the majority of roles are for males, whether it's for kids or adults. I assume that the reason is that there are far more male writers, more male directors and male producers. Sure, there are female-dominated shows, but I'm talking about the mainstream here. And, we get probably ten times more female than male submissions. You do the math- – more roles for males, less males in competition.
How is the child's money handled?
We are in a right to work state, so union rules don't apply where all kids must have a Coogan account (blocked trust). However, many of our productions have tried to initiate this and we're always amenable to having parents set them up. But that just covers a small percentage of their paycheck. As an agency, we treat minors the same as our adults. They get their checks made out to them and we send them their tax information at the end of the year. It's up to their parents to decide how that money is spent