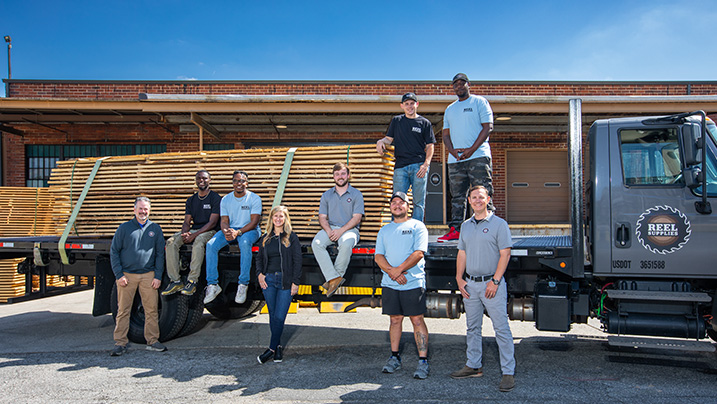 Supplying Demand
By Oz Online | Published on May 6, 2022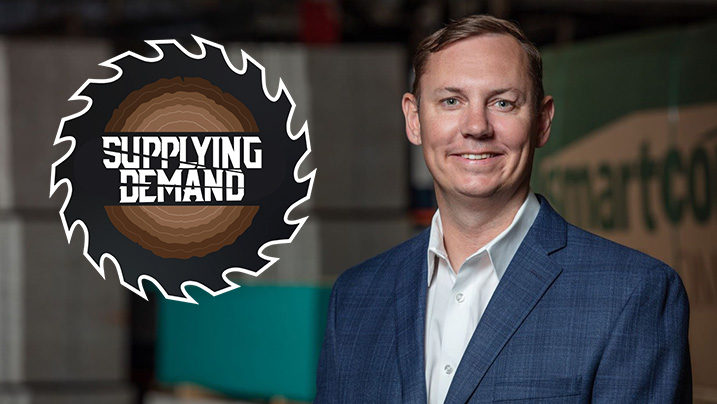 The Industry specialization is a business strategy that has propelled countless businesses to success, but one Atlanta company is utilizing the method in a unique field: building supplies for the film industry. Based in East Point, Reel Supplies is the only building supply company in the entire country dedicated strictly to the film and television industry, and that specialization is paying off.
President and CEO of Reel Supplies Matt Davis started the company in August of 2021, and his story is one that proves that hard work and innovative thinking can be the perfect recipe for success.
In 2004, Davis began working at a local lumber yard and worked his way up the ladder there. He was working in sales in 2008 when the Georgia Entertainment Industry Investment Act propelled the state into a production haven, and his company began servicing the film industry. Davis started running operations for the film production side of things at the company and developed countless relationships within the industry throughout the next decade. Thanks, in part, to those connections he had in the industry, he was recruited by United Rentals (the largest rental company in the world) in 2018 to start up a Sports & Entertainment branch in Atlanta. He continued to work with many of his same contacts for the next three years, many of whom urged him to go back to his roots of building supplies and start his own company, as they missed his expertise in that side of the industry.
While Davis was fortunate to keep his job during the Covid-related production shut down, the down time allowed him some space for reflection and he began to consider the prospect. "We did a lot of market research, and I was able to get statistics from the Georgia Film Office; and the market, in the last three years, has doubled and that's not to mention what's about to happen in the next twenty-four months," Davis shares. Of course, he's referring to the fact that once Pinewood Atlanta Studios completes its Fayetteville expansion, Cinelease Studios completes its expansion of Three Ring Studios in Covington, Third Rail Studios completes its Doraville development, and Blackhall Americana completes its Newton County campus, Georgia will double its current production space.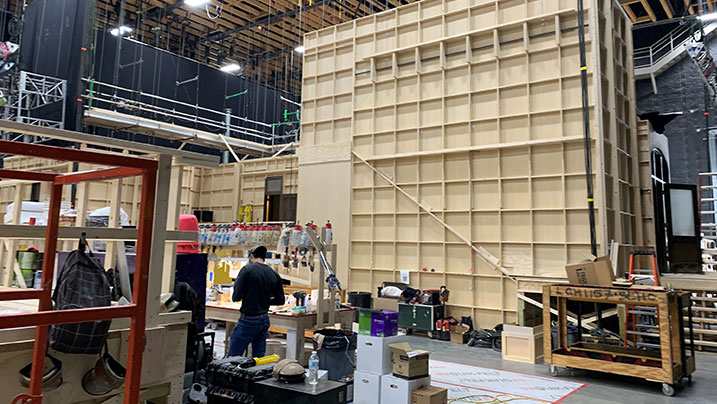 With the numbers crunched and lucrative and the forecast looking highly favorable, Davis jumped into his new endeavor with a team of three, including Jess Forrester–another well-known name in the industry–as his VP of Operations. Now, just a few months into Reel Supplies being open for business, it's evident that his jump was the right move. Right as Reel Supplies opened, Disney began filming Black Panther: Wakanda Forever and Guardians of the Galaxy Vol. 3 and Davis and his team were immediately hired by both productions. At the time of our interview with Davis, Reel Supplies had expanded to a team of 12 and had been hired to work on 99 film and television projects since the beginning of 2022 (including many Marvel shows and films, lots of Tyler Perry Studios productions, Monarch, The Resident, The Wonder Years, Blue Beetle, and Kindred). Davis estimates the number of productions will be over 130 by the time this issue goes to print.
"Our timing was incredible," Davis says. "We started the business at the perfect time, as the industry is booming, and with so much infrastructure being built across Georgia to support the industry, we see no indication from the state that it's going anywhere any time soon." Reel Supplies is also a boon to the state as it employs 12 Georgians (and growing) and Davis chooses to work with suppliers who are local. "Together, we and our suppliers employ thousands of Georgians," he says. "That ripple effect of working with and investing in local businesses stimulates huge growth to the economy of our state."
The location of Reel Supplies has also helped spur its success: "Location was a non-negotiable for me as I created a business strategy," says Davis. "We're in East Point, within 10 miles of eight major studios. On any given day, we'll have trucks coming in to pick up supplies for 30-40 different shows and we're centrally located to all of them."
Of course, a huge component to the success of Reel Supplies has also been Davis' ability to source lumber at a time when lumber is difficult to acquire across the entire country. When asked how he has managed to continue to get those much-needed building supplies for his clients, Davis credits his expertise. "Of course, getting lumber has been tricky for the last year, but it's all about forecasting demand," he says. "I do as much homework as I can on the front end, finding out what is coming to town to film, and that way I can stay ahead of the customers' demands." Davis' tenure in the industry has him well-suited to make those supply projections based on the types of projects that are headed to Atlanta, and his impeccable reputation during said tenure has also helped him secure supplies, as he networks with multiple sources to get what he needs. Fortunately, he also believes the most trying times of building supply shortages are also behind us. "I think Covid's effect on building supplies is coming to an end," he says. "Interest rates are creeping up, and once the housing market slows down, it will free up the supply chain for other things. I think by the end of the year, it will be in a much better place." Until then, of course, Davis is still working his magic to help productions get exactly what they need in record time.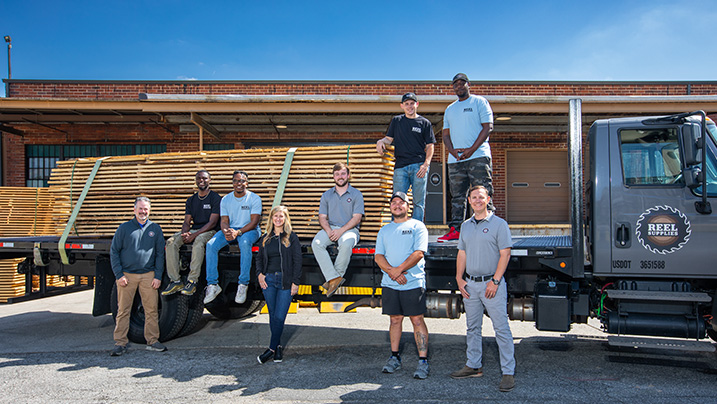 "My entire staff can focus on these large-scale projects,
and they understand the urgency and pace of the industry."
Although the various components that contribute to the success of Reel Supplies might be pretty obvious to an outsider, when Davis himself is asked about the secret to his success, he says: "I attribute a large part of our success as a business to hiring industry experts with extensive production knowledge and industry-specific customer service and logistical experience." Davis himself has focused almost entirely on the filming industry since 2008, and by bringing a team of experts with similar career experience alongside him, he can ensure the best possible customer service experience for his customers. "Since we don't have walk-in customers, and we're not dealing with people coming in [and] working on renovations or small personal projects, my entire staff can focus on these large-scale projects, and they understand the urgency and pace of the industry," he says. It also speaks volumes about the wisdom in Davis' decision to make his business industry-specific. "It's kind of remarkable that we can do what we do so efficiently with the amount of people we have, but it all goes back to the fact that production construction is all we do," says Davis. "Our competition has home builders, remodelers, walk-ins, and we don't have any of those distractions. When someone calls in an order, all we're doing is pulling orders for those productions."
On the personal side, Davis considers himself fortunate to get to work in an industry he loves, and that has made such a huge impact on his life personally and professionally. "I'm so grateful to the state and the councilmen and women who have supported and encouraged growth in this industry over the past 10+ years," he shares. "I get to work every day and see how happy we're able to make our customers and how excited our employees are. We take care of business, but we have a good time while we do it. This industry means everything to me and my family, and I look forward to what the future brings."