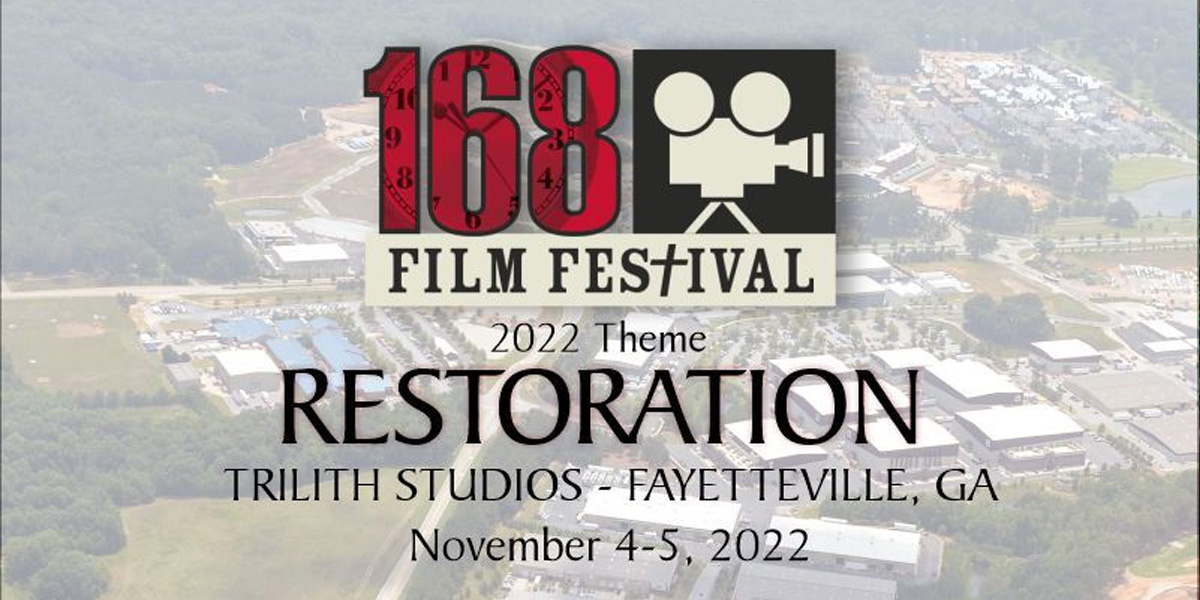 Shorts And Scripture – 168 Film Festival
By Oz Online | Published on November 8, 2022
For its 19th annual "Restoration" themed event, 168 Film Festival will make its first appearance in its new home, the Town Stage at Trilith in Fayetteville, Georgia. The festival's name and recognition comes from their unique competition which requires filmmakers to submit short films based on foundational scriptures that they have completed in the 168 hours available in a week.
"Storms was the 2021 theme. The 'Restoration' theme is refreshing after the last two years of Covid lockdowns," said the festival Founder and Director, John David Ware. "It has produced some of the best films we have seen, including a speed-musical and hilarious comedies! Together, filmmakers and the audience discover who won, at the 2022 Awards Show. Then we celebrate!"
The two day festival will begin on Friday with in-depth panels like "Industry Trends: L.A. vs GA" and "Shroud Encounter," a discussion about the Shroud of Turin, which is commonly believed to be the actual burial shroud of Jesus Christ himself.
Friday will conclude with a milestone event for 168. They will screen their first feature length film, "Final Frequency." Production for the movie began back in 2017 when Rachel and Tim Lowry won a feature-film budget from 168, and now, the Dove approved and safe for the family production is ready to make its premiere.
Day two of the festival starts with a panel discussion, "Defending the First Amendment Biblically," led by constitutional freedom experts, and following that is a special screening of "SuperSpreader," an exploration of the recent religious movement to no longer congregate to worship God.
To close out the event, 168 will hand out $5,000 to the winners of the Awards Show, and the festivities will culminate with a VIP After Party on Saturday, November 5, from 9 p.m. to 12 a.m. at Shipyards. A VIP ticket is required to enter the DJ'd and catered by ENZO event.