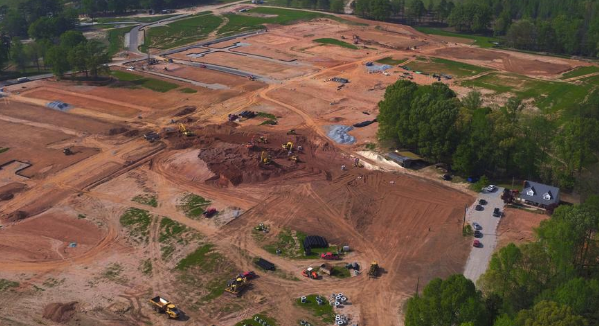 Pinewood Forrest is Progressing
By Oz Online | Published on April 26, 2017
Construction is progressing at the 234-acre Pinewood Forrest going up next to Pinewood Atlanta Studios in Fayetteville.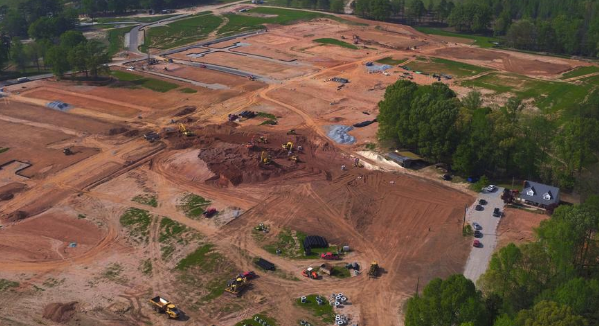 The new mixed-use development is being built as an easily accessed community for Pinewood Studios. Co-owner of Pinewood Atlanta Studios, Dan Cathy, is the visionary behind the project: "Never before has this been done, that you have a purpose built industrial community as well to marry, mate up with an industry as unique and as special as we have across the street. We're very blessed with the abundance of opportunity and land to be able to do what Disney, Warner Bros. and Sony would've loved to have done."
Cathy announced that the multifamily developer Pinewood Forrest Multifamily Partners LLC (a combined venture of Capstone, Corner, and Woodford Capital) will helm the facility, which will include 100 town-homes, 600 multi-family residents, two hotels, vast retail space, as well as a medical and wellness center.
"We had dozens of people who were very interested in being a part of this development," Cathy said. "We had our pick of some of the most respected builders recognized for their work across the Southeast. To have an exciting projects draws, in and of itself, tremendously talented and gifted people who are intrigued to do something that is unique and very imaginative on this scale. We're so glad they're here in Atlanta."
The new development boasts energy efficiency to help keep Georgia green. The homes will be geo thermal, and 50 percent of the development will be public green space. Sales started this past Saturday for Earth Day, with floor plans ranging from 349,000 to over $1 million. While the development is being created adjacent to Pinewood Studios, all residential sales are open to the public regardless of their affiliation with the film industry.