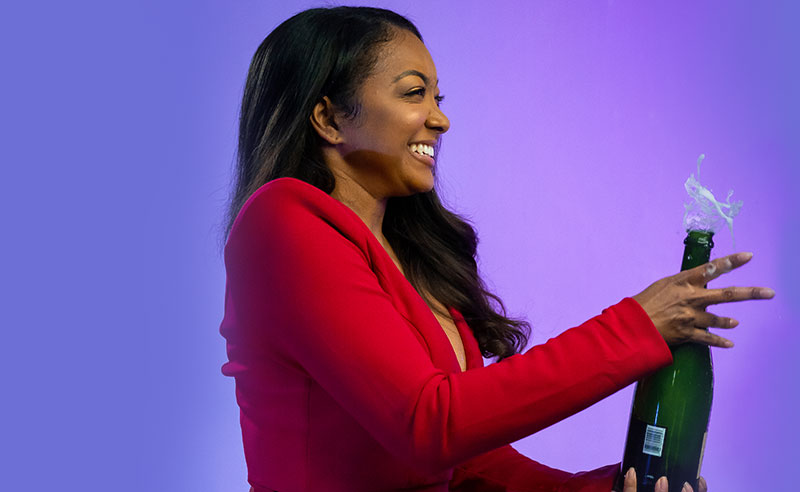 Paige Simpson Celebrates Success
By Oz Online | Published on March 16, 2022
The Entertainment Industry can be a dangerous minefield. Very few have been able to walk through it, let alone know the direction to step in. But Paige Simpson walked through it, built a cottage, and put the Hollywood sign on the hill; her name being whispered in the winds of Hollywood. Due to the anti-hero era of television, we have been programmed to think that all entertainment executives are tall, intimidating, white men with amazing hair. This may very well be accurate for certain companies, but the inspiring thing is that more and more people of color are breaking the door down and entering these key decision-making roles. One of these game-changers is Paige Simpson. Simpson started her foray into the great unknown freshly coming out of Spelman College in 2009.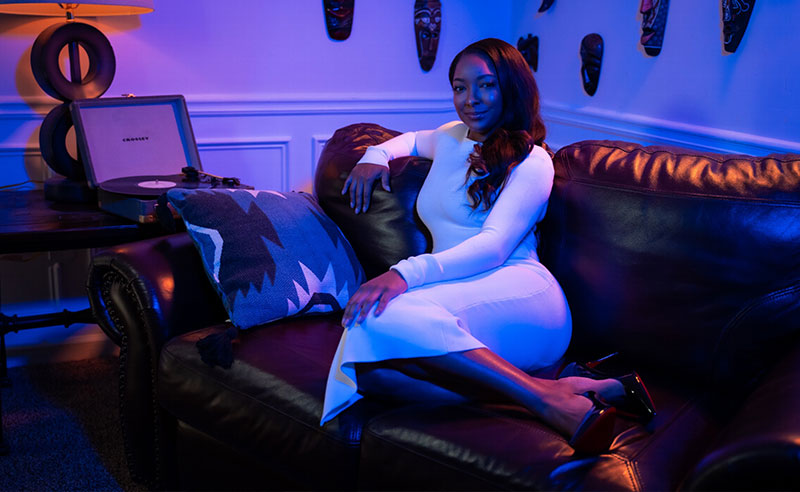 "Out of college, after studying for the GRE and getting a few jobs, I thought that I would try acting. I got headshots and took acting classes at Aaron Speiser's Acting Studio with Anthony Gilardi. I then went on my dream audition, 'The T.L.C. Project'. People were always telling me that I looked like Chili. I was very excited to go on that journey, but sadly I didn't get the part. But I knew that I still wanted to be a part of the industry. The only two things that I knew were acting and casting, so I went to work for Casting Directors Tracy 'Twinkie' Byrd and Michelle Adams. While there, we worked on a few projects, such as 'Being Mary Jane' and The Start Up with Diggy Simmons, but one that was critical to my journey was Fruitvale Station. I had the opportunity to work with the amazing creatives, Nina Yang, Ryan Coogler, Forest Whittaker, and Michael B. Jordan. I remember Nina, Forest, and Ryan being huddled in a corner throwing out words like Plot and Character Arc. I heard those words before, but never in this context. Nina was sharp and collaborative, Forest and Ryan seemed to really respect her opinions. Unsure of her job, I pulled Nina aside and asked what she did and when she told me that she was a Producer, I knew that was something that I wanted to do. Being a Biology major, I always had my notebook and pen with me. I was rapidly scribbling down every word she said. Nina gave me valuable advice, such as: watch 'good' and 'bad' projects, read a lot, believe in yourself, have an opinion, and most importantly, being humble yourself because you will have to work from the bottom up. Funny thing is, I didn't believe her, though, when she said 'you will work from the bottom up.' I had a college degree. I went to Spelman. I knew I would probably be the C.E.O. in the next two years."
Simpson would be wrong about her upward climb. She would find herself the executive assistant to Amy Israel, the Senior Vice President of Original Programming at Showtime. Amy covered shows like "Master Of Sex," "SMILF," "Black Friday," "The Affair," and "Billions."
"Amy taught me so much in terms of development. She is a beast. I appreciate everything she taught me over the years. At Showtime, you get exposed to the best of the best when it comes to projects and creatives. One of the lessons she taught me was that as a producer, you need to know your weaknesses and who can best cover those weaknesses. Amy came from the film world so she had an in-depth knowledge of both TV and Film and she was more than willing to share that. I appreciated her hiring me without prior experience. Most of my colleagues had come from management or agency desks. I jumped into the big leagues with a power player and I was so blessed to have a few great colleagues, Dave Binegar, Jessie Dickvotsky, and Jake Perlman. Those 3 amazing humans were able to teach me how to run a very busy desk. For 2 years, I was almost always the first one in and the last one out. I wanted to actively show how dedicated I was to not only the company and Amy but to the projects we were working on. As an Executive Assistant, I was able to sit in on pitch meetings, meet with writers and producers and give feedback on cuts. I attributed those things to my hard work and not being afraid to ask," Simpson said.
But Paige's elevator ride to the top didn't stop there. She began working for Will Packer Media (WPM) as the Manager of Scripted Television. While there, she worked on "Ambitions," a T.V. series for OWN that starred Essence Atkins, Robin Givens, Brely Evans, Brian White, and Kendrick Cross as well as "Bigger" for BET+ that was showrun by Devon Shepard.
"Will Packer is the ultimate salesperson. He also has a way of inspiring people that I've never seen before. 'Ambitions' was my first time being in an on-set supervising producer role and he would just say 'Follow your gut, you got this.' Did I fail? Sometimes. But most of the time, I succeeded and I will attribute that success to the amazingly thoughtful cast and crew. Our Line Producer, Dianne Ashford, works a lot in Atlanta. She literally knows everyone. When I had questions or needed support on a decision I made, she was right there. When I needed to cry, pray, and laugh I would go into the Hair and Makeup Trailer to find Wankaya (Head of Hair Department), Essence Atkins, Brely Evans, and Robin Givens. After we wrapped, a few of us went to Cuba together to relax and Brely and I took our moms to Hawaii. I may have cried our entire last day of filming."
"During late nights members of the crew would often make sure
I got back to my car safely after we wrapped. It truly felt like family."
"I learned a lot on how to physically produce while on set in Atlanta. Working at WPM was the first time I worked with an Atlanta-based crew. It was good to be able to hire several diverse department heads. It's also important we all had the same goal, which was to make something good, something we would be proud of."
"I was raised to respect everyone and treat them with kindness. Every position in every department is important. I want everybody to feel seen, and you can't have that with people who are treating you with anything less than respect."
Simpson even spilled the beans on working with members of the crew,
"As a producer, members of the crew could have possibly arrived two hours before me. When I leave, members of the crew are often still there. They are dealing with heavy and potentially dangerous equipment, and it is my job to make sure they get home safely to their loved ones. During late nights members of the crew would often make sure I got back to my car safely after we wrapped. It truly felt like a family."
Simpson's time at WPM would come to an end as her elevator continued to go up. She would land the coveted position back in L.A. as Head of Development and Production at Scrap Paper Pictures. A production company with a first-look television deal at Amazon Studios and founded by "The Marvelous Ms. Maisel" star, Rachel Brosnahan. One of Simpson's goals while at Scrap Paper was to develop material that highlighted marginalized and underrepresented groups, an ethos that she and Brosnahan shared. She would describe working with Brosnahan as:
"A truly fulfilling experience. It was great to have a partner that saw you and understood where you were coming from and we shared similar ideals. Rachel has one of the biggest hearts in the world, she knows how to hold space for others. She listens with a caring ear and is willing to trust you. We both love not being the smartest in the room so we would constantly try to work with people who we would learn from."
While at Scrap Paper, she would go on to develop and produce the all-female comedy special, "Yearly Departed," the synopsis reading:
"Women comics say goodbye and good riddance to 2020, closing the book on a year that saw a pandemic, protests and a divisive election, Tiffany Haddish, Sarah Silverman, Rachel Brosnahan, and others eulogize the year that never seemed to end."
Simpson's self-described strength is the ability to bring amazingly talented people together, which she did and more for this comedy special. "Yearly Departed" was met with such commercial and critical success that Amazon gave it a second edition. The star-studded cast for the newest entry commemorating 2021 included host ​​Yvonne Orji, with eulogies delivered by Jane Fonda, X Mayo, Aparna Nancherla, Chelsea Peretti, Dulcé Sloan, and Megan Stalter, and a musical performance by Alessia Cara. The second edition was similarly met with critical and commercial success.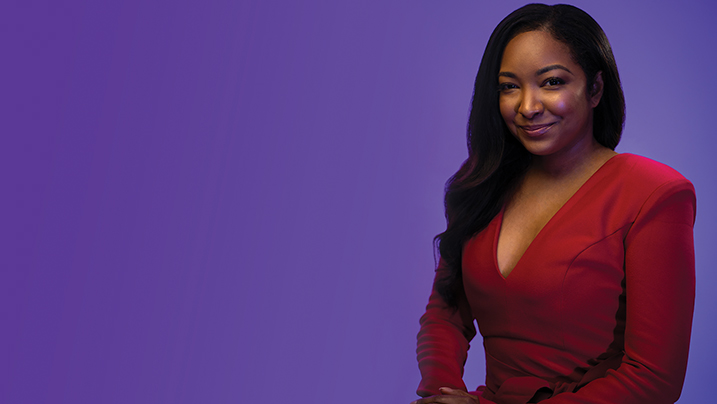 But Paige's role as Head of Development and Production at Scrap Paper Pictures would also come to a close. Recently she was hired as Vice President of T.V. at 21 Laps Entertainment, a production company founded by Shawn Levy who has notably worked on "Stranger Things," "Shadow and Bone," and Free Guy. These are just a few of the notable works that have been done by 21 Laps.
"I have always been a fan of Shawn's work. I loved Cheaper by the Dozen, Arrival, Night at the Museum, and Real Steel. I wanted to learn to box after Real Steel. Shawn's passion and hunger for epic, diverse storytelling was what really drew me into this opportunity. I am aggressive about telling stories that matter and entertain while working with good people, and he is the same way. Shawn puts his whole weight behind his work and his team. And when I tell you the team at 21 Laps is brilliant! Literally everyone! I'm so excited for the world to see what we've been working on. I'm so glad that I can work at a company that houses people that have such a passion for what they do. It's an integral part of the job."
Even though Simpson's job title refers strictly to television, she does have the space to make features, and even though she is only a few months on the job, she already has multiple projects in different stages of development. She couldn't talk about anything in great detail, but some of those productions are coming to Georgia. All of these projects harken back to Simpson's desire to highlight marginalized people(s).
Due to the COVID-19 pandemic, Simpson was able to increase her writer knowledge and relationships outside of the traditional LA scene. Technology such as Zoom and other innovations have allowed her to find writers that fit projects more precisely. Writers who bring their own personal, unique experiences to the table.
"A lot of the projects I am developing center marginalized and underrepresented voices. I am working on a project with a production that I have always wanted to work with. We have an overall deal at Netflix on the tv side and I think they are amazing to work with. They are extremely collaborative and honest. Some of the best partners to have."
But just because Simpson has reached the stars doesn't mean she can't go any higher.
"I would love to work with Higher Ground, Barack and Michelle Obama's company. I want to formally work with Forrest Whittaker and Denise Davis, who is one of my mentors and a Producer on 'Insecure.' It would be cool to continue to work with more new talent in front and behind the camera."
Simpson's final words of wisdom were what most of us hear growing up, but upon stepping into a position of power, it morphed into a profound lesson that deserves to be repeated:
"For anybody who wants to do this job, you have to understand that you will hit several roadblocks. Don't let that stop you. Ask for help. Surround yourself with people who understand the mission and will help you achieve that mission. Creating great content is a team sport."