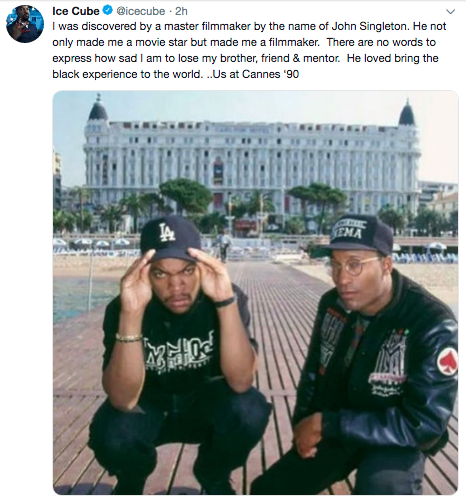 Mourning the Loss of John Singleton
By Oz Online | Published on April 29, 2019
We honor the life of legendary filmmaker John Singleton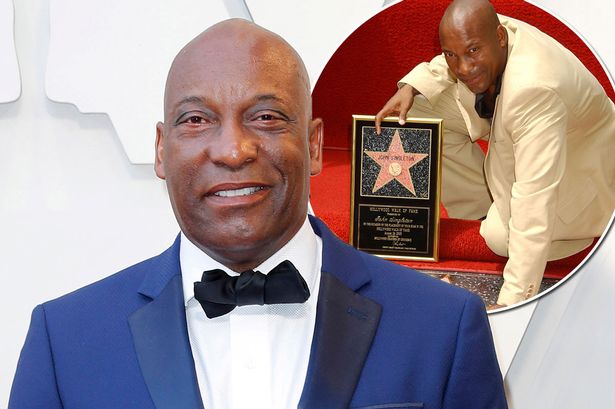 After decades of changing history through film, John Singleton passed away today at the age of 51 surrounded by family and friends. Singleton had suffered a stroke two weeks prior on April 17th and had been in the Cedars-Sinai Medical Center ICU. Singleton has been making history in the film industry since the beginning of the 1990's, especially due to his work providing a voice for an underrepresented black community in media.
Singleton began to pursue film as he attended USC's School of Cinematic Arts Film Writing Program. Just a year after graduating he wrote and directed the film Boyz N the Hood (1991), earning him two Oscar nominations. He was both the first African American and youngest person nominated for Best Director. The movie is an iconic classic in film, especially as a time honored black narrative. The U.S Library of Congress recognized the significance of this film on culture and has added it to the National Film Registry in 2002 to preserve for generations to come. The film helped launch or solidify the careers of now household names such as Ice Cube, Cuba Gooding Jr., Nia Long, Angela Bassett, Regina King and more. Filmmakers, actors, and the community at large are all in mourning today, sharing their stories and love for Singleton as he made his mark on so many in the film industry.
Ice Cube took to Twitter today to post an old photo of himself and Singleton at Cannes where the Boyz N the Hood premiere received a 20 minute ovation. The caption stated, "I was discovered by a master filmmaker by the name of John Singleton. He not only made me a movie star but made me a filmmaker. There are no words to express how sad I am to lose my brother, friend & mentor. He loved bring the black experience to the world."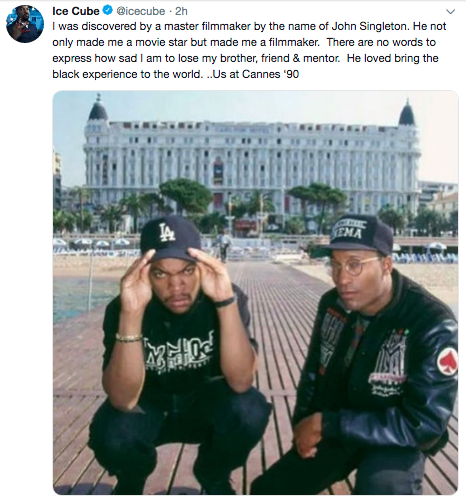 Atlanta's Spike Lee posted on his Instagram account today in remembrance saying "I Will Forever Miss My Brother John Singleton. We Met While He Was A Film Student At USC. Over Many Years People Have Told Me "I'm Going To Be A Filmmaker", When John Said That To Me The 1st Time We Met, I Believed Him Right Away. It Was No Surprise. With His Passion, His Heart, The Way He Talked About His Love For Cinema And Black Folks I Could See John Would Make It Happen, And He Did. From Day One, We Have Remained Close Over The Decades, Cheering Each Other On In This Industry That Is Not Set Up For Us To Win. John Singleton's Films Will Live On Forever. Blessings And Prayers For His Family. May John Rest In Power. Amen."
Atlanta native Ludacris also took to Instagram sharing his grief about the loss of Singleton who directed 2 Fast 2 Furious in 2003 saying, "I honestly can't even find the words right now, this one hurts bad. Signing off social media for a while."
Following the success of Boyz N the Hood Singleton released Poetic Justice in 1993 starring Janet Jackson, Tupac Shakur, Regina King and Joe Torry. The story line gave viewers an opportunity to see world through the eyes of Justice (Jackson), and how people's developing relationships affects their own personal growth. He continued his effort to dive into race relations through the drama Higher Learning in 1995, again working with Ice Cube and Laurence Fishburne who he cast in Boyz N the Hood. He did not slow down, releasing more films almost every year.
Throughout his career he has worked with so many well respected members of the film industry, becoming a catalyst-like influence to careers for many years, always hoping to push the African-American film community further and supporting the success of others. For him, the impact on the community was more important than profits, and he became a champion for the black community. Beyond getting his message out through the entertainment industry, he testified in 1992 before the Senate at the "Children at War: Violence in America's Youth" hearing about the influences on the increasing murder rates amongst young people. He was also involved int he recent documentary revisiting the L.A. Riots, not letting the lessons learned fade away. Singleton was able to achieve social activism through many mediums.
He will be remembered and respected as a person of creativity, compassion, and fearlessness.