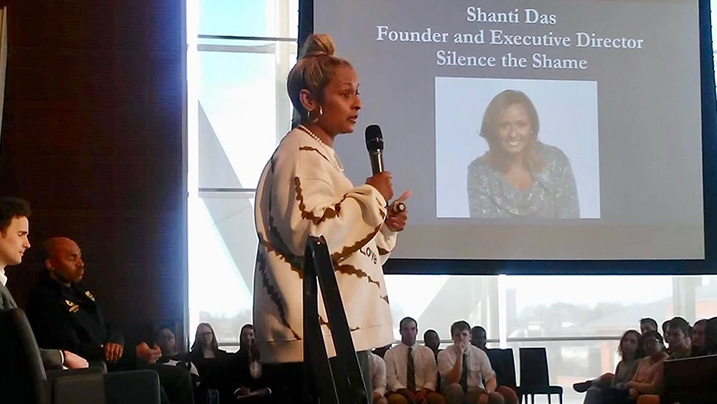 Making Space For Hope
By Oz Online | Published on February 2, 2022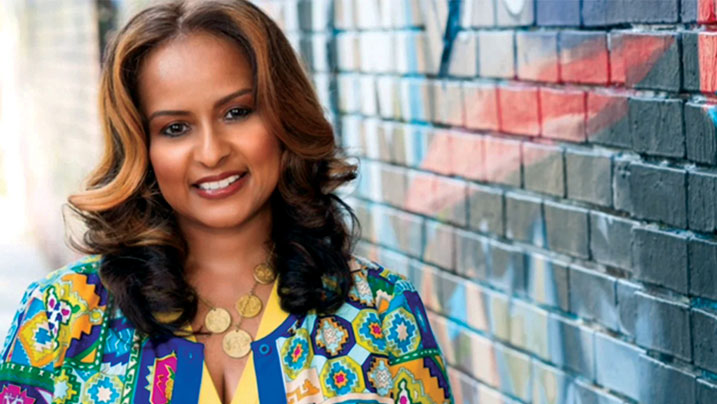 Many of us were raised to think of mental health as a taboo subject. It just wasn't spoken about in households or anywhere else for that matter, and there is still this stigma attached to mental illnesses, getting help, and anything in that same realm that makes people feel a bit uncomfortable. In the past few years or so, it seems there has been a slight shift. More and more people have been seeking therapists or psychiatrists, which to me means that the topic of mental health is being brought to the surface of all of our lives. We are no longer able to put on this facade that everything is perfect and wonderful all of the time…or was that just me? We are being more open and vulnerable with others, with less shame attached. And that, my friends, is okay. Seeking therapy even without a mental illness is something I feel will be the new normal some day.
Someone that has brought mental health into focus is Shanti Das, a former music executive turned mental health advocate. I got to speak with her about her non-profit organization and movement called Silence the Shame. Their mission statement is to "empower and educate communities on mental health and wellness." Simple as that. But it's not that simple is it? As someone who sees a therapist on a regular basis, I know that people still have judgment when I bring it up in conversation. Their first thought is that something must be wrong, but that is not always the case. With Das at the forefront of her movement, hopefully we can see changes in different communities as she is working hard to change the stigma around mental illness and the shame people carry that is associated with it. To do so, she started the dialogue surrounding mental health and wellness, and she hasn't been quiet about it since. Thankfully!
Das is no stranger to mental health, so this organization is very close to her heart. The very first time she experienced anxiety and stress at its most extreme was in the year 2000. She'd just moved to New York City to work with a major music label and ended up going to counseling for a little while because of said stress, but it wasn't something that she went to long term, and she really didn't have a lot of outside support, so she didn't continue. But in 2009 when she was at the top of her career as a music executive in terms of her title and salary, the amount of stress during the job and stress in her personal life, made her decide to leave that position and move back home to Georgia to be closer to her support system. She notes that she was doing pretty well mentally for the first few years back home, but in 2014 she had a major setback when her best friend died by suicide. This had a huge impact on Das. She says, "…that kind of sent me into a downward spiral and started making me also unpack a lot of what happened with my father's suicide." Das' father died by suicide when she was only seven months old and that tragedy put a cloud over her family. As all of this pain and grief caught up to her, she started to have suicidal ideations, so she knew that she needed some professional help.
In 2015, she started on antidepressants and began to share her story with friends, family, and colleagues. She even became very open about it on her social media, which made people also open up to her. She realized, "…the more I opened up, the more I felt like people were really grateful for that kind of safe space." All of this was the start to a very important dialogue that seems to be missing in our communities. Especially for people in music and entertainment; an industry that is not so open about mental health struggles with an environment that expects you to put your work first.
In the same year, Das was doing a radio interview and the term "Silence the Shame" sort of just came to her. She did a soft launch for her non-profit in May of 2016 during Mental Health Awareness Month. At the time, Nick Cannon was the first celebrity and colleague of Das to support her initiative, and in the following year on May 5th, that became National Silence the Shame Day. Das used social media as a catalyst to spread the word for her nonprofit. She asked different artists that she has worked with during her 20 years in the music industry to get the word out and help post about the day and why it is so crucial to erase the stigma. They received over 90 million impressions, which made her realize that she was onto something. This dialogue. This conversation. This is something that must be brought to the forefront of people's minds. Self care, mental health, silencing the shame and the stigma of mental illness was talked about by everyone's favorite artists and influencers on Instagram, which in turn creates a safe space for people to be more open with their friends and family while also beginning their own mental health journey.
Das stated, "I'm not saying I'm the first person in music to talk about it, but I would like to think, in the Black community, I was the first person that got a lot of musicians and influencers in 2017 to really post about it, if nothing more, to show that this is a topic that is just as important as any other diseases or things that we face on a day to day basis. After that, I started doing more community conversations, panel discussions at conferences, and also just focusing a lot around underserved communities, not just the music industry."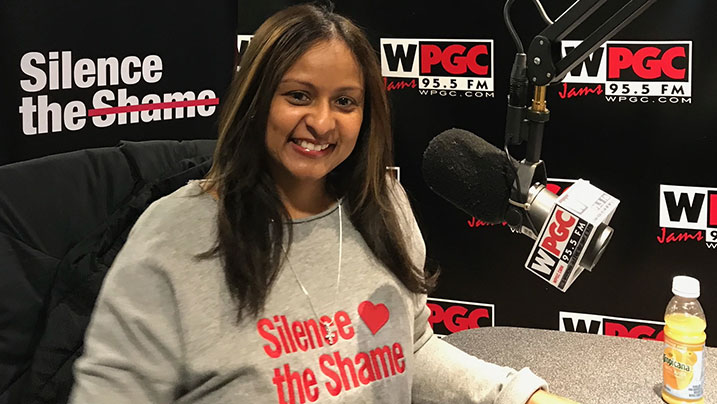 She started Silence the Shame in Atlanta because, as she puts it, "…Atlanta was the epicenter of R&B and Hip-Hop for so long, and me having worked and helped cultivate the southern hip-hop scene, which is now a global scene honestly, I thought, what better city to launch this mental health movement and take it around the world?" Das wants Silence the Shame to be accessible to everyone, but in particular, it started with those in entertainment as she knows that industry on an intimate level.
When asked about Silence the Shame's target audience she says, "The music industry and the entertainment industry is an important demographic for us, but we do serve underserved communities on a national scale and hopefully global one day. For example, our very first tour that we did in 2017 and 2018 was a national teen mental health tour…with an organization called Jack and Jill of America, Incorporated. So we did these teen wellness panel discussions and breakout sessions in major cities like Atlanta, Chicago, New York, Washington D.C., and others. We've partnered with the AIDS healthcare foundation on doing conversations nationally around HIV and depression in the Black community. In 2020 we were the charitable partner for the NFL players association, so we worked with players of all nationalities and worked with that specific organization to do conversations, and prepare content around mental wellness, so I would say our primary target demo is underserved communities, but secondary is the community at large. In 2020 during the pandemic, we were named as part of Sony Music Publishing's Social Justice Fund and we created what is called The Soundtrack of Mental Health, which essentially are wellness trainings we have been doing with Sony Music Publishing and their writers and staff. And so in 2021, we started offering it to anyone in the music industry…these are free sixty minute trainings on understanding mental health with self care and that sort of thing. And we will continue those trainings free of charge to people that work in entertainment in 2022."
As the pandemic wreaked havoc on the rest of us, it "put a spotlight on Silence the Shame." Because more and more people were isolated during lockdown, people needed their services more than ever. They needed more resources because they were grieving, or isolated, and Silence the Shame was able to help. Das was able to have more community conversations virtually and reach a wider audience. She is also a public speaker, so being able to share her truth and her story with thousands of people in major corporations along with colleges and universities really made a difference. As she said, "the pandemic allowed us to get more exposure to our organization and to help a lot of people. It afforded us an opportunity to spread our mission and to help others."
Das has many goals for SIlence the Shame, "in a perfect world, I'd like to see us have a brick and mortar wellness center in Atlanta and possibly even one that would have workout facilities, and then we'd have a wing for therapy and an in-house psychiatrist on hand. Yoga and meditation. Other self care practices all under one building. And then maybe spread that to other places. Also, being able to offer free therapy for different communities, which I know a lot of people are working towards that as well, so just being able to expand our programs… increase our staff and build our team. In a perfect world, I'd love to have Silence the Shame Atlanta, Silence the Shame New York, and Silence the Shame London, so that we could really do some global work." I look forward to seeing where she takes this organization as it really seems that they will be able to do some really great work for the community. For now, they have a podcast with over fifty episodes available on your favorite place to listen to podcasts which explore mental health in depth. Das has written a book titled Silencing My Shame, which is a short read about her story and how she started her movement.
The Atlanta chapter of Women in Music just honored Das with the Philanthropy Leading Lady Award, which shows that her non-profit is making waves throughout the industry. She says, "I think we are definitely moving the needle and more than anything, people are recognizing what we're doing. We're still a very small team internally and grateful to do this work and excited about future possibilities."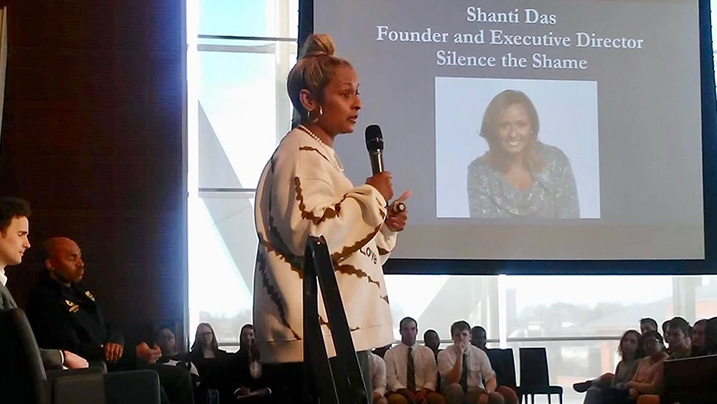 Das has been doing the work for herself to be better today and every day, which in turn helps her organization and the work she is putting out there. When she is feeling down, she does things differently than she used to and I wanted to know what part of her growth makes her most proud. She responded, "… now I make sure I'm seeing my therapist on a regular basis or go outside and get some sun and vitamin D if I'm not feeling good. Or write in my journal or call a trusted friend that I can confide in and talk through what I am going through. I now have better, healthy coping mechanisms than I did, so I'm really proud of myself for that because I also lost my sister unexpectedly two and a half years ago. She passed away from a blood clot and that really kind of set me back. We were extremely close and did everything together…even going through that grieving process brought some of the depression back. But I'm now better able to cope and I'm still going through missing her and that sort of thing, but I have more tools now…the other thing I'm proud of are the boundaries that I'm able to set in my life personally and professionally. I don't allow others to tell me how I should grieve or how I should feel. The type of time that I put into self care for myself; that is no one else's business or responsibility, and frankly I am very unapologetic about my wellness. So, I'm proud of that because that wasn't always the case, and working in entertainment, a high profile industry, it was always work work work, and it was never encouraged to focus on yourself. And although I don't work in music I still do a lot with the entertainment industry around mental health and wellness now…but again I am very quick to say I can't do that call over the weekend because I'm with family…the old Shanti would be like, okay sure and I would just stress myself out all the time for everybody else but never take into account my own feelings and I'm not doing it anymore."
I think we could all learn a bit from Das' growth through her mental health journey because healing is not linear, and neither is this roller coaster called life. I believe that her organization will help many, and if you need any resources to get help or if you just want to donate to a good cause, you can visit SilenceTheShame.com and find the information you need.