Hospitality in the Time of COVID
By Oz Online | Published on March 16, 2022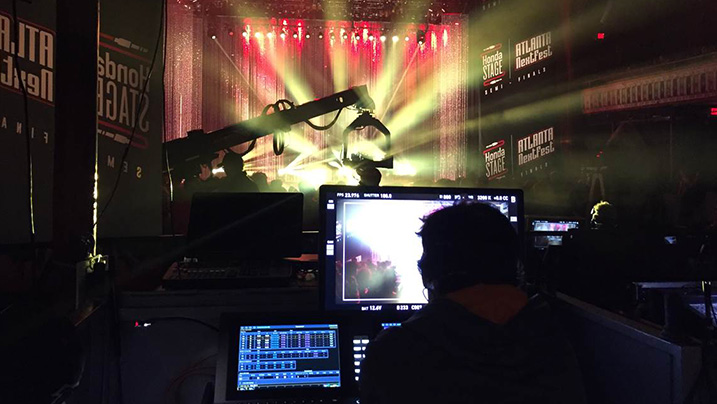 We are all on this collective journey-maybe a collective trauma depending on who you are talking to-but we can't ignore the fact that we are all going through it, together. COVID has been by our side faithfully for the past two years. It put a pause on our day to day functions, it wreaked havoc, and caused panic in Americans. We couldn't find toilet paper. We are STILL in this pandemic and it has made a lasting impact that will affect us for some time to come.
Social industries like hospitality and events were affected heavily by COVID. As large crowds are gathering and people are wearing masks less, I think we can all agree that the world has shown us that human interaction is more important than being locked inside and isolated. Naturally, I wanted to talk to a few people and get insight on their experiences through the worst of the pandemic, and how they are making a comeback as regulations are loosened and gatherings become more frequent. These people have something in common: the film production world. Though they don't work directly in film, they have a huge impact on the industry and are thankful that productions stuck around and found a way to keep people employed.
Karyn Kotler with Live Nation
Karyn Kotler is a Senior Director of Sales at Live Nation. "When I started 10 years ago, I had one venue, The Tabernacle… We have six venues in the market. The indoor theaters are The Tabernacle, Buckhead Theater, and The Roxy. Outdoors are Chastain, Ameris Bank Amphitheater, and Solaris Bank Amphitheater." Kotler explained that in March of 2020, everyone thought this virus would be short lasting, but then quickly realized that was not what was going to happen. When the world went under lockdown, her company furloughed the majority of their employees, and she was "the last man standing" because of her senior position. Live Nation kept only 10% of employees during this time, and Kotler was one of them. As grateful as she was to keep her job, times became stressful as she fought to keep business coming in.
"The first furloughed employee came back in March (2021), but that was one person. By May, we got most of our furloughs back. There were people who were laid off that didn't come back and there were positions that were just eliminated. Where I had one venue then, I have three now, and that's permanent."
"Out of the six venues, I was the only person booking for events and filming, but also postponing other clients that had events at that time. I was so busy throughout the entire pandemic… Fortunately, because we had dates available for all of our venues and we didn't have any concerts going on, I was able to capitalize on the film industry…I've done filming events throughout my career, but availability is always an issue. We did television, catering holds, and live streaming concerts where it's just the performer streaming from the venue." As concerts were phased out due to increasingly strict regulations, Kotler made adjustments that really worked in her favor. They had more time for people that typically wouldn't get a spot in these venues because of concerts and conventions being canceled. These venues were able to hold weddings and church services, on top of the productions. She says conventions are just now coming back in March of 2022 and beyond, so she is seeing another shift in the industry that went away for quite some time. Companies are still doing virtual events, so it may take a while to go back to the "old normal." "…Conventions postponed to future years, and that's what I do. Mostly convention events…the filmings sustained us and kept some of my people employed. If it wasn't for the film industry, a lot of people probably would've been laid off."
Something Live Nation adapted to was the virtual event. "As soon as we knew we weren't going back to work, we were on the forefront of creating new event types because nobody was doing anything. People couldn't gather, so that's how we created, what we call, 'socially responsible events.' We created the micro wedding…virtual events, regional events, and drive-in events…So it's like creating a whole new paradigm. Did people do virtual events before? Sure, but now everybody's doing it. There's a virtual proponent to everything. Graduations were virtual, or they were socially distanced and streamed so people who couldn't come could still watch it."
"The pent up demand for concerts is so big there are no dates available for me to book anything right now. I book 6-16 months out…so if I've got a client calling me today and they are looking for dates in May, there's not a lot going on. There's not a lot available even in October. We are a year round business, so that's the challenge now…Concerts are booking in a shorter time frame and canceling also because of Covid…The booking window is shorter for all of us and it's a lot of last minute stuff. You don't have as much lead time anymore…The other thing that changed is that the cost of doing business has increased by 20-30%…Things are backordered. We have a brand new screen that we want to hang but we can't hang it because we don't have the motor. The motor is sitting on a ship somewhere in the middle of the ocean. So it still affects everything."
"As a company we joined forces with our competitors. Having a unified message to appeal to Congress because there are a lot of gig workers and they've all just completely lost their income and they didn't qualify for unemployment…That's the majority. So we created a fund called Crew Nation. So there are really good sides to it as well. You see people reach into their pockets to help."
Kotler has clients that work with her time and time again. She states, "The relationships are my favorite part of the job. I got to work with some of my favorite film scouts that I hadn't worked with in a while or that I wanted to work with and it just hasn't worked out. The other cool thing is that they would book The Tabernacle and then two of my other venues, so we got to keep it in the family…I think working with some of my favorite people over multiple times for multiple venues was probably the best part of it."
"We had to follow government guidelines all along…You have to social distance. It was constantly changing. You can have up to 100 people, now you can have up to 800, but you have to be six feet apart and you have to wear masks unless you're eating or drinking. All of our staff are still required to wear masks, and for our public events, like concerts we are requiring vaccines or negative covid tests within the last 48 hours. Company wide. Now, private events, we leave it up to that production…The film industry gets tested at least three times a week and they're very safe. Which is what is great about our venues. 40,000 square-feet, you can definitely social distance! …I think that was a big factor in people selecting our venue as well," in addition to their event spaces being so unique.
Kotler's outlook on the event world is positive; "I think people are dying to come back to what we know as normal. I think the future is bright. It's not gonna stop. People were sitting in their houses for two years. They haven't traveled for two years. They want to have fun. They want to celebrate, they want to have a party, and we sell fun."
Steven Eisenstein with Classic Tents and Events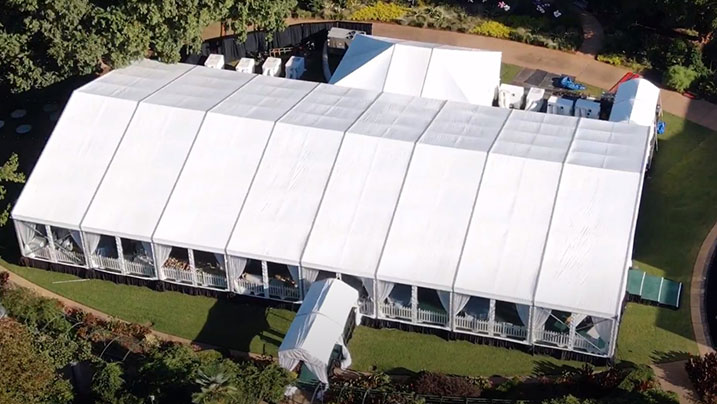 Speaking with Steven taught me that not everyone's business struggled during the pandemic. At Classic Tents and Events, they flourished. Eisenstein is the Chief Event Officer and part owner of the company. Classic Tents and Events has been around for over 20 years, but he purchased it with Karen Alcock in 2010. "We serve the sporting market, concerts, retail, movie productions, educational events like graduation ceremonies," as well as many other event outlets.
During the shutdown in Georgia when everyone else stopped working, Eisenstein's team was put to the test. Business did slow down a bit, but they were able to take that time to focus on enhanced employee training. Most of the time, their training takes place on site, so the pandemic was good in the sense that they were able to unwind and make training a priority. Classic Tents cross-trained their employees to be more versatile within the company and capable of fulfilling multiple roles. If someone is unable to work because of illness, someone else has the ability to step in, which wasn't possible before. So, in this time, they became more prepared for the business to come, and they did their best to stay ready. Their typical clientele made quite the shift as annual festivals were canceled and hospitals needed tents. Fulton County contacted them requesting tents for their COVID testing sites; they're still in use to this day! When people were trying to figure out whether or not to cancel weddings and bar mitzvahs, a lot of them decided to cancel their venues and planned their events at private residences with added tents.
"We are in touch with the people in our industry, so when we all hunkered down and tried to figure out what was going on, we all relied on each other. We talked to other industry professionals in other cities and had daily discussions…where we all tried to figure out how to get through t