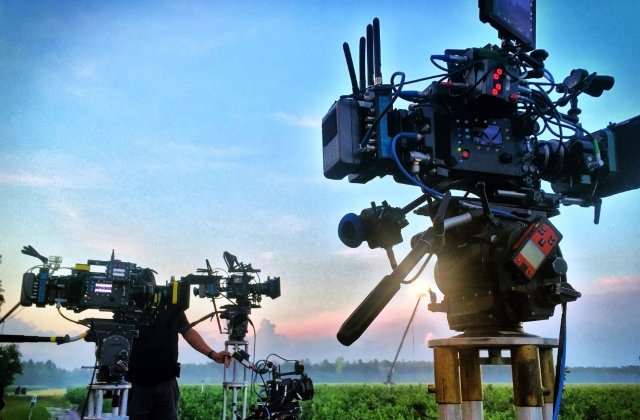 Georgia has quickly become one of the top filming locations in the world. During the 12 months that ended June 30, 2019, 399 productions filmed in Georgia including 26 feature films, 31 independent films, 214 television series, 91 commercials and 29 music videos, according to the Georgia Department of Economic Development.
In 2018, film and television productions spent $2.7 billion in Georgia. The amount spent in 2019 is preliminary and expected to increase as productions finalize their numbers.
"The entertainment industry has found a home in Georgia," Georgia Deputy Commissioner for Film, Music & Digital Entertainment Lee Thomas said in September. "While the spotlight certainly shines on our competitive incentive, it is the Georgia-based skilled crew, diverse topography, available infrastructure, and the hundreds of small businesses that support our productions that keep us ranked as one of the top filming locations in the world."
What is the true impact of Georgia's entertainment industry and how do we come together to create a sustainable source of economic growth, jobs and revenue?
You can find out on Dec. 5 at Atlanta Business Chronicle's Business of Entertainment event, where you'll hear from local leaders in film, TV, music, games and digital content as we dive into Georgia's creative economy.
Check out the event program below and learn more about the event here. (Read more about last year's event here.)
2019 Program
State of the Tax Credit – Film, Music and eGames
Steve Weizenecker, Partner, Barnes & Thornburg LLP
Conception to Creation: The Business of Creating a Hit in Georgia
Alix Baudin, President, Will Packer Media
Moderator: Sharon Reed, Journalist and Host
Music's Economic Impact on Georgia: Past, Present and Future
Cortez Bryant, BPG Education Partner and C.O.O., Young Money Entertainment
John Driskell Hopkins, Founding member, Zac Brown Band; National Trustee, The Recording Academy and Artist in Residence with the Joel A. Katz Music and Entertainment Business Program, Kennesaw State University
Dee Dee Murray, Owner, Murray Media Production
Moderator: Bryan Calhoun, Head of Digital Strategy, Blueprint Group; Director of Artist Marketing and Industry Relations, Pandora and Executive in Residence, Joel A. Katz Music and Entertainment Business Program, Kennesaw State University
Emerging and Innovative Content Models
Mikey Cosentino, CTO, RiTE Media
Doug Grimmett, Founder and CEO, Primal Screen
Chris LeDoux, Founder, Crafty Apes
John Rich, Vice President, FutureX Labs, Moxie
Moderator: Leigh Seaman, Executive Director, SCADFILM
Atlanta as an eGames Destination
Andrew Greenberg, Executive Director, Georgia Game Developers Association
Todd Harris, President, Skillshot Media and Co-founder, Hi-Rez Studios
Jeremy Poore, Director of Partnerships, Director of Partnerships, Atlanta Esports Ventures
Samir Mayur, Vice President of Business Operations, Atlanta Hawks and State Farm Arena
Moderator: Jon Preston, Dean of the College of Computing and Software Engineering, Kennesaw State University
Read more in the Atlanta Business Chronicle, here.