Don't Stop Making Faces
By Oz Online | Published on November 15, 2019
Georgia's Make-Up Effects Artists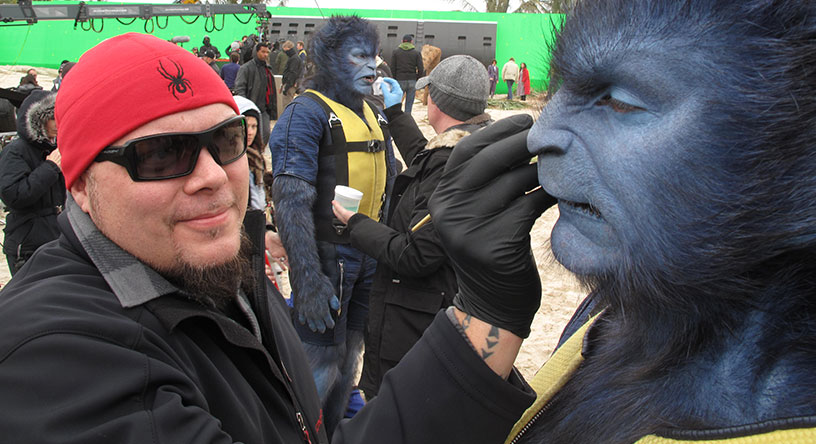 Monsters are a great motivator. Generations of movie and comic book monsters have inspired kids to build their own creatures, mold scary masks and devise blood and gore designed to still the hearts of mothers everywhere. Who knew that the rudimentary props, prosthetics and makeup skills they acquired in childhood would lead these Atlanta-based make-up effects artists to successful careers on screens big and small?
Kurtzman Opens Atlanta Studio
Robert Kurtzman, the renowned make-up effects and creature designer who heads Robert Kurtzman MUFX, LLC in Atlanta and Santa Fe, has worked in the field since the age of 19. He grew up in Ohio drawing, sketching and painting; was an avid reader of Famous Monsters of Filmland and Fangoria magazines, and followed the careers of movie monster-makers.
"I was amazed by the old-timers but didn't even think of creating make-up as a career," he says. He tried art college for a year then dropped out and moved to L.A. to pursue monster making. He enrolled in a 12-week course at make-up maven Joe Blasco's studio where he learned the basics of corrective make-up then landed a job at Mechanical and Makeup Imageries (M.M.I.), "a great learning ground" that enabled him to work on half a dozen low budget films a year.
Kurtzman freelanced for a number of years and met his future partners, Greg Nicotero and Howard Berger, with whom he founded KNB EFX Group Inc. in 1988. One of the most prolific effects studios in Hollywood, KNB has hundreds of feature and television credits, including numerous films with Quentin Tarantino and Wes Craven. Kurtzman left in 2003 to direct and offered special make-up and creature effects through Robert Kurtzman's Creature Corps in Ohio. He launched Robert Kurtzman MUFX in Atlanta two years ago.
"I've been doing this for 35 years, and I'm still learning," he says. "What excites me are the filmmakers, the projects, the characters and their different looks. Straight up gore is the most boring thing to do: How many times can you see a head pulled off? But what's exciting is creating an aging makeup or an unusual character with prosthetics."
Some of Kurtzman's most challenging work was for season one of The Haunting of Hill House, the Netflix series loosely based on the iconic Shirley Jackson ghost story, which has been filmed a number of times (KNB worked on the 1999 Liam Neeson version). The series debuted last fall.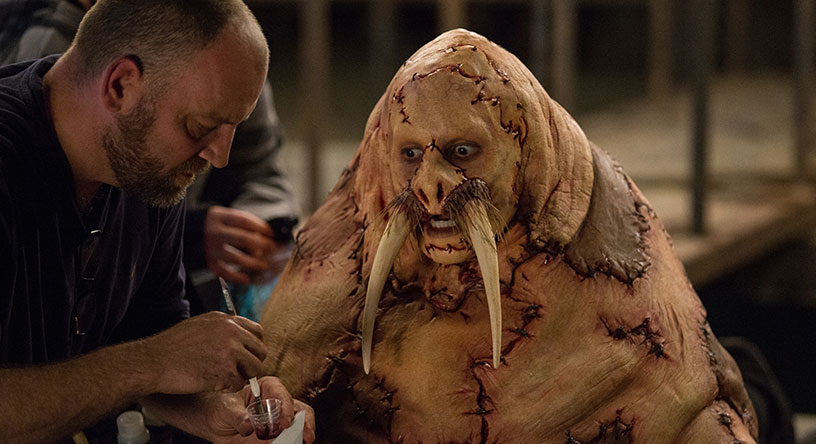 "The scope of the project was challenging: ten episodes over a nine-month shoot in Georgia. It was scheduled like a ten-hour movie with the same director throughout."
"The scope of the project was challenging: ten episodes over a nine month shoot in Georgia. It was scheduled like a ten-hour movie with the same director throughout," he reports. "There were a variety of characters with age make-up and prosthetics; there was even a nine-foot- tall character. It was shot 4K so all the make-up had to be cleaner and more precise, although almost every make-up product is created for HD now and has to hold up to scrutiny. The show was one of the most well received ever on Netflix; fans really liked it. The fact that it was more of a family drama with scary images made it very endearing."
The now-classic 1996 Dusk Till Dawn, directed by Robert Rodriguez with a screenplay by Quentin Tarantino based on a story by Kurtzman, was also a challenge for "the sheer amount of work. We did everything but the kitchen sink and had ten times more planned," Kurtzman recalls. "It was at a time when digital effects were just starting to come out, and the physical elements and digital VFX were not blending well."
"At first, us physical effects guys didn't want anything to do with digital," he notes. "But when I was directing I had to learn what could best be done practically and digitally. Once I started doing digital, I embraced it. You don't want to overuse one or the other; you want them to blend perfectly."
Over the last decade Kurtzman and his colleagues in the industry have seen tools and techniques evolve and change. "The advances in silicone products have been great," he reports. "We make our own silicone appliances and ProsAide transfers" to apply to the skin to simulate lacerations and scars. "Sometimes we CyberScan a body and mill out body forms to build costumes. And we work with 3D printing houses on prototypes to demo to producers." Greasepaint has also been phased out in favor of alcohol-based make-up, which "holds up twice as long" and looks better when captured by high resolution cameras, he notes.
Kurtzman's recent feature film credits include Kevin Smith's Jay & Silent Bob Reboot, shot in New Orleans, and Stephen King's Doctor Sleep and the science fiction pilot (Future) Cult Classic, both shot in Georgia. "My crew here has been great," he says. "People willing to put in the effort and work hard will always find jobs in this business. But you have to eat and sleep this stuff. You have to continue to improve your portfolio."
Johnson Goes Non- Stop at Lone Wolf
Bill Johnson, owner of Lone Wolf Effects in Lawrenceville, made Super 8 movies, crafted miniatures, worked on student projects at the University of Georgia and took a job in an art store in his run up to a career in make-up effects. He took the Dick Smith mail order make-up course and got his first professional break in 1987 creating "blood and gore" make-up effects on Sleepaway Camp II: Unhappy Campers and Sleepaway Camp III: Teenage Wasteland, which filmed back-to-back in Georgia.
Film work picked up in the 1990s with Johnson earning credits for RoboCop 3, Freejack, Pet Sematary Two and The Patriot, among others. With the new century and increased production incentives in Georgia, Johnson is working steadily with a regular crew. "It's pretty much non-stop now," he reports.
Johnson has been make-up effects department head for Ozark's three seasons creating prop bodies, gore effects and prop animals. He has worked on Stranger Things as a makeup effects supplier and recently as make-up effects designer/department head on The Outsider, the Stephen King miniseries that airs next year on HBO.
Currently, Johnson coordinates with make-up department head Travis Pates on Doom Patrol, which debuted last February on the DC UNIVERSE