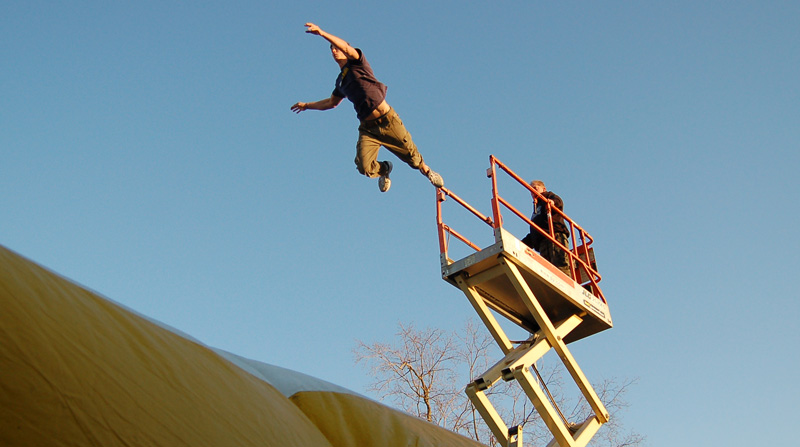 Cushy Landings
By Oz Online | Published on October 6, 2015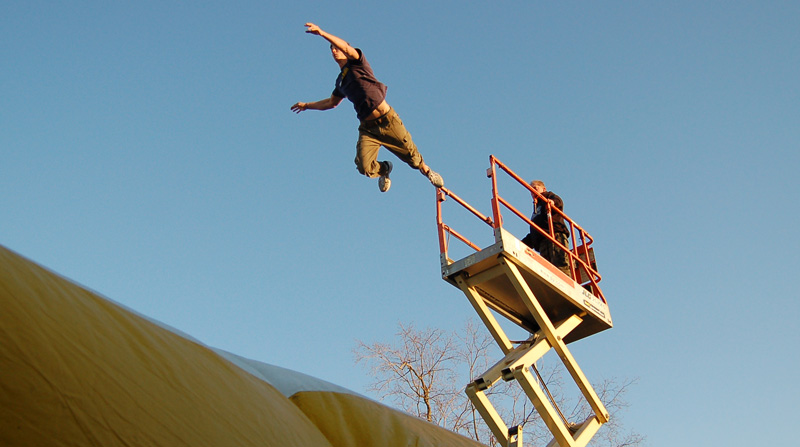 A Conversation with Shelby Swatek
Stunt performers are the often overlooked villains or heroes of the silver screen. These dedicated professionals perform gravity-defying stunts, engage in carefully choreographed fight scenes and maneuver vehicles in ways that seem unimaginable.
Breaking into the business as a stuntman or stuntwoman is sometimes cumbersome—it requires dedication and tenacity, which is something Shelby Swatek of L.A. Stunts, LLC, knows all about. With more than 25 years in the film industry under her belt, Swatek has worked as a stuntwoman in actionpacked films such as Passenger 57, The Replacement Killers and Terminator Salvation. A long conversation with Swatek revealed that the world of stunts and the people who perform them is as fascinating as one would expect.
Until the 1960s, when the stunt industry began to organize professionally, stunts were performed mainly by those with backgrounds in the circus or rodeo. Today's stuntmen and stuntwomen come from all walks of life, including military and athletic backgrounds. Swatek stresses the fact that the men and women who perform stunts are intelligent, intuitive and hard working. Stunt performers' backgrounds are just as diverse as actors' and directors'.
There's a common misconception, though, and it's that stunt training is free. It's not. This myth is rooted in history. Stuntmen and stuntwomen once learned trade secrets from family members, and in the early days of film, talented clans largely monopolized stunt work. Now that films are shot all over the United States and abroad, the need for local talent has led to formalized stunt training.
A Special Set of Skills
While many with athletic, law enforcement and military backgrounds can draw on life experience and carry that into film, formal training is important. Breaking down the steps required in everything from high falls to basic fight choreography requires a razor sharp attention to detail. This is why Swatek and co-founder Michael Long of L.A. Stunts emphasize form and technique, especially when training on the fundamentals, which are the building blocks to more complicated work.
When it comes to training, Swatek emphasizes that budding stunt performers check their instructor's credentials. As with any industry, people can make grandiose claims—especially in areas where the film industry is growing rapidly, like Georgia or New Mexico. She recommends checking for credits on IMDb.com, asking for references and requesting to see demo reels from stunt schools before committing time and money to training.
It doesn't hurt to inquire about SAG membership and class sizes either. Generally, smaller class sizes yield more personalized attention from instructors, which in turn can make training much more effective. Personalized attention and hands-on time with instructors can help sharpen mechanics, improve form and lay a strong foundation that performers can build on incrementally.
"You won't last long if you don't have a really good head on your shoulders. Things change fast, and you have to be able to think on your feet to keep yourself and others safe."
Brawn and Brains
Beyond the physical elements of training, integrity and mental fortitude matter. "You won't last long if you don't have a really good head on your shoulders. Things change fast, and you have to be able to think on your feet to keep yourself and others safe," says Swatek.
Interestingly, set etiquette matters more than some newcomers think. A ringing cell phone can affect the entire production. Understanding all the moving parts of a set atmosphere is so important.
In addition to the physical mechanics of a scene, stuntmen and stuntwomen need to tap into the unique features of each situation.
This is especially true in fight scenes. Sometimes stunt performers get caught up in the intricate choreography, but understanding the scene is helpful. "Every fight is different. Every fight is a story . . . There's a reason why it started and there's a reason why it ended," Swatek explains.

Actors Train in Stunts, Too
Formal stunt training is a good thing for actors as well. Stunt training can increase an actor's versatility. Producers tend to prefer that actors be able to do some of their own stunts as a cost-saving measure while directors enjoy the realism that stunt-trained actors lend to the performance. When actors perform stunts, directors can shoot close up and from various angles.
As actors embrace stunt work, stunt performers embrace acting for many of the same reasons. In Drive Angry, starring Nicolas Cage, Swatek utilized her theater background as well as her fierce driving skills in a high-speed chase scene.
Camaraderie Off Camera
While the film industry is notoriously competitive, as an instructor, Swatek sees the softer side of the business. In training and on set, stuntmen and stuntwomen are often like family. While hitting the ground might sting, camaraderie among professionals softens the blow. Breaking into the business might be hard and the stunts may be even harder, but the work is fun and rewarding. With a good attitude, commitment and dedication to training, stunt work can be a reliable ticket to a career in film, especially in locations like Georgia where competition is not as stiff.