Cineposium 2016: Wrap-Up Report
By Oz Online | Published on November 7, 2016
The Association of Film Commissioners International's Cineposium 2016 brought 110 representatives from 22 countries—including Argentina, Georgia, Japan, New Zealand, Norway, Russia and Uganda—and 25 states to Atlanta for the 40th annual conference between September 22-24.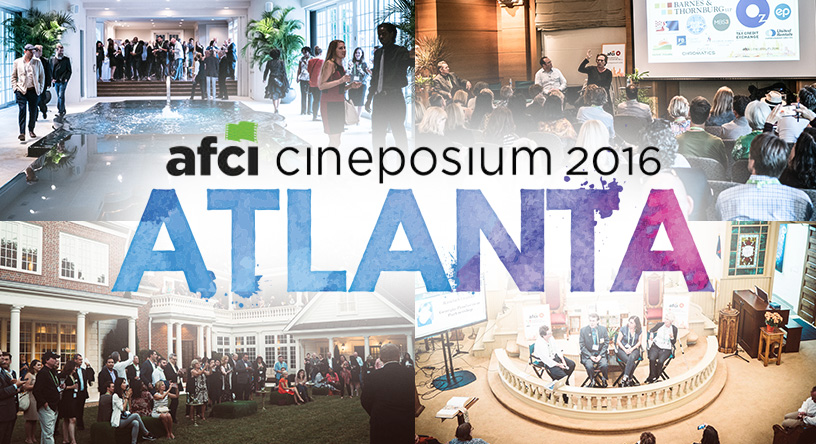 This year's event was hosted by Oz Publishing, Inc. and Barnes & Thornburg, LLP. The three-day "Building Your Business" focused conference gave special attention to Production Infrastructure – how to build it, maintain it and manage crew development to meet its needs.
"For four decades, Cineposium has served as the marquee event for film commissioners to provide education and training along with face-to-face access to industry leaders," said Kevin Clark, AFCI Executive Director. "This year's conference in Atlanta brought in 22 countries and over 25 US states to examine the state of Georgia as a model for AFCI Members and production industry professionals."
On the first day of the conference, Thursday, September 22, more than 60 AFCI University students completed the "Film Liaisons" course facilitated by Lisa Strout, CFC (Massachusetts Film Office) and the "Locations Photography" workshop led by Don Gray (New Mexico State Film Office) at the InterContinental Buckhead. Lt. Gov. Casey Cagle kicked off the evening's opening reception at the expansive and luxurious McPherson Mansion in Roswell.
Senator Christopher J. Dodd, Chairman and CEO of the Motion Picture Association of America, Inc., provided the keynote address at the Michael C. Carlos Museum at Emory University on the second day of the conference. His keynote emphasized the economic impact of the film and television industry in Georgia and across the globe.
"A combination of strong incentives and a fantastic home-grown talent pool has catapulted Georgia into the top ranks of motion picture and TV production. Motion picture and television production accounts for 25,000 direct jobs here in Georgia. Generating $1.7 billion in wages," said Senator Dodd during his speech to conference attendees. Dodd added, "For our international visitors here, I am delighted to report that international locations—staples in blockbuster feature films are increasingly a backdrop for certain American-made television series, too. There has never been a better time for us to make movies and TV shows together—here in the USA and across the globe."
"When you step back and look at the film industry's presence in Georgia – and then to have
AFCI select Atlanta for the 2016 Cineposium – it's quite remarkable. In a handful of years, our
state has become a top production destination, for both national and international productions.
We've created an environment with a talented workforce and we are very proud of what we
have accomplished and the opportunities ahead." — Lt. Gov. Casey Cagle
The sessions opened with "Building Facilities," moderated by Kevin Clark, AFCI Executive Director, with panelists Jeremy Hariton, SVP of The MBS Group; Mark Henderson, Owner of Get-A-Grip Atlanta; Steve Mensch, President and General Manager of Studio Operations at Tyler Perry Studios; and Nick Smerigan, Owner and Founder of Roadtown Enterprises, LTD. The panel discussed what it takes to build a production facility in a jurisdiction and provided discourse on the advantages and challenges that accompany building production facilities.
Karen Carberry-Warhola, CFC and Director of the Maine Film Office, moderated the "Building Crew Base" session that examined various approaches to building a knowledgeable and strong crew base that featured panelists Kevin Amick, Director of Education for IATSE Local 479; Dan Simmons, Head of Partnerships at Creative Skillset; and Nick Maniatis, Director of the New Mexico State Film Office.
Actor William Fichtner made a special appearance following the "Building Facilities" session, taking a break from his work on the film Finding Steve McQueen. Fichtner shared his perspective on the importance of film commissions and shared his experience working with New York State legislators to increase film incentives in the state.
The always popular "How Would You Handle It?" session, this year titled "Building Bridges – How to Handle Crisis?" closed out the day and was moderated by Kevin Jennings, AFCI Chairman and CFC. Andy Edmunds, Director of the Virginia Film Office; and Stephen Weizenecker, Partner at Barnes & Thornburg, LLP, were also featured panelists.