Ruminations on Oscar's 2019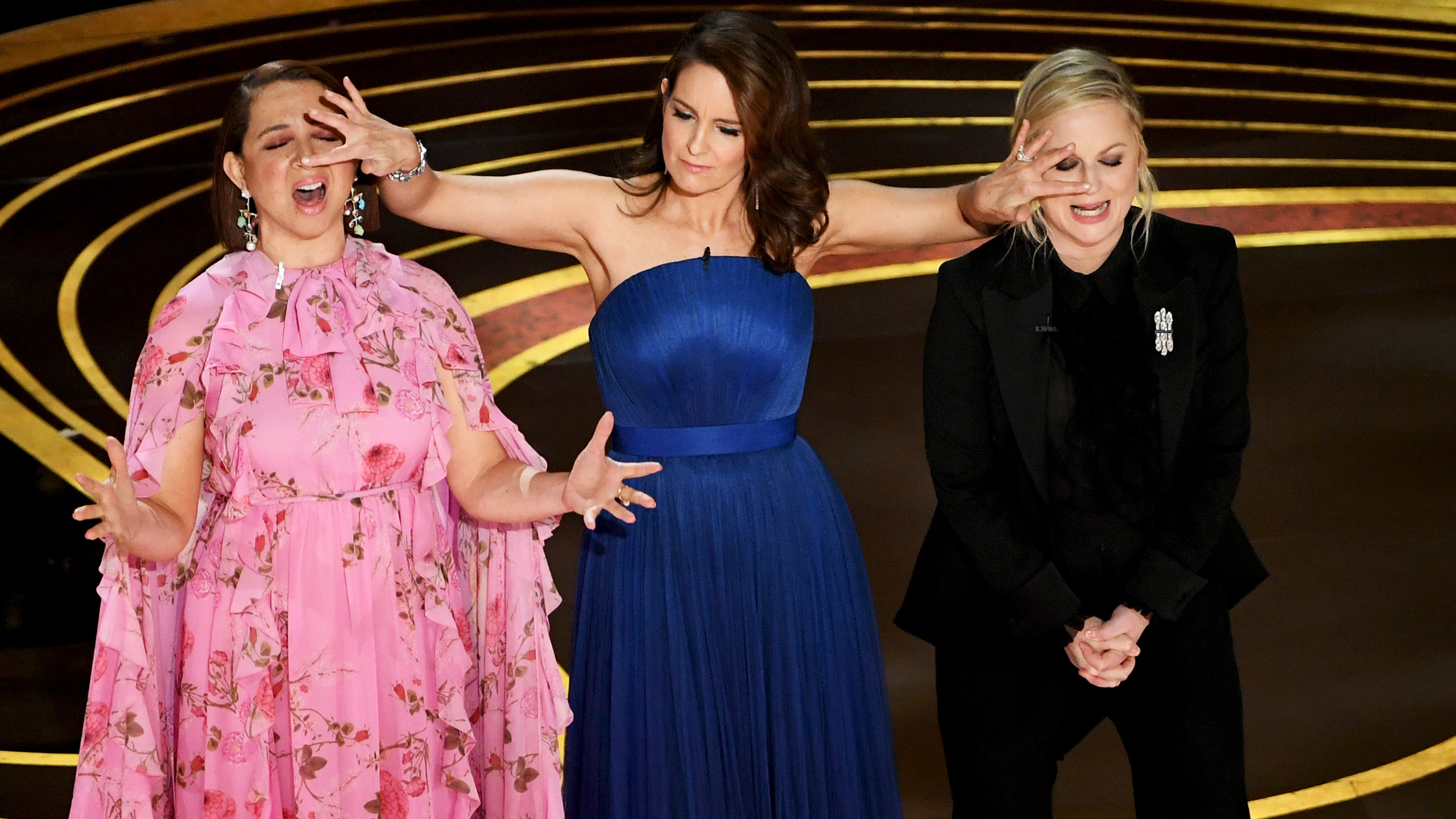 Every year we hunker down in a comfortable chair with a glass of champagne, a bag of popcorn and our Oscar scorecard waiting to be dazzled. Hope springs eternal for those moments that sometimes reward us for watching. They materialize rarely, but powerfully, like a last-minute reprieve from the governor.
All too often the Oscar ceremony sinks like a leaden balloon. And in 2019, we were Hart-less and host-less. Nevertheless, we were hopeful that at least we wouldn't have to squirm in our chairs like a parent at his kid's first piano recital while watching a newbie host go where many had failed before…down the Oscar host rabbit-hole.
As it turns out, the host may not be the most when it comes to the Oscars. In fact, the overall success of the 2019 awards made us realize the rise how very much or fall of past Oscar ceremonies is a trajectory almost totally reliant on the skills of the host (or lack thereof).
This year, there was no hammy monologue with cringe-worthy jokes that indiscriminately topple the ghastly (Jerry Lewis, 1959 host) and the great (remember Letterman and "Uma meet Oprah"?). There were no strained, perverse pairings, like the anguish-inducing embarrassment of Anne Hathaway and James Franco, or Bob Hope with Donald Duck as his wise quacking side-kick in 1958 (yes, really).
As we've seen from Oscar hosts ranging from Chris Rock to Seth McFarlane, comedic talent is not a barometer of success. This is a place where the mighty have fallen. A look back on the hosts of Oscars' past demonstrates no clear path to success. Many hosts weren't even comics at all.
The first female Oscar host was award-winning character actress Agnes Moorehead (Citizen Kane) in 1948. Modern audiences will probably know her better as Endora, Samantha's mother from Bewitched. But comedy wasn't her thing. Dramatic actors such as Jane Fonda, Ellen Burstyn, and Warren Beatty have been hosts and co-hosts through the years.
Bob Hope was the all-time champ, hosting 19 times. The closest to his record is Billy Crystal with nine, Johnny Carson with five and Whoopi Goldberg, four times.
Being host-less in 2019 wasn't even a first. After 1968, Bob Hope finally decamped, leaving the stage anchorless from 1969-1972.
Then there was the 1989 host-free debacle that is burned in the brain, and not in a good way, for anyone who saw it. An Oscar emcee was replaced by an eleven-minute opening musical number that yawned into eternity, and when blessedly over, fell forever into infamy. That well-known song and dance man Rob Lowe was paired with a poor unknown actress dressed as Snow White, warbling standards in a high-pitched voice reminiscent of Alvin the Chipmunk (I'm not making this up kiddies). That Rob Lowe survived to act another day is a testament to his talent…or tenaciousness.
So, 30 years later, we began another night of no-Oscar-host with visions of such failures floating in our heads. Yet despite all the angst and anxiety, everything, for the most part, came up roses. In fact, this may be the beginning of a beautiful Oscar relationship.
The hypnotic Queen anthem "We Will Rock You" opened the proceedings with a scintillating sizzle that seemed a good omen for the blockbuster nominee Bohemian Rhapsody. Performed by the original band with American Idol's Adam Lambert channeling Freddie Mercury, a medley of Queen hits then electrified celebrity and at-home audiences, earning the first standing "O" of the night.
The juiced-up audience was then teased by the appearance of the modern divine divas of comedy, Amy Poehler, Tina Fey, and Maya Rudolph, who jolted us with a hope that this troika would be our surprise hosts for the evening. This bait and switch was acknowledged by Fey who quipped that they would stay onstage a little longer, "…so the people who get USA Today tomorrow will think that we hosted." (Hey! Academy board of governors, if you didn't take this hint about who should host next year, your #timesup!).
Swallowing our disappointment that their hosting was not to be, the show moved on, and at warp-speed compared to prior years. In fact, in addition to the promising and noticeable inclusion of numerous actors and creative artists of color as presenters and winners (following the years of #Oscarsowhite), the 2019 host-less awards were a revelation of entertainment and efficiency.
As usual, there were few surprises and a few heartbreaks (poor Glenn Close losing for the 7th time for her stern and strong portrayal in The Wife). As expected, Roma was a sweep, winning in most categories it was nominated for, including best foreign film and best director.
The proceedings moved at a steady clip with a few glaring exceptions. Didn't the best make-up winners from Vice, who bungled through their acceptance speech, realize they might win? And is it ever a good idea to have a grown man descend on a crowd as an ersatz Mary Poppins (no matter how earnestly executed by the usually brilliant Keegan- Michael Key). Did the Academy learn nothing about mixing female Disney characters with male celebrities after the Rob Lowe/Snow White nightmare? Yet these were blips on the radar. On the Oscar thermostat of memorable moments, this one was at fever pitch.
Queen Babs (aka Barbra Streisand) made a rare appearance to introduce and heap praise on Spike Lee and his film BlacKkKlansman with a flawless delivery; she also managed to do a thinly veiled Trump dump in the process. When Spike actually won after a lifetime of brilliant work that has been all but ignored by the Academy, his jump for joy into the arms of presenter Samuel L. Jackson, both alumni from Atlanta's Morehouse College and Jackson acted in Lee's Jungle Fever, School Daze, Do the Right Thing, Mo' Better Blues, and Chi-Raq brought a full body smile to anyone watching. Granted, it was for writing, not directing. But his evident pleasure at being acknowledged at last was gratifying to see.
There was an unprecedented "get a room" moment with the passionate pas de deux of Bradley Cooper and Lady Gaga singing their hit "Shallow" moments before the actual win for best song. Their performance was so hot we thought Gaga's 30-million-dollar Tiffany diamond necklace might melt off her neck.
The surprise win of Green Book was the proverbial poop in the 2019 Oscar punch bowl, shocking the audience into subdued awkward applause (and in many cases, none at all). For those who have been in a cave, Green Book, is the "true-ish" story of a white "goodfella" who works as a driver for an African- American pianist touring the deep south in the 1960s. The film is really a bromance in which, inevitably, the white guy learns not to be a racist, and the elitist, erudite black man is saved from his isolation by the gumba who is driving him. But NO ONE thought it would win.
Not only did everyone, including the other nominees, think that Roma was a slam dunk, Green Book is laden with enough controversies to fill a new book.
But, the coup de gras for Green Book were the many accusations of racial parochialism in a year when the Academy has seemed to finally extinguish the "Oscar-so-white" hashtag with the diversity showcased among presenters and winners. When the announcement of the best picture was made, Spike Lee was so incensed he literally tried to leave the building while Get Out director Jordon Peele sat numbly with his hands at his side.
After cooling down, Lee had perhaps the best off-line, line of the night. Alluding to the 1989 (filmed in Atlanta) Driving Miss Daisy which won the best picture the same year Lee's critically acclaimed Do the Right Thing wasn't even nominated, he commented "Every time someone is driving somewhere, I lose. They (just) changed the seating arrangement."
The 91st Academy Award Ceremony without a host served up much entertainment. Despite the good, the bad and the ugly, we will continue to watch. To host or not to host; that is the question.