Chatejah George, a Georgia native from Clayton County, has always been interested in creating content. With over 192,000 followers on her YouTube channel and 4.6 million followers on Tik Tok, the 24-year-old is expanding her audience on all platforms. Like many aspiring young adults, she is a kid with a dream. Getting involved in the Film and Entertainment industry comes with challenges. Occasionally it can be easier for some more than others. Nevertheless, George is making a name for herself in the entertainment business. Whether it's directing her new TV show, Swipers, or making viral Tik Toks, the young creator is constantly turning heads.
Growing up, Chatejah's mother would constantly advise her about being open to trying new things. As children, we would hear that a lot but never know how important it is. "Keep working and don't give up," George said. "My mom would always tell me to try new things, and I never understood why. It's helpful because new opportunities come out of them when you try different things. I know that sounds cliché, but you may not know what you want to do in life. If you keep working and putting effort into things, you will eventually figure it out. That's what steered me to the film industry. I tried so many different things and had no idea if I would like them. I would not even be in this position if I didn't keep going. You must go outside of your comfort zone."
Chatejah's passion for creating content has helped grow and promote her brand and audience. The young business owner has been uploading YouTube videos for almost ten years, totaling over 7 million views on her profile. Her YouTube videos range from short films to web series. After all that hard work, George has come a long way by always putting herself out there.
Being a driven woman, Chatejah decided to take things into her own hands. Rather than waiting for the right moment to pursue her dreams, she acted on it. At 23- years old, George opened C&C Movie Film Studio in August 2021. The 20,000 sq feet studio is located in Morrow, Georgia, just 20 minutes from Atlanta. It has been a year since Chatejah held the grand opening of her studio, and since then, it has grown tremendously. Filmmakers and artists alike have booked with C&C Studios, catapulting George's career and name into the film and entertainment business. The studio now includes a salon, a classroom, an office, a hospital, a jail cell, and more.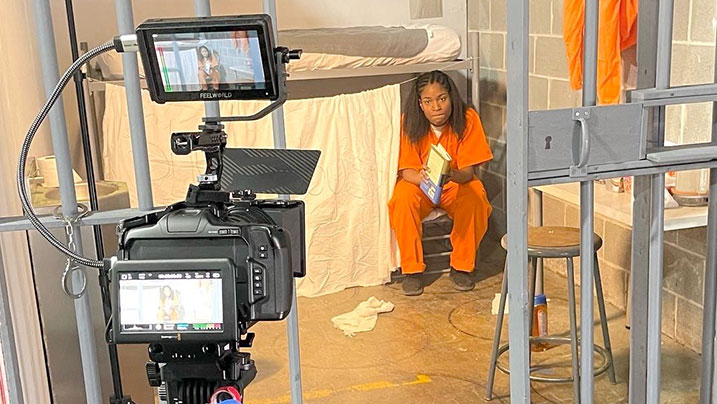 "I didn't have anywhere to film, so I just decided to open my own movie film studio,"

-Chatejah George

"I didn't have anywhere to film, so I just decided to open my own movie film studio," Chatejah said in a recent interview with CBS46 Atlanta. "There wasn't anywhere for me to film, especially for independent filmmakers. If there is somewhere to film it's very expensive. I wanted something affordable."
Being a studio owner at 24 years old, Chatejah can offer creatives an affordable and high-quality space to book. Her struggle to find accessible studio spaces further motivated her to build her own. "Everyone knows me as a studio owner, but I opened it to create my own content. I want to share many ideas and messages with the world," George stated.
Almost everyone can relate to challenges they have had to face while working. Whether it's feeling uninspired or unmotivated with their work, all artists have gone through shared experiences. However, overcoming these obstacles and coming out on the other side is what inspires others. George often gets her inspiration from hearing people's stories and how they got over them and persevered through.
"I really love Tyler Perry's story-he was homeless-which has motivated me a lot. Many people's stories inspire me because it makes me want to make movies about them. I like hearing people's backstories because everyone's struggles are different," George said.
We all have had unique experiences and troubles we've had to deal with. Most creatives draw inspiration from the people or environment around them. American actor Tyler Perry found his motivation to pursue a writing career from an episode on The Oprah Winfrey Show. The artists in the film community inspire generations of filmmakers like Chatejah George.
The film and entertainment industry can be difficult for women, especially when the business is highly male-dominated in many aspects. For some women, this industry can be discouraging for various reasons. Women are told they have to work twice as hard to get a seat at the table. These situations can be tough but the future of filmmakers is evolving each year. This treatment of women does not slow George down from doing what she loves. Her discipline and passion for creating drive her to work harder and smarter. She shared her frustrations as a studio owner and a Black woman, saying: "One of the challenges is being surrounded by many men in this industry. This is a male-dominated industry, especially working at the studio; most of the clients that come in are men," She stated. "They don't always respect women, and I feel as if I was a man, they would respect me and follow the studio rules. Sometimes, it can be hard to follow the rules and listen, but not everybody is like that."
C&C Movie Film Studios is on the rise around the Atlanta community. Chatejah is taking the initiative in her career and becoming more popular as time goes on. The young creator has received acclaim from celebrities like American rapper and record executive Rick Ross to American filmmaker Ava DuVernay. DuVernay, known for Selma and 13th, replied to George on Twitter, "The next time I'm in Atlanta, I'm coming to see your studio and tour all your sets and your prop house. I'll enjoy taking in your vision. Congrats. And keep shinin'," DuVernay said.
In June 2021, Rick Ross flew to Atlanta to meet Chatejah and tour the newly opened C&C studios. The new studio owner later posted on Instagram, "I just gave Rick Ross a tour at my Studios! He flew into town just to come to C&C Movie Film Studio. This is such a blessing!! This is amazing! You made my day. It was a pleasure hearing inspirational words and giving you a tour. We are going to produce a movie together. Casting calls are coming Soon," wrote George.
"After Rick Ross visited C&C Studios, many people rented out the studio after that. As far as Ava DuVernay, I've gotten messages from many filmmakers," George said. "There are a lot of people on Twitter that follow me as well, from showrunners to producers. Ava helped my name get out there on the film side, and Rick Ross helped my name get out there on the music side. I've heard my name circulating in Hollywood as well."
Since opening C&C Movie Film Studios, Chatejah has had a successful first year full of new experiences. The young businesswoman had the grand opening of C&C Studios with the support of Clayton County and many others. George has been featured in several articles, including Complex and Yahoo. She was able to upgrade to a bigger studio from 3,000 sq ft to 20,000 sq ft.