Breaking type is often a tall order in this business, but sometimes a little nerve can yield major dividends. Just ask Brockmire Season 2 breakout, Sarah Blackman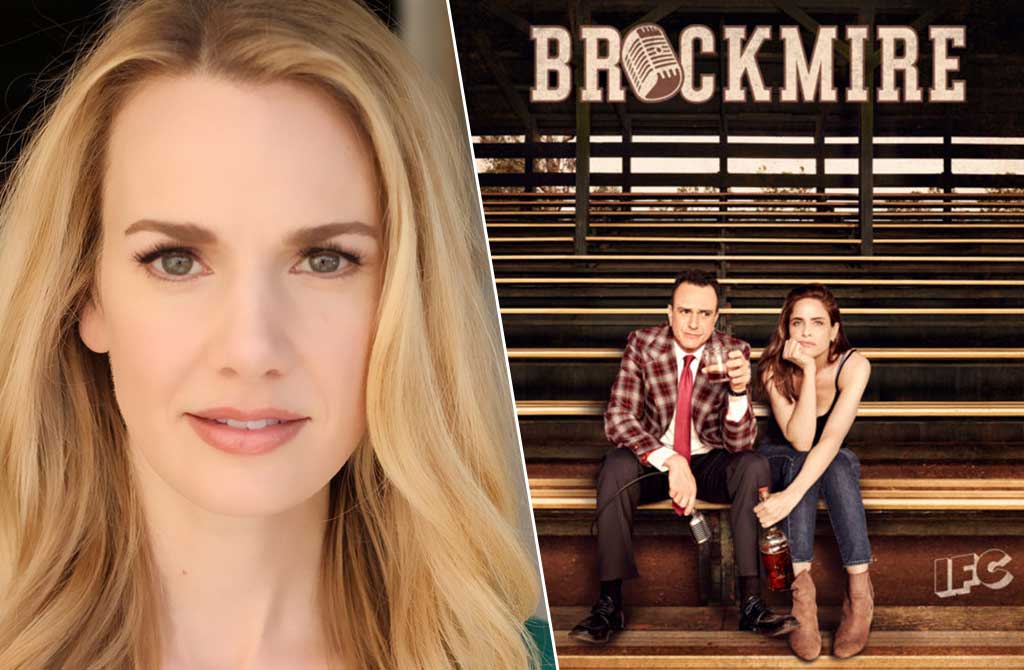 After receiving her coffee at a suburban Atlanta café, Sarah Blackman casually saunters toward a quiet table in the back-left corner of the shop, removes a small sleeve of Stevia from her handbag, and gently stirs it into her mug. Her blonde curls are blithely swirled into a mussy bun, indifferent to rogue tendrils.
She carries herself with the blasé energy of an approachable, forever girl-next-door beauty. Her outfit is an apropos homage to all of the above: ripped jeans and a faded, black, Mr. T t-shirt that reads, "Shut up, fool!"
She has come this afternoon to promote her featured role in an upcoming episode of IFC's Brockmire, but in discussing the angle she took that really helped her audition tape stick the landing, the 30-something Southern firebrand has found herself harkening back to a Sam Christensen-led actors workshop she once attended on embracing how others perceive you. "It was fascinating, because you sit down in front of people you've never met, and you don't say a word, and people just start writing down adjectives that they see in you. At the end of the first day, I get the list, and I see that I got 18 'naughty,' 14 'mischievous,' 15 'Barbie.' People said 'pageant queen,' and I never was a pageant queen; 'sorority girl,' that's never been me. So, I had to come to terms with that."
As it turns out, however, several years after swallowing that once-bitter pill, Blackman's coming to terms with her "naughty" misnomer would be precisely what her performance as Brockmire's "Nicole" would call for—i.e., a hard-drinking, cocaine-tooting, chlamydia-transmitting train-wreck of a barfly who shares a night of hedonist abandon with Hank Azaria's title character, once-disgraced former Major League Baseball announcer, Jim Brockmire. "If this many people you've never spoken to or met get that [vibe] from you," she says, again relating the Christensen seminar, "then you better find a way to embrace that side of yourself and use it to your advantage as an actor. If you can be Mother Teresa, you can commit murder also—in a character sense."
It's an interesting juxtaposition, Blackman's Brockmire role. On the one hand, it's an eccentric, over-the-top embrace of the bad-girl-masqueradingas- Barbie presumptions made by her fellow workshoppers. On the other, it's a rare, stark, delicious departure from the innocuous, tall-blonde type for which Blackman is too often cast. "It's such a different character than anything I'm usually called in for, it was great," she says. "It was super fun to even have an audition where I played against type, and I kind of threw caution to the wind. I was just like, '[Expletive] it, I'm gonna have fun on this one.'"
Subsequently, throughout her audition tape, Blackman smacked gum, applied Chapstick mid-sentence, wore gaudy sunglasses, you name it. It was a full-on face-mushing of her demure Georgia-peach type, in order to make way for a dime-store tramp of the most detestable strain. "They hired me straight off the tape," she says. "Having seen me as this sweaty-looking, nasty, greasy-haired, mess of a girl who can play against type, the same casting directors have been already been calling me in for grittier, less glamorous stuff." A bold move roundly rewarded, it seems.
A bold move roundly rewarded, it seems.
Blackman first forayed into the business as a model in the late '90s, and shortly thereafter, at the behest of her agent, began going on commercial auditions. There wasn't nearly enough work in Atlanta around the turn of the millennium, so she packed her bags for L.A. in 2002, where she studied at Playhouse West under Robert Carnegie and James Franco.
In 2005, she landed the part of Julie Gillette opposite Zac Efron in The Derby Stallion, and was cast for a small role in Franco's 2007 film, Good Time Max. In the years since, she has appeared in several TV series, including BET's The Quad, USA's Necessary Roughness, Single Ladies and Bless Yer Heart.
You can catch Blackman mixing it up with Hank Azaria in the Brockmire Season 2 episode, "Caught in a Rundown," airing in June on IFC.