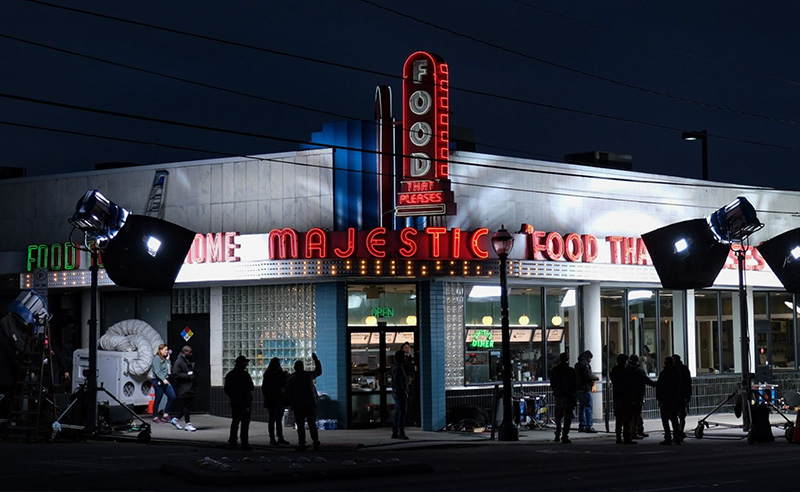 Captain America Filming In Atlanta
By Oz Online | Published on April 21, 2023
Marvel and its Captain America franchise have returned to Atlanta to film its fourth of the series, Captain America: New World Order. Filming began in March at one of the oldest restaurants in Atlanta, the Majestic Dinner on Ponce De Leon, and a majority of the production will take place at Trilith Studios.
Although most of the plot is still a secret, a few details have emerged about the upcoming film. The conflict is said to arise when a rare and powerful metal called Adamantium is discovered on Tiamut, the Celestial island from Eternals, and the situation quickly spirals into an international struggle to claim the metal and the island.
Harrison Ford's character, Thaddeus "Thunderbolt" Ross, was first introduced by Marvel Comics back in 1962. In the upcoming movie, he will lead a team of villains called the Thunderbolts who try to steal the precious metal, and the only thing who can stop them is Anthony Mackie's Captain America and his fresh team of heroes.
Once again, the cast is loaded with wonderful talent, including Liv Tyler, Tim Blake Nelson, Shira Haas, Xosha Roquemore, and Danny Ramirez. There are also rumors flying around that an old face, Sebastian Stan's Bucly Barnes, might make an appearance.
Filming in Atlanta will continue through July 2023, and the movie is expected to premiere on May 3, 2024. Following that, fans can look forward to the next movie in the Marvel Cinematic Universe, Thunderbolts, which will dive deeper into Harrison Ford's villain character and his team of antiheroes.