Behind Brockmire: An Interview
By Oz Online | Published on June 14, 2017
Brockmire, the first television show from the popular parody site Funny or Die, wrapped its first season last month.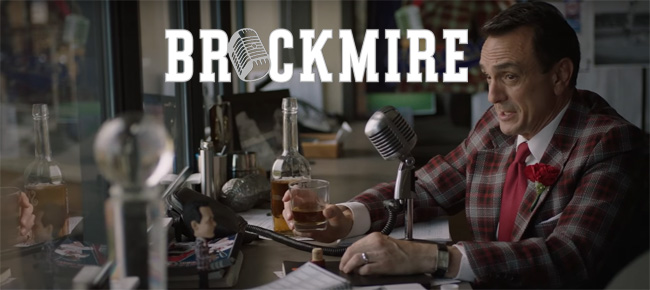 The show stars Amanda Peet and Hank Azaria, and follows a major league baseball announcer as he attempts to reclaim his career a decade after he had a major on-air meltdown. Season one filmed in Georgia, specifically Atlanta and Macon.
Oz got the opportunity to speak with some of the major players: Michael Levy, vice president of business development at Chainsaw (SIM Group LA division, who provided camera rentals, dailies, and more); Elizabeth Baquet, production executive at Funny or Die; and James Spies, producer/production manager of Brockmire.
Tell us about the process of transforming a web video into a television series?
Michael Levy: The scale of what you're dealing with is much larger when working on a television series compared to working on a comedy short, or group of comedy shorts, like webisodes. The shoots are much longer, both the number of days per episode and the total amount of shooting involved. Also, as part of the process, you typically have multiple episodes in production and post-production at the same time. They used a technique called cross boarding, where rather than shooting a specific number of days per episode, they spread the scenes across multiple days so that in the course of a week, they could be shooting scenes in different episodes, not just one.
Elizabeth Baquet: The process varies depending on each project, but for Brockmire the main challenge was deciding what direction to take the story. Once our creative team, led by executive producers Joel Church-Cooper, Hank Azaria and Tim Kirkby knew how they wanted to see the character evolves, they were able to craft the full series arc. From there, we took the normal steps of producing a television series in terms of assembling the creative and production teams to pull everything off.
James Spies: It involves both the creative and production sides of the process. The Brockmire character created by Hank Azaria had to be developed and a full season of scripts written. Joel Church-Cooper wrote the scripts and came up with the character arc for the first season. Once we had the scripts the challenge started on the production side.
Shooting a season of scripted television is very different than doing a video and posting it on a web page. There is structure and a system that gets followed. You can't just grab a video camera and say "let's go here and film this today." There are permits, contracts, unions, locations, cast and crew to be hired, etc. One of the challenges was to keep the spirit of making a video alive while having the structure of doing scripted television in a "studio system" and following process and rules that we all do things by and understand.
What was the biggest challenge?
Spies: The biggest challenge on the production side was finding the right stadium creatively. Early on I had discovered Luther Williams stadium down in Macon, which was perfect but because of the distance, didn't fit in our budget. The solution I came up with was to cross-board the entire season so that we had all the baseball work together in the schedule. This, along with some other budget cuts gave us the resources to be able to put the crew up in Macon and film the baseball scenes in the location with the best creative look for the show.
Levy: When scaling a project up from a short to a multi-episode series, it comes with the issue of having multiple episodes in both production and in post at the same time. Several people involved in the series, while being very experienced in feature films and in shorts, hadn't previously been through the process of working on an episodic series. All of the companies that make up SIM Group have worked on many episodic series over many years so we were in a really good position to offer lots of advice in terms of how to plan a workflow strategy, how to document things properly and how to coordinate getting their camera media from the set to the digital dailies office. We took care of moving the media digitally from Atlanta to Los Angeles and other similar issues so they didn't have to worry
about them.
Baquet: We had a very short window to shoot all eight episodes but everyone really pulled together to create such a great show.
Levy: One of the series co-stars, Amanda Peet, accidentally got hit in the head with a beer can, which is such a Brockmire moment. They were filming using the cross board technique, working on multiple episodes in the course of a week, so the fact that she had a visible blemish on her forehead presented all kinds of continuity challenges. It was terrific in that once we became aware of the problem; we were immediately strategizing how to deal with it and how to get the material we needed to take a look at. Bling, pulled the needed shots from camera, dailies and got the material to us right away. We then worked with our Chainsaw visual effects crew to try out different techniques to fix the problem. The director was in Atlanta, the producers were at Funny or Die's Hollywood offices, and the Brockmire editorial team and Chainsaw's Brockmire finishing crew were all together the SIM Group headquarters in Hollywood. It was an instance where having a whole team working so closely together really helped out our client a lot.
What is your favorite part about being in this industry and involved in an
Atlanta-based project?
Baquet: I love getting to work with so many different people and Atlanta has a lot of talented crew members.
Levy: During shooting the SIM Group Atlanta team came to LA so we had an opportunity to meet face-to-face on several occasions. It was fun for me to get to know our Atlanta-based teammates more personally and work closely with our Atlanta team. We had to coordinate having the dailies function and the post editorial function working so closely together: we avoided many potential conflicts, (e.g. finger-pointing situations, "Why did your dailies crew do it this way?") by doing so and talking extensively amongst ourselves.

Spies: The people you meet each day when you go to a new location or work with a new crew. Every day is different.
What inspired you to get into the film industry?
Levy: Over the course of my career, I have particularly enjoyed learning about new technology and finding new and better ways to get things done for our clients. That's something I specialize in and hope that I'm known for. When we meet with manufacturers to talk about their new products, it's one thing to see a technical advancement take place and talk about the latest and greatest camera, new editorial platform or visual effects system, but I really enjoy saying, "How is this going to help a particular client? How can they take advantage of it?" That's one of the things that turns me on in the process.
Baquet: In high school I started making my own small projects for fun and really enjoyed the challenge of bringing big creative ideas to life. Now I get to do that on a daily basis and it's been really rewarding.
Spies: I was inspired because I loved film and television and figuring out how things were done. I love the whole process and have been on both the creative side in development and as producer and on the production side as line producer and production manager. I love figuring out how to get the show made and made well.