Atlanta's Satellite of Love
By Oz Online | Published on January 18, 2018
Atlanta's own B-movie spoof troop, Cineprov, has assembled a fast-growing fan base employing irony as a laser-guided weapon.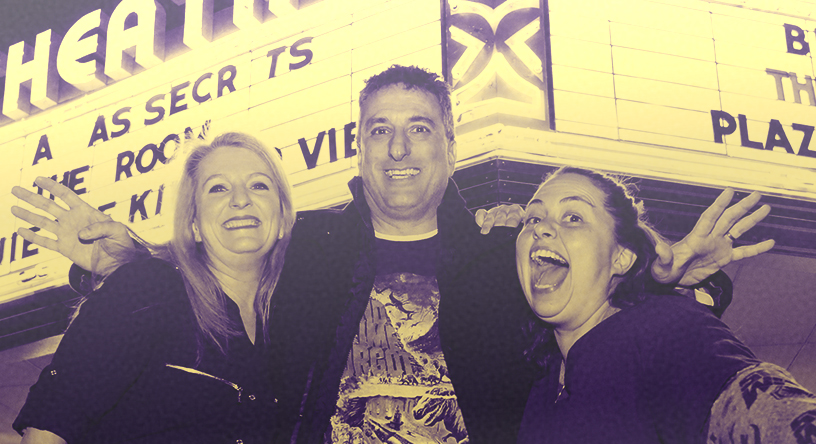 It's a dark, quiet evening at the Plaza Theatre. There's a muted hum of conversation as the audience filters into the venue and finds their way to their seats. The smell of popcorn lingers in the air, and the rustling of candy packets is barely audible above the rustling of viewers. At the front of the theater, a small group of people are conversing about the evening ahead. This is Cineprov, a liveaction event that fuses improv, theater and classic films.
As the lights dim we are introduced to a motley crew, all funny in their own right, who are waiting on the stage. They are charismatic, easily drawing in the crowd with their quick wits and playful demeanor. For those who have watched Mystery Science Theater 3000 (MST3K), the concept is a familiar one: humorous commentary while B-rate films play in the background. Fans of the classic sci-fi series might feel a bit like they are in the Satellite of Love itself, and the improv adds an interactive, intriguing element to the enjoyment of these classic, often campy and cheesy films.
Originally founded in 2005 by Larry Johnson and a few friends, Cineprov arose from humble beginnings at the Basement Theatre in Buckhead. The group would pull together two shows in a weekend, hardly advertise them at all, and hope for the best. "We would just sit and play UNO a lot in the hopes that an audience would show up," Johnson says with a laugh.
After some time, the group relocated to Sketchworks in Decatur. The distance combined with the risk of crime—the Cineprov crew was even robbed there once—led them to find a new home. For awhile, they performed at Relapse Theatre, projecting their films onto bedsheets suspended across the balcony. "It was super slap-dash and thrown together," Johnson admits, but it was still a labor of love for the crew.
Currently they are showing at the Plaza, averaging one performance a month every first Thursday, but they will be adding a few Friday night showings in 2018.
"I'm totally flattered to be called a 'comedy terrorist,'"
"We found these '70s movies, and they are all just so beige. The horrible way women were treated in the '60s and '70s," Johnson explains, incited the Cineprov crew to make fun of those tropes. "I remember that when I grew up in Philadelphia, my buddy and I would go out and drink, then go back to his house and watch MST3K and just laugh and laugh. And I've always been snarky." Inspired by the MST3K style, and after an encouraging encounter at Dragon Con with Joel Hodgson, the show's creator, Johnson knew he was on the right track. "I met Joel back in 2008; the whole cast was there; I think they were promoting Cinematic Titanic; I was standing in line just to get things signed and wearing a Cineprov shirt. At the time, the coolest thing that I ever heard was Joel looked up and said, 'Hey, are you the Cineprov guy? I've seen your website.'"
Years later, in August of 2013, Hodgson was touring with his show called Riffing Myself, and Johnson reached out to him to suggest that he come to Atlanta and host a performance at the Plaza one night, then sit in with the cast of Cineprov the next. The stars aligned, and Johnson found himself onstage with one of his comedy icons, riffing and joking through a presentation of Star Trek IV: The Voyage Home. "The one with the whales," as Johnson describes it.
It was a big success and reassured Johnson that this form of comedy, a sort of mashup between live theater and old film, would be fruitful. In 2015, when Hodgson launched a Kickstarter to bring back Mystery Science Theater 3000 to Netflix, again Johnson reached out. "I just emailed him and said, 'Hey, congratulations on getting the show rebooted. I would kick myself to my grave if I didn't tell you I want to be involved in this.'" As a result, Johnson landed his first role as a writer for one of the new episodes of MST3K, covering The Land That Time Forgot.
Writing for the show was a little different than the hands-on approach with which Johnson and his Cineprov friends were familiar. Instead, it would require offsite, independent, internet-based writing. Instead of sitting around with friends in someone's living room, sharing drinks and food while loudly making fun of old movies, he was directed to write down his ideas and his jokes, test them on others, and then send them in to the head writers, Hodgson and Neal McAdam. They told him, "Just submit, submit, submit," and in the end, he estimates that he wrote around 586 jokes for the 72-minute movie.
While Johnson's sense of humor and passion for Cineprov is clearly the driving force behind the group, it hasn't always been the most welcomed in every setting. He recalls one instance where he nearly had to leave a house party at a friend's place because they were screening The Graduate and Johnson couldn't stop making fun of the film. It was years later that he found improv, taking classes back in 2001 and joining the Laughing Matters local improv group. "I am totally flattered to be called a 'comedy terrorist,'" he said, referencing a comment made by a friend who postured that his style of funny interjections was often pleasantly surprising and sometimes accosting.
Improv became a way for Johnson to express his sarcasm, snark and wit. "Otherwise the sarcasm would build up in my head and it would actually explode," Johnson explains, "so this is definitely a release for me to get the snark out." It also allowed him to meet new people and reflected his appreciation for old B movies. "I love bad movies, but I can't make bad movies. So, I totally respect that they make it so that we can make fun of it."
Another member of the Cineprov crew, Candace Weslosky, has been involved for the past year or so, and she has also been leading the Friday night screenings of The Rocky Horror Picture Show at the Plaza for the past 17 years. One night, when Weslosky sat in with the audience during a Cineprov screening that was experiencing technical audio problems, she started improvising ad-libs along with the crew onstage. It got Johnson's attention, and an instant bond was formed. "Since then, I think Larry and I have talked every single day for a year," says Weslosky. "We are besties."
"The culture it create's, the fellowship, that's the reason you do it. It is the chip and we are the dip."
Outside of the Plaza, Weslosky has a rather serious and intense job as assistant to the head surgeon for the corneal department at St. Joseph's Hospital, specializing in geriatric ophthalmology. Her roles during the day include helping patients as they grapple with vision loss, cataract surgery and corneal transplants. "I totally adult when I'm not around these people," she says, her voice tinged with laughter. At work, she finds herself in the role of patient advocate, especially as it relates to elderly patients who have to negotiate with insurance companies and may not have other people fighting for their rights. "It is nice to work really hard in a stressful environment and then have something like this to do afterwards."
Beyond the day job and the performances at the Plaza, Weslosky also plays French horn for the Atlanta Philharmonic Orchestra and runs a convention by the name of Outlantacon on Mother's Day weekend. Outlantacon is an LGBT+ convention featuring scifi, pop-culture and gaming, as well as a film festival. In all of these settings, Weslosky's humor and compassion shine through.
"I have many report cards that state 'Conduct: Candace feels the need to entertain the entire class,'" Weslosky says. These days, while doing Rocky Horror and Cineprov, she thinks of herself as something like a concierge working between the audience and the team members. Now considered to be "zany," Weslosky only wishes that the educators from her youth could understand how much her sense of humor benefits her life today. "Look at me now, it all turned out for the best."
Despite showing a penchant for dramatics from an early age, it wasn't until the end of high school that Weslosky began participating in theater. Her first theatrical performance? None other than The Rocky Horror Picture Show.
"I heard they were going to create a Rocky cast, so I just showed up there one night," she recalls. Impulsively, she walked in when they asked the cast and crew to enter the theater that night. When confronted, she admitted that she was not technically part of the show, but they decided to bring her onto the cast instead of kicking her out. It is just this type of forward and risk-taking behavior that makes Weslosky such a compelling performer in improv and film scenarios to this day.
Though admittedly not the most knowledgeable about films, Weslosky has found a welcoming home away from home in the culture and community that Cineprov creates. Her outgoing personality makes her a good fit in the dynamic of the crew, and she has the uncanny ability to bring others together, get them laughing, and keep everyone on target. "What I feel like I bring to the table is that I have never met a stranger," she says. Upon first meeting Weslosky, don't be surprised if you leave the interaction with a handful of new connections and an invitation to multiple upcoming events.