Above the Line with Mac Gordon
By Oz Online | Published on May 10, 2017
A Conversation with Mac Gordon location manager for the CBS hit series, MacGyver.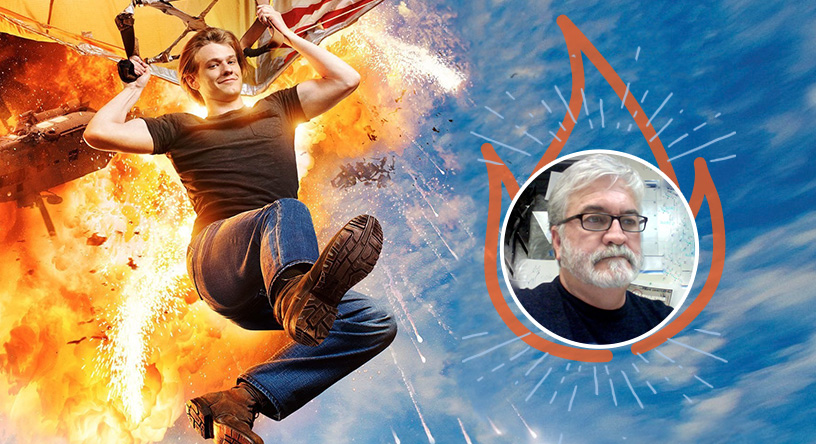 Location Manager Mac Gordon's Georgia roots are deep–and historic. A native of Savannah, he's the great-nephew of Juliette Gordon Low, who founded the Girl Scouts of the USA in 1912. Low's Savannah birthplace is a pilgrimage site for Girl Scouts of all ages. Growing up with a sense of place is a good trait for a future location manager. But Gordon didn't start his career in locations: he spent about a decade doing video production in North Carolina, but
always hankered for Hollywood, so he left for California to study screenwriting at the prestigious American Film
Institute (AFI).
After a year as a student and running out of money, he ran into a man he knew when he was a PA in Savannah, who was now producing TV movies in Hollywood. Gordon inquired about a job, and the man said he was looking for someone to pinch-hit for his location manager, whose wife was expecting. Gordon began his on-the-job training with the TV movie, Return to Green Acres. Although he tried to focus on writing for the next year, his friend kept calling him back with more job opportunities. Gordon's 25-year career in location management was launched.
"It's not for people who need a lot of praise…"
"I thought it was pretty strange work," he recalls. "I was used to sitting behind a computer alone, figuring out things. But at the time it was better to be working than not working. And at some profound level I found satisfaction in the job: knowing when I'd found the 'right' location and discovering, usually, the solutions to a million location problems out there."
Gordon quickly recognized that this wasn't a job for everyone, however. "It's not for people who need a lot of praise," he says. "Location managers get a lot of complaints. We rarely get patted on the back. Satisfaction has to come from knowing in your own mind when it's a job well done."
Over the years, Gordon has amassed a long list of credits, including the TV series The X-Files, CSI: Miami, Monk, The Unit, The Mentalist, Necessary Roughness, Containment, and some episodes of the new FOX show, Shots Fired. Recent feature work includes Ride Along 2 and The Hunger Games: Mockingjay, Part One, for which he handled second unit locations.
While Gordon was location manager for the series Detroit 1-8-7, his wife took a new job in Atlanta, and the family relocated to the city from California. "At the time, Necessary Roughness was gearing up in Atlanta, and I lucked into the first season with the help of a local manager I had just met," Gordon recalls. He has continued to find jobs in Atlanta and North Carolina even after his wife's job moved again to upstate New York, which the Gordons now call home.
"I was thrilled to come back to Georgia to work," he says. "The change in the pace of production has been dramatic. There were a number of shows shooting here when I moved from LA, but today I can't count how many there are. I used to know what other people in the business were doing in Georgia, but now I have no idea–there's a tremendous amount of work going on."
The Mullet Is Gone, But MacGyver Is Back
At press time Gordon was finishing season one of MacGyver, produced by CBS Television Studios and Lionsgate. This reimagining of the classic series about an unconventional problem solver finds Angus "Mac" MacGyver (played by Lucas Till, who grew up in Atlanta) applying his unique skillset to high-risk missions around the globe–from the show's production base in Atlanta.
Gordon took over as the show's location manager with episode seven, heading "two teams of seasoned locations people who run episodes alternately." Those teams include two key assistants, two assistant location managers, two full-time location scouts, a few PAs and an office coordinator. "I work on all of the episodes but I'm rarely on the set; I'm mostly in meetings or in the van with the producer, director, production designer and cameraman," he explains. "Because of my experience in the area I'll get ideas for locations and send scouts to check areas that I think will work. Or they'll find locations on their own–our scouts are locals and very knowledgeable. Then I'll ask the production designer and the producer what they think of the choices."
"Things move fast; there's not a lot of dilly-dally."
Gordon's two decades in the business means his expertise in "how shows need to function" is invaluable. "We're basically schedule-driven. We crank out a new episode every seven or eight days while spending three days figuring out the locations and tech scouting for the next one. Things move fast; there's not a lot of dilly-dally. You want to plan a reasonable number of moves for the company on any given day. We pair locations to minimize travel time, and we'll factor in things like rush hour traffic or particular routes. It's my job to keep the show moving forward with a minimum of disasters."
Each episode of MacGyver spends an average of five days on location, Gordon estimates. The balance is spent at the show's home studio, Mailing Avenue StageWorks. Located two miles from downtown Atlanta, the studio hosts interior shoots for MacGyver and houses its major standing sets and swing sets that are too difficult to shoot practically.
Getting Atlanta and its environs to double for locations around the world can be a challenge. "There's not a tremendous depth of different looks here," says Gordon. "Los Angeles, with its mountains and beaches, has more
diversity in a 30-mile range. Atlanta is more consistent in its look. There are hills, beautiful forests and the city, of course, but it's hard to play Afghanistan in Atlanta."
MacGyver's writers are mindful of that and have developed scripts that can be produced in Atlanta. "They don't send us scripts for places that don't exist here," says Gordon. "No beaches, no Alpine vistas. We can do a lot of magic, but the more magic you need, the more it costs!"
Still, Gordon and his teams have found a bounty of locations to play the role of domestic and international locales. About an hour from their stages they found an isolated old barn and a horse farm. Just 20 miles west of Atlanta is the decommissioned Douglas County Jail, which has attracted several film and TV productions and which served as a Texas prison in MacGyver. An abandoned military administration office on an old US Army base doubled for the US
embassy in Latvia. "The hard part was finding a building we could 'destroy,'" says Gordon. "There was an explosion out front, machine gun fire and chaos. Special effects installed lots of breakable windows."
Nevertheless, the sequence required digital visual effects to help sell the embassy's destruction. "Locations that are augmented or modified in CG are picked because they work for the scene," Gordon explains. "We scout for the directors and the story as much as we can; when necessary VFX steps in and works with the camera department" to round out the locations with digital wizardry.
The lobby of a Georgia State University building in downtown Atlanta served as a spot under surveillance in Shanghai. The show's art department dressed the street outside with bicycles, small cars, vans and Chinese signage to make the location more exotic.
"The hardest part was finding a building we could 'destroy…'"
The top of an Atlanta parking structure was the site of a helicopter rescue in Kazakhstan. The plot called for an urban environment, so Gordon's team chose a parking structure with "interesting old and new buildings in the background," he says. When the chopper was shot down in a wooded area, the production didn't have to travel far from the stage for an appropriate location. "About 300 yards from the studio is reclaimed land sitting idle," Gordon reports.
Recurring locations are MacGyver's house–a real residence adjacent to Buckhead–and the Phoenix Foundation headquarters shown in an establishing shot. The latter is the stunningly modern Porsche Experience Center and North American headquarters in Atlanta, a structure that looks great setting the scene for Phoenix in the storyline. But since it's "in the airport flight path, it's too noisy to shoot dialogue there," says Gordon.
The hardest location to find was a stand in for Amsterdam for an episode where a bomb exploded in a van parked in an old part of the Dutch town. "We don't see a lot of Amsterdam in Atlanta," says Gordon. "We found a plaza in Marietta that we thought might work. The art department was amazing and added a ton of the right accoutrements–signage, European-looking kiosks. And later VFX added canals. But that one was tough for all the departments."
The most difficult locations to secure on a continuing basis are, ironically, part of every urban landscape. "We have a standing order for nice buildings with lobbies for walk-and-talk shots," says Gordon. "Lobbies are hard to find during the work week. Buildings don't want all the disruption that goes along with TV production, so we have an ongoing search for them. This is true everywhere–you'll find the same challenge in LA."