A Shout Out to the Makers of Sound
By Oz Online | Published on May 13, 2019
On set with audio vets at Netflix and OWN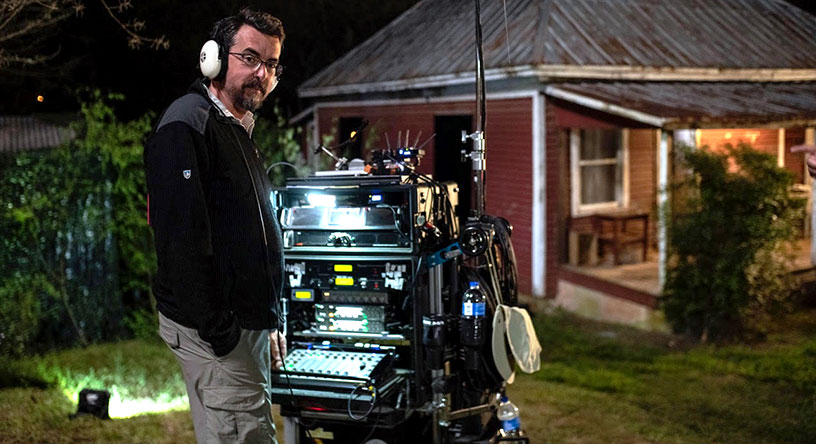 So, picture this: you're sitting at home, trying to indulge in some new shows. As you're watching, you notice that something's off. It isn't the cinematography; it isn't the actor's performance and not even the storyline. It's the sound, but not from your brand-new flat screen TV that you purchased on clearance. It's the production itself. Like all aspects to filmmaking, capturing sound is no easy task.
"Bad sound ruins a picture far more than bad pictures…"
The southeast has groomed some of the most proficient crews working in sound engineering for film and TV production today. Production sound mixers lead a small team; usually consisting of at least three people, and often the smallest team on a set. Their task is to record and mix the rough audio as it's happening.
Mike Filosa has had the experience of building his career as a sound mixer in the southeast for 41 years. He's worked on hit shows and films like The Hunger Games, Taken 3, and Insurgent. "Bad sound ruins a picture far more than bad pictures," says Filosa, the production sound mixer on OWN's Greenleaf. "It cheapens the content. It lessens the impact, even in commercials," Filosa continues.
Sound mixer Jake Slaney, currently working on a Netflix project, is an industry vet. He has worked on projects for networks like HBO, IFC, Netflix. TV credits include The Walking Dead and Say Yes to The Dress: Atlanta. Slaney believes that camaraderie is vital when selecting a crew. "We spend such long hours working together that one of the most important things is chemistry or the ability to get along with each other," says Slaney. He and colleague Filosa agree that finding the right candidate can make or break their efforts. "I imagine it would be hard to share a foxhole with someone you can't stand. That being said, having a good boom operator is very important to me. That is the anchor of the sound department. in my opinion," states Slaney.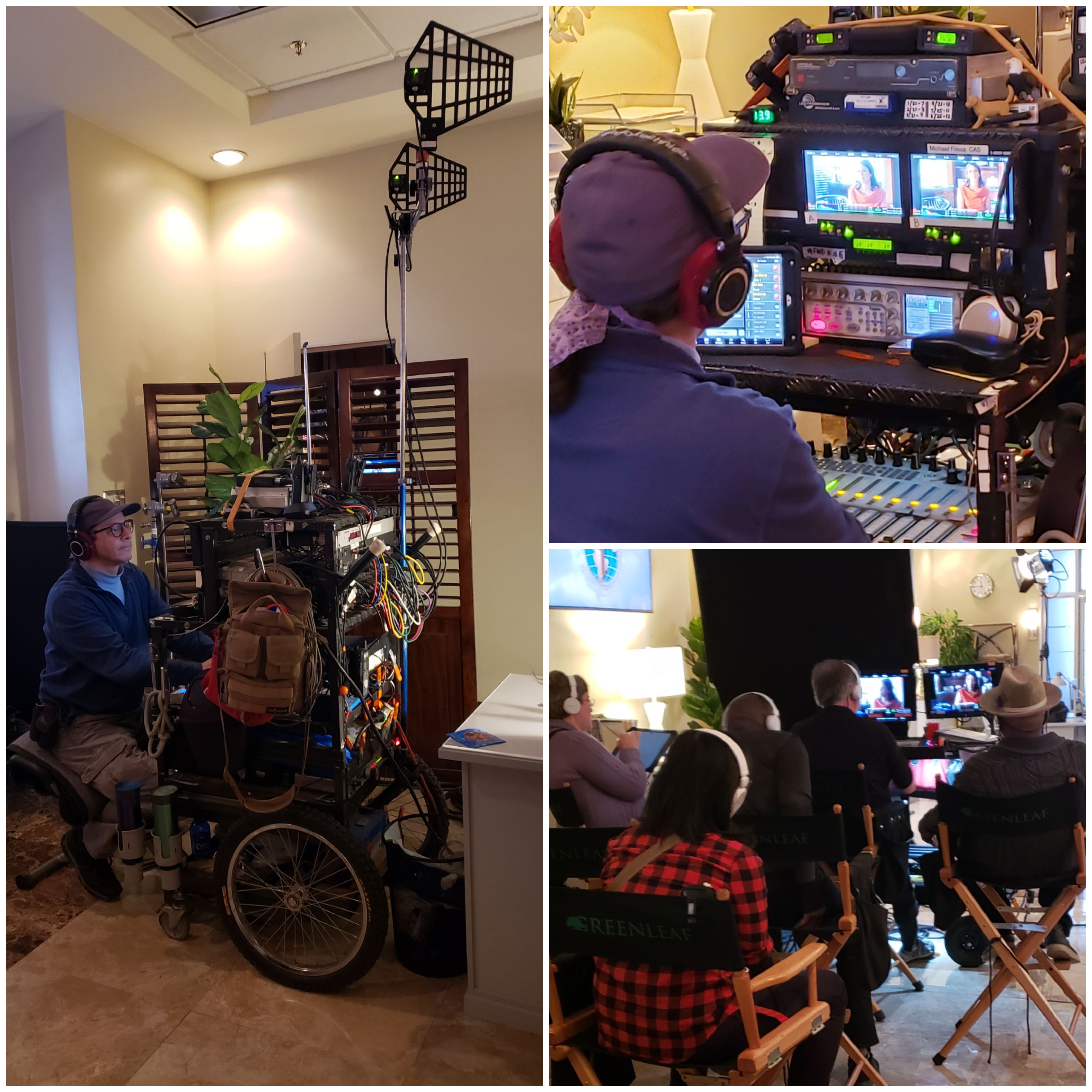 As the on-set representative of the sound team, the boom operator seizes the dialogue and atmospheric sound during the take, sending the feed to the production sound mixer. "Hopefully 90-95 percent of all the dialogue will be captured via boom and not fixed in editing," says Slaney.
Filosa knew he had scored big when he hired boom operator Atlanta native, Matt Robinson for Greenleaf. "I knew Matt would be a great boom operator because he's a musician, with a quality ear, and has great strength and stamina to hold and operate the boom mic," says Filosa. "I try to be the calm in the storm," says Robinson. To find quiet, stillness, and the endurance to hold the boom over or under your head can be quite the challenge. "The boom mic is the preferred mic, so my goal is getting crisp, clean sound, handling the boom properly, avoiding shadows, and preventing the actors from having to do ADR [Automated Dialogue Replacement] which can be time-consuming and costly for the studio."
"Practice with speed. Production loves speed…"
The sound utility completes the trio of the sound department. Often considered the entry-level position of production sound engineering, they manage and maintain sound equipment and wire up the actors before reporting to set. Filosa ensured Tiffany Mack that the job was hers after he learned during their interview: "She worked sound utility on a show called Say Yes to The Dress: Atlanta, which requires mic'ing up multiple people and preparing for wardrobe changes at the moment and, of course, hiding the mic wire. This was pivotal." "Surprisingly, wiring individuals [with mics] can be a difficult thing, especially in a wedding dress," says Mack. "I would have to find innovative ways to hide the mic. I could have up to five brides, and each of them may try on several gowns. If you can master that, you're onto something," Mack says with a laugh. "That experience was ample training." Mack's warm and diplomatic disposition is another asset. "I'm usually the first person from my department that the actors greet daily, and I want to represent the sound team well. I try my best to ease them," says Mack.
Another reason they're noteworthy is how they execute the pre-production process. Pre-production doesn't mirror in both television and film. "In TV, our department usually gets a day or so of preproduction before we shoot an episode, which takes about eight days to film. The extent of pre-pro is looking at the order Mike Filosa Mike Filosa of the scenes, who's speaking, location. I look for loudness, arguments, fights, and the character count, which helps to decide how to cover the scene. We'll get a good number of script re-writes and a good sound team in TV production reacts quickly, and that's what makes us so effective," Filosa shares.
Before shooting, Robinson is in full problem-solving mode. "We try to solve any existing sound interferences onset within 15 minutes. It could be a buzzing light, a noisy prop, wardrobe, or a type of action. It's best to hear these issues during the rehearsal when it's quiet, once the bustle and scene setup has ceased," says Robinson. During these 15 minutes, Mack's primary focus is talent. "I usually observe who's speaking and then I prepare my lavalier mics to wire up the actors. We have an ensemble cast on this show. They're my priority, capturing great dialogue and making them as comfortable as possible with their mics," mentions Mack.
Working on Greenleaf, the crew gets the chance to illustrate the dynamic that is the "mega" church. "African American churches are known for their enthusiasm of hand clapping, foot stomping, and rousing praise especially when singing. We have to capture that with authenticity as best as possible," says Mack. The polish for these specific scenes happens in post production, and the sound team must prepare while shooting. "The viewers may not know, but the actors that are clapping and singing are done by miming in a lip sync fashion. Our singers lip-sync to a playback track. The finishing touches are added in during editing. We focus on getting the dialogue right, such as Bishop Greenleaf (Keith David) doing an oration or sermon," says Filosa. "I'm in constant contact with the post team daily. Plus, I take notes and archive each file so that it's accurate to what the camera says, and it's easily accessible when editing," says Filosa.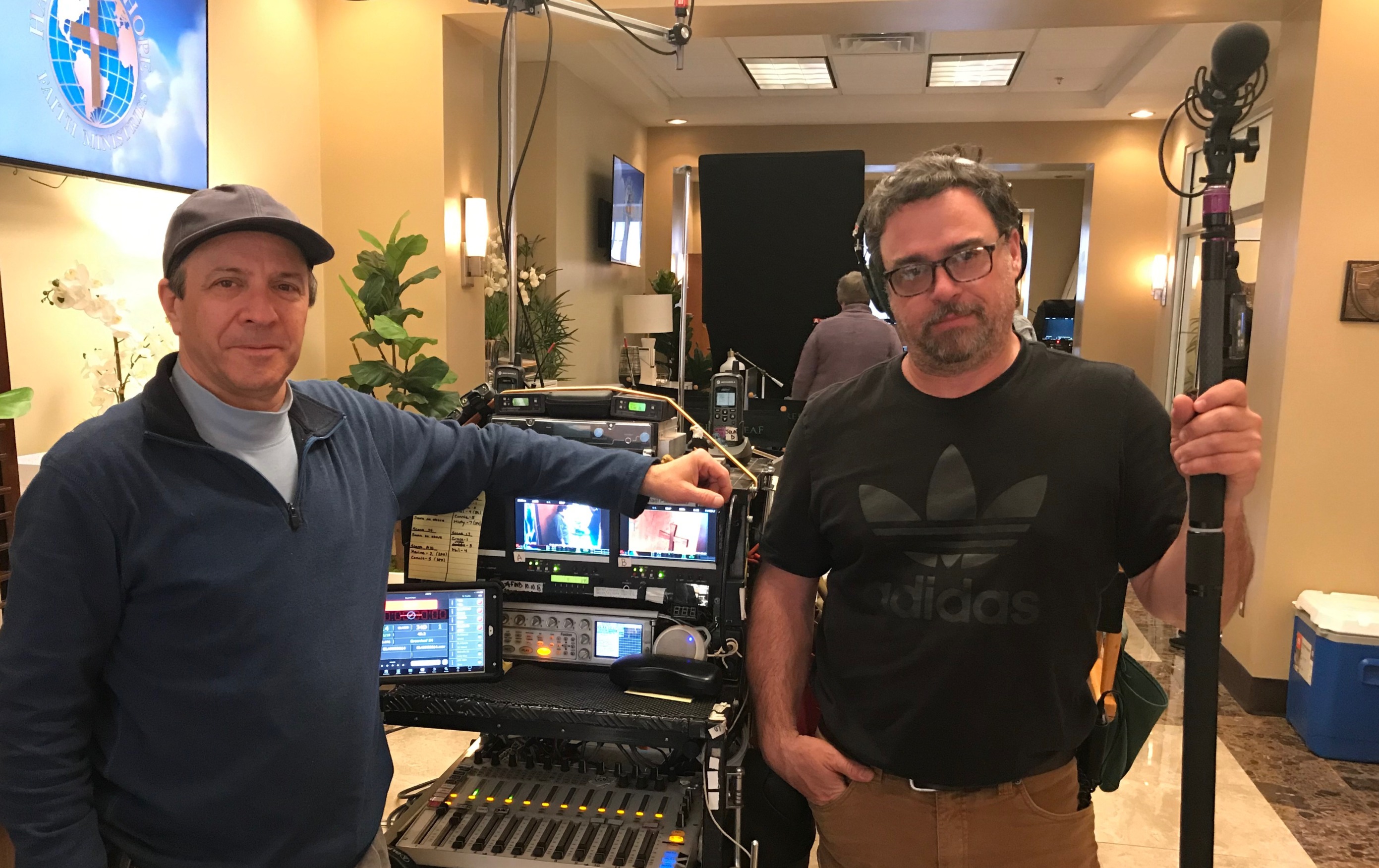 The camaraderie within their team and the entire production staff is palpable. "Loyalty is key. We stick together. I listen to their input because they know their stuff," says Filosa. Filosa often asks Robinson and Mack to join him on other shows. "We work on as many shows together as possible. Once you find that great team, you do everything you can to keep them. I feel so lucky to have these two," Filosa says with a smile.
TV and film production work can be grueling, with production days lasting 12 to 14 hours, and not limited to a Monday thru Friday schedule. "Working in production is like going out to sea," mentions Filosa, who's taking his first few days off in four years to visit his parents for their 50th wedding anniversary. "My mind is constantly on the show, thinking about it 24 hours a day. I'm engrossed. So, every weekend, I call someone I haven't talked to, or I try to do the lunch thing."
"For anyone that wants to work in production sound, I would say get a mentor, don't skip any steps in the process, and listen back to your work," says Robinson. "Learn your wires, practice wiring someone with a mic. Practice with speed. Production loves speed," Mack concludes with a laugh. "I am willing to work with and train someone that has less experience as long as they are motivated, willing to learn, have a head on their shoulders, and want to be there. When you spend months shooting, in what can be a stressful situation, you want to be alongside someone you enjoy," explains Slaney.
For these audio aficionados working in the southeast, recording leaves no room for mistakes. To them, recording terrible sound is a sin. During your next theater experience or binge session, give an audible shout out to the makers of the sound. They'll hear you.