2021 Atlanta Film Festival + Creative Conference Announces Programming Highlights
By Oz Online | Published on April 13, 2021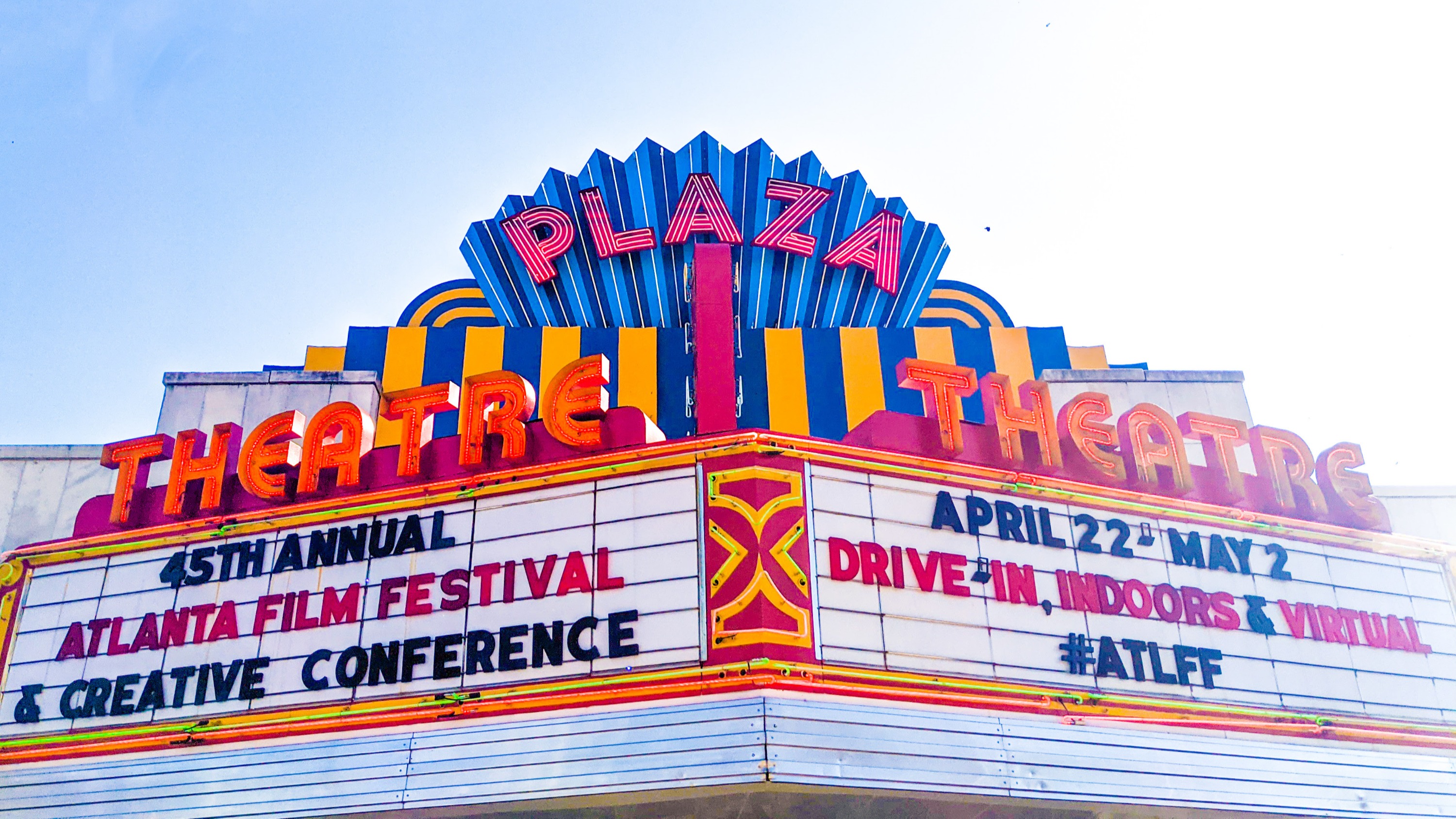 The Atlanta Film Festival +Creative Conference (ATLFF) announced key programming additions to the lineup of the 45th annual event taking place from Thursday, April 22 to Sunday, May 2, 2021. The announcement today includes 12 films from celebrated filmmakers and Hollywood studios that will be presented on Opening and Closing Night and at Marquee screening events throughout the 11-day festival. These screenings join the previously announced 2021 lineup of 170 works chosen from a record-breaking 9,400 total submissions.
The Opening Night Presentation, sponsored by Moonshine Post-Production, will be "Socks on Fire," a unique cinematic experience from director Bo McGuire that details an estate battle between a homophobic sister and her drag queen brother in Hokes Bluff, Alabama. The film will screen both at the Plaza Indoors and Drive-In on April 23, and the screenings will be preceded by performances from "Rupaul's Drag Race" season 12 star Rock M. Sakura and local drag performers.
The Closing Night Presentation on May 1 will feature "The Dry," a crime mystery starring Eric Bana about a federal agent who begins to connect the dots on two crimes that occurred decades apart. Ten additional Marquee selections will allow ATLFF to present some of the best upcoming films that Hollywood has to offer, including films from top studios and films that previously played at Sundance.
"Each year we strive to present a program of Marquees that bring the flash of major Hollywood films to Atlanta but also maintain our mission to celebrate independent filmmakers," said Cameron McAllister, Associate Director of ATLFF. "We're excited that our Opening, Closing and Marquee selections for 2021 help us accomplish both of those goals and we can't wait to present them to our audience."
In addition to Bana in "The Dry," notable names appearing in the Marquee films include Academy Award-nominee Toni Collette and Damian Lewis in "Dream Horse," Academy Award-nominee Riz Ahmed in "Mogul Mowgli," Winston Duke and Zazie Beetz in "Nine Days," and Patti Harrison and Ed Helms in "Together Together."
In addition to the Opening, Closing and Marquee announcements, additional film programming was announced or enhanced today. "Carterland," a moving documentary based on the presidency of Georgia's own Jimmy Carter and directed by Georgia-raised brothers Jim and Will Pattiz, will have its world premiere at ATLFF on April 24 at the Carter Presidential Center with special guests in attendance. The film was previously announced as part of the first wave of programming in February.
The Atlanta Film Festival is the annual centerpiece of educational and enriching film programming that is provided year-round by its parent organization, the Atlanta Film Society (ATLFS). Now in its fifth decade, ATLFF is one of only a handful of film festivals worldwide that is Academy Award-qualifying in three or more categories.
Due to the ongoing pandemic, ATLFF 2021 will be presented via a mix of drive-in, virtual and socially distanced in-person screenings. As in 2020, the Creative Conference events will all be virtual. Drive-in screenings will be held at the Plaza Drive-In (1049 Ponce De Leon Ave NE) and Dad's Garage Drive-In (569 Ezzard St SE), while the in-person screenings will take place at the Plaza Theatre.
The full schedule of 188 films is now available at www.AtlantaFilmFestival.com and through the ATLFF app. Festival passes and tickets for individual events are on sale now on the site. Drive-in screenings cost $15-50 (depending on the number of people in the vehicle), virtual events cost $9.99 and tickets to in-person screenings cost $20. The virtual catalog is now accessible for pre-orders, and all virtual screenings and events will be presented via Eventive.
Applications for press credentials for ATLFF 2021 are now open and can be submitted here. Press materials and assets, including past press releases, logos and film stills can be found here.
Opening Night Presentation sponsored by Moonshine Post-Production
SOCKS ON FIRE
Directed by Bo McGuire
USA, 2020, English, 93 minutes
Friday, April 23, 2021, 7:00 PM — Plaza Theatre, Indoors
Friday, April 23, 2021, 8:00 PM — Plaza Theatre, Drive-In
A poet composes a cinematic love letter to his grandmother as his homophobic aunt and drag queen uncle wage war over her estate in Hokes Bluff, Alabama.
Director Bo McGuire is scheduled to attend. The Indoor screening will be preceded by a performance from "RuPaul's Drag Race" star Rock M. Sakura and other local drag performers to be announced. The Drive-In screening will also be preceded by a performance (performers to be announced soon).
Closing Night Presentation
THE DRY
Directed by Robert Connolly
Australia, 2021, English, 118 minutes
Saturday, May 1, 2021, 7:00 PM — Plaza Theatre, Indoors
Saturday, May 1, 2021, 8:30 PM — Plaza Theatre, Drive-In
Federal Agent Aaron Falk returns to his home town after an absence of over twenty years to attend the funeral of his childhood friend, Luke, who allegedly killed his wife and child before taking his own life—a victim of the madness that has ravaged this community after more than a decade of drought. When Falk reluctantly agrees to stay and investigate the crime, he opens up an old wound—the death of 17-year-old Ellie Deacon. Falk begins to suspect these two crimes, separated by decades, are connected. As he struggles to prove not only Luke's innocence but also his own, Falk finds himself pitted against the prejudice towards him and pent-up rage of a terrified community.
Marquee Screenings
CENSOR
Directed by Prano Bailey-Bond
United Kingdom, 2021, English, 84 minutes
Friday, April 30, 2021, 8:30 PM — Dad's Garage Theatre, Drive-In
Film censor Enid takes pride in her meticulous work, guarding unsuspecting audiences from the deleterious effects of watching the gore-filled decapitations and eye gougings she pores over. Her sense of duty to protect is amplified by guilt over her inability to recall details of the long-ago disappearance of her sister, recently declared dead in absentia. When Enid is assigned to review a disturbing film from the archive that echoes her hazy childhood memories, she begins to unravel how this eerie work might be tied to her past.
DREAM HORSE
Directed by Euros Lyn
United Kingdom, 2020, English, 113 minutes
Wednesday, April 28, 2021, 7:00 PM — Plaza Theatre, Indoors
Experience the inspiring true story of Dream Alliance, an unlikely race horse bred by small town bartender, Jan Vokes (Toni Collette). With very little money and no experience, Jan convinces her neighbors to chip in their meager earnings to help raise Dream and compete with the racing elites. Their investment pays off as Dream rises through the ranks and becomes a beacon of hope in their struggling community. Also starring Damian Lewis.
HOLLER
Directed by Nicole Riegel
USA, 2020, English, 90 minutes
Tuesday, April 27, 2021, 8:30 PM — Dad's Garage Theatre, Drive-In
In a forgotten pocket of Southern Ohio where American manufacturing and opportunity are drying up, a determined young woman finds a ticket out when she is accepted to college. Alongside her older brother, Ruth Avery joins a dangerous scrap metal crew in order to pay her way. Together, they spend one brutal winter working the scrap yards during the day and stealing valuable metal from the once thriving factories by night. With her goal in sight, Ruth finds that the ultimate cost of an education for a girl like her may be more than she bargained for, and she soon finds herself torn between a promising future and the family she would leave behind.
LIMBO
Directed by Ben Sharrock
United Kingdom, 2020, English/Arabic, 103 minutes
Monday, April 26, 2021, 7:00 PM — Plaza Theatre, Indoors
Recently nominated for two BAFTA® awards for Best British Film and Best Debut by a British Writer, Director or Producer, LIMBO is a wry and poignant observation of the refugee experience, set on a fictional remote Scottish island where a group of new arrivals await the results of their asylum claims. It centers on Omar, a young Syrian musician who is burdened by his grandfather's oud, which he has carried all