Women in Production Summit
By Oz Online | Published on July 29, 2016
June 22, 2016 – Atlanta women in the film and television industry converged for the inaugural Women in Production Summit at the Savannah College of Art and Design Atlanta's SCADShow theater. Hosted by SCAD and SCADFILM, the event brought together women in both above and below the line positions from five organizations: Women in Film and Television Atlanta (WIFTA), Producers Guild of America Women's Impact Network (PGA WIN), Film Fatales, Black Women Film Network, and New Mavericks.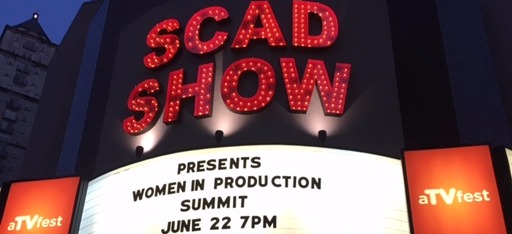 Thirteen influential women working in the Atlanta industry gave three minute testimonials, TED Talk style, on "The Confidence Piece," or how they've found courage to propel themselves forward in their careers despite setbacks and the gender gap. Following the testimonials, a panel of leaders, one from each of the five organizations, discussed how their groups help foster learning and opportunities in the third-ranked production market in the U.S.
The summit concluded with strategies to move women's projects forward. WIFTA board member Lisa Moore announced a legal clinic to be offered by the organization this September. Documentary filmmaker Erin Berhardt encouraged guests focused on activism to get involved with the Creative Vision Foundation. Christina Campagnola, an agent with the Agency for the Performing Arts, broke the news of an upcoming collaboration with the Georgia Film Academy. Producer and Chair of the PGA WIN, Lydia Dean Pilcher (The Talented Mr. Ripley, The Darjeeling Limited, Queen of Katwe), rounded out the night by explaining the PGA WIN Toolkit as a resource and the importance of women banding together.
"We are thrilled as an organization to help create the first opportunity like this for Atlanta women," said Susan Moss, WIFTA Executive Director and one of the organizers of the summit. "The amount of energy and talent in the room shows the power of coming together to support and inspire each other."