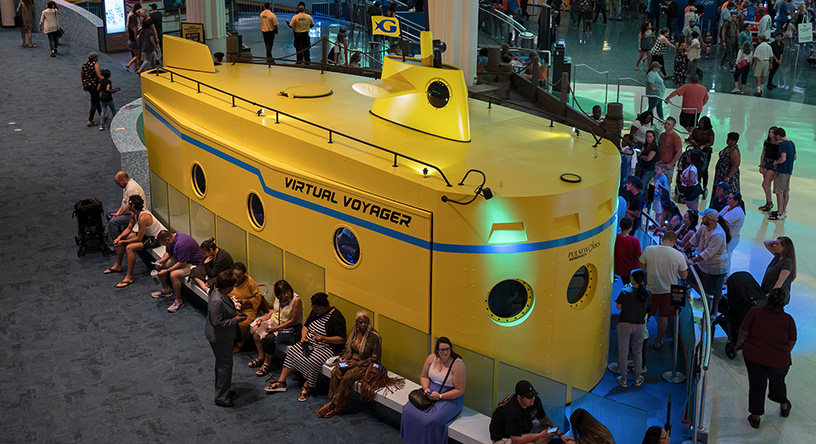 Have you ever wanted to dive in ancient oceans surrounded by prehistoric marine reptiles? Or how about swimming with great white sharks off the coast of Mexico without the fear of being eaten? In fact, you can enjoy both of these magical experiences, thanks to the Georgia Aquarium Virtual Voyager, a 12-seat VR transporter attraction designed by Pulseworks, a metro-Atlanta based company specializing in motion simulators, motion simulation technology, and interactive, immersive entertainment. One among fifty other similar attractions designed for as many as thirty partner institutions, the Virtual Voyager, located in the Georgia Aquarium's main atrium features an enticing exterior capsule design: a yellow submarine! As Pulseworks CEO, Raj Deshpande admits, this design certainly recalls the "iconic" Beatles' pop song but likewise the color of traditional scientific research vessels. As Pulseworks Marketing and Operations Director, Carson Malone explains: "The yellow color is sort of synonymous with research vessels and the aquarium is so into research. If we were going to make a submarine or an aquatic vessel, making it yellow just seemed to go together, whatever pop culture reference might [also be] in someone's mind." The notion of hopping on a submarine sets participants' initial expectation for a deep-sea journey of adventure corresponding with the narrative and experiential content the Virtual Voyager delivers. While the Prehistoric Ocean Journey is the Virtual Voyager's marquee experience, Pulseworks has recently designed swimming with Great White sharks as a second experience for the Georgia Museum's Virtual Voyager, featuring live film footage of real Great White sharks delivered in an immersive VR format via the Vive Cosmos Head Mounted Display (or HMD). Deshpande states that Pulseworks continues to create new content and to collaborate with the Aquarium, offering visitors additional immersive adventures in addition to the two signature experiences. For example, the capabilities deck of the Virtual Voyager comes pre-loaded with additional VR transport experiences such as the Space Walk Mission, which simulates for participants a virtual astronaut's voyage from Earth to the International space station. While at first this experience may seem far afield from the focus of the Georgia Aquarium, Malone explains the connection: "What I think of when I see that film is that the Earth is just covered with water . . . it gives you a big-picture perspective of our planet, and I think gives a great appreciation for just how sacred and special an oxygen environment and the water [are]."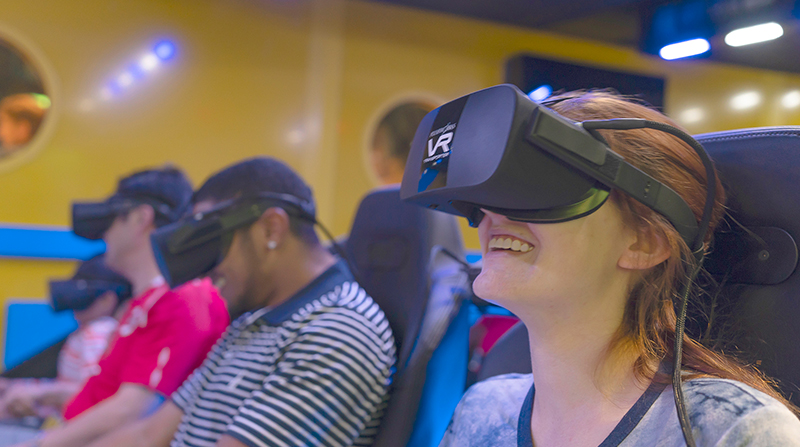 The Georgia Aquarium's Virtual Voyager's signature yellow submarine design signals Pulseworks' commitment to designing signature experiences for its partner institutions that deliver both mission driven entertainment and educational deliverables. As Deshpande describes their collaboration with the Georgia Aquarium, "This aquarium is really amazingly far-sighted. The management is always looking at new ways to engage their visitors." As he continues, "The mission is . . . to get people to appreciate wildlife, particularly aquatic, basically so that people will be aware that there is this huge ecosystem out there and then [to] feel that here, they are part of the living web of life. It's also to engage and entertain people and that way, the lessons sink in much better."
This goal-oriented approach is further underscored by the company's slogan, "We Offer Wonder!" The experiential dimension of the Virtual Voyager is crucial for CEO, Deshpande, in enhancing the experiences of visitors to the Aquarium not just to see but to DO! To that end, the Virtual Voyager is much more than a VR headset experience, with a capsule design that features motion simulation and other 4D effects to add movement and multi-sensory effects to enhance its immersiveness.
With an extensive background in motion simulation, Deshpande emphasizes how strongly we rely on multi-sensory cues when experiencing VR content, arguing that motion simulation helps to coordinate the mind and body experience and prevent the sensory discord often caused by the use of VR headsets alone. Recognizing, however, that motion simulation may not be deliverable or enjoyable for all guests, Pulseworks' VR transporters such as the Virtual Voyager also come standard with an accessible non-motion experience option for the mobility challenged. Like the Virtual Voyager, Pulseworks' transporter designs offer custom, hardware, software, and content creation for their partner institutions. In addition to the Georgia Aquarium, Pulseworks has partnered with institutions such as the Tennessee Aquarium, the Museum of Science + Industry in Chicago, and the Space Center in Houston just to name a few in the creation of mission driven and exclusive branded content.
In addition to its public-facing attractions, PulseWorks has also worked with a variety of corporate and government clients. The company is increasingly expanding into the area of VR educational training, an expanding area both in corporate and university settings. Although Deshpande acknowledges the impact of the Covid-19 pandemic on Pulseworks' business, he indicates they are coming back strongly and even expanding, looking to digitally scale through a variety of new cross-media opportunities. As a pioneer company in immersive technology working with both state and commercial organizations and founded in the Metro Atlanta area in 1998 (on the forefront of both motion simulation and VR technologies), Deshpande has witnessed firsthand the direct effects of the expanding film and TV industry on the Atlanta area. In general, Deshpande views the expansion in Georgia-based production as a net positive for Pulseworks noting, for example, that the growth of Georgia production has made local recruiting much more feasible. Hopefully then, we can expect more immersive VR signature experiences from Pulseworks will be coming soon to the Atlanta area and beyond.
While Virtual Reality may at first seem an odd paring with the mission of an aquarium, Deshpande discussed how technologically advanced the Georgia Aquarium is. In fact, many of their experiences include multiple technological components that help to further engage visitors from hands-on tech display touch screens in the exhibition halls to their signature Dolphin and Sea Otter shows. The Georgia Aquarium also houses a 4D theater and offers guided virtual tours through their website sponsored by Georgia Natural Gas. Given the GA Aquarium's tech- oriented approach, the Virtual Voyager experience is inherently integrated into the experience of the Aquarium as a whole. My kids and I are already looking forward to swimming with great white sharks the next time we visit.