The Shot List: Deja Dee
By Oz Online | Published on January 18, 2018
Talent Q & A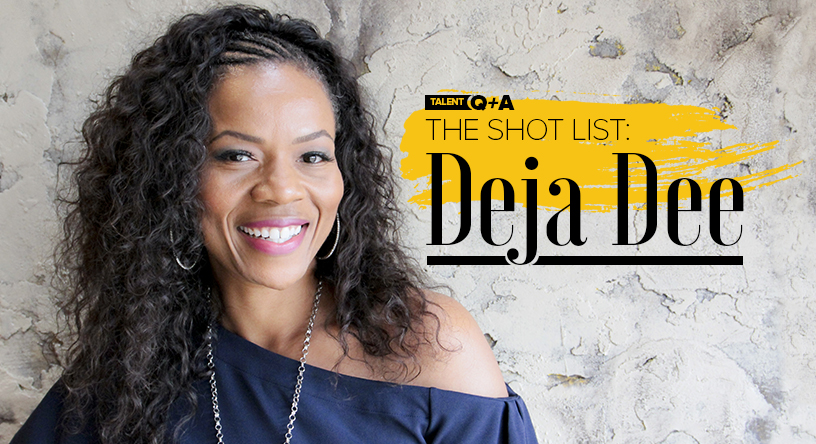 Deja Dee is a self-proclaimed Virginia military brat by birthright, but the former radio personality turned actor's profile has been steadily rising since 2013 when she landed the role of Alma in Cinemax's Banshee. Now, following up a fruitful 2016 and 2017 that witnessed her featured alongside the likes of Queen Latifah (Star) and Michael K. Williams (Hap & Leonard), 2018 is poised to be another bang-up year as she forays into the world of feature film. She'll share the screen with Shia Lebouf and Bruce Dern in The Peanut Butter Falcon, and even chatter some teeth with Mandy Moore in the upcoming adaptation of Alexandra Bracken's young-adult thriller, The Darkest Minds.
OZ: When did you first notice that you had a naturally outgoing, expressive personality—a la, that of a performer?
DD: I don't know. Because when I was younger, I was kind of bashful, but I loved to create. And I was an only child, a military brat. As far as I remember, I can tell you that I never thought of it as being an actress. It was always about being an entertainer. Back in those days, watching the behind-the-scenes stories of actors, they did everything. They acted, they danced, they sang, they did comedy. And they were referred to as "entertainers," so that's what I thought.
I really liked musicals, and I just remember really wanting to do them. But it was probably at 10 or 11 that I watched this film with my grandmother — a film that I'm sure I shouldn't have been watching at that age — and that's when I first understood what acting was. It was Sally Field in Sybil.
OZ: Oh wow, that is a deep one for an 11-year-old.
DD: [Laughs] It definitely haunted me for a while. But I was familiar with her from Gidget, The Flying Nun and Smokey and the Bandit, and seeing her switch to a completely different personality and character within the same film, I was like, 'Ohhhhh, now I get it.'
Oz: Your Facebook page has a lot of inspirational quotes. For instance, "There will always be someone who can't see your worth. Don't let it be you." What have you been through in your life that makes these self reminders useful?
DD: Oh, a lot. Eating disorder. Sexual assault. [Interviewer's note: At this point in this conversation, Dee stoically recounts an incident of sexual predation she suffered as an adolescent girl, perpetrated by a pair of neighborhood boys. Although she tells it in the least explicit manner possible, to transcribe it here is neither tasteful nor necessary. Suffice to say that it is harrowing, heartbreaking. We take a hard right and change the subject altogether.]
OZ: I've heard time and time again that it took L.A. transports—people in the business—quite a while to respect Atlanta as a legit entertainment city with its own ethos and vibe. How has your experience here played out, both personally and professionally?
DD: My first year, I was blessed. I booked 16 projects and 14 of them went through, so I was constantly working and I didn't really get to "see" Atlanta. I'm just kind of getting around to the personal aspect of it. But professionally? Oh, it's been off the chain.
And first of all, let me just say thank you for doing this interview. The great casting director, Twinkie Bird, was asking me like three years ago what I do for PR, and I was like, 'Nothing.' She said, 'Listen, I'm not saying you need to be on Jimmy Fallon's couch, but you have a perspective, and there are plenty of actors who would love your knowledge.' She was like, 'I've done a lot of stuff, but I have no idea what it's like to be an African-American woman on a predominantly Caucasian set. What is that like?' Because I was the only black person my first year of Banshee, the only African-American woman in the cast.
'If you want to tell a real story, tell a real story.'
OZ: What obstacles does being the only black woman in a cast create?
DD: Well, let me say first that the crew was very diverse, so that was great. It was my first time seeing that diversity behind the camera. And then, of course, (Banshee director) Greg Yaitanes is just kind of a genius. And everyone—the writers, everyone—was just great. The core cast, the series regulars, they too were just great.
But I was on another set recently where—OK, so African-American women's hair: It's a thing. [Laughs] And you can put this in the article: It's a thing. And it didn't really make sense to me, but the director wanted a particular "look" because of my character's backstory. But that backstory was never referenced at all. I was just a day player on this one, but I bring it up because I had scenes with the lead, and it just became this whole thing about what my hair should look like. Of course, [the portrayal of race in film] has become a big conversation over the last couple of years. That conversation being, 'If you want to tell a real story, tell a real story.'
OZ: One of your upcoming films set for release in 2018, The Darkest Minds, is ostensibly about a disease that wipes out 98 percent of the children in America. Is it as eerie as the plot summary reads?
DD: I cannot wait to see that one. In fact, I auditioned for a few roles, and one of the roles scared me. I got the script at night and I was like, eek!
OZ: Do you scare easily?
DD: I don't, but I have a very vivid imagination sometimes. So, I'm reading the script and I can see it in my mind, and I'm just like, whaaat?!
Although the plot summary probably reads as more literal than it will actually be, because this is from one of those teen novels like Harry Potter or The Hunger Games.
The director, Jennifer Yuh Nelson, it was her first live feature and she was awesome, just awesome to work with. I only had a one-liner, but I use it as an example with the actors that I teach, that you can't underestimate the power of a one-liner.
OZ: You teach acting as well?
DD: Yes. And I always tell my actors that when I booked Banshee, it was for a oneliner. We didn't know it was going to be a recurring role…but the work I did for the audition, when I show it to my actors they're like, 'I saw everything!' It's like 24 seconds and the line is, "C'mon, let's go." And they're like, 'How did you figure that out?! Oh my god! It's all there.'
It's one of those things that can't be cut out because it's a turning point. The director and I really worked on how to get there and tell the story, by just understanding what's happening to motivate what you're saying.
OZ: Was that the first one-liner that really opened your eyes to their power?
DD: No, I just believe that if someone is going to hire you even to say one word, it must be important, so I'm going to treat it as such. I often book those types of things because, a lot of times, people think that if it's small, it's not important. So, they treat it that way, and it looks that way.
I don't know when I began to understand that. I'm sure it was a natural thing. But certainly, within the last couple of years I've focused with my mentors and coaches on how important it is living between the words. That's where you connect.
OZ: What is the first step in getting your mind to that place, where you can act by expression alone and not lean on your lines?
DD: It's a lot of detective work. It's understanding the story that you're telling, understanding the circumstances, where you are. It's about understanding what your objective is, who the other person is to you. When you understand all of these things, seemingly it should be pretty easy.
The problem—when it's hard—is when you don't understand. Because if you know the history between you and your partner in the scene, you know where you are at that moment, how you got there, what brought you to that moment. The writers are writing to move the story along, so you know what the conflict is, what the obstacle is, and then you have to consider the consequences of not "getting" your objective.