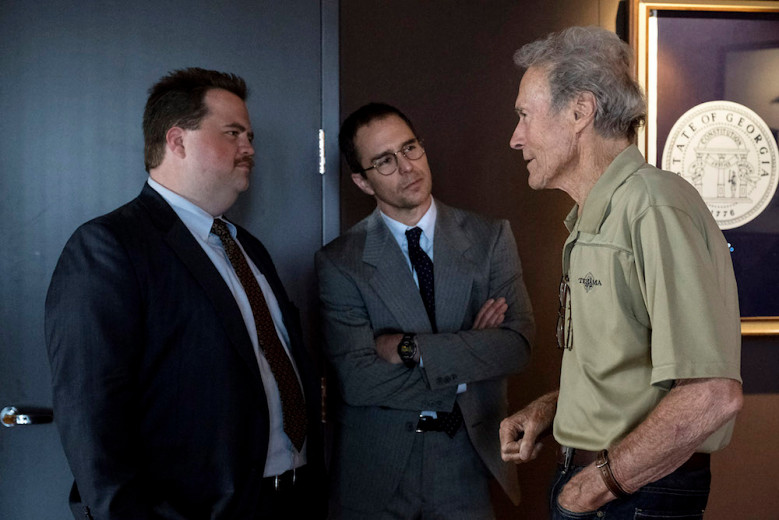 So where were we? Right.
Back with Clint Eastwood who, after leaving the project a few years earlier, was back in the director's chair for "Richard Jewell" (originally, "The Ballad of Richard Jewell"), a movie about the law-enforcement mess and media martyrdom inflicted on the security guard who discovered a bomb in Centennial Park during the 1996 Olympics.
Initially hailed for his courage, Jewell was demoted from hero to less-than-zero when … well, it's a complicated story and the 1997 Vanity Fair article by Marie Brenner, on which the film is based, has plenty of blame to go around. A separate case study at Columbia University in 2000 by Ronald J. Ostrow focused on two issues: "Given that police can make mistakes, what level of proof and sourcing is required to say a story is verified? And do journalists have a responsibility to balance the public's right to know with the presumption of innocence?"
Well, I'm already out of my league here. I'm a movie reviewer/columnist and I haven't seen "Richard Jewell." Ironically, that's the same job I was doing at the Atlanta Journal-Constitution during the Olympics. However, the Richard Jewell mess may as well have happened in Mumbai, given how much I knew about whatever was going on.
But as the movie's release date grew closer (Dec. 13), I realized I had an agenda of sorts. I wanted Eastwood to vilify a certain Big Editor at the AJC who hadn't written me so much as an email after my husband died of a glioblastoma. And he knew my husband. Forget? Not likely. Forgive? Even less likely.
As it turned out, I was hardly alone. My take may have been a bit more personal (Childish? Dead wrong?), but there you are. This Big Editor guy didn't even show up on the movie's cast list. So, since I had been out of the media mainstream, so to speak, I decided to talk with different colleagues who'd been, well, closer to the action.
One was worried the movie would be unfair to the paper's police reporter (now deceased) who had been central to the coverage. Another theorized the movie would be too soft on the media (in his opinion, the AJC pretty much rushed to judgment). A third, who has personal ties to the paper but never worked there (on staff), maintains the opposite: "The AJC was absolutely exonerated from any wrong-doing … I don't watch Clint Eastwood movies and I won't watch this one…" (She's missed some good movies — and some not-so-good ones — but that's another column). A fourth just felt sorry for Jewell, regardless of who did or didn't overstep certain boundaries.
As I said, I haven't seen "Richard Jewell" yet. But talking about the film reminded me of how we all bring our own filters to movies. What we expect, what we've experienced, what we would prefer to see — or not see. With Big Editor sidelined, I'm mostly just curious as to where Eastwood will focus his attention. And if nothing else, I hope he will remind us of a couple of names that have seemingly gotten lost in the maelstrom: Alice Hawthorne, who was killed by the bomb, and Melih Uzunyol, a cameraman who died of a heart attack rushing to the scene.
"Richard Jewell," which is being distributed by Warner Bros. Pictures, a subsidiary of AT&T Inc.'s (NYSE: T) WarnerMedia, will get its official American premier on Nov. 20 at the AFI Festival (American Film Institute) in L.A. Atlanta, hope you're ready for your close-up.
Read the original in the Atlanta Business Chronicle, here.