The Fire Behind Atlanta's PA Academy
By Oz Online | Published on July 17, 2020
Q & A With Linda Burns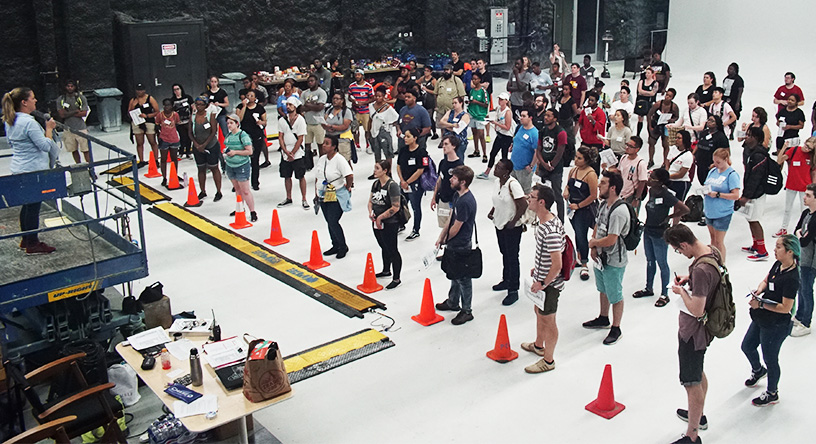 The PA Academy has been an integral part of Georgia's film industry since 2009. Now, 10 years later, it has grown to become the top production assistant training boot camp in the industry. None of this would have been possible without Linda Burns, the Atlanta-based producer, production manager, and line producer who sits on the executive board for the Atlanta Film Society and Georgia Production Partnership (GPP). She has done music videos for the likes of Ludacris and Outkast and has worked on (literally) hundreds of commercial, film, and television sets in various capacities, from producing the 2012 horror movie V/H/S to Adult Swim's current running show, Your Pretty Face is Going to Hell. Her production company, Plexus Pictures, has produced films that have screened at Sundance, South by Southwest, Tribeca, Telluride, and more. Oz recently sat down with Burns to discuss the PA Academy's inception and how she has turned it into the world-renowned boot camp it is today.
For those who are unfamiliar with the program, how would you describe the PA Academy?
I would describe it as a two-day boot camp that allows you to experience parts of the industry as well as hear from industry experts to kind of allow you to figure out, if you've never been on set before, whether this is something you'd like to do or not. For somebody who has no experience in the film business who thinks, "Oh, it's so glamorous! I love movies! Jobs are falling off trees! Maybe this is something I should do!" I think it lets you know really quickly that it's not glamorous. It's really hard. It's not for everybody. The idea is to scare everyone so they understand the commitment you need to have this career. I think for those who have experience on set, there's an information lag when you first start out. Especially on bigger shows, you're told what to do and not why and how to do it. [The PA Academy] kind of fills in that information. "Here's why you're doing this stuff." It's the soft skills. Anybody can be trained to be a PA, but it's those soft skills that make you more successful.
When did you first realize there was a need for a PA Academy?
I would like to take credit for it. It was not me. A little over 10 years ago, Mark Wofford, who used to be a producer and is now general manager at PC&E (Production Consultants & Equipment), thought with the incentives coming down the line it might be interesting to have a panel discussion. I want to say there were maybe 35 people who attended, and I was one of the speakers. Other production managers and other producers and ADs (assistant directors) were speakers. Essentially, we all sat in different spaces throughout the complex, and we split [the students] into groups of seven or 10 people, and they moved around and listened. It was more, "Hi, I'm a production manager and here's what that means." It was more informational. I was invited to speak at the first one because I did so much independent film and trained people on set all the time, pretty much since I'd gotten trained. I saw a potential for what it could be, and I basically begged them to let me take it over. I was like, "Hey if we could have it over here that would be great," and it's slowly morphed in the first couple of years to what it's become now. It's pretty much become the same general workshop/boot camp for the last five to six years. I turned it into what it became, but somebody else had the idea.
How did things change from the first to second year?
I did commercial work to pay the bills and I did independent film six months out of the year, so I was constantly training people and bringing newbies on set and showing them how to do stuff. The first couple years we had about 35 people and that's what I kept it to. We didn't have a great way to have people sign up and we didn't have a real marketing arm. PC&E and the board at GPP said, "Oh yeah, this is a great idea." I said, "Hey let me run this thing, you just go about your daily work, I'll take it over." So, I had been teaching classes at Atlanta Film Society and they already had a marketing arm. I felt like they were hitting our audience and people new to the industry that were coming in. They had an infrastructure to sell tickets … so I brought them on board. We advertised through the [Atlanta] Film Festival and all of their yearly stuff. In the beginning, I had them send me a letter, "Why do you want to be a PA," and it was still stand-on-your-feet-the-whole time, but there were probably less physical activities. I didn't have the pop-up tent, I showed them apple boxes, C-stands, general equipment they would use and why. I still had guest speakers come in. In the beginning it was a lot more people in the industry, a few ADs, and I always sent someone from camera and grip/electric, an art department person. I tried to give [attendees] a well-rounded understanding of the industry and different departments they might want to join.
"EVERYBODY IN THE COUNTRY AND AROUND THE WORLD KNOWS HOW WELL ATLANTA HAS DONE.
THE MARKETING FOR GEORGIA IN THE FILM INDUSTRY IS UNPRECEDENTED"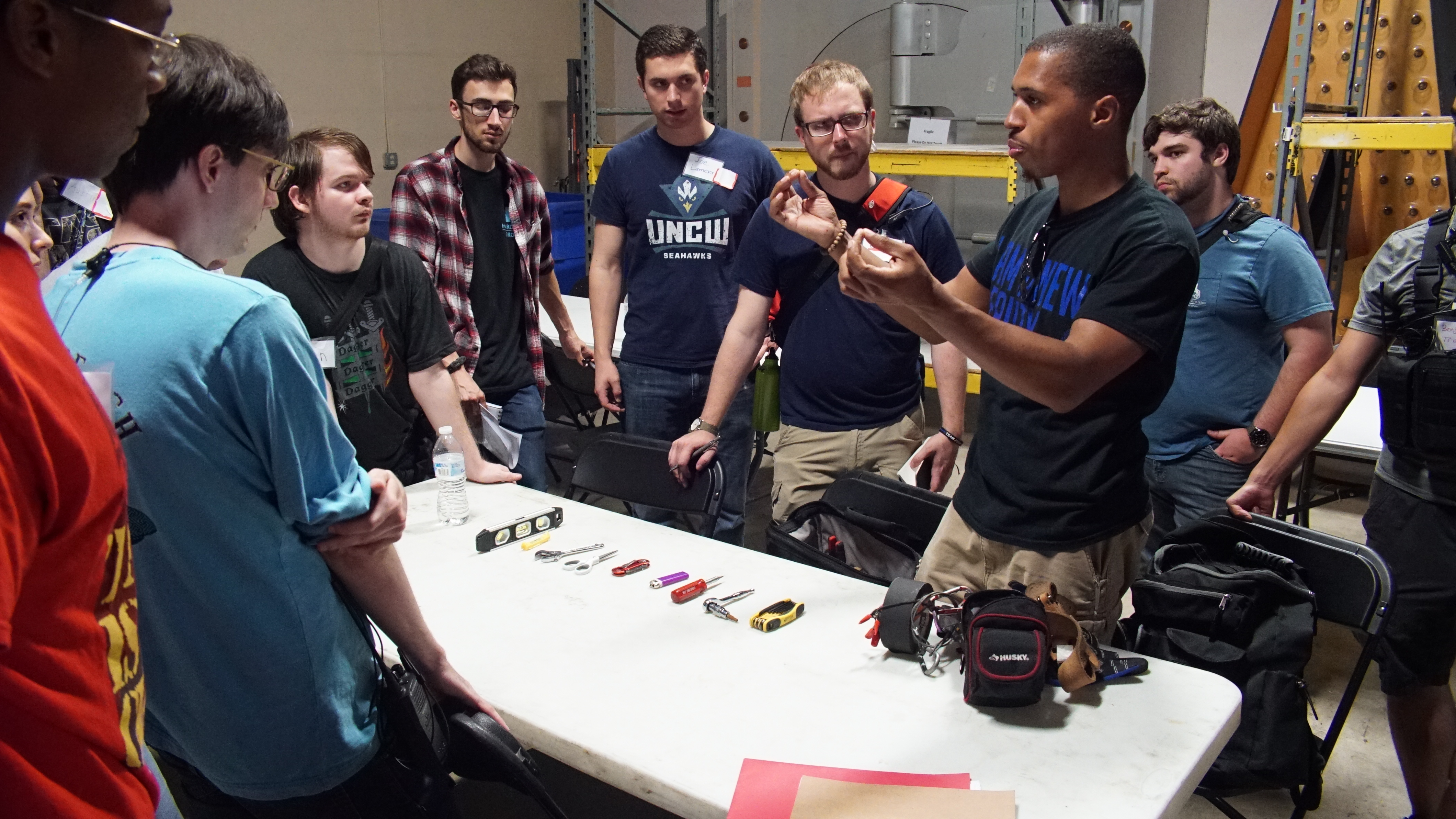 The PA Academy hosts a number of guest speakers from various film departments. Can you tell us about some of the speakers?
Jerry Pece was there the first time with me. He's a DGA (Director's Guild of America) first AD that does commercials. He's pretty much our first all-commercials AD in town. Victoria Warren has been doing it for a long time; she's a second AC (assistant camera) and also an independent filmmaker DP (director of photography). [Other speakers include] Molly Coffee, who now runs Film Impact Georgia, and Raymond Carr and Alexandra West represented the art department. My husband JD Taylor (director, assistant director) has come in a lot. A lot of it depends on people's work schedules, so generally I don't know until Thursday or Friday who's able to make it and how I'm going to design everything and ask them to speak about certain things. I have my stable of people I reach out to, but some of them are working on the weekends, some of them are doing overnights. Ronnie (Veronica) Hodge- Hampton is another first AD who's a badass who comes in. Angela Barnes Gomes has come in for years, another first AD, who's now directing a lot of stuff.
There are all these people who want to give back, who see all these lousy PAs getting hired and are tired of it and want there to be better people. I'm hoping, with the help of Oz and the listings I did this year, I can turn this into a staffing company. Just tell me you want PAs and I can send you résumés or send you a list of all the people who are looking for work and a general idea of what they've done in the past so you can reach out and get their résumés.
How has the Georgia film industry been affected by the PA Academy, besides having better trained production assistants?
There are so many people now who are in the union who have gone through it. I think they all probably had most of what it took to get there and [the PA Academy] was just an extra little boost to help them figure out a few things. The last Facebook page class that I can find is 2013, and I look at the faces in there and one is a location manager now, one is a best boy grip … some people decided to not get into the industry at all, but I think it's a nice legacy. We've trained over 2,000 people. How many of those are still in the industry, I don't know.
We've had five people who've gotten into the DGA training program after taking the class, so that's cool and I love that. Hopefully that helps them get in and prepares them. Having an understanding of how that program works helps them when they apply. The people who are the most successful don't keep in touch as much as the people who are still trying to find work. If they're successful, they don't need to check the Facebook page. A lot of people didn't subscribe so they're not seeing a lot of the listings and a lot of those listings don't apply to them anymore. But hopefully there's been a mark. We'll see at my funeral!
Upon completing the PA Academy, many students go on to build successful film and television careers. What "success stories" are you most proud to share?
Alexandra West was someone who literally started at 40 years old. She had all the technical skills but not an understanding of the film industry. Seeing her succeed was very exciting. She's somebody who literally had no experience in the film industry and now she's a production designer. There are a lot of people who came from out of nowhere who managed to do well. It's rare for people who come from another industry who are a little bit older and don't have any of the hard and soft skills that are easily applicable to make it because they don't have that drive. You really have to love what you do, and Alex was really, really driven.
When I started out, I was the same way. I had somebody in my family die that left me $10,000. As a PA, my rent was super low. I had been given [the family member's] car, a 1967 Cutlass Supreme; it was awesome, a total party-mobile, but I kept my overhead really low. I didn't spend a lot of money. I decided I was going to say yes to everything. I was going to do every worthless job, all the jobs that I should have quit and never done. I was like, "[Expletive] it! I'm learning off of this because I'm surrounded by morons, so I'm going to step up and figure stuff out!" So, I just kind of stepped into a leadership role and tried to figure things out. I spent eight months busting my butt, working for free on all these different jobs. I could afford to do that, but I also decided I was going to take every single job out there and do whatever I could to see if it was something I wanted to do, and it worked!
Being able to financially volunteer for stuff is very difficult for some people. Atlanta is not as cheap as it used to be by any means. I pay less for my mortgage now than most people pay for a three-bedroom apartment that they share with two other people. Unfortunately, I think there are financial hindrances for jumping into the industry and everybody's grabbing their brothers, nieces, cousins, friends, because they need a body on set and that person doesn't necessarily belong there. Someone else does. I would guess, if I had to bet, maybe 10-15% of each class makes it.
How has the PA Academy changed from that first year (2009) to the most recent program in February 2020?
I was a speaker in 2009; I took over in 2010. I would say between 2010 and 2013 we generally had around 35 people, but then we started getting more people that wanted to attend and then I put it up to 50 people. Somewhere in between 2010 and 2013 I did an advanced PA Academy. So, if you'd already taken the PA Academy and you were working in the industry as a day player or core crew person, you had to get a recommendation letter and you had to send me a résumé showing me you had credits, and it was kind of an advanced class. It was more AD-driven, more paperwork-driven. It was for people who wanted to be on the path to ADs. After 2013, that was the last class that was 50 [people]. Between 2013 and 2015, I ended up bumping it up to 100 people per class, and it was still once a year. The last two years it's been four classes [per year]. It's slowly gone from 35 people to 50 people to 100 people, to twice a year to three times a year to four times a year. I could literally do it every other month because I have over 100 people on the waitlist every time. It's always generally sold out six to eight weeks in advance. We've moved from being more "let me tell you about the industry" to "let me show you about the industry." Setting up tables and chairs, pop-up tents, learning how to fold director's chairs, doing petty cash, seeing a little more paperwork … there's so much information.