The Art of Taking Risks: The Origins of three squared and their AR/VR training
By Oz Online | Published on July 15, 2021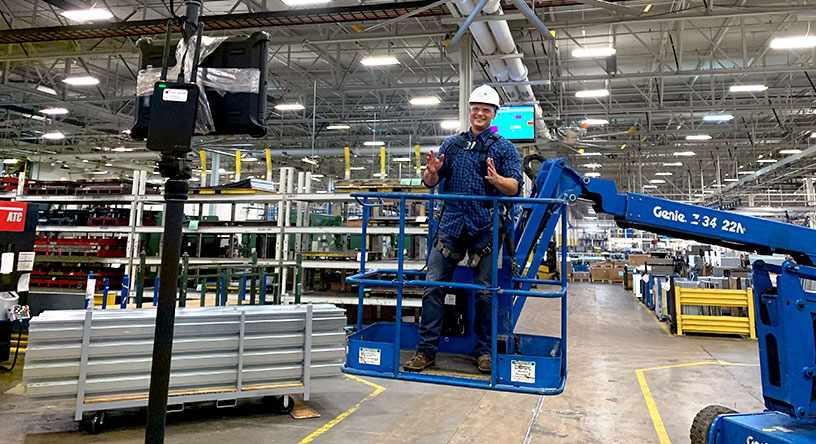 Taking risks sounds better in theory than actively taking them; especially leaving a secure company with benefits to start a business right before Y2K. However, for brothers Shane and Eric King, the risk was well worth it. In 1999, Shane, Eric, and their third co-founder and friend, Colin Hill started their company, three squared, in Atlanta, GA. The name "three squared" was formed from there originally being three people coming together to make the company. "There were three of us that broke out of IXL (Shane's previous company he worked for while in New York) and said we were going to do this; we are young enough now where if we are really going to run with this and take a ride, let us see where it goes." All in their 20's and full of ambition, the three felt young enough and decided that if they were going to take a chance in starting their own business, now would be the chance. 20 plus years later, three squared has grown astronomically to multiple departments and working with clients like WarnerMedia (Turner), Aflac, Goodwill, Porsche and more. Specifically, three squared is a creative agency that helps clients with services like web development, content creation, branding, and other immersive media for multiple uses.
Shane handles the web development and marketing for clients while Eric focuses on the video production. Shane states that focusing on video production and staying ahead of the curve technology wise has been a big attribute in three squared's success. "Video has always been an anchor of the business. "We've seen a lot of cool transitions in the video market. Video underwent a transformation earlier than web development where everyone had a camera and were making their own videos; The bottom line is if you're going to produce content for big brands – you're going to need to do it right," Shane King told Oz in a one-on-one interview.
Led by Eric in the video department, three squared assembles crews of several creatives that work together to produce high quality content for their clients. These are also not just your average commercials or product videos either; three squared helps create content that companies can freely use to manage, train, market, and develop their business.
"I don't know if there ever was a client that we didn't talk into doing some type of video production services with us," King commented on the importance of video for companies.
Since the late 90's, it is fair to say there have been a number of technological advances that have helped shape the industry today and have also made things more convenient. In the past, shooting a feature film or a commercial on a DSLR was almost laughable, now it is the norm. Now, AR/VR technology has made it possible to immerse yourself in the video and experience everything first hand. The challenges of keeping up with today's technology can seem a little overwhelming; but, for Shane and his colleagues they have overcome our ever growing technological world by making things fun.
"One of our clients is a manufacturer that makes plastic wrap for every major brand you can think of; that may sound boring to some – but what's not boring is they have to continuously train people to work on the machines. Through AR and VR, we give them the opportunity to self teach themselves in a fun way that has proven to help them retain the information," King said.
Shane believes that the incorporation of technology into business in this particular way is going to be much more common in the future. Shane and Eric's background working with IXL introduced them to a tech industry and how fast it can grow; they have incorporated that experience and knowledge into their business to help them stay efficient with new technologies. "Whenever there is a new technology being demoed or introduced, we always sign up immediately to learn about it and see if it can help us with new creative ways to do work and make things sexy for our clients."
Making things enticing for their clients is one of three squared's strengths. As mentioned, they have over 20 years of success and have worked tirelessly to come up with new ways to really help their clients learn new modes of engaging with their businesses. One of these ways incorporates the aforementioned AR/VR technology. Initially Shane and his colleagues introduced incorporating AR/VR technology to their clients as a novelty for marketing support; however, that quickly evolved after clients realized the potential – one of the upsides for Shane are training videos.
"Research shows us that training using a virtual environment [self-directed] allows for a retention rate of upwards of 40-50% over traditional classroom and/or face-to-face training. Additionally, when we create these virtual programs it provides the training in a way that is always available for consumption [on-demand]." This gives their clients an opportunity to create a new organized streamlined way to train and keep their employees up to date with new equipment and/or policies; this is especially beneficial to large companies with several departments. Shane mentions that this also helps them remove the burden of in person training off of their clients plates and allow them to focus on the rollout of the content for their organization.
Introducing AR/VR technology to their clients was a challenge well worth the reward for three squared. "Initially it started out as more of the novelty of trying something new and exciting, but it has quickly started to turn into a really productive means for all types of business.
"We really got excited about the whole idea of training in general when we were able to create platforms for clients like The Home Depot, when we worked on their "How-To" initiative. From a pure process side of things, I also feel like our experience creating websites has really helped. Years ago we started utilizing more of an iterative approach to what we were doing and that is now translating well into AR/VR. Clients don't want to have to wait long for something to be ready for a release – they want something highly creative, but they want it interactive and they also want it to get produced in the most efficient way possible," King explained. "Our knowledge and experience on how to make that happen has really served us well."
Through incorporating AR/VR into their strategy of marketing and branding for businesses it helped educate their clients and open them up to new possibilities for how they do things and work with content. Imagine debuting a new product and allowing your customer base to interact with your product virtually and really see the benefits of it; or, imagine training your new employees in a unique way that has proven to help their retention rate. Most exciting, imagine engaging with the future of technology that is both fun and accomplishes business needs.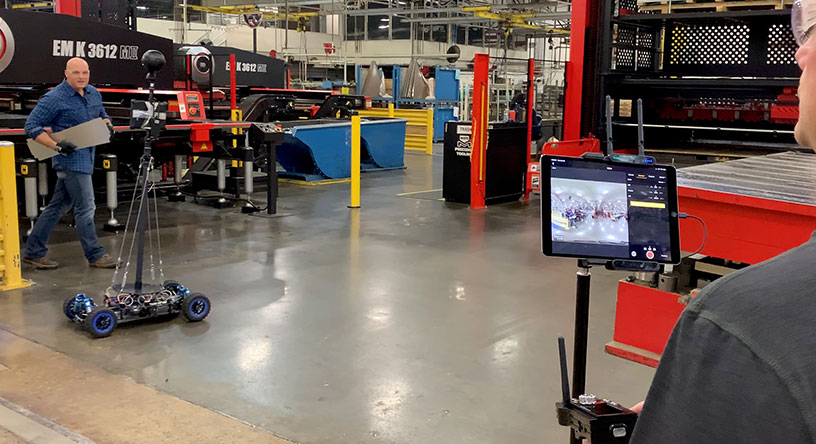 "[AR/VR training] simply allows us to take the burden of in-person training off of our clients' plate and allow them to focus on other ways to roll out the content so that it is effectively embraced by the organization."
"Most often anything to do with product training or anything to do with technical processes is of the most immediate value. It simply allows us to take the burden of in-person training off of our clients' plate and allow them to focus on other ways to roll out the content so that it is effectively embraced by the organization," King added.
three squared is excited about this new wave of technology and believes it is going to be essential in the coming years with how businesses engage their audiences and work with their employers. "While it is relatively new in terms of how businesses are learning to utilize it, there is no turning back now. AR/VR – with the expanding world of MR (mixed reality) we are combining the best of both methods to offer a more realistic experience. These roads all lead back to AR/VR being one of the best ways to engage and inform target audiences."
Technology isn't the only thing that three squared had to adjust to; the recent pandemic has been a challenge for everyone – especially in the workforce. Generally, Shane and his colleagues would gather in a room with large white boards and toss ideas around. Because of the virus, they were not able to physically sit together but were able to virtually. This is another reference Shane uses to illustrate how technology is evolving and helping businesses become more efficient. Using technology and their creative minds, Shane and his colleagues were able to create new ways to present to clients and work together.
"The ideation process was the most challenging because you get more energy in a room with people than over Zoom; however, our past experiences and history of working with each other helps us adjust and be comfortable in a virtual setting. Once we got the ball rolling it became easier to adjust," King commented that the one key to three Squared's success is their teamwork and collaborative effort. "Everything we do is a collaboration; that's why I don't really give much emphasis on the (not sure what the president thing is) President thing."
King emphasizes that teamwork is what has helped them adjust because now, through new technology, there are many ways to do everything. He attributes this and being open to change to his companies 20 years of success and staying in business – even through a pandemic. "If every few years you don't take the time to reinvent yourself a little bit, you allow yourself to fall behind. Take the time to pick your company apart and innovate, reiterate, and apply those changes. The goal is to work smarter, not harder."