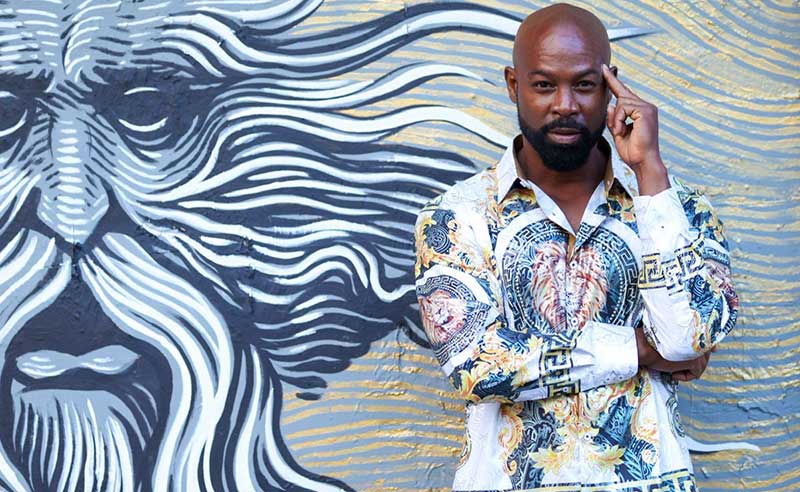 Semi-Charmed Kinda Life
By Oz Online | Published on September 9, 2022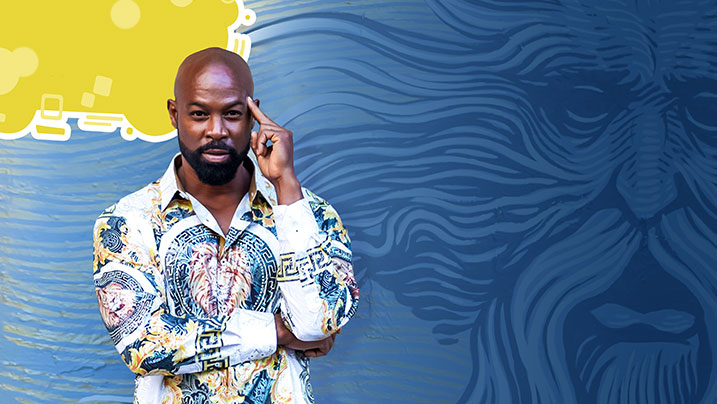 Not every choreographer can say they've created dances for Michael Jackson, Jennifer Lopez, New Kids on the Block, Montell Jordan, Prince, and Britney Spears. Add winning a VMA, performing on Broadway, and being a featured dancer in some of the most famous music videos of many of the superstars listed previously –– all while being predominantly self-taught — and you have yourself one incredible story. Add in this same dancer segueing his dance career into a successful acting career, oh, and that one part about said dancer literally running away with the circus as a young man, and it almost sounds like a tall tale. But you know what they say about life often trumping fiction, and when it comes to Darrin Henson, his life certainly lives up to that challenge.
These days, most people know the multi-hyphenate Henson for his current role on BET's Carl Weber's The Family Business, but his journey to this role is worth sharing.
Henson grew up in what he describes as a "children should be seen and not heard" household in the Bronx, where he spent most of his days alone in his bedroom. "I read lots of books, but I needed something to entertain myself, and dance was what I chose," he shares. Henson grew up watching James Brown, The Jackson 5, The Four Tops, and American Bandstand on TV and taught himself to dance by simply watching, rewatching, and diligently implementing what he saw these entertainers do with their bodies. "I found I could express myself through dance, and I could not only communicate how I was feeling, but I could control other people's emotions, as well, and once I learned I could make people feel good or excite people through dance, I knew I was self-empowered," he says. Henson recalls placing a mirror next to his TV and playing The Wizard of Oz and Westside Story along with other musical favorites over and over until he learned every step of every dance. But what came next for Henson proves he was more than just a kid watching VHS tapes until they were worn out; some people are born with an innate gift, and for Henson, it's undoubtedly dance. Of course, most of the entertainers Henson grew up watching were triple threats who could sing, dance, and act, so the idea of 'doing it all' was instilled in Henson from a very early age.
Growing up in the home of hip-hop in the 80s, Henson's preferred dance style quickly became street dancing, at which he naturally excelled. He got his first professional dancing gig in 10th grade for none other than hip-hop legend DJ Scott La Rock, who was looking for talented young dancers to start a group. So Henson found his first mentor and his first paying gig before he ever graduated high school –– and without ever taking a formal dance lesson.
Upon graduation, Henson was eager to leave his home, but wasn't interested in college, so like a true entertainer, he found an opportunity to perform and joined the Ringling Brothers circus as a member of the Live Action Squad breakdancing troupe. After touring the States for a year, he continued on with the circus for a year in Japan. "I learned so much from my time in the circus," says Henson. "It taught me how to entertain over 16,000 people at one time. It taught me about partnerships and being responsible for myself outside of the area where I grew up." Henson proved to be wise beyond his years and used his time sensibly, seizing the opportunity to learn Japanese and becoming a careful steward with his money. "I lived off my per diem, while all the other guys spent everything they had. I came home with almost all the money I had earned, saved, while everyone else came back broke with suitcases full of sneakers," he says.
Back in New York City, Henson quickly found a job dancing on the show Club MTV with now-famed VJ Downtown Julie Brown and was featured on The Phil Donahue Show during an episode centered around diversity. On the show, he met actor and dancer Shabba Doo [Adolfo Quiñones]. "Shabba Doo was a massive celebrity at that time because of the Breakin' movies, and I basically started following him around New York, and he became one of my mentors," Henson shares. It was Shabba Doo that also opened the next door for Henson: an audition and subsequent role in Ron Link's short-lived Broadway hip-hop show Stand-Up Tragedy. After the show's quick closure, Henson got a call from an old high school friend and soon joined the hip-hop group Trilogy. Henson sang and choreographed for the group, which led to more dancing opportunities, most notably for the New Kids on the Block's performance of 'No More Games' on the 1991 American Music Awards. Henson was tasked with hiring the team of dancers for the performance, and he hired then-unknown dancer Jennifer Lopez in what would be her first major gig (before her turn as a Fly Girl on In Living Color). Soon, Henson would find himself dancing and choreographing for Lisa Lisa, Color Me Badd, and appearing in George Michael's "Killer/Papa Was a Rolling Stone" video. But despite his continued success, Henson had his 'eye on the prize' so to speak, and knew what he needed to do to get there.
"Although I was doing all this incredible choreography for amazing performers, I had my eye on Michael Jackson the entire time," says Henson. "I thought about it like a ladder, and I needed each stair to get to the roof, and the roof was Michael Jackson." At the time, Broadway Dance Center, owned by legendary dance instructor Frank Hatchett, was one of the most prominent dance schools in New York City. "I used to stand outside and watch Frank's classes through the window," Henson recalls. "I wasn't into classical dance, but I knew I had to learn, because as a street dancer, I was a popper, not a breaker, and I had watched Michael's videos for long enough that I knew the poppers in his videos only danced in very short segments, but the dancers who were trained were the ones that were really featured. I knew that I needed to know more than the average street dancer." What happened next was something that once again, sounds like fiction you only see in movies: Frank Hatchett saw Henson watching his classes through the window and came out to meet him. He also invited him to come back the next day and start taking classes for free.
As Henson gained a deeper understanding of the art form of dance and honed his skill with classical dance styles, Henson auditioned for Montell Jordan and began traveling as one of his dancers. In 1995, actor Eddie Murphy asked Jordan to perform in his upcoming film The Nutty Professor, so Henson traveled to Los Angeles to film the scene –– his first introduction to movies. A lone wolf, Henson began wandering the Universal Studios lot during a lunch break one day and stumbled upon a closed set of what turned out to be Michael and Janet Jackson's music video/short film "Scream." Obviously not where he belonged, Henson was stopped by a man who asked who he was. The man was none other than choreographer Travis Payne, who proceeded to show Henson around the set, give him merch ("That 'Scream' sweatshirt became my prized possession," Henson remembers. "I wore it every single day."), and get Henson's phone number. Back in New York, Henson began to disagree with some of the things happening on the Montell Jordan tour and left, at which point his new pal Payne told him about an upcoming audition for Michael Jackson. The only problem was the height requirement of being six feet tall to audition, and Henson was not. So Henson put lifts in his boots, went in to audition at a full six feet tall, and would soon be performing the song "Dangerous" alongside Michael Jackson at the 1995 MTV Music Awards. "Dreams do come true," says Henson of the experience. "When Michael moved, it was like lightning hitting a tree, and I had the opportunity to be sharpened by working in the room with him, Travis Payne, and Courtney Miller. I learned how to execute the movements perfectly. I learned what the word cacophony actually means and learned to become the physical interpretation of that." He also recalls that despite pointedly living his entire life to reach the moment of working with Michael Jackson, he wasn't disappointed in the least. "Michael was the kindest person and most intense person I had ever met in my life. If you can imagine that polarity." And while at the time, Henson thought he had reached the zenith of his career, he continued to climb.
After the MTV Music Awards, Henson traveled to Europe with Jackson and his team to shoot the "HIStory" music video. It was there that Jackson asked Henson to dance for him. "I remember him telling me that I was an incredible dancer and then he performed in Germany and at his show there, he did the combination that I had choreographed and showed him, and that was everything to me and truly the pinnacle of my career." But while having Michael Jackson take note –– and perform –– his dance moves were certainly a career highlight, Henson's experiences continued to blossom further. A call from choreographer Tina Landon to dance alongside Prince led to performing at the Brit Awards (where he met the Spice Girls), and then being asked by Prince himself to choreograph the video for his song "Face Down." Next, Henson choreographed and danced in Jordan Knight's "Give it To You" video followed by working on videos like Sisqo feat. Dru Hill and Ja Rule's "You R Everything," Enrique Iglesias' "Bailamos" and then going back to Germany to work with Marky Mark. There, Henson remembers seeing the group NSYNC for the first time. "I saw this dope boy band perform and thought, 'These white boys can dance!'" When Henson returned home, he was hired by artist Deborah Cox, who was doing club versions of her songs and lengthy remixes that required lots of rehearsals. During one of these marathon rehearsals with Cox, an up-and-coming pop star was rehearsing in the studio next door, but was bored with her choreographer and became intrigued by what she heard next door. She started watching Henson's rehearsals and sent her assistant over to get his number. Soon, Henson was hired to choreograph (and dance in) Britney Spears' "Sometimes" video, followed by her "(You Drive Me) Crazy" video.
By now, it was 2000, and after finding so much success as a dancer and choreographer, Henson was ready for a change. He decided to hang up his dance shoes and start acting. He went to an open casting call for the film Save the Last Dance and the casting director asked if he had an agent. "I lied and said I did," laughs Henson. "So the casting director called up the person I lied about, and they get me on the phone and said, 'I can get you a screen test for this movie if you hire me.' So I got an agent and a screen test with Julia Stiles in the same day," he recalls. After the screen test, the director wanted Henson for the lead role, but the final decision makers didn't think someone with zero acting experience could carry the lead, and the part went to Sean Patrick Thomas. Fortunately, Henson now had an agent, and got an audition for the new show Soul Food on Showtime. But when he didn't hear back about the show, he serendipitously received a call from the Spice Girls (who remembered his work with Prince), asking him to choreograph their next tour. So Henson packed his bags and headed to the UK once again. Upon his return home a month later, he got a call to come in and screen test for Soul Food, which led to his casting and a move to Toronto to film.
Now a working actor, when Henson received a call from music manager Johnny Wright (who represented both Britney Spears and NSYNC), asking him to choreograph a song for NSYNC, Henson initially refused. "Even though I told Johnny, 'Sorry, I'm an actor now,' I had also silently really wanted an MTV Video Music Award," says Henson. So with that goal and his first impression of the band circling in the back of his mind, Henson agreed to listen to the song. As soon as he heard "Bye Bye Bye," he was sold. He choreographed the song, which the band performed on the Billboard Music Awards, and then choreographed and shot the music video, which was nominated for an MTV Video Music Award. The video won, which was no small feat when you consider the iconic songs and videos it was up against, including Britney Spears' "Oops!…I Did It Again," Christina Aguilera's "What a Girl Wants," and Destiny's Child's "Say My Name." "When the song won, I went on stage with NSYNC and they were hugging me and thanking me, and I realized my dream came true," recalls Henson. "I was on a hit TV show, and I won that MTV Music Award."
But the Moon Man didn't mark the end of Henson's choreography career. Not long after his success with NSYNC, he received a call from his old friend Jennifer Lopez, who he not only hired to dance for the NKOTB, but continued to hire again and again through the years because of her incredible dance skills. She was preparing to debut her song "Love Don't Cost a Thing" from her second album, and wanted Henson to choreograph it. He obliged, and the music video went on to earn multiple nominations and become one of the most requested and watched videos on music video channels.
After establishing his acting skills on the fifth season of Soul Food, Henson has gone on to star in a plethora of films and television shows including Stomp the Yard, Lincoln Heights, Single Ladies and Being Mary Jane. Around ten of those projects have also been filmed in Atlanta. "Atlanta has a completely different energy than LA," says Henson. "When you're on set in Atlanta, there's a level of comfortability that people bring with them; there is a family vibration that naturally happens in Atlanta. It's that southern hospitality that people can't hide!" And while Henson has always traveled the world for work since he first joined the circus, he may be spending more time than ever in Atlanta in the foreseeable future. "I love working in Atlanta, and it's my second home," he says. And he means that literally – his recent purchase of a home in the city reflects its desirability. "I'm getting lots of offers now to be in Atlanta, and there are a lot of people who are doing a lot of creative work down here, and I'm looking forward to continuing to add to the value that Georgia brings."
In addition to his acting work, Henson has also authored two books, is beginning to direct projects, and is currently shopping for a home for his documentary. "I'm a person that was able to create momentum in my life through passion," says Henson. And when you look back at his past thirty years of success and realize he's only just begun, it's clear just how much passion he has.