Scene Stealer & Cross-Country Comedy Maven
By Oz Online | Published on March 16, 2020
Georgia's Cocoa Brown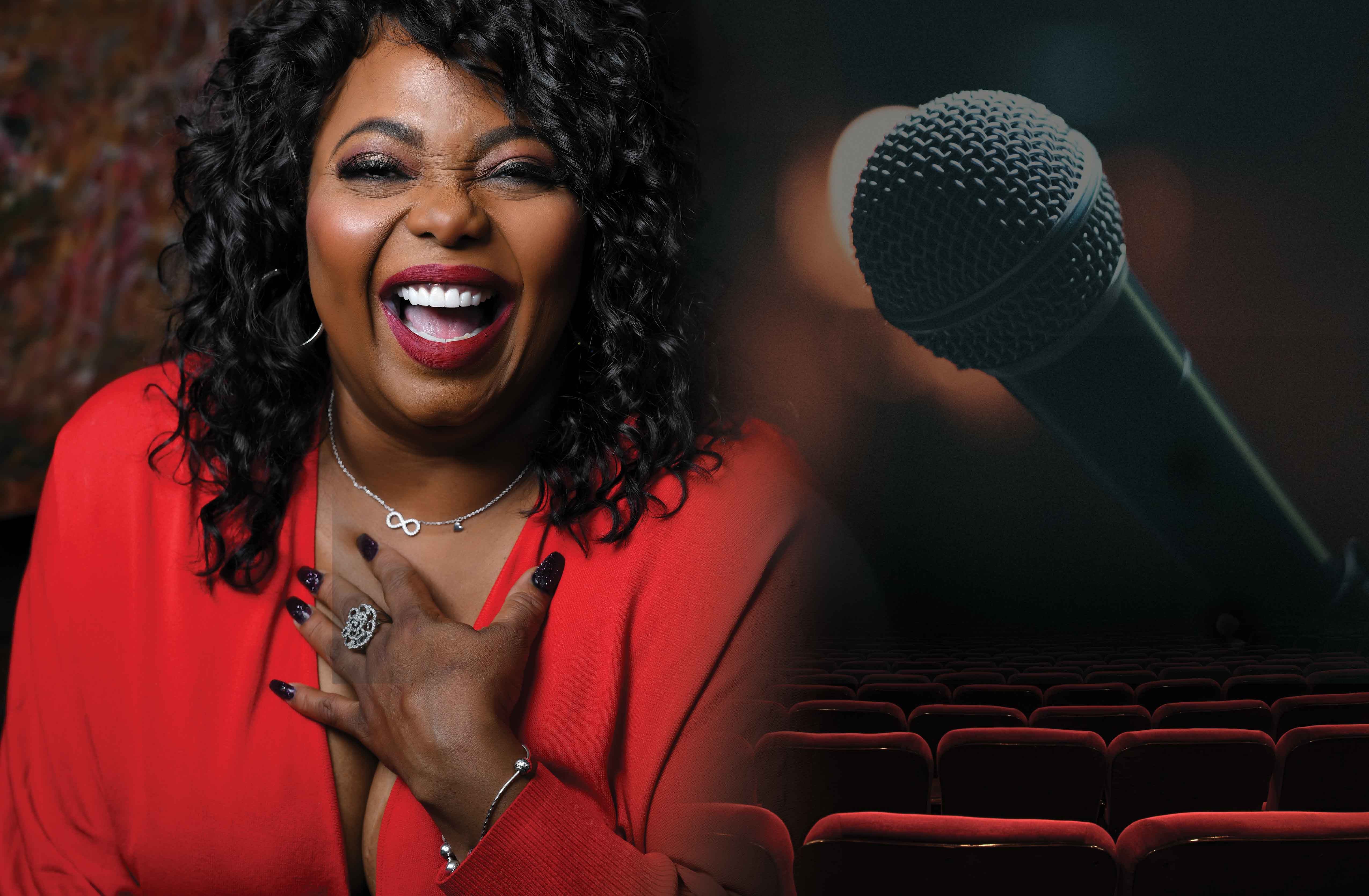 When it comes to making any film or television project funny, it requires performers to have a special gift: the unspoken ability to use their inherent humor to make a scene pop on camera. Oz Magazine spoke with nationally touring stand-up comedian, actor, and entrepreneur Cocoa Brown on what it means to do it all. Cocoa's work takes her all over the country but her love of the South has her building roots in Fayetteville. Cocoa has appeared in Georgia produced projects from Tyler Perry like Single Moms Club and For Better or Worse not to mention her scene stealing roles in Ryan Murphy's 9-1-1 and American Crime Story: The People vs. OJ Simpson.
A lot of stand-up comedians get into acting as a secondary stage in their career. Which love came first for you: acting or stand-up comedy?
CB: Honestly, acting came first for me when I was 10 years old. I got bit by the acting bug while doing local theatre and continually doing it in high school. As I got older, it remained a hobby, but when I was about 22 years old I minored in drama in college. I never assumed it was for a living; I only assumed it would be on the side.
Which one do you find to be more challenging?
CB: Hands down acting is the hardest. It requires so much of who you are and to constantly strip yourself down to your barest, most vulnerable parts and rebuild. But with stand-up; it's my therapy. I get to go on stage and be a version of myself that makes me feel empowered.
Even though you assumed it was always going to be on the side, did you always aspire to be a comedian or actor as a career?
CB: As a kid, up until age 15, I wanted to be a pediatrician. Acting was not on my radar at all as a real career path, neither was stand-up comedy! When I was in high school, I had the grades to get into a college course for telecommunications, and when I started taking the course I was instantly smitten with media and communication. It was a way for me to incorporate that love of acting in a different medium. Then as I got older, I shifted my focus to advertising and commercials, but the whole time still doing drama on the side. During this time I always went to comedy shows with my friends and even went to a live Def Comedy Jam. It took a friend to encourage me to go do an open mic for the first time. He knew a comedy club owner that wanted more women on the line-up, and even though I had no comedy experience, he saw my potential and gave me a chance on a show! I knew it was something I wanted to keep doing after that.
When did acting and comedy become full time? What was the moment that did it, and what was your side hustle before then?
CB: For a long time I had a day job where I was getting off at 6PM, getting on the road to do a show for $150, then driving back in the middle of the night, waking up to go to work, and doing it all over again. It was incredibly draining but so worth it! At the time I was working in the advertising department for the live events company that produced Ringling Bros. and Barnum and Bailey Circus and Disney on Ice.
When I kind of realized comedy had taken over, my boss came to a few open mics to support me and once she saw what I could do she said, "You can let me fire you and collect a severance. Or you can quit and collect unemployment." It was the biggest gift that she believed in me and was giving me the opportunity to not stay stagnant.
When you had this big leap into comedy full-time, did you have a backup plan? And do you think backup plans are necessary?
CB: I didn't always trust that things were going to happen for me. I had self-doubt just like every actor and performer feels. I fell into my back up plan three times in my career! Right after I went full-time into stand-up, I panicked and got a job at an Avenue clothing store. I would duck down and book stand-up jobs behind the counter. Eventually, my comedy and acting picked up and I had some amazing opportunities arise and Los Angeles was my next move. As I was moving to LA, my management company fell apart and I no longer had representation for a big development deal. I cannot tell you how incredibly chaotic it felt, so I decided to go back to school online for a Master's degree in education. You know, they always need a Ms. Crabtree! I mean, I could teach until I'm 121 if I needed to. I'm glad I have that as a backup but I know that all of that hard work has paid off. Recently, I realized that stand-up has changed drastically from when I started so, instead of a backup plan it's now having a constant side hustle. The side hustle for a stand-up comedy career is being on social media 24/7, promoting shows and events, and creating content.
It seems like you have your plate full! What was the biggest challenge in balancing being both a working actor and touring stand-up comedian? Do you have a personal life?
CB: To get to the point I'm at where I can balance, it takes a village. I need to have people that I can trust to do what I need them to so I can excel at my career. Honestly, [my village] sometimes changes but they all have my back. No matter where I'm based for whichever thing I am working on, whether it's stand-up or a film a project, I have to leave my child. As a mom, I get into a guilt mode. Am I giving him everything he needs? Am I doing right by him? But when I'm off and with him, he's all up under me just trying to get as close as he can. Those moments are why I work so hard, and I want to make sure that when I'm not working, I'm "mom." The business is relentless and fickle. I don't want to take that home to him, so I learned to cut that off. There is a certain feeling of defeat that comes with the entertainment business, and I never want to take that home.
You are known for being a hilarious stand-up comedian and scene stealer, where did you get the fire to do that?
CB: When I was a kid, my goal was to always make all of the other kids laugh at the cafeteria table, so we would all roast people. Sometimes the other kids didn't know it, but we were roasting them hard! But the people we would roast the hardest were each other. We would die laughing trying to one-up each other. I knew I always had to have the best burn. It's that early introduction to roasting, I think, that makes me so quick on stage.
You've worked with Tyler Perry, in the show For Better or Worse and in the movie Single Moms Club. What is one of your favorite things about working with Mr. Perry?
CB: We filmed Single Moms Club in three and a half weeks and it was my first lead role in a film! I had only day played in film and TV at that point. It was a really great crash course for preparedness. New script? I can get it down quickly since I did this movie in less than a month! It was a major confidence boost that he saw me for that role and that the actors I worked with saw me in that light as well; we were all equals on that project. The dynamic was so fluid and natural yet there were all of these strong comedic actors who had the most respect for each other. Most of my scenes were improvised because Tyler Perry told me, "I trust your funny." Sometimes on set, other actors don't necessarily appreciate that freedom that I am given, but it's my hard work and experience as a stand-up comedian that gives me that opportunity.
It sounds like being a comedian is a major skill in your arsenal. Have you been on set where a director has relied on you to beef up the humor in a scene on the spot?
CB: My skills as a comedian definitely have had to come into play, especially with comedic timing. A lot of times I am asked to rewrite on the spot by the director when they find out I'm a stand-up comedian. Stand-up always crosses over into acting. Surprisingly, acting even crosses over into stand-up when I need to bring my persona on stage and amp up my energy on dates that I may not be feeling it. They have been mutually beneficial and always will be.