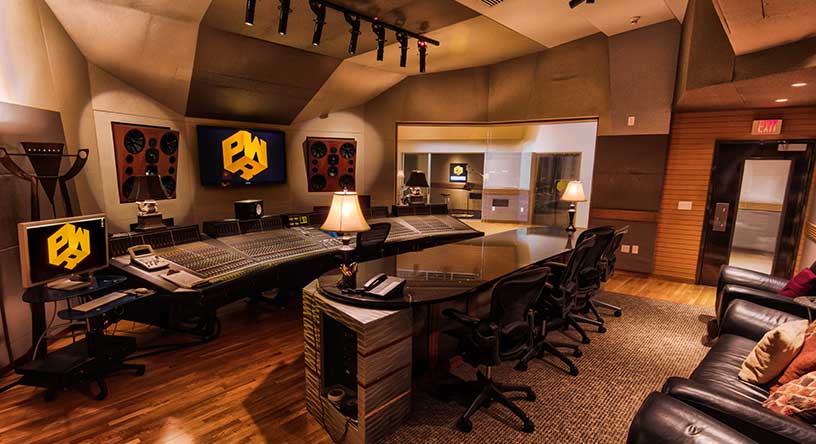 Raising The Sound Bar
By Oz Online | Published on December 21, 2021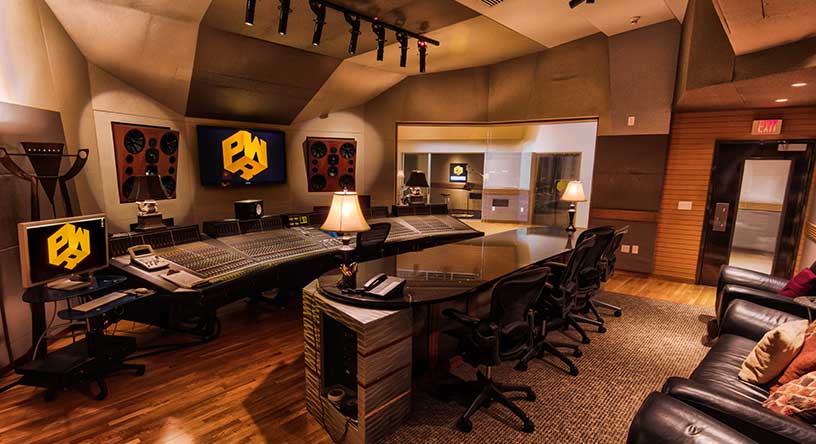 Whitney Houston, Cher, Gucci Mane, Outkast, Travis Scott, Boyz II Men, Usher, all have one thing in common. At some point in their career, they've been through Patchwerk Recording Studios in the heart of Atlanta. The walls of Patchwerk are littered with multi-platinum plaques from almost every pop, hip hop, or R&B artist you can imagine. From the moment you step into the facility, you get this essence of greatness that greets you at the door. Patchwerk Studios is quaintly tucked in the neighborhood of Home Park at the intersection of Ethel Street and Hemphill Avenue.
Atlanta is known for a multitude of things, needless to say, music sits at the very top of that list. Running a recording studio for almost three decades must've been a daunting task through it all. Curtis Daniel III, Founder, and Co-Owner of Patchwerk Recording Studios has many stories to tell about the rise and maintenance of the studio from the Freaknik era of Atlanta to the State Farm Arena era we're now living in.
Curtis Daniel III is a man who prides himself on authenticity, professionalism and providing Atlanta with the best recording studio he possibly can. Hailing from Carson, California, the Tupac Shakur fan knows the ins and out of the industry just as well as he knows his world-class recording studio. Patchwerk Recording Studios originally sat on McMillan Street back in 1995, but quickly outgrew the space, forcing them to move to the facility many Atlanta icons call home to this day.
Oz: Tell me about the start of Patchwerk Recording Studios
Curtis Daniel III: Once I graduated from Michigan State University in 1995 we decided to start the studio. The original owner was one of my childhood friends, Bob Whitfield. We ended up in Atlanta after Bob and I played college football. He played for Stanford, while I played for Michigan State. He got drafted 8th player overall in the first round by the Falcons in 1992 and during spring break and other breaks I start coming down here for Freaknik and that's how we ended up in Atlanta. We started a bit differently. Most of the other studios are either artist or producer based or they received funding from a big record label. We were blessed that Bob got drafted, had a bunch of money, and decided to self-financed what we were doing. We had the freedom to do what we wanted. We actually managed our own artists back in 1993 as well as had our own record label. My business partner Mike Wilson and I have now been owning the studio for about a decade now.
Oz: You've been able to see Atlanta grow exponentially over the years, what are some things that you've noticed about the city through its growth?
Curtis Daniel III: One of the things I thought was a blessing and unique is that if you think about it, what large cities are available for you to be a part of when they are growing? So if you think about it, Los Angeles, they've been popping for over a hundred years, we weren't there when it was a small town filled with mom and pop shops. Chicago the same thing. New York, old. Detroit, old. All of those are great cities but I remember when back in 1995 Atlanta didn't have any double yellow lines on the roads. Atlanta really began to take off when the Olympics was hosted here and they started building stadiums, expanding the Georgia World Congress Center, and money began to be circulated among Georgia Tech and the AUC. You have Maynard Jackson and Andrew Young, who is still alive, who had a hand in architecting the city into what it is now while those responsible for architecting other major cities aren't still alive today. After doing some research I came across the most common element of successful organizations is timing. Atlanta is the same. I remember back at our old facility I met the Dalai Lama because when they walked the [Olympic] torch they walked right in front of the studio. The Dalai Lama actually came into the studio. Atlanta was that small back then and is still growing. When I refer to timing as it relates to Atlanta, the only thing I feel like I missed that was historical was the release of Outkast's first album Southernplayalisticadillacmuzik.
Oz: How has the music industry changed over the years?
Curtis Daniel III: Things aren't the same anymore. An artist had to work so hard to get a [record] deal, they had to battle everyone, freestyle, go out on the streets, rock live parties, have an actual stage presence just to get an opportunity to make a single with the B-side and if you're single with the B-side didn't pop off, record labels wouldn't do an album with an artist. Now the people that have the power to sign people are signing popular people with a social media following. They're signing their friends. They're not necessarily signing the dopest artists, they're signing people they know they can benefit from.
Oz: What makes Patchwerk Studios worth the investment?
Curtis Daniel III: There's a company, there's the brand, and then there's the business, and the business is either selling a product or providing a service. We provide a service. Our service produces a product which is your song or your music and so we produce a different product than other people. We have a standard that we are professional all the way through. There are three categories for studios: there's a home range studio, a mid-range studio, and a world-class facility, and with each different range they provide a different set of services that produces a different product. We are a professional recording studio so every service that we offer is offered by a qualified professional. All of our engineers graduated from our audio engineering program and every last one of them went through our intern program where they assisted then became tracking engineers. We just try to put people in a position where they're only working on their strengths, so our engineers don't have to worry about booking, billing, and scheduling. Our front desk people don't have to worry about making CDs or doing labels. We just have a collection of talented and qualified people doing what they want to do at a high level. We have uninterruptible power, you may have the same mic but our vocal chain might be $16,000 before it even hits the Pro Tools rig. You may go into a home and notice the studios are built in a square, none of our rooms are built in a square for sound purposes. When building the studio we had people cut the concrete around the room, two feet wide so that you don't feel vibrations on the other side of the wall. You like to cook at home, but you still decide to go out to eat because you're eating from a professional chef. We have the resources, the equipment, and the professionals and when you put them all together it produces a different product for our clients and they appreciate that.
Oz: How should artists vet studios?
Curtis Daniel III: I mean the first thing is to look at the shapes of the room and if the room is square. Are there any objects in the room that make it not square? Are there bass traps that trap certain frequencies? Are there diffusers? Is the room made up of all hard surfaces and are the sounds reflecting? More importantly, what does the vocal booth look and sound like when you go in there? If there are a bunch of hard surfaces there will be echos and if you hear echos, it will most likely translate to your vocals. What is the engineer of the studio's skillset? Are they recording, mixing, mastering, doing your artwork, and an A&R on the side? There's value in having a different set of ears at every stage of the process of creating a song. I stay away from the title of being a one-stop shop even though we can do everything because I like to reiterate that yeah we know we can do all these services but there's a different professional providing each one. I try to encourage people to record one of their songs the right way, you may not be able to do an album but we have a single deal and it's $1,200, you can record your song, mix it and master it and for another $350 you can get all your codes, distribution, and your artwork. If you do that then now you have one record done right that you know was recorded, mixed, and mastered properly. The next step would be to go to a new studio to record vocals then can play your raw session from our studio to see what it sound like against the vocals you're doing in the new studio. You need to have a record that you know is yours that you can play in their studio and be able to check the sound.
Oz: Tell us about Patchwerk Studios Internships
Curtis Daniel III: Our engineers work with some of the biggest names in the industry from Sean Garrett to Monica to Fetty Wap. All of our engineers came through our intern program so it's too many to name but if they ever worked here he came out of our program. You know funny enough my style is I always say free costs too much so I initially didn't like the intern program. I felt like these people should be getting paid but we couldn't pay them to learn from us. I wanted to quit the intern program until the interns convinced me of how valuable it was. As far as requirements, interns must have graduated from an audio engineering program. We see ourselves as the grad school of audio engineering. We don't start at the basics or ground zero. We try to pick you up from level six and try to get you to level fifteen! We attract some of the top students from Berkely, Full Sail, and other institutions. The value of an institution is based on the success of its alumni. From a marketing internship to working the front desk, to becoming a manager at the studio. All of our managers are in-house. We're currently in the process of adding a video and photography internship as well, Covid delayed the launch of that program.
Oz: How important is it for an artist to understand the business side of the industry?
Curtis Daniel III: It's no different for music than any other business. If you don't understand the business then you know you can be taken advantage of and most likely will be taken advantage of. Some people come in with the person and they don't have any intent on taking advantage of them but then they look at the person not paying attention notice that it's an open opportunity to start taking from them. Artists have to get out of the mindset of "I just want to be the artist. Talk to my manager about everything else." Artists aren't asking for receipts from their studio sessions, it just gets sent to the record label, then the label just tells the artist what they owe. You don't want to be like Tyrese or Keyshia Cole, telling your record label you want to do an audit of the books 20 years later when you had the opportunity to audit in real-time.
Oz: What do you think makes Patchwerk different than the other studios in Atlanta?
Curtis Daniel III: There's nothing the same. Humbly speaking if you go B.P., before Patchwerk, this model of studios that you see now didn't exist. This is our model, we implemented it and changed it. Engineers never used to be loyal or exclusive to one studio. They weren't getting paid by the studio. They were independent contractors who had to deal with the labels and artists on their own. We changed that. All the studios are operating theirs how we operate ours. The main difference though is the people. There aren't two people here that are alike meaning that our employees make us special and make us different. There ain't another Mike Wilson and there ain't another Curtis Daniel. Each studio takes on the personality of its "head coach" and the coach matters. It's leadership, guidance, caring about the service you provide, the upgrades and maintenance, and having pride in your business that makes us different. If you're in the Super Bowl, everyone's going to copy your offense and defense. They duplicate. Most of the people trying to build a great business come over to our studio with their architect and look at our rooms, sit with me, and talk to me about how they should make their next steps. I don't have a problem sharing that information because when we got started the people I went to didn't share with me and that scarred me. I always felt like if we had multiple great studios in Atlanta, it makes the city bigger and better. If there's only one studio doing well it doesn't benefit Atlanta. This is a special place with special people working here who actually care.
We live in a time where anyone can pop-up and say they're a recording studio. We have to find a way to standardize recording studios. There are Zagat ratings for restaurants, there are professional certifications for people in IT, recording studios feel like the wild wild west. If we can begin to standardize our industry, consumers won't be confused and have an idea of what they're getting before coming to the studio.
Oz: Have you noticed a shift at your studio when the music industry decided to go the streaming route?
Curtis Daniel III: No, not at all. If you think about it, nothing has really changed. Artists still have to come in get their song recorded, mixed, and mastered. The only thing that changed was the platform it's presented on. Think about, from vinyl to cassette, from cassette to cds, from cds to digital, what really changed? That's why I always say its important to make sure that your song sound professionally done.
Oz: Have you always known Patchwerk was going to be successful?
Curtis Daniel III: When Bob owned the studio he probably wanted to close no less than 10 or 15 times. Instead of trying to figure out a plan B, I was steady trying to figure out what I needed to do to stay open for another month. I just couldn't leave. I always asked Bob when he was frustrated, "what did I need to do for him to keep the place open?" He would respond "you have to make at least $10,000 a week." And that's exactly what we would have to do. We would fax people, cold call, go out to clubs, and just try to drum up business to figure out a way to meet our threshold. It took us about three or four years to get out of Bob's pocket and that's when I thought we could make it. We were able to pay off our first facility in about three or four years which was a ray of hope, it wasn't until we decided to upscale and open up this world-class facility that we had to go back into debt. You can exist where you are forever or if you want to grow you're going to risk it all. We wanted two things: to be able to be in control of our own destiny and to be a great recording facility.