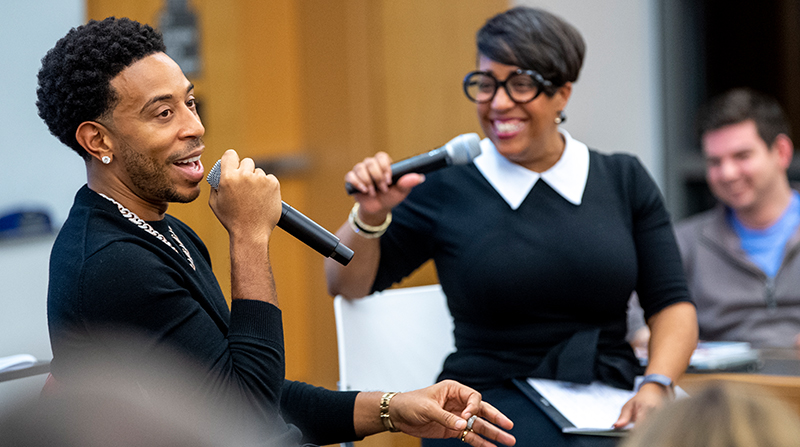 Protect Your Assets – With Mo Ivory
By Oz Online | Published on December 21, 2021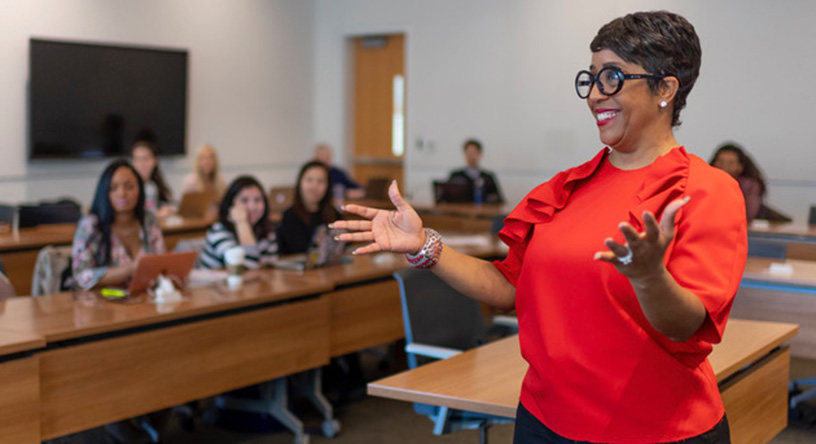 Atlanta is a bustling entertainment hub, quickly catching up with New York's and Los Angeles' industries. Atlanta's music industry is characterized as a highlight of this success, with many musicians and artists expanding both nationally and internationally, cultivating longevity within their careers. However, for an artist to reach this level in their career, behind-the-scenes work is of the utmost importance. We got the opportunity to speak with Moraima "Mo" Ivory and expand on what it takes to be successful in this ever-growing industry.
Ivory was introduced to the music business and the work behind it while interning at Virgin Records during her undergraduate years at Spelman College, which grew her interest in entertainment law. After graduating from Temple University School of Law, she went on to work as a radio host for WHUR 96.3 in Washington, D.C. near Howard University and was then offered a job at Howard teaching entertainment law. Now, she is an entertainment law professor at the Georgia State School of Law, offering her expertise to Georgia law students.
Her courses are anything but average, however. Her current course: "The Legal Life of…" focuses on a new celebrity entertainer each semester, and she has even gone viral for these courses that have law students studying Ludacris' business contracts one semester, and Kandi Burruss' contracts another.
"That is an attempt to bring more real life examples that students know. That makes it more interesting to study than just sort of large concepts that just don't touch their everyday lives. And so when I search for people that I want to study in this series, I look for people that have interesting careers beyond just the one thing that they may be most known for," says Ivory when explaining the practicality behind the courses. "Currently, the classes that I teach are only available to Georgia State law students, but I am hoping at a future time they'll be available to the larger community."
When speaking about the study on Ludacris, she explains how he fits into this model: "Ludacris was a perfect example of that because he, first of all, went to Georgia State for a couple of years and his experience working as a student in the music business program, I thought was instrumental to letting students know that he's not a typical artist, he had pathway to college." In addition to Ludacris' music career, he was in a movie, is the owner of a philanthropic foundation, and started a restaurant called Chicken + Beer that is currently serving at the Hartsfield-Jackson Airport. This versatility of entrepreneurial endeavors throughout one's career, Ivory deems as the key to longevity; "For both Ludacris and Kandi, we see them exploring businesses on their own that are not driven by music, that are driven by their business acumen and both of them having very successful opportunities because of that. So both being in the restaurant business, both having a philanthropy, are both being in television and movies, just really extending their entertainment enterprise into other areas, which provides for a lifelong career and not just having an album here and there, but being able to have longevity in the business." She includes that Ludacris' key to success in branching out to other industries is the strategy behind what projects he chooses to take on, spending money wisely, and learning the business before attempting to dive head-first into it.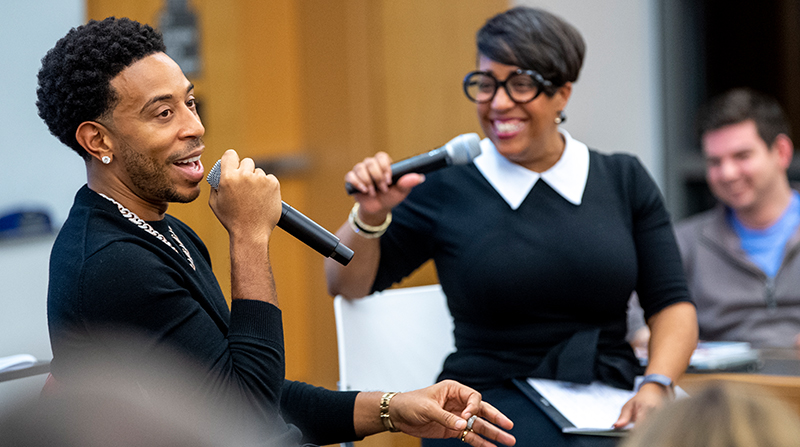 The evolution of the music and entertainment industries goes hand-in-hand with advancing technology. In the past, people got their music from CD's or records, which is not particularly prevalent anymore today, as compared to the ease of streaming music or music videos from your phone or laptop. Ivory notes big changes on the business side because of this; "the way people buy, the way they market, the way contracts are put together, the way rights are being sold or retained." These technological advancements also give way to even greater opportunities for marketing and expanding your audience. "They (artists) have the opportunity to market themselves. They have an opportunity to put their music out, to distribute themselves. They have an opportunity to create a following, which makes their product very much more valuable to a large record company in ways that in the past haven't been able to be done," said Ivory. With influencer culture on the rise, social media and streaming platforms like Instagram, TikTok, SoundCloud, Spotify, Apple Music, and YouTube present these marketing options and methods, and are increasingly beneficial to emerging artists' successes. Ivory states: "social media plays a huge role in connecting people to the projects and connecting people to the businesses and all of that. So I don't think that an artist can be successful anymore in their craft, whether that is TV, motion pictures, music, a product endorsement, whatever it is, without knowing how to successfully navigate the ways people take in media these days."
Ivory's advice to artists looking to break into the scene is firstly to utilize these self marketing tools and strategically play into this age of technology to build a following. Additionally, artists should be open to other business opportunities and not allow themselves to be segmented into just one industry, as strategic cross-industry projects can broaden your reach and provide for longevity in your career. For those interested in the behind-the-scenes work, Ivory adds: "I would say that there's just a lot of opportunities in a lot of cities to do a lot of things and you have to figure out what role you want to play, whether it be an entertainment attorney, a business manager, an agent, whatever a regular manager or a tour manager. I mean, there's just so many roles that you can play, and I think it's important to figure out what that is and then to learn the business behind that role."
This concept of finding your role is important in both behind-the-scenes work and to the artist themself. As an artist, being assured in your role develops the confidence needed to push yourself for big opportunities and also creates the niche market that a supporter or an audience is looking for. In order to figure out your place and support the market you create, you must also have definitive goals for your career. Becoming rich or famous are commonly thought of; but from Ivory's perspective, she thinks that "you have to have a goal of staying true to your craft and sharing that craft and those results coming because you've been true to who you are as an artist. And if you're really great at what you do, then those two things are going to happen." Passion is an important element of a music career; when an artist is truly passionate about their art, they will gain more respect from the industry and fans will also be more attracted to it. "I always like to work with artists that really just have a passion for their craft and for their music so that they want to figure out a way to get that music to the world and share it with the world," Ivory adds.
'Getting yourself out there' is a high priority and common sentiment in any entertainer's career. While social media marketing is very important in the music industry, there are many other ways to make your name known, namely through showing up and showing out. There are many events that are both educational and give an opportunity to show off your art; all of which are great opportunities for networking. "There's just a lot of music industry festivals and panels and conferences, and I advise anybody who is interested in being an entertainer or promoting their career to follow that path by finding out about all those conferences and taking those learning opportunities and to gain the knowledge that they need," said Ivory. The recent A3C Hip Hop Festival in Atlanta is a perfect example of this. Ivory further explains the importance of networking, saying: "So much of success in the entertainment industry is based on your relationships and who you know and you want to be in a town where you can meet people and you want to be in places where there might be a chance opportunity." In terms of developing a career, location is very important because of these events and networking opportunities; making Atlanta an ideal place for music careers to take off.
A universal consideration that artists face at one point in their career is whether to remain an independent artist or sign a record deal. From Ivory's perspective, neither is a better decision than the other, generally. She goes on to explain that this business decision is fully dependent upon the artist's goals and where they are in their career. Ivory adds, "I mean, the music business is based on leverage, so you really are going to make those decisions as your leverage increases or you're going to decide from the very beginning along with whoever is advising you, like that's the way you want to put yourself out there," meaning that if an artist is just starting out and has not yet cultivated a buzz, they will have different opportunities than another artist with a more established following. "If you are able to create a buzz, then you're going to have people coming, larger companies coming for you and creating a bidding war over your artistry. (This) is the most prime place to be. It's going to yield you the most money… your reach will be larger," Ivory states, "But that does not mean that many people might not choose to stay independent because they don't want to give up certain rights that you normally are going to have to negotiate very hard for when you go to one of the major labels."
When signing a record deal or business contract, not having a lawyer on your team is the biggest mistake an emerging artist can make. Ivory advises that investing in a lawyer early on is of the utmost importance. Many entertainers rush into these deals, for various reasons, but Ivory warns against that, saying: "You could be binding yourself to a very long term situation that would be really hard to get out of when you realize what you did. And so before you bind yourself to something, have a lawyer look at it. And if you can't afford a lawyer, then you need to try to reach out to some of the volunteer lawyer organizations that, for example, the Volunteer Lawyers for the Arts or Atlanta Legal Aid are places that give pro bono representation to people who cannot afford it, because it's worse to sign something because you couldn't afford an attorney than to wait a little bit to sign it and have somebody review it."