Patrick Avard: The key to success is to continue raising the bar
By Oz Online | Published on November 1, 2022
Few people can claim success in as many areas of the music industry as Patrick Avard. A native of Thomasville, Georgia, Avard got his start producing cheer music mixes, introducing creative innovations to the field that resulted in more than 75 World Championships. He further developed his reputation by collaborating on projects with renowned artists such as T-Pain, Lil' Jon, Missy Elliott, Akon, and Bonecrusher.
Six years ago, Avard embarked on his most ambitious project to date, launching the Atlanta-based production music catalog, Level 77 Music. In the short span since, the company has built an impressive catalog of thousands of tracks, placed music in films, television, ads, social media and other media, and developed an international reputation for quality and creativity.
"My love of music began in early childhood," says Avard. "I remember going on road trips with my family, singing songs while flipping through the radio. In high school, I participated in a group called The Thomasville Music and Drama Troupe directed by Fred Allen. I learned to sight read and sing harmonies. Looking back, I would say that is where it all started."
In high school, a cheer coach introduced Avard to the cheerleading world, and he quickly developed a passion for the competitive sport. In college, he became a member of Florida Atlantic University's NCA National Championship team. He went on to coach an all-star team. He also began editing the team's cheer music. As there were no cheer music producers at the time, coaches were responsible to creating music mixes themselves.
"One day, a teammate and friend of mine told me there were computer programs that you could use to edit music," Avard says. "I bought the programs and began to teach myself to produce music. I was fascinated by the process and got to be pretty good at it. I was working three jobs, and it dawned on me that I could make a career out of producing music if I focused all my attention on it."
As Avard perfected his craft, he caught the eye of others in the cheer industry. Cheerleading teams around the world began asking him to produce custom mixes for their routines. His energetic, unique mixes became so popular that Avard turned pro, branding himself CheerMusicPro. Over the next 20 years, CMP's fast-paced tracks and engaging sound were used by 223 world medalists cheer teams, 87 of which were crowned World Champions.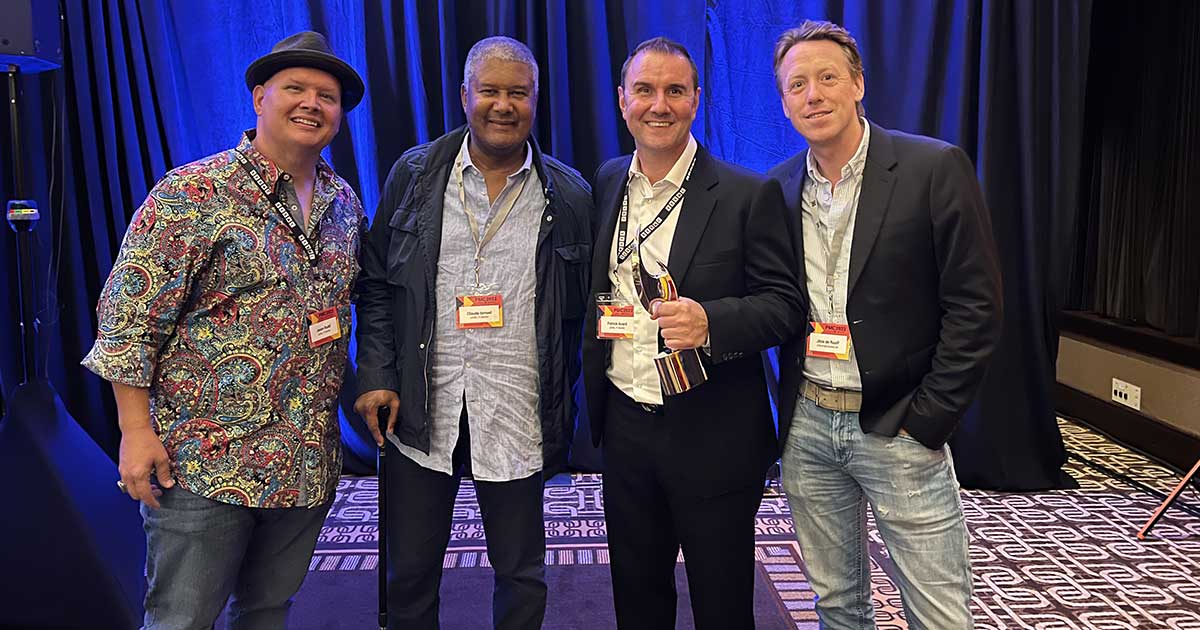 In 2011, Avard formed New Level Music, and assembled a group of highly experienced producers to create custom music. "I realized I was growing so big that I couldn't handle demand, so I hired a staff and started to work with other cheer producers so they could advance their individual brands and I could continue to grow the business."
Looking for a way to get more value from his music, Avard launched Level 77 Music. Just as he did in cheer, he brought a new energy and innovation to production music. "I put my heart and soul into being the best I can be as a music producer and entrepreneur," he states. "I always dreamed of being part of the mainstream music industry, but I just wasn't sure how it would happen. Only in the last four or five years did the path become clearer. It's been a long, steady road and I definitely didn't have immediate success, but I stayed the course and worked my way through until doors started to open. I've never stopped learning and growing in my life and in my career and I think that is what's lead me to where I am today, but I am not done yet. There are still so many goals I haven't accomplished."
Drawing on a deep pool of talented composers, musicians and producers, Level 77 Music has built a diverse catalog. Its music has been used on TBS, ESPN, Fox Sports, Hulu, Paramount+, and many other national broadcasters. In addition, Avard's custom music has appeared on Netflix's Cheer, America's Got Talent, and The Ellen DeGeneres Show.
One of Avard's latest tracks, "Be Mine," featured on Level 77 Music's production music album G.I.R.L. recently won Pop Track of the Year Award at The Production Music Association's 7th Annual Mark Awards. "I'm very proud of Mark Award Winner," he says. "It is very commercial and sounds like a mainstream pop record. It truly crosses over to many usages and verticals. This win was big for us at Level 77 Music. It puts us on the map as a serious player in the sync licensing world."
As an entrepreneur, Avard has had his share of challenges, including, most recently, the Covid-19 pandemic. "We were coming off the best year we'd ever had in 2019, and then all at once, the world stopped and shut down," he relates. "We had no new business coming in and had to set up payment plans with our clients, who were also challenged by the pandemic. Many businesses were hit even harder, so I feel very fortunate, to be honest. I didn't know how long the lockdown would last, so I focused all my energy on reducing costs while taking care of my employees. Fortunately, I had enough reserves built up in the company that we survived the uncertainty and began growing the business again the following year."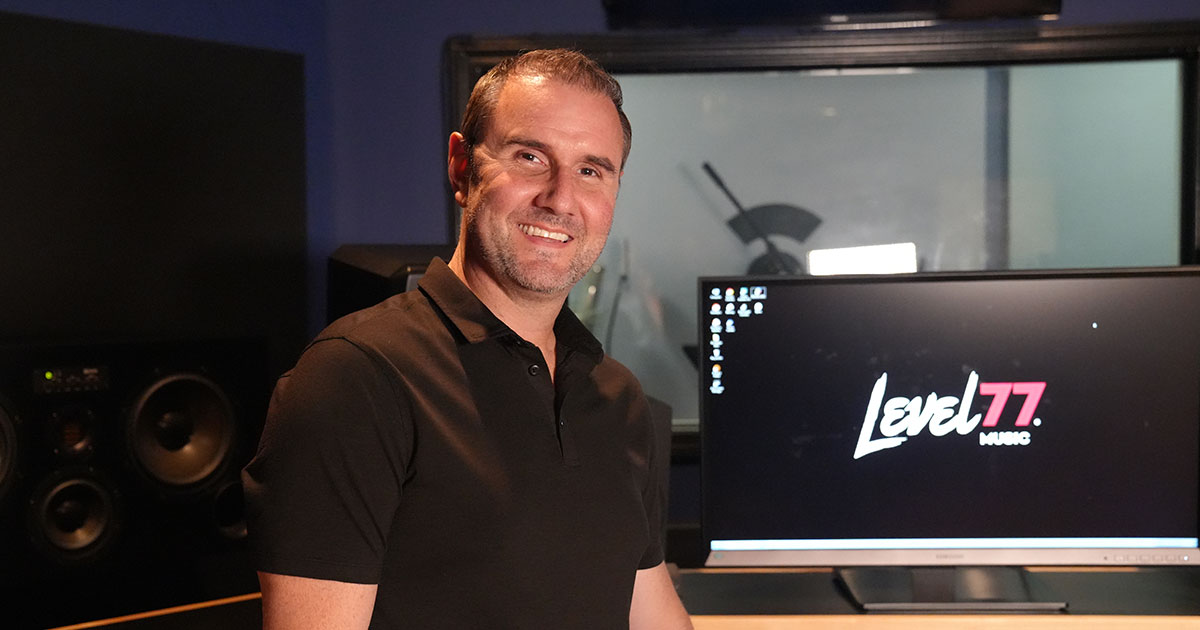 With 2023 fast approaching, Avard's company is soaring to new heights. Level 77 Music recently launched a film scoring division, Sonic Score, featuring two Georgia-based, award-winning film and television composers, Mark Kueffner and Luke Truan. A 25-year industry veteran, Kueffner has written music for shows like The Bachelor, The Bachelorette, Fatal Attraction, Fear Factor, American Greed, and Homicide Hunter. Truan has composed cinematic scores, soundtracks, and arrangements for such projects as Swipe Club, No Words, Just Love that Man, Chic Nu Legacy, and the series The Hidden Truth, Shark Week, and Sydney Harbor Force.
Sonic Score aims to provide scoring for film, television, documentaries, games, and other entertainment projects. Avard's plan is to take advantage of Georgia's film and television boom and the state's tax incentive program, which offers credits of up to 30 percent for work produced in Georgia. "We're starting to get some amazing opportunities," Avard says. "Our music is being pitched for some huge projects. I expect our library to double in size over the next couple of years. We are currently pursuing additional acquisitions, strategic partnerships, and publishing relationships to help us reach our goals. One day, you won't be able to turn on Netflix or click through Spotify playlists without hearing Level 77 Music. I am very excited about the future of the company. The future is extremely bright."