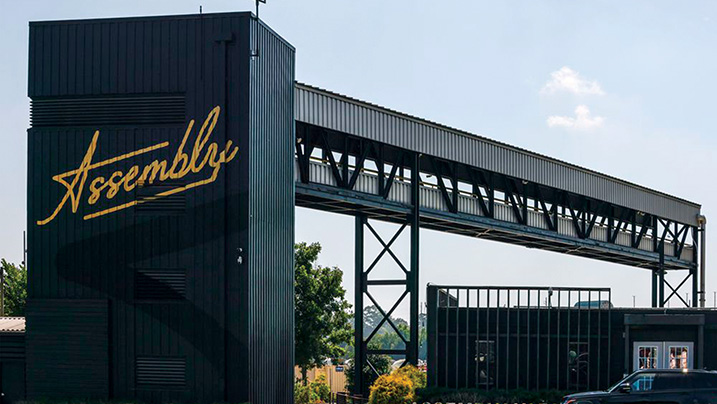 After a few false starts and a couple years of lost time caused by the pandemic, construction of Assembly Atlanta's film and entertainment hub in Doraville is officially underway, and city officials are eager to see the positive effects it will have on the local economy. The 127-acre property was formerly the home of a GM assembly plant but was purchased by Gray Television for $80 million last year.
"We are excited about the impact The Assembly will bring to the entire state of Georgia and especially the Perimeter Area," said Executive Director of Discover Dunwoody, Ray Ezelle. "Dunwoody is located next to Doraville just off Interstate 285 and is the heart of the Perimeter Area, less than 10 minutes from The Assembly and Third Rail Studios."
The star of the new development, Assembly Studios, will sit on 43-acres of space and consists of three sound stages so far. Future plans include 19 total sound stages as well as production offices, event spaces, warehouses, and mill buildings, all in the hopes of creating the ideal filmmaking environment.
Companies are already lining up to rent space at the studio, and well before the project is even completed, NBCUniversal Media has signed a deal with Gray Television to manage all studio and production facilities at The Assembly. This includes Gray's own studio facilities and Third Rail Studios since the agreement aims to leverage NBCU's substantial experience managing studio lots, which allows Gray to focus on their own production.
"I am pleased to welcome NBCUniversal to Doraville," said Doraville Mayor Joseph Geierman. "Their investment in Assembly will accelerate Gray Television's plans to transform the site of our former GM Plant into a true 'Studio City'."
With the studios only taking up about a third of the total acreage at Assembly Atlanta, the remaining space will feature restaurants, offices, retail shops, residential homes, and a 5-acre public park. The city of Doraville also has intentions of renovating 13-acres of land adjacent to Assembly to create the most hospitable area possible.
Gray Television has high hopes that the studio will begin operations in the second half of 2023. Once complete, it will become the largest in Georgia and one of the largest worldwide. Considering Doraville's population is a little over 10,000 currently, a full-blown film and media campus of this size will cause an economic explosion with an estimated 4,000 production jobs pouring into the area, and the creation of thousands more local jobs to support the increased foot traffic from the studios.
"The fact that this idea transformed into a reality during a pandemic, makes this all the more remarkable. I am proud to have been a part of the team that made it happen," said Doraville City Manager Chris Eldridge. "Doraville, Greater Atlanta, the state of Georgia, and the whole Southeast region will enjoy the benefits of this economic engine for decades to come."