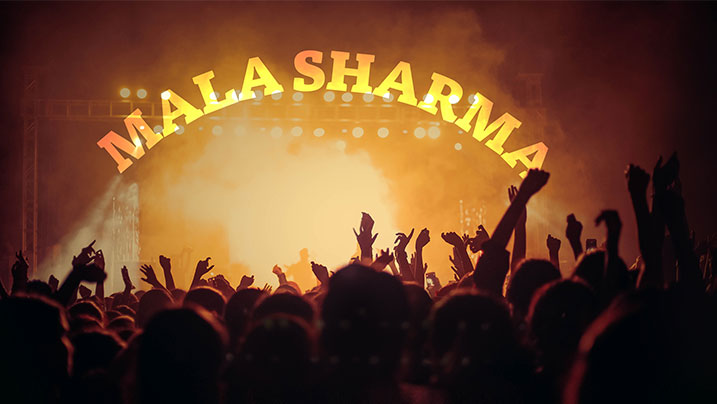 Mala Sharma: Poised to Turn Up the Volume on Georgia's Music Industry
By Oz Online | Published on June 23, 2022
There is no doubt that the impact of Georgia's music industry is felt worldwide. From country to bluegrass, Christian to hip hop – Georgia boasts being the home or birthplace to some of the most iconic music and musicians in the business. But with all of that culture being created and exported to a global audience, how can the state build upon that legacy and stop the talent drain to other music cities like Nashville or Los Angeles? Mala Sharma, co-founder of Georgia Music Partners (GMP) has an answer for that: creative collaboration.
"We can grow this industry even further if we
all work together and invest in music."
"Music is part of the fabric of everyone's life — but this is especially true in Georgia, a state which has a storied history in supporting and developing innovative artists across music genres, from hip hop and classical to R&B and country," says Mala. "Music makes money. Music makes Atlanta better."
According to a study commissioned by the Fulton County Board of Commissioners, GMP, and Sound Diplomacy (and linked on The Georgia Department of Economic Development website), Atlanta is known as an internationally recognized music hub. The economic vitality of Fulton County's music industry is responsible for generating $1.6 billion and creating 10,500 jobs. The study goes on to note the metro region's growing number of recording studios, which totals more per capita than either New York or Seattle. There are over 200 recording studios in town bringing in millions of dollars each year.
But even with those impressive numbers, Georgia's music industry has the potential to do much more—both for the state and the artists.
"We lack statewide incentives to jump start investment and cohesive, connected leadership across the Metro area to best support the music economy. The music industry contributes $3.7 billion to Georgia's economy … and once live music and festivals are added in, that number is closer to $5 billion. We can grow this industry even further if we all work together and invest in music."
Of Georgia's many creative sectors – film, gaming/technology, music – the film industry enjoys the lion's share of the attention and, some would argue, the support. Mala feels that we haven't capitalized on music the same way we have with film, but added that by working together, music could help film reach more of Georgia's communities and all of Georgia's creative industries can flourish.
"We will always be seen as a place to film but we are not writing the projects here, we are not finishing the projects here. And so, until there is that holistic approach – not just for film but for all of it – we haven't built a sustainable industry. If we are able to build an environment where Georgia is not only the Hollywood of the South, but the Nashville of the South, the Silicon Valley of the South, then we're unstoppable," Mala stated. "That has been our message."
"Statewide, music does not have the leverage right now that film does, but we have the numbers. We have grassroots, and that is what film is lacking. But without that sort of cohesive partnership, it's like we're all kind of siloed. I see film struggling to say 'we really do mean a lot in these other communities,' so there is that. I have been doing this policy for music since Rick and Wilbur [of the Georgia Production Partnership] taught me. And so I know the process, yes. Unless you're there on the ground, and that's where music is, there on the ground day in and day out. So you could have bigger numbers in those markets if it was the entertainment community and not just [for example] Athens music partners. You know the entertainment commissions in all these markets."
Mala is known as a creative thinker by her peers with financial skills and is a proven leader of high performing, collaborative, cross-functional teams. Her broad-based experience in the entertainment industry includes business development, management and strategic partnerships in music production and digital entertainment – but not performing. How did someone who is self-admittedly "tone deaf and can't play a note" become a champion for the music industry? We have Georgia's own Godfather of Soul, the inimitable James Brown to thank for that.
"I am incredibly proud of the fact that DeKalb County was the first county
with an entertainment commission for all aspects
of the entertainment industry."
With his music being sampled more than 7,000 times, James Brown is arguably one of the world's greatest inspirations in music. Fortunately for Georgia's music industry, one of those inspired by Mr. Brown just happened to be a four-year-old Mala, who grew up to become co-founder of Georgia Music Partners (GMP), a non-profit music advocacy coalition that seeks to grow Georgia's music industry to become one of the country's biggest and best.
"I was born in India and grew up in Augusta, Georgia, of all places," recalls Mala. "One of my earliest memories – I think I was four – is my still adjusting to living in a different country and seeing this magnificent house on Christmas decorated like I had never seen in my life! All of these amazing decorations and a Christmas tree with a Black Santa on top. It was James Brown's house!"
"I ended up going to school in Athens – Public Relations major – and music was a big part of Athens in the late 80s, early 90s. So loving music, I thought if I could figure out some way to go to these shows for free. I was part of the Student Union bringing concerts to the campus and I began doing press and publicity – so that's how it started. I also managed some bands in Athens, so I decided that when I graduated, I was going to go to LA," she continued.
This early experience led to a love for music and a career in the music and entertainment industry, spanning more than two decades. Over the years, Mala collaborated on some of the most successful albums of our time. Her work with GRAMMY-winning music producers Rick Rubin and Brendan O'Brien resulted in timeless, multi-platinum recordings by artists such as Bruce Springsteen, Pearl Jam, Johnny Cash, Tom Petty, and more.
Mala also established City National Bank's presence in Atlanta as VP by building and fostering successful relationships with high-profile entertainment clients. She oversaw marketing and sponsorship for the bank's flagship Atlanta office. Mala's career also includes tenures at Atlanta Symphony Orchestra, Def American Records, and Fifty Seven Records (a Sony label).
"Music kind of helped me adjust. It helped me in so many ways. I can't play a note – I am tone deaf – but what music has done for me personally, my soul, I have this passion for it and I always have. It's always been nothing but that: music has been my medicine, it's been transformative."
With her more than two decades of work in and around the music industry, Mala went from having a front row seat as she watched Atlanta grow as a music town – specifically in the late 80s, early 90s with LaFace – to watching as Georgia talent began to move to other music cities like Los Angeles, New York, and Nashville.
"I think that back in the day back when musicians LA Reid and Kenny "Baby Face" Edmonds left Los Angeles and opened LaFace Records (with the help of Clive Davis) here, it kind of put Atlanta on the map in a whole other way. It was great to have all eyes on us. But we really haven't had that type of infrastructure since he left."
Mala believes that although Atlanta has a world class music economy, it has not been seen in the same vein as film. To change this, Mala and the partners of GMP came together to figure out how to get Atlanta to invest in and accelerate its music economy in the same vein as the film industry.
"The film tax credit was already in place. I think they had made a few changes to it so it was finally working, so I had conversations with Ric and Wilbur [Georgia Production Partnership leaders] on crafting the incentive," said Mala.
Wilbur Fitzgerald, Shay Griffin, and Ric Reitz, former members of The Georgia Production Partnership (GPP) Government Relations Committee were instrumental in crafting and supporting the Georgia Entertainment Industry Investment Act and Entertainment Production Sales & Use Tax Exemption Bill (HB385) in 2010.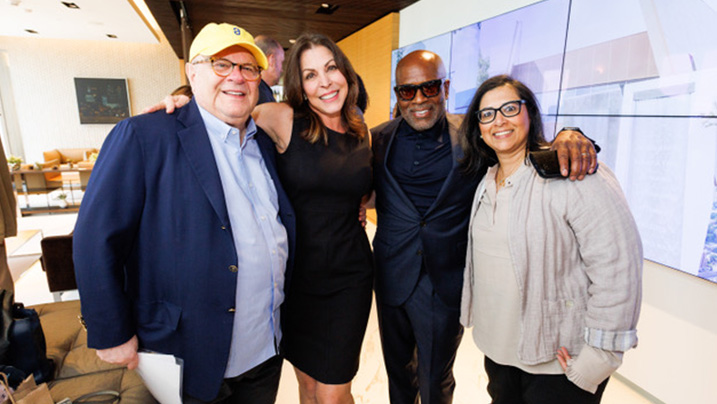 "We started focusing on a music tax incentive after we saw what the incentive was doing for the film industry, which was also the same time we were seeing the [musical] talent drain," said Mala. "So, we thought that if we had started [at that time] attracting the businesses and helping those studios stay open and attracting those flagship studios like Nashville has, there is no doubt in my mind we would now be experiencing the kind of business that Nashville does. They have the EA Sports – they have, as a city, figured out how film, music, and digital entertainment can help each other."