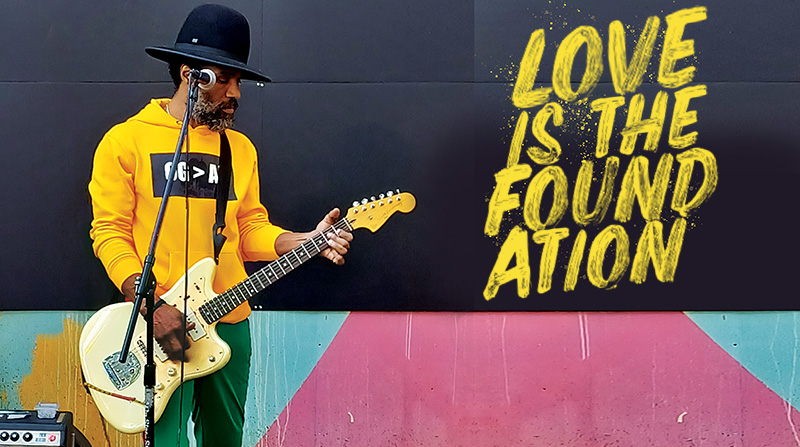 Love Is the Foundation
By Oz Online | Published on December 21, 2021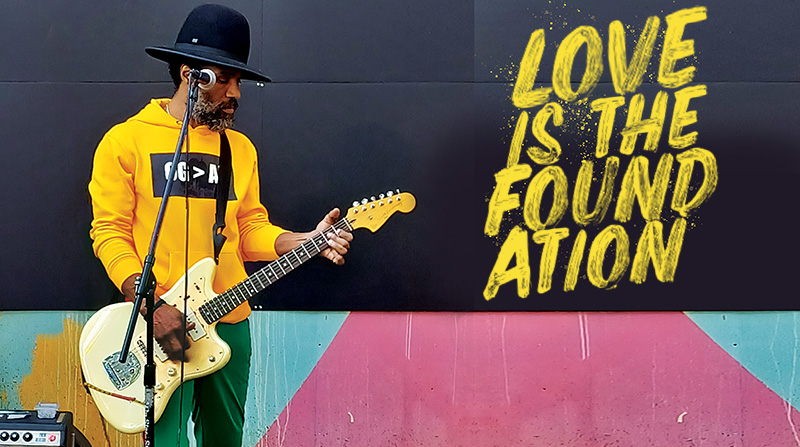 Soul Troubadour Cody ChesnuTT is an artist who defies definition and transcends genre.
"Our spiritual aim is to win the hearts of men and women to better things. If it's not doing that, I don't align with it. I am moving to something else."
Starting with his edgy, lo-fi, debut, The Headphone Masterpiece, the Atlanta native has always stood his own creative ground. In 2002, ChesnuTT holed himself up in his bedroom to record The Headphone Masterpiece – armed with his DIY musical arsenal: a drum machine, an array of instruments, a dusty four track cassette recorder and a giant pair of headphones to block out the world. The result was an unvarnished collection of songs – 36 in total, which alchemized his love of a multitude of styles: classic rock, rhythm and blues, pop, punk and gospel music.
"I come from a very musical family," ChesnuTT said. "Singers, writers, natural wordsmiths. From early childhood – five or six years old – I started out playing drums and like a lot of kids, I was inspired by Michael Jackson. By the time I got to college, that's where the real focus came in."
After attending college in Florida, ChesnuTT returned to Atlanta in the early 90s when the music industry was coming into its own. "Atlanta or the South in general just had so much to prove to the rest of the world artistically and culturally," he said. "It was just that time."
A song from The Headphone Masterpiece was re-tooled as "The Seed 2.0" for the Roots' seminal album Phrenology, allowing ChesnuTT's music to be experienced by a wider more mainstream audience. The song was nominated for two MTV Moonman Statuettes at the 2003 MTV Video Music Awards, and his own album was nominated for the prestigious Shortlist Music Prize that same year.
Almost two decades later, he is still recognized for his creativity and earning praises for his soulful, contemplative music – most recently by way of his memorable performance in the Disney Pixar Oscar winning film SOUL. The song "Parting Ways" was originally recorded in Dave Chappell's cultural classic Block Party.
It could be argued that ChesnuTT is the soul of Soul. During a pivotal scene, a busker played by ChesnuTT serenades the main character, Joe, and the young soul, 22, as they wait for the subway. The film celebrates the vitality of music, and the scene performed by ChesnuTT encapsulates this feeling. Joe ultimately discovers that what was "good" for him was not simply a matter of "playing jazz" it was a matter of living life holistically in the right way. This evolution happens to encapsulate ChesnuTT's musical evolution.
Alternative is a term used primarily for 90's alt-rock music scene, but ChesnuTT felt that he could bring that same element to what we know as soul. As ChesnuTT felt that he could being that same element to what we know as soul. As Chesnutt says, this mind-set was part of his journey before the term Neo-soul had been coined. Long before 2020, ChesnuTT had been building a solid career in the recording industry, signing with the fabled Death Row and Hollywood Records, working in the Los Angeles music scene and recording four studio albums. His albums are The Headphone Masterpiece (2002), Black Skin No Value (2010), Landing on a Hundred: B Sides and Remixes (2012), and My Love Devine Degree (2017).
"I was doing typical cookie-cutter industry R&R music, but I always knew there was a broader vehicle of expression for me. That shallow approach was stifling as a writer. I tried to navigate that 90's R&R space, but it didn't align with my imagination and spirit, so I began to incorporate the artistic liberty I was experiencing in other genres," said ChesnuTT.
"[The movie] Soul was a super divine gift. My cousin Donray Von (@donrayvon) was out in LA and ran into someone working on the project and they were already using my song as a placeholder. They asked if he could get in touch with me. We connected, hashed out the terms, and Donray and I were flown to Pixar Studio's in San Francisco," said ChesnuTT. "It was a divine gift because I was already beginning to focus on scoring and the subject matter was perfectly matched. The impact of this collaboration has been an unquestionable affirmation for me. I have so many beautiful pieces of music I'm now ready to move to film."
ChesnuTT believes that the pandemic allowed everyone to finally get quiet enough inside to really focus on the message behind Soul. "The human connection is what I strive to have in my music or whatever I do, my work is really rooted in the idea of experiencing the deepest connection possible. That's what drew me to the work of Broad Strokes on Broad Street." Broad Strokes on Broad Street is an art exhibit created by international concept artist Jose Awo to bring increased attention to Atlanta's plight of the unhomed. The Broad Strokes on Broad Street events advocate against homelessness using art activism, with a goal of allowing art to draw you in and letting the discussions thereafter touch your heart. Broad Strokes on Broad Street began November 1st with events closing on December 7th. An Atlanta native, Awo will donate all proceeds from the installation to CaringWorks, a local agency that is working to end homelessness by providing comprehensive services and resources to their clients. Attendees will experience artist Awo's talents through an interactive, multi-media exhibit that combines a painting installation featuring QR codes that launch interview clips with subjects who shed light on this issue. The exhibit is presented by the Atlanta Department of City Planning.
ChesnuTT attended and performed a number of his songs at the November 1st opening of the exhibit. "I am doing in song the same as he [Awo] is doing in visuals – touching the heart and uplifting the human experience. Raising consciousness. Now that I have become a student of vibration and word, I am working to put the heart and spirit in a healthier place." Although Awo and ChesnuTT are lifelong friends, this collaboration stems more from their common purpose: to inspire healthier connections. ChesnuTT believes that as he grows and matures, he is learning just how important the art and quality of communication is to allow people to connect on the human experience. " I have been working for a few years on music that has a higher vibration and it aligns perfectly with the show," he said. "The music that I will be sharing, it will ground them [the audience] and allow them to meditate on their own personal growth and the powerful solutions that they can contribute. Not only to the community but the world." Much like the movie Soul, ChesnuTT feels that the Broad Strokes on Broad Street exhibit has come with divine timing. "This is the perfect time to create meaningful content. Something to spark the soul and to elevates the spirit… it's really about elevating the conversation at this point. What we are talking about is a production with a new mind – with new vision. We see what is going on around this city… all cities, for generations," he added.
From his early days in the industry to today, ChesnuTT has evolved and changed, both musically and spiritually, but it may be possible to glimpse where his progression will take him and us from the artist himself: "Everything I offer, I do to reshape my perception of the African American expression across the board," ChesnuTT said, "Daily, I am asking within, how can I steadily evolve spiritually and creatively. I am enjoying the fact that, in my soul, I can clearly see, something new is being built and I'm determined not to let go of this joyful vision."