By Carol Badaracco Padgett
---
Line crew. Pit crew. Ball screw. Merriam-Webster recognizes and defines them all.
But put "film crew" in the dictionary's search bar and you come up with absolutely nothing. Whether you try it as two words or one, just to be sure.
And right there, that's one of the reasons it can be difficult to feed a film crew. They're hard to pinpoint because they're everybody, from every culture, with all different kinds of appetites and tastes, performing every imaginable and demanding role on a film set for 12 hour+ stretches.
They're diverse, but there is one thing that defines each member: they get really, really hungry. So if you're a film industry food caterer, you'd better bring it on.
Introducing Chef Theo – film industry caterer, Le Cordon Bleu graduate, one-time sous chef and chef de cuisine, and a nutritionist even.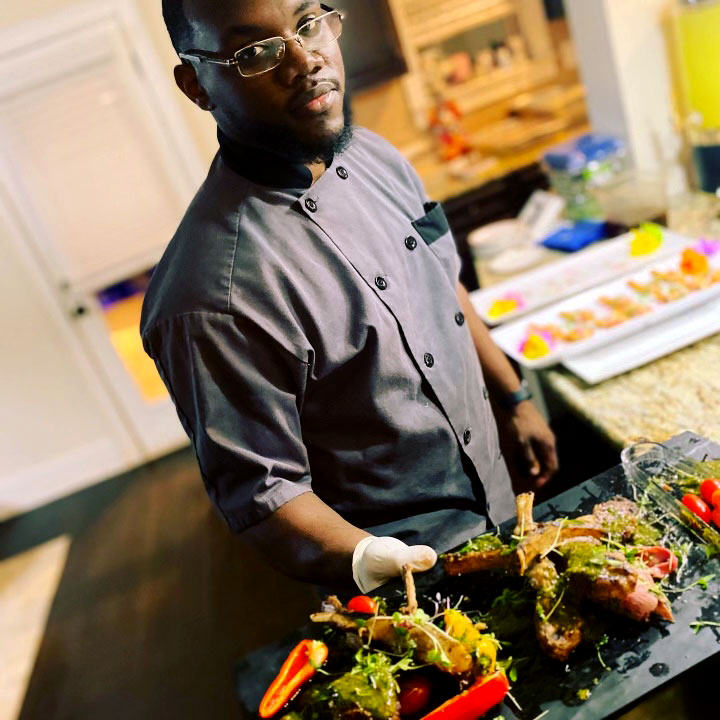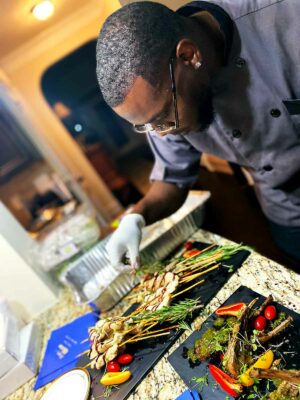 Film Industry Courts Chef
It was an out-of-this-world smoked creation for a nighttime barbecue festival that got Chef Theo his first break as a caterer in the Atlanta film industry.
Barbeque, as it turns out, is his favorite type of food to prepare. And for this event he cooked a whole roasted pig.
"I was a sous-chef at 12 Downtown on West Peachtree Street," the Le Cordon Bleu graduate reminisces of this night more than 10 years ago – before he even knew that film productions used caterers.
A producer living at 12 Downtown wandered into the hotel's barbecue festival, took a bite of the pig, and set the next phase of Chef Theo's career in motion.
"The producer said, 'Who made this pig?'" Chef Theo recalls. "I said, 'I did.'"
Then the producer said he knew a lot of people who love food, and that the chef could triple his money cooking for them.
Chef Theo took that knowledge to heart and went to work for Gala Catering, an established provider to the film industry. Not long after, he started his own catering/personal chef business as a side hustle, The Fusion Chefs Catering, eventually cooking alongside his caterer wife, Alexis Thomas.
Today, the pair feeds at least 90 crew and cast members twice a day for a steady lineup of film and TV productions. And they do it while simultaneously providing craft services – all the snacks and drinks it takes to keep a film crew going in between meals.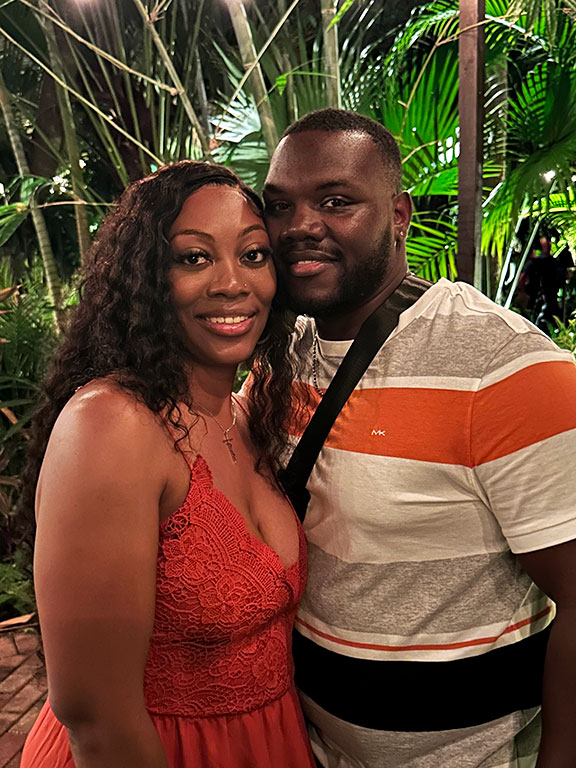 One of the most important ingredients of Chef Theo's offerings is freshness. He and Thomas put in serious time researching where to get the best food, locating it, and then planning out how they'll use it – quickly – prepping it all in a commercial kitchen they rent.
"Our food is never over 24 hours old … the best food we can get," the chef emphasizes. He plans his menus in advance so he can source and order product daily, splitting the job of shopping with his wife.
And it's just the two of them cooking, for now, with her mom doing some of the driving and food delivery to film sets.
"In Atlanta, it's an hour minimum [drive] to get the food there," Chef Theo says. And he adds – without giving away any secrets about how it's done: "It's always HOT. Cold is the worst thing. We make sure it's good and it's on time."
Most of the films the pair caters are set up and drop-off style. But there are exceptions.
"We have catered bigger productions and brought proper equipment so we can prepare food on site," the chef adds.
"You must learn your crew and what they like. You're not cooking for one person."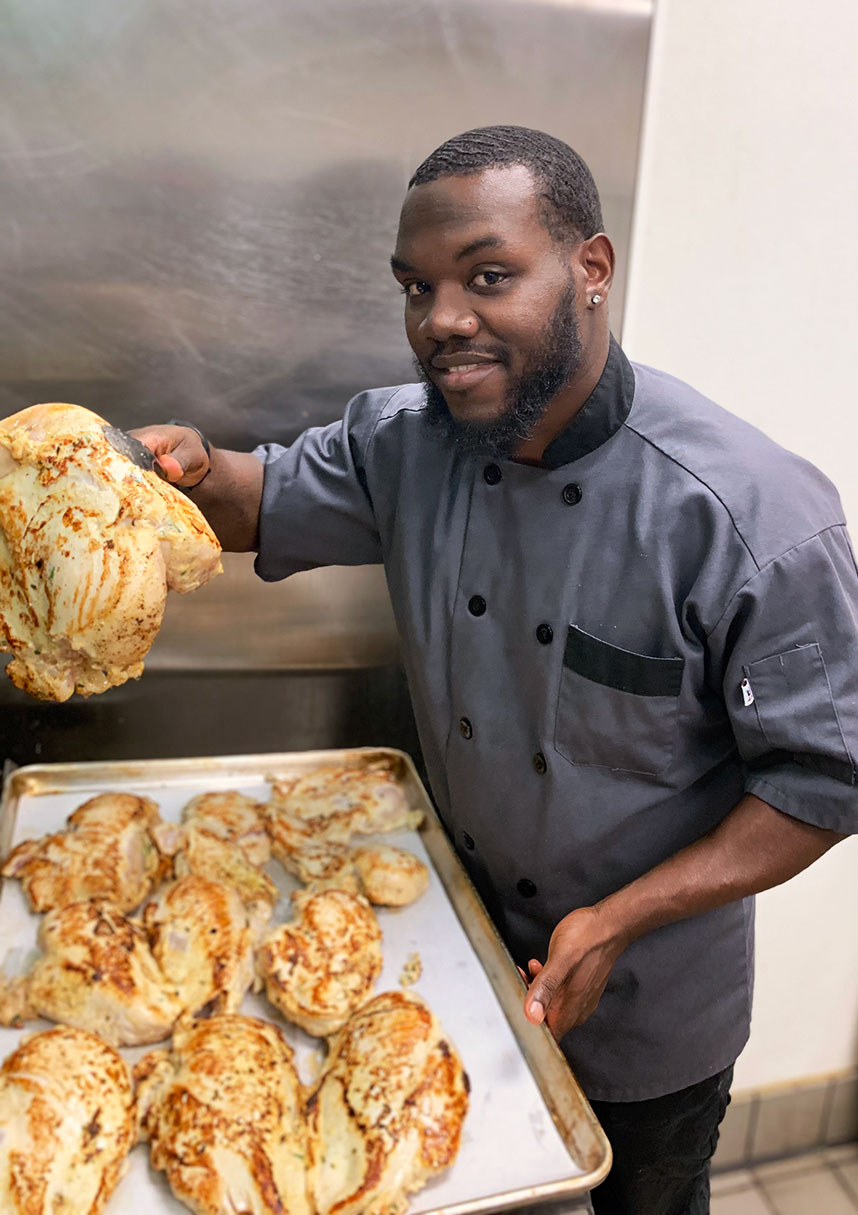 Chef Theo says the make-or-break test of a film caterer's work is how well the crew likes what you're serving them. And that consists of two things: the dishes and the hospitality.
"You must learn your crew and what they like," Chef Theo states. "You're not cooking for one person."
This is where the chef's love of food prep and top nutrition knowledge meet up and come into play.
"I enjoy making all types of foods, like creating vegan dishes," he notes. A few of his hits with the film crews: Vegan Mac n Cheese and his Oaxacan Vegan Bowl.
"Both dishes are packed with ingredients that provide protein, and other essential nutrients," Chef Theo emphasizes.
"I put a lot of thought into creating meals that surprise your palate, as well as foods that won't have you wanting to sit down and go to sleep," he adds.
To get a read on what everybody on a film crew likes and doesn't like – about food in general and about his own work – the chef talks to them.
One dish that's a great barometer for how well a film crew likes your food is chicken breast, the chef reports – a dish that notoriously gets too dry when prepared for a large group.
"We get feedback on how tender our chicken breast is," the chef notes. "When we pull up they're happy to see us. We get that gratitude."

One of the chef duo's absolute favorite films to work on so far was the 2023 action-thriller Degenerate.
"The crew was fun, everybody was fun. Whoever the caterer was before us, they weren't very excited about," the chef says.
After just two days of bringing food on set, Chef Theo and his wife heard people whispering, "We've got a new caterer!"
Chef Theo says the success of their work on Degenerate also gave them strong momentum moving forward.
"Working with them led to work we're doing on another production right now, and we've had two back-to-backs," he notes.

Another critical ingredient The Fusion Chefs Catering brings along with its killer food is its owner's ability to change on a moment's notice.
"You try your best to plan days ahead, and you plan for the worst," Chef Theo says of what it takes to make it as a caterer in the film industry.
"I say that because we deal with different locations every day, there might be rain (leading to even trickier Atlanta traffic) and then there might be things that happen on set that can change the whole day, as well as when the food should arrive," he shares.
There are also serious dietary restrictions to contend with when feeding a sea of different people. And not every chef will understand them all.
"Some chefs think that if someone comes to them and says they're vegan, that means just veggies," Chef Theo notes. "But [our expertise] goes very deep … even into [things like] gluten-free vegan."
At the end of the day, amid a swath of different people, varying tastes and dietary restrictions, the food on a film set must taste divine.
Chef Theo garnishes that thought: "I love to feed people delicious and nutritious meals. It's a lucrative field, and I don't make mediocre food."