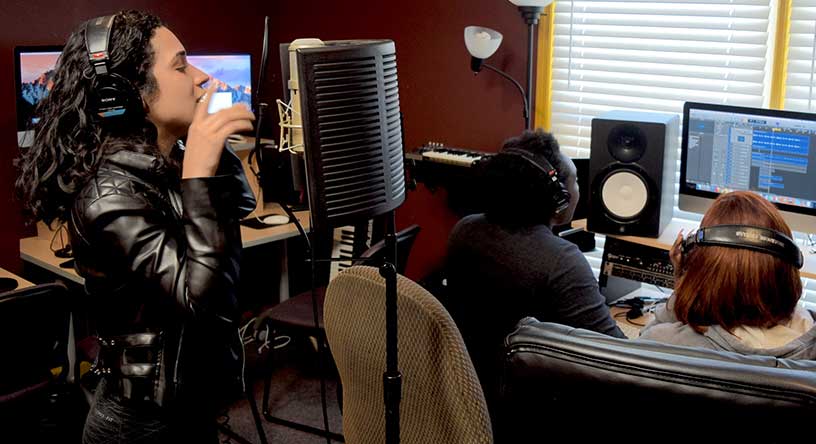 Joel A. Katz Music & Entertainment Business Program
By Oz Online | Published on December 21, 2021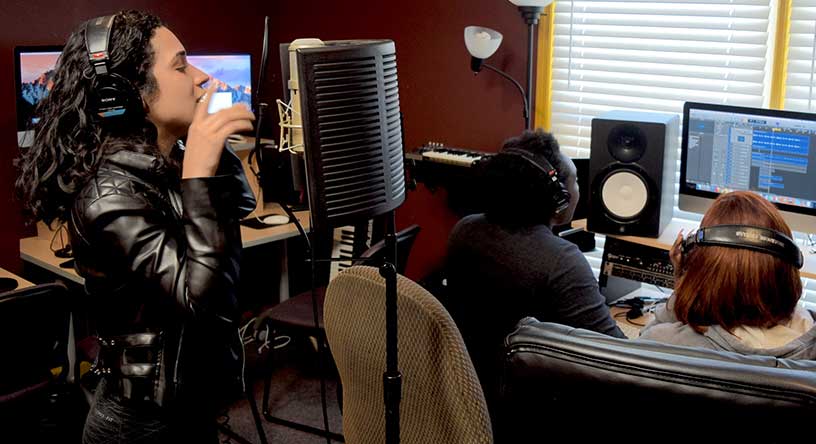 There's a reason why Georgia's entertainment industry is attracting a record number of productions. The state boasts one of the most competitive tax incentive programs in the country, along with a broad network of production and recording facilities. Georgia also has a large and skilled workforce of actors and performers, production equipment suppliers, gaming and interactive media developers, and technology and support professionals. With Georgia's vast production infrastructure, there is little you will need to provide for your next production, saving you time and further expense.
In fiscal year 2018 alone, Georgia hosted 455 film and television productions, generating an economic impact of $9.5 billion including $2.7 billion in direct spending and $4.6 billion in total wages. That year, more than 92,100 permanent jobs were created in the entertainment industry.
In Atlanta, music is more than one of its defining art forms, it's big business. Billboard reports that the music industry created more than 10,000 jobs in Atlanta between 2001 and 2018 in recording studios, performance venues, rehearsal spaces, festivals, and more. As Atlanta's influence in the music business has grown, so has the need for skilled professionals at every level of production, distribution, and exhibition.
The impressive economic impact of music and entertainment in Georgia means there is a high demand for professionals who can meet the needs of this growing industry. With its seasoned faculty, Kennesaw State University's Joel A. Katz Music and Entertainment Business Program (MEBUS) is helping this important industry grow and is positioning students to have an advantage when seeking opportunities after they graduate.
Located 25 miles north of Atlanta, Kennesaw State University and its Joel A. Katz Music and Entertainment Business Program (MEBUS) has been empowering Georgia's entertainment industry for 11 years. Thanks to an ongoing relationship with legendary entertainment attorney Joel Katz and with an ever-expanding collection of working artists and industry leaders, MEBUS has become one of the most successful music and entertainment business programs in Georgia and the nation.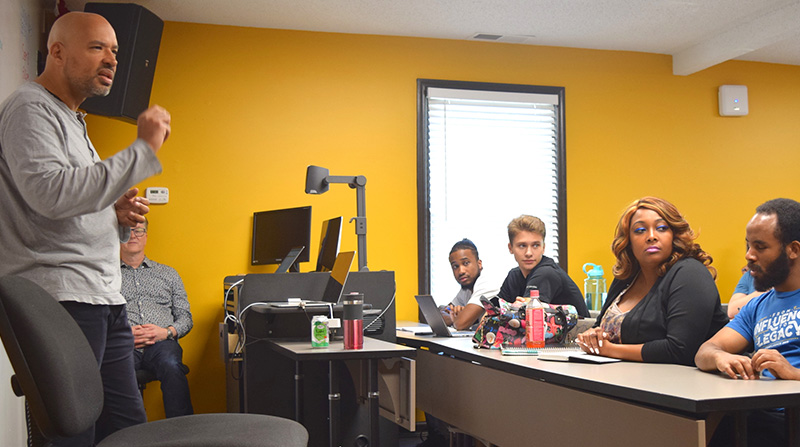 MEBUS is a 24 credit certificate program, or an 18 hour minor housed within the Michael J. Coles College of Business. The minor offers three capstone courses in music & entertainment business, while the interdisciplinary certificate program provides a broad range of entertainment business content open to all KSU undergraduate majors with a desire to work in the entertainment industry in areas such as film and television production, audio and video technology, venue and artist management, and concert and event production. Courses include marketing; management; audio and video production; entrepreneurship; communication electives; and unique internships that provide hands-on learning experiences in the entertainment industry.
---
The Beginnings
MEBUS Director Keith Perissi helped launch the MEBUS program with Katz in 2010. Katz has spent over 50 years representing organizations such as The Grammys and The Country Music Awards as well as artists like James Brown, Willie Nelson, Jimmy Buffett, Justin Timberlake, Kenny Chesney, and many more. Both men had ties to Kennesaw State – Perissi is an alumnus while Katz was personal friends with then University president Dan Papp – and the two decided the institution's proximity to Atlanta made it the ideal place to launch a new music and entertainment business program.
From the start, Katz has helped connect the MEBUS program with major entertainment companies around the world. In addition, Perissi and MEBUS Associate Director Daniel Howes are both entertainment industry veterans and professional musicians with many years of experience who have built strong relationships of their own with local and national entertainers and businesses.
All students in the upper-level capstone courses must complete three externship opportunities to earn their certificates. Perissi and Howes evaluate each student's skills and career goals before placing them in positions with major Atlanta area entertainment companies like Sony Music, Live Nation, EUE/Screen Gems Studios, and Coca-Cola Studios. "We are all about getting our students on the front lines," Perissi said. "By the time they leave our program, their resumes look like a million bucks."
The externships can be transformative experiences for the students, including alumna Olivia McGill, who currently works as a content operations manager for Warner Media. "There are a handful of students like me who come into the program with no clear direction other than wanting to work in entertainment," McGill said. "Keith has curated an amazing variety of relationships and externships here in Atlanta that allow students to explore different fields in the entertainment industry. My externship helped me transition into a business environment."
---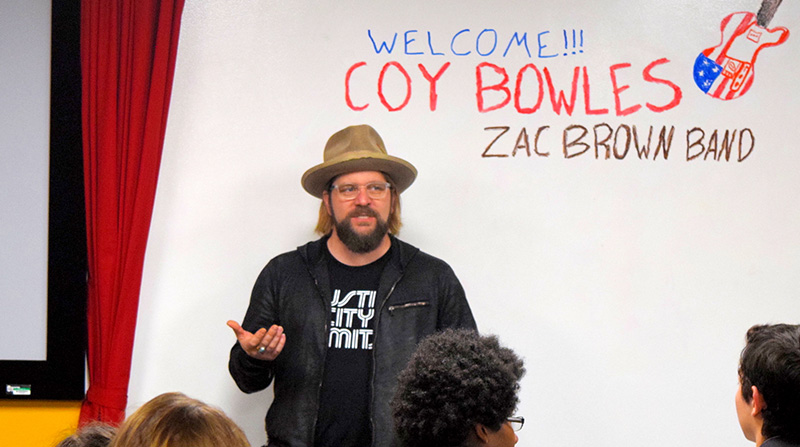 Building the Band
While externships with major entertainment brands offer students valuable experience doing the kinds of jobs, they are pursuing careers in, the exposure to the ins and outs of the business starts in the classroom. Several prominent performing artists and music industry executives have partnered with the MEBUS program to work directly with students. Among these are Coy Bowles, guitarist for the Grammy Award-winning Zac Brown Band, and bandmate John Driskell Hopkins, who both serve as artists-in-residence. They regularly visit the classroom to share perceptive insights about the recording, concert, and touring parts of the business.
Bowles appreciates that MEBUS inspires students to think through what it takes to succeed in entertainment from a business perspective. "[Perissi and Howes] are very supportive of me pushing the students past what I think most people expect," he says. "I love getting into a room of young faces and inspiring them to really dig deep to find out how bad they want success and to think outside the box to carve out a solid place for their success."
The MEBUS program's executive-in-residence Bryan Calhoun has helped students better understand what it takes to market musical acts in the 21st century. Calhoun is head of digital strategy for Blueprint Group/Maverick and the director of artist marketing and industry relations for Pandora Media. He has developed digital strategies for artists like Lil' Wayne, Nicki Minaj, T.I., and the Roots.
In 2007, Calhoun developed a powerful marketing tool called the Music Business Toolbox, which is a collection of print and electronic resources that help new musicians successfully manage their careers. Calhoun assists students with artist marketing projects using the Music Business Toolbox to solve challenges that marketers face in the digital music economy.
Other entertainment industry professionals working with students in the MEBUS program include screenwriter Rhonda Baraka, film and television producer Dale Goldberg, and actor Beth Keener, who has appeared in multiple television series including "The Vampire Diaries" and "The Walking Dead."
---
Going On Tour
Not only does MEBUS expose students to the inner workings of the Atlanta entertainment industry, but the program also offers an international perspective through an annual education abroad experience to London. Students meet with executives at Sony Entertainment world headquarters – including Simon Cowell's marketing team – to create a mock digital marketing strategy around launching a hit UK performing artist in the US.
The London experience also includes partnering with the Discovery 2 Showcase, which is a monthly event spotlighting four emerging London musical acts. Discovery 2 Showcase gained prominence after launching the career of recording superstar Ed Sheeran. MEBUS students partner with Discovery 2 Showcase to develop branding, promotion, and public relations collateral for each of the four artists performing during their trip, with the work beginning before they leave the US.
"It's unbelievable the impact this has," said Howes. "This is an international event with a track record of success, and now we're co-promoting it with them while in another country. It's a game changer." The education abroad program, which also features visits to Royal Albert Hall, Universal Music Group, Abbey Road Studios, and Tileyard Studios, is a transformative experience for students. For many, it cements their desire to work in the music industry.
"When I found the Joel A. Katz Music and Entertainment Business Program at Kennesaw State, I immediately knew I was meant to have a career in the industry," said MEBUS student Dani Klekot. "The struggle for me has been deciding exactly which avenue of the business to pursue, and I had heard from friends that this trip was a catalyst in their self-discovery. With opportunities to tour and interact with professionals from Sony Music and Universal Music Group, as well as explore the music rich culture England has to offer, I was confident that this trip was exactly what I wanted and needed."
---
The Reviews Are In
The work the MEBUS program has done to create opportunities at home and abroad for music business students has garnered national attention. In 2020, Billboard Magazine recognized MEBUS as one of the country's top music and entertainment business programs for the third year in a row. Billboard cited several recent collaborations between MEBUS and prominent entertainment brands, including a partnership with Walt Disney World Resort to establish a new immersive learning experience.
Launched in 2020, the interdisciplinary KSU Disney Interactive Entertainment Study Program sees MEBUS students and their peers in the College of Computing and Software Engineering traveling to Orlando to learn from Disney executives and Imagineers. Participants study music, film, and video game production, computer graphics, 3D modeling and animation, and augmented and virtual reality.
Along with Kennesaw State, other universities profiled include New York University, Pepperdine University, Syracuse University, and the University of California Los Angeles. "It's absolutely amazing for such a young program to be named alongside those institutions," Perissi said. "I'm extremely honored and proud of the opportunities this will create and the doors this will open for our students in terms of getting hired."
---
It's All About the Gigs
For Perissi and Howes, behind every industry professional they bring into the classroom, every business partnership, and every ranking is a passion for helping students achieve their career goals.
The results of this approach speak for themselves. Organizations like Katz's law firm Greenberg Traurig, Live Nation, Coca-Cola Studios, WarnerMedia, Turner Sports, Sixthman, and Red Light Management and many others have all hired MEBUS alumni.
"We are really passionate about helping students who do the work into positions in the industry," Perissi says. "I've never won a Grammy, but I feel like I've won a Grammy every time I get one of our students into their dream job."