Interning In The Industry
By Oz Online | Published on February 4, 2021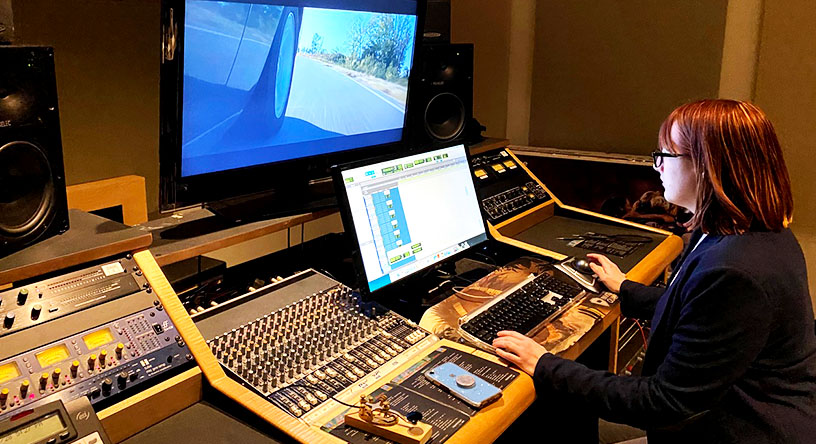 As Georgia's reputation as a nexus for film and television production has blossomed over the past decade, Atlanta's production studios have been a magnet for college students seeking to get a foot in the door of the industry by scoring an internship. Several of the city's studios have developed robust programs that give aspiring directors and producers a taste of the industry.
CRAZY LEGS PRODUCTIONS
Lucy Keller aspires to be a movie producer. A film studies graduate of the University of North Carolina Wilmington, during the past year, she has served as location production assistant (PA) for "The Walking Dead" and "Doom Patrol." In between college and her PA gigs, she served as an intern at Crazy Legs Productions in Atlanta. Keller says that internship provided her with an incredible leg up in launching her professional film career.
"You can't learn what a set is really like in school, and student films are not comparable," said Keller. "[Crazy Legs is] very good at educating their interns and very willing to explain things over and over."
Keller is one of many young film industry hopefuls embarking on careers after serving internships with Atlanta production companies and film studios. Some of the other studios with structured intern programs include Third Rail Studios in Doraville and Creative Sound Concepts, an audio production studio. All of the internships are unpaid, but those who have been through the programs say the experience and networking opportunities are invaluable.
Crazy Legs' intern program has been around the longest amongst the companies Oz interviewed, running for about nine years; it's also the largest. This semester, ten interns are learning a wide variety of aspects of the film industry. That number varies, depending on the studio's needs, but it usually ranges between eight and eleven.
Kim Hinson, Crazy Legs Productions' office manager and executive assistant, oversees the studio's internship program. Hinson explained that the interns serve for an entire semester. There are three groups per year and each is made up of both local college students and students who move to Atlanta from other areas specifically for the internship. Interns are required to commit to working at the studio two days per week.
"Our interns all go to set and they assist the PAs," noted Hinson. "That is usually what interns want: to be able to go on set and observe, and to meet the people who are making the films, and to make all the connections they can while they are there. What we have going on each semester determines how many interns we have."
Landing an internship is a competitive process. Crazy Legs has varying requirements, depending on its projects. Résumés arrive constantly. Ten students were accepted into this spring's program from about 35 applicants that were interviewed. Many more did not even make it to the interview stage.
"What I am looking for are people who are interested in all aspects, because every two weeks we are going to set, then for the two weeks we are not on set all the interns are going to be in the office," said Hinson. "I'm looking for people with a broad range of interests, because they are going to be working on everything from development to post production. The ones who want to work in production and work the 12 to 14 hours a day will have the opportunity to do that, and then they still have the opportunity to work in the office and help out there."
"They learn that they don't all have to go to L.A.;
there are opportunities here."
– Mayra Garcia, Third Rail Studios
Most interns are looking for hands-on experience, especially on set. An internship is a way to break into the industry. Only those who are hungry to be in the film industry are willing to work unpaid internships, and they are looking to make contacts, noted Hinson. "Our employees here have so much knowledge and experience, and are very successful in their fields. They have a lot of knowledge to share. The benefit to the interns here is face time with and exposure to these people in the industry, and that can hopefully lead to jobs for them."
Studios often hire former interns. Of Crazy Legs' 30 full-time employees, eight are former interns. The studio makes an effort to hire former interns, including on a contract basis for specific projects. "If you have been here putting in the time and effort, we are going to do everything we can to help you," stated Hinson.
There are plenty of success stories. One former intern went on to work on a project for the Disney Channel in Los Angeles, another is working on the "Dead Silent" television series, and another spent her summer working on the Ryan Reynolds film, Free Guy, which was filmed in Boston.
"The interns who come here and use the program how it is intended, which is to work hard and absorb as much as they can while they are here, are the ones who are successful," explained Hinson.
Getting to the point of working on post internship film projects takes a lot of hard work. According to Hinson, the first day as an intern is not very exciting. Students go through an orientation process, which takes a few hours. They learn about communication between the different departments and take care of administrative tasks. During the interview process, Hinson makes it clear that the internship program is what a participant makes of it. Interns are encouraged to make the most of their downtime and get to know people in the company's various departments.
"When they have some down time, when they don't have a task with a deadline, that is the time to take the reins into their own hands and talk to people in the various departments; to take the time to get to know the people they are working with. The advice I give to all of our interns is: we have a lot of people come through our doors. You are here to make an impression. You want people to remember you, because six months or a year down the road when you are looking to get hired somewhere, you will want us to give you a recommendation for that job."
For a long time, Keller kept her film aspirations hidden from her parents; she told them she wanted to be a doctor. "As soon as I found out that UNCW had a film studies program, I said, 'Mom, dad, I'm not going to be a doctor anymore. I'm going to make movies.' They said, 'You're going to what?' It was an interesting turn, but it's working out and they have come around."
Suzi Fera completed two semesters as an intern at Crazy Legs in 2018 after graduating from UNC Wilmington. She noted the valuable aspects of the internship included the on-set experience, learning what it takes to be a capable production assistant and building a network to reach out to long after the internship came to a close.
"Before I moved to Atlanta, I didn't know anyone in the business," admitted Fera. "Through Crazy Legs, I was able to meet and impress people working in the industry. It really jump-started my career." Now, Fera has worked as a PA for a reality show on Lifetime and has an associate producer credit for "Ghost Nation" on the Travel Channel, which she described as an incredible learning experience. She hopes to eventually direct and produce narrative, scripted television.
Keller also praises her internship as a major learning experience, including all the logistical and social minutiae of interacting with each department. "It was a great way to learn, because they weren't paying us, so we could make a ton of mistakes," she said. "I've learned to keep several balls in the air, to be aware of what's going on; to be able to do more than one thing at a time."