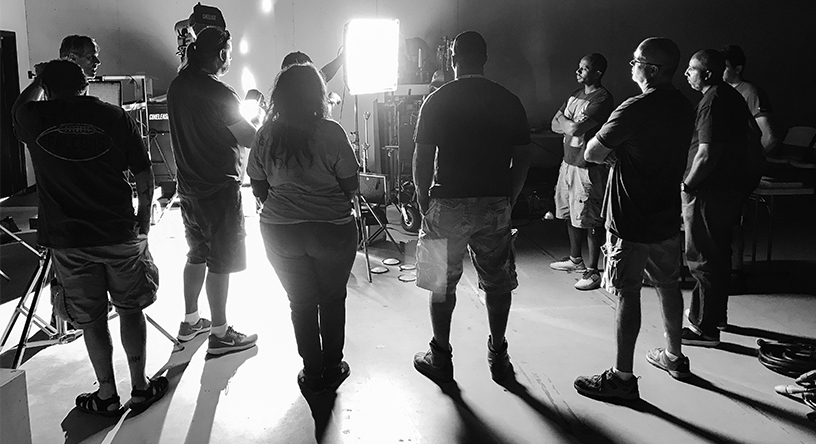 Get With The Program
By Oz Online | Published on October 25, 2018
When it comes to gaining entry-level knowledge and skills to work in front of or behind the camera, Georgia schools, mentors and coaches offer a wide range of options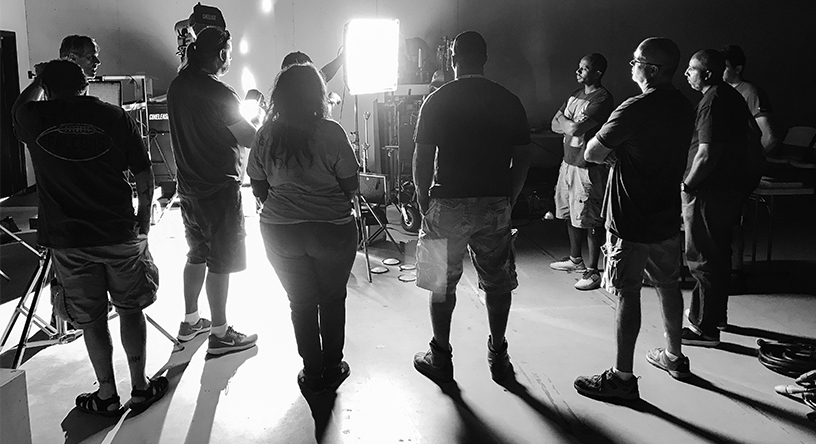 Tuesday evening, downtown Atlanta, and the sun is just starting to touch the tops of the trees. The block is filled with students in jeans and yoga pants, business people in suits and dress shoes. The scene is varied, however. It's clear that there is an abundance of adults going back to school.
With the advent of the movie business in Georgia, more and more working adults are quitting their 9-5 jobs and going back to school for degrees and certifications, all so they can make a new career in the blossoming movie business.
In 2017, Georgia saw a $9.5 billion economic impact, and the state is only growing in popularity. Large-scale studios are opening left and right and major producers and directors are targeting the state for franchises, blockbusters, and television series'. This means more jobs and a strong need for qualified people to fill those openings.
Luckily, local colleges and universities have picked up the torch and are offering an ever-increasing number of classes in all sorts of fields pertinent to the business. Technical colleges, unions, and workshops also offer a wide array of options for movie-business bound individuals.
Gregg Easterbrook knows this process well. He's been in the movie business for 19 years and works as a camera operator and cinematographer, but he didn't start out there. After a fulfilling career in marketing, Easterbrook couldn't shake the feeling that he could be doing something more. So, he enrolled in a graduate program and received his MFA in Film.
Growing up, Easterbrook had always had a camera in his hands, beginning with his little 16mm. "If you own a camera, work comes to you," he said. And while he set his creative work aside for a time, he couldn't really stop thinking about what could happen. After obtaining his MFA, he landed a job as an assistant cameraman, initially gaffing on commercials. In 2001, he shot his first feature.
"If you're starting out and can trade money for creative control, do it."
Easterbrook is convinced that the opportunities that were available to him in 1999 and 2000 have only increased for those looking to jump into the business. "Georgia has embraced and accepted the industry in a way no one else has," he explained. The broad industry and governmental support have combined to make Atlanta, and all of Georgia, a hotbed of film and television activity. Add to that the number of studios being built and the level of monetary investment being made, and you really can't go wrong, as a newbie or a veteran.
Still, the film and television business is still a business. One has to get that first break before capitalizing on the opportunity here. Easterbrook realizes that, and as an adjunct professor at a local art school, he regularly gives his students advice. "If you're starting out and can trade money for creative control, do it," he said. He went on to explain that, early in his career, he had the opportunity to shoot a short film for a company. There was little to no money involved, but he felt inspired by the premise and confident that his vision would work. That short film catapulted him into a different career level; while he was paid next to nothing, the experience was invaluable.
"If you can place your artistic vision in a film, feed it. Take the opportunity to brand yourself in the marketplace and find out how you see things."
James Tripp-Haith, line producer and unit production manager, followed a more old-fashioned route. In the business for more than 40 years, Tripp-Haith began as a local DJ in Pittsburgh. He eventually moved on to WQED, a local PBS station, where he set his sights on something more than radio. The move led him to a local training program and an array of jobs, including assistant director, production assistant, and producer/director and a stint on Mister Rogers Neighborhood. Tripp-Haith always wanted to be in the entertainment business, in some form or another, and the steps he took seemed a logical way to take him where he wanted to go. In fact, it's the same advice he would give anyone just starting out. "Keep in mind that it's a business," he said emphatically. "It requires human skills. Rely on things that you learn."
"If you own a camera, work comes to you,"
Tripp-Haith is a huge proponent of learning something new from each job and building your future on that newfound knowledge. "I encourage people to learn – ask questions – understand how it works," he said. "Understand how your job contributes to the whole. If you're a cameraman, figure out how your work relates to the sound engineer and how it affects the producer and the director. Take what you learn from that job and apply it to the next job. Collect knowledge. Grow."
Tripp-Haith encourages both formal schooling and working, as doing both can contribute to a career in different ways. "No job is too small," he declared. "Learn and build for each job."
Tripp-Haith encourages both formal schooling and working, as doing both can contribute to a career in different ways. "No job is too small," he declared. "Learn and build for each job."
Farris has been in the entertainment business, first in music and then movies, since the 90s. After getting her degree in broadcast journalism and media management, she moved to Atlanta and got her first job as an audio technician for the 1996 Olympics, covering the gymnastic competitions. She transitioned to a national record label and stayed in the music industry until 2011, when she location scouted her first project for BET Networks. She knew from the beginning that location scouting was for her, mainly because of the way a location can tell a story.
"The visual piece is as much a part of the story as the script. My initial goals have always been to be a creator of content and stories," she explained, and her passion is obvious. In fact, it was the cinematography that first drew her into the film business. "I watch movies in frames," she said. "From angle to angle. I have always been impressed with cinematographers that capture emotion inside of a small frame of time."
Farris, like many movie professionals, relied on a mix of classes and jobs to learn the ropes; she recommends the same strategy for anyone trying to break into the business. "You are never too smart to refresh your knowledge," she said. And she also encourages always being in the moment. Go after what you want, do anything you can, and sharpen your skills. "Be extremely thorough and pay extreme attention to detail," Farris advised. "Anyone can get a job. Be an asset."
Also.
"Never make enemies. Those bad bridges will come back to haunt you."
Nesha White, wig maker and make-up artist, agrees wholeheartedly. A 20-year veteran of the industry, White firmly believes that her work ethic and kindness towards everyone she met in the business got her where she is today. She began by volunteering to assist the make-up artists on different sets, confident in her skills because she had worked as a session stylist and had done video and tour work.
"I did a lot of industry networking events, I applied to jobs like crazy. I made sure I got the best training in the industry," she explained. Eventually, her hard work, talent, and determination landed her an official industry job offer.
Would she recommend the same course of action for those looking to become stylists? Definitely. "Properly plan, keep positive energy and those that have a positive energy around you, give back and NEVER give up," she said.
Michael Hofstein, producer/writer/ cinematographer, never did give up, and today he is living the dream. Currently, he and his wife are in Greece, relaxing, before attending a film festival in eastern Europe. Later, he'll fly to Budapest on business.
With a career spanning almost 50 years, Hofstein has done it all. He produced his first feature film in 1997. He founded EuroPacific Films and produced each of their features. He's been a director of photography at 20th Century Fox, directed commercials both here and abroad, and has had his hand in numerous blockbusters including Rush Hour, Mask of Zorro, M.A.S.H., and Star Trek.
However, his beginnings were humble; his first job out of college was a runner for a camera rental company in LA. He progressed quickly through the ranks. "I was hired as a PA at a commercial production company where I was taught the basics of being a camera assistant by Pat Omara, and my career developed from there," Hofstein explained.
He worked awhile in commercials, spending time at all the best commercial production companies, learning the ropes, honing his craft, and making connections. He transitioned to low and medium budget movies, and then Paramount Studios came calling; he worked as a camera assistant on several television shows, including Taxi, Happy Days, Laverne and Shirley, The Mary Tyler Moore Show, and more. Eventually, with years of hard work, he made his way from camera assistant to camera operator to director of photography as well as a director.
Hofstein broke into the business in a very determined way – moving to LA and being persistent. "I wrote resumes, and rewrote resumes. I worked on any project that would hire me – usually for long hours and little pay," he explained. "I practiced assembling cameras at camera rental houses during the day and worked as an assistant editor at night…I never took 'no' for an answer." This included a stint with Wakeford/Orloff, one of the top commercial production companies during the 1970's.
Hofstein routinely worked any odd job he could that would get him into the studios so he could see things first hand. This determination paid off. "One day while at W/O I overheard a production manager say he needed an additional PA to the office receptionist," he recounts. "I walked over and told him that he would never find a better PA than me. I further said that, I'd work hard and would always be available for him."
Hofstein was hired on the spot, and thus began his long and illustrious career.
That's why networking is one of the main ways he recommends people first step into the industry. "Networking is so important! I enjoy networking, making new friends, learning about others and their careers. It's enjoyable being with people who work hard and play hard. I absolutely appreciate those who go for broke in all that they do, people who are not afraid to take responsibility, people who put themselves on the line to protect others who need protection, people who understand how to be a leader as well as a follower." According to Hofstein, it's most important to adapt, to learn, and know when you've made mistakes and how to fix them.
Add to that the experience gained by working inside the film business. "I learned my lessons within the film business at the major studios in Los Angeles from those who came before me, mentored by those whose names are today synonymous with professionalism and creativity in the motion picture industry," he explained.