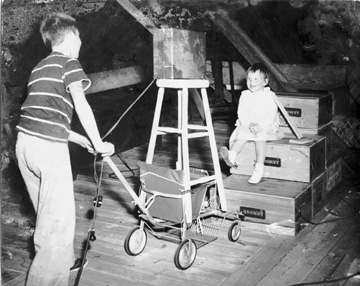 Georgia Film Industry Legend Passes Away
By Oz Online | Published on September 18, 2022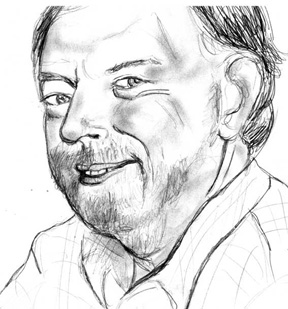 On August 9th, 2022, Ken Chambliss peacefully passed away in North Carolina surrounded by his family and friends. Ken was born in Columbus, Georgia, and his passion for engineering would lead him to the world of film production. The television post-production company he founded, Video Tape Associates (VTA), was started in Florida, but it would eventually expand to Atlanta. Ken's work ethic and ingenuity in the Georgia film industry would not go unnoticed, and his story was written by Oz Magazine's Gary Powell in 2010.
Paragon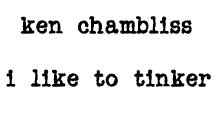 by Gary Powell
Illustration by Christina Horm
Ken Chambliss was three years old when the light bulb went off, figuratively and literally. World War II was going full tilt, and in those days, by necessity, the simplest pleasures were the greatest. A close family friend came to Chambliss' childhood home and gave him a small kit with a battery, a small switch, and a light bulb. Hours of on-off-on-off, works-that-way-doesn't-work-that-way gave rise to an enduring interest in electronics, and tinkering.
Today, in a time of relative peace and prosperity, Ken Chambliss sits in his corner office atop one of the most technologically advanced editing and finishing facilities keeping up with 55 employees. He is the founder and President of VTA, Inc., known until only a few years ago as Video Tape Associates. Perhaps videotape is slowly becoming passe. VTA, however, is not: it can handle just about any form of moving media that needs to be chopped, colored, fixed, enhanced, or converted.
Still, after years of building, striving, inventing, and playing, it's still the simple things that appeal to Chambliss. "I like to tinker" is one of his favorite statements. Says Chambliss, "In the mornings when I come to work, I like to make the rounds and say hello to the clients." Simply stated, Ken Chambliss has been in the broadcast production business for some 40 years, and he is still having fun. Before we tell a bit more about his story, let us make note of just a few of the endeavors and accomplishments that make the man an Oz Paragon. Anyone who has worked in film and video production and post production has most likely worked with Chambliss. You may not have worked directly with him, you may have never visited VTA, but you can give credit to Chambliss for some of your good work. If you laid hands or eyes on the da Vinci unified color correction technology, you were working with something that Chambliss and his staff invented and manufactured originally some 30 years ago. Ever work on a telecine? You can thank Chambliss and his Steadi-Film Corporation for making your life much easier. Their steadi-film gates have been an industry standard for real time telecine operation since the mid-1990's. Almost every telecine in the world has a Steadi-Film product attached to it. Chambliss and his research and development team at Steadi-Film continue to push the patent envelope. Not bad for a stringbean kid from Columbus, GA who had to come home one day, hat in hand, and tell his mother and father that he would not be finishing college anytime soon.
THE BLUEPRINTS WERE NOT WORKING
Pictures moving through the air on television captured Chambliss' young imagination when he was five or six years old. Through his school years he built and operated Ham radios and CB radios. In 1958, Chambliss was telling his high school counselor, "I want to learn about TV." Sometimes, the seeds of success are carried around in a pocket protector, which is really an irreverent way of saying that somebody has a spectacularly inquisitive mind. With input from his counselor and his parents, and still wanting to learn about TV, Chambliss ended up in college studying electrical engineering. After about two years, he decided that drawing electrical blueprints for new homes was not moving him toward his goal of working in TV. He hopped in his '49 Buick, drove back to Columbus, and let his parents know that he was quitting college. Not an easy task for a bright young man from a good, middle class family. His father was a solid work-a-day manager for a meat distribution company, his mother was an educator who came from a family of educators. Hand wringing and serious discussion was followed by promises to get a job and to get back into college, and to do it soon. That blueprint, however, would also be seriously altered.
LIFE BECOMES BLACK AND WHITE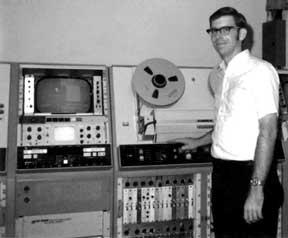 Chambliss soon landed a job at Columbus TV station WRBC. He was hired to run cameras from 2 p.m. through the 11 p.m. news every day. A year into his job, he was promoted to the engineering department. Chambliss was at master control the day Walter Cronkite interrupted all local broadcasts to announce that President John F. Kennedy had been assassinated.
As with many things throughout his life, it was fortuitous that WRBC was the first station in Georgia to use videotape. As with all things TV, Chambliss was fascinated by tape. Back then, videotape was two inches wide, black & white, and prone to manufacturing artifacts and mistakes. Chambliss was part engineer, part videotape editor. Editing, back then, was equal parts alchemy and surgery. Sprinkle iron oxide powder on the tape, identify the pulse points, slice with a razor blade, and tape it back together. In the mid-60's the station upgraded to a color capable tape to tape Ampex editing machine. Still, the station never upgraded to color cameras until after Chambliss left in 1966.
It was in that year that Chambliss almost suffered the consequences of breaking the finishing college promise. Though he was taking courses, he was not taking enough hours for deferment from the Vietnam War draft. He rode in a bus full of other inductees from Columbus to Atlanta. In the Army's induction building on Ponce de Leon Avenue near the old Sears building, Chambliss failed his physical. Asthma as a child disqualified him from service. Physically and spiritually, Chambliss flew home to Columbus that day.
LIVE FROM SOUTH BEACH
It was time for a change. After the relatively safe black and white world of mid-60's Georgia, Chambliss opted for the full color of South Miami Beach, FL. Chambliss says, "I loved water skiing, snorkeling, and scuba diving." He wrote to the three network affiliates in Miami to inquire about employment. The NBC affiliate, WCKT had just started broadcasting in color, and they needed somebody with Ampex editing machine experience. Chambliss was their man. He ended up building their tape department.
Opportunity is always knocking for people willing to work hard enough to open the door. For Chambliss, South Beach offered numerous freelancing opportunities. He freelanced on the Jackie Gleason Show, among others. And there were always corporate gigs, medical conventions, and other TV shows. Soon, he was freelancing in Palm Beach on a game show, "Treasure Isle." The show was taped on two islands in the middle of a huge lagoon that was part of a brand new hotel. The show ran on ABC immediately following the hugely popular Bewitched, and Chambliss was responsible for taping and editing the show and the Treasure Island tags that ran during Bewitched. The host of the show was John Bartholomew Tucker, who went on to great voiceover fame as the voice of the Pink Panther in the Owens-Corning fiberglass commercials, as well as numerous other national spots. Chambliss also worked freelance on "Let's Go to the Races" for Bing Crosby Productions. During this show's run, he spent nearly every day at the racetrack, but still managed to keep life and career on track.
Not long into his day job and freelancing career, the light bulb went off for Chambliss again. All the equipment used on shows originating from south Florida was based in New York: cameras, editing equipment, and production trucks. He went to work on his business and financing plan. Chambliss learned as much as he could about the business of broadcasting and incorporated it into his business plan. For Chambliss, the business side of the plan was the easy part. The tough part was finding bankers back then who understood broadcast and its potential.
BY THE BOOTSTRAPS 101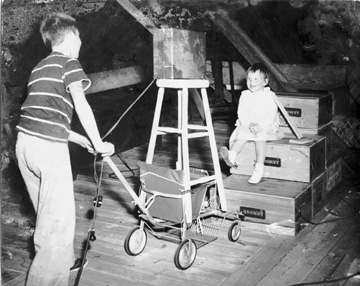 Chambliss was specifically looking for deposit money for his equipment and some working capital. He got it in 1968. He ended up borrowing money from his father, his brother, and cashing in his own savings. His long and inquisitive relationship with Ampex paid off with equipment being sent to him without as much as a credit check. A few legal formalities later and Ken Chambliss was the founder and President of Video Tape Associates of Florida, Inc. He rented a small space in south Florida and spent six to eight months just building. By this time, he was a husband and a father. He kept his family going with money he had saved from his freelancing days. Says Chambliss, "Bing Crosby paid well!"
VTA took delivery of two 2″ Ampex video tape recorders and a revolutionary electronic editing system. It was revolutionary because it allowed the operator to edit with buttons instead of razor blades, and because it utilized time code technology. During this time, Chambliss made several strategic decisions about the shape and direction of his business.
The first involved the production side of the broadcast business. TV cameras were very expensive, even in 1969 dollars, $100,000 per camera. In addition to expensive cameras, production required large studio spaces. Finally, and in Chambliss' own words, "I really liked editing." As a result, he focused on working with a production partner rather than trying to build his own production business. That partner was Media Research & Productions, soon to be known as Miami Teleproductions. Among the founding members of that company was a former radio DJ Dan Chandler, known now in the Atlanta production community for his voiceover work. The second decision would shape a great deal of his future business and inventiveness. Commercials would continue to be shot on film for TV. They would always need to be transferred to tape, and they would always need to be color corrected. Chambliss decided he would fill those needs.